Felder Finds a New Forum: 6Qs with the musician-actor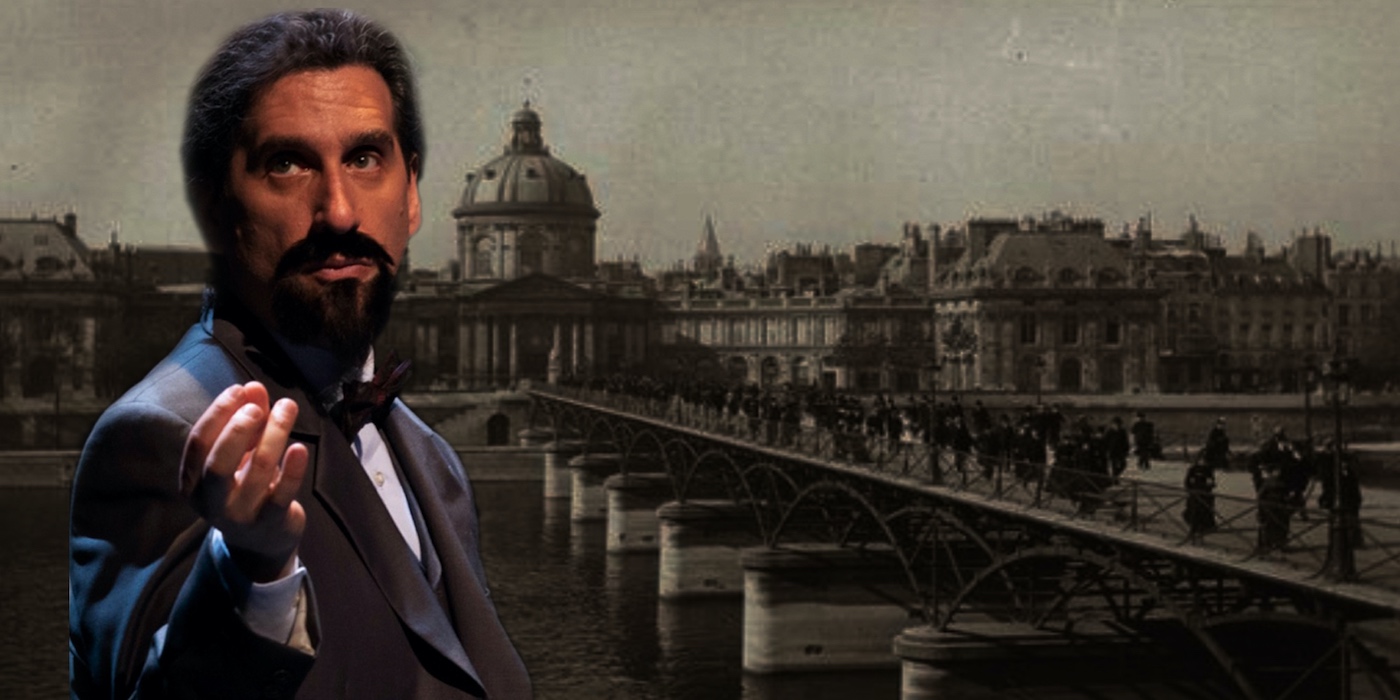 Prior to the arrival of COVID-19, veteran virtuoso playwright, performer, and pianist Hershey Felder had made a career out of creating and performing solo shows about composers Claude Debussy, George Gershwin, Frédéric Chopin, Ludwig van Beethoven, Franz Liszt, Leonard Bernstein, Irving Berlin, and Pyotr Ilyich Tchaikovsky that have been seen across a wide range of Southern California venues, from the Geffen Playhouse, to the Berkeley Repertory Theatre as well as at Broadway's Helen Hayes Theatre, elsewhere in the U.S. and in London's West End.
Since March, Felder has faced down the pandemic by creating live streaming adaptations of his Beethoven, Berlin, and Gershwin productions, each of which streamed as individual shows that partially benefited participating theatrical companies, including the Rubicon Theatre Company in Ventura and the Ensemble Theatre Company here in town.
Now he's upping the ante by forming five upcoming shows into a series that start with Hershey Felder as Claude Debussy in A Paris Love Story, which premieres on November 22, and Hershey Felder: Tchaikovsky (premiering December 20), both newly adapted and expanded versions of Felder's original works for the stage. But there are also three new works created especially for the series, including world premieres of Before Fiddler (due February 7, 2021) in which he plays the great Yiddish author Sholem Aleichem, whose works inspired the classic musical Fiddler on the Roof; Puccini (March 14, 2021), about the scandalous life of the great Italian composer and featuring music from La Bohème, Tosca, Turandot, and more; and Anna & Sergei (May 16), about the strange, true life meeting in New York between composer and pianist Sergei Rachmaninoff and Anna Anderson, the woman who claimed to be the sole surviving member of the Romanov Dynasty, the Princess Anastasia.
Locals can watch the fundraising performances, which are available for a full week after each premiere, either through ETC or RTC by visiting https://etcsb.org or www.rubicontheatre.org, respectively, for tickets. Felder gave us a little insight into the series via email last weekend.
Q. What informed your choices of which composers, or themes, to take on for this series? Is there an overall thrust to the season?
A. As with all my works, it is about setting composers' works in context. During these terrible times in the world, somehow the lives of these great artists – and what they went through to create their art as well as the world they lived in – resonates. This "COVID season," so to speak, began in May with Irving Berlin, went on to Beethoven and then Gershwin. Then I created a season that would relate to stories audiences have asked for (as well as) timeliness: Tchaikovsky at Christmastime, etc. It unfolded naturally.
How if at all does understanding a composer's life and his times change your approach to his music? What have you been most surprised to discover?
I believe that one hears the music in a very personal way if one knows the circumstances of composition. This is not to say that, if a composer was going through a rough time that pieces from that period are sad and morose. That simplifies the situation. The works – the compositions themselves – reveal the character and depth of their personalities. Understanding the compositions within the contexts of their lives allows one to hear the humanity in it all instead of just the iconography.
In embodying the various composers, you are both actor and musician. How does that interplay work for you?
It's very complicated as they are not natural bedfellows. The mechanisms for acting and playing are very different. It has taken (and continues to take) a lifetime of work to finesse the line between the two so that we feel that we are listening to the composer speaking of and playing his work. Massaging them to be unified has been a lifelong commitment that I still work at, and will as long as I do this.
The first two productions in the series are being adapted from stage shows. What changes in the switch to a livestream format? And for that matter, why does this format work for you?
The format is based on direct-address storytelling. In fact, I have been asked why the format seems to work so well. It is because the shows themselves were designed to directly address an audience in the theatre. The benefit here is that I can play directly to the camera – directly to "one person" – which is the goal in the theater. But there is a lot of looking around to capture the audience as if they are one. The camera allows for the intimacy that the shows were designed to create. Oddly, it's the most natural rendering of the shows because of the original constructions and their formats.
While the pandemic has forced almost all performers to take huge pauses, you seem to be stepping up into a packed schedule. What's your motivation… and stamina?
There were two options: take a long needed and perhaps even deserved break after 27 years of living on the road out of a suitcase, never unpacking, going from city to city, 5-10 weeks at a time, with three or so weeks a year at home. Or take the savings and fund the staff who have been by my side for years as best as I could so that they could continue feeding their families. Along with that, I felt it was important to contribute to the organizations that I have worked with over the years in some capacity or other. Then there was the support of artists in need and even contributions to theatres I do not work with but who I know are in need. So doing a bit of good feels like a motivation. It's necessary. I didn't get where I am all alone. Lots of folks took part in that, including audiences. And if I could find some feasible way to help, that's motivation enough. Stamina is based on responsibility. Nothing to add to that.
I'm curious about partnering with shuttered theaters across the world. Is helping them survive part of your mission?
I am doing the best I can, and we have raised significant funds. But given what the industry and artists need, it's a tiny drop in the bucket. But every single drop makes that bucket just a tad bit more difficult to kick.
You might also be interested in...