The Intersection of Art and Philanthropy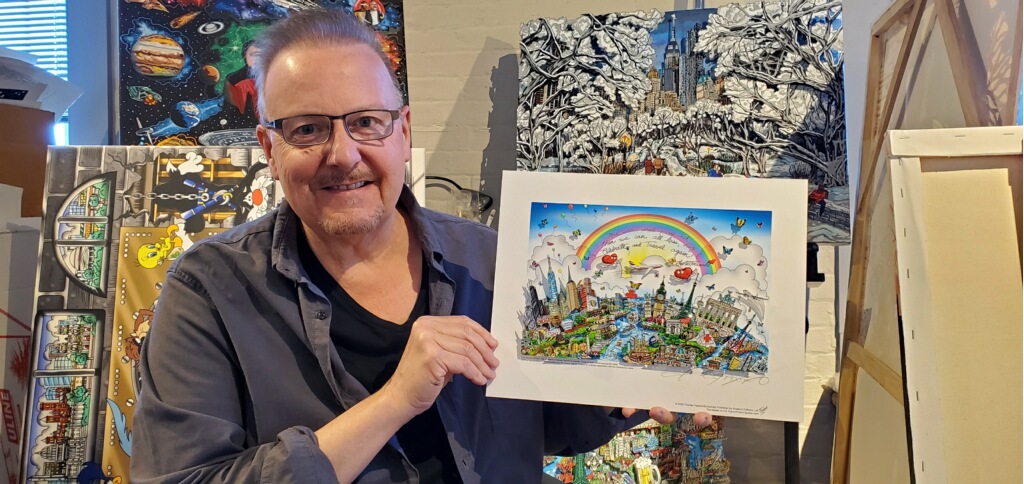 Although based in New York, the distinctive three-dimensional work of Charles Fazzino is recognized by many locals who have visited or simply just walked by his prominent State Street gallery. The 3D Studio Gallery is located under Hotel Santa Barbara and displays a range of his unique structural artworks of cityscapes, celebrities, and other pop art themes that have made his art renowned worldwide. Charles has recently launched a fundraising campaign for Unity Shoppe to support their food scarcity work during the pandemic. Philanthropy has been a notable part of his career, including a similar fundraiser for the 9/11 fund and museum. With food scarcity being one of the issues he has focused on over the years, Charles has hosted fundraisers with various food pantries and nonprofits in the Santa Barbara and New York areas, wanting to help support the communities who have helped support him. 
When the pandemic started he knew that food banks were going to be stretched thin as layoffs, illnesses, and other hardships affected families around the world. In response he crafted a special artwork, "This Soon Shall Pass," that would deliver a message of hope while raising funds for those in need. The piece paints an inspiring scene that spans the globe with landmarks from each of the areas being heavily affected by COVID-19 at the time of him illustrating. His artwork graces galleries in many of these areas and he wanted a piece of art where the communities being affected felt represented. He also wanted to make sure that these funds helped support the local communities where his art is being sold, especially New York and Santa Barbara. So far the fund has raised more than $40,000 with 100 percent of net proceeds from the special piece going towards the fund. While he has had to work with a limited crew during this time he has been paying each artist a higher than normal fee for their work on the piece as a way of helping them during this time.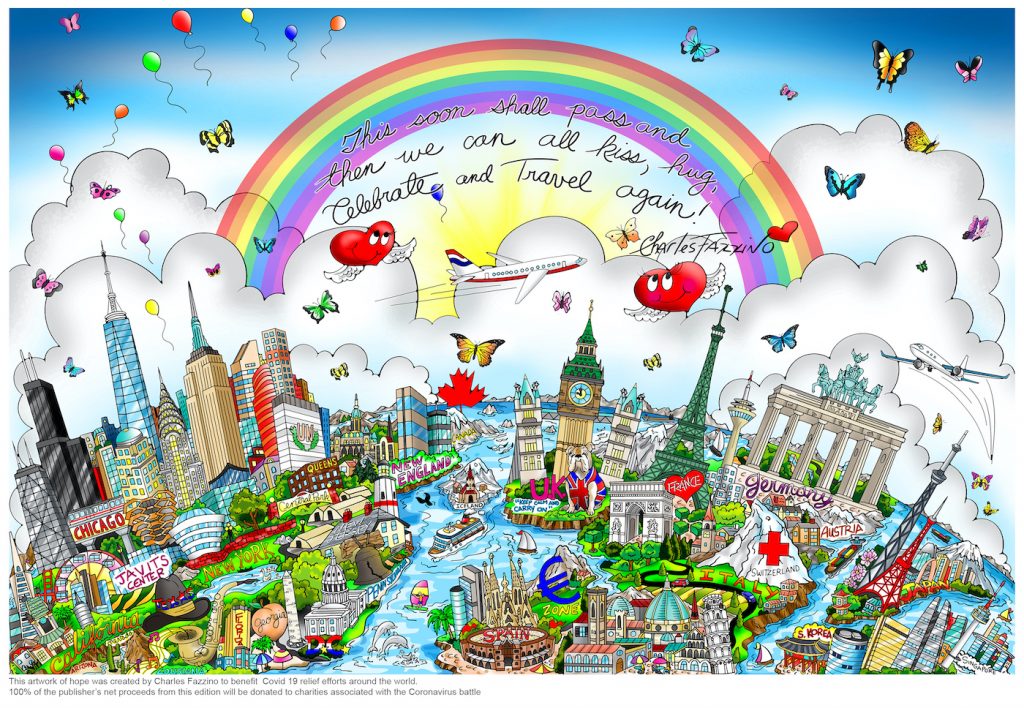 Having worked before with Unity Shoppe, Charles wanted to help and after speaking with Unity Shoppe Executive Director Tom Reed, he found out that they were in need for a new refrigeration unit for their food distribution service. Charles donated $2,500 from the fund and will be raising the rest of the $12,000 needed through additional sales of "This Soon Shall Pass" with $400 of each piece sold going to Unity Shoppe. The artwork is an open edition meaning they will produce as many as are sold.
Charles's definitive three-dimensional style of art was originally inspired from his childhood love for pop up books and over the years he has learned to finetune the process, incorporating better materials and processes. Today, his artworks are produced in a warehouse located in New Rochelle, New York, in conjunction with about 60 artists who help with the detailed process. Each piece begins with an original illustration by Charles. The base print of the finished image is then silk screened on a museum quality board with three additional copies of the print being produced on a thinner acid-free paper. Images from the thinner sheets are carefully cut out in triplicate using an X-Acto knife with each layer being glued on top of one another, incorporating silicon in between for depth. These layers are built on top of the base print and the artwork is then embellished with glitter and Swarovski diamonds to give each piece that final shimmer.
In "This Soon Shall Pass," Charles paints a colorful image of the world after the quarantine. Cityscapes and iconic structures line the horizon while butterflies, balloons, and hearts dot the sky. The line, "This soon shall pass and then we can all kiss, hug, celebrate, and travel again" adorns a rainbow, celebrating a time when we will no longer be faced with these challenges. The featured cities span the world and evokes the feelings of a cheerful, connected world – an image we can all use these days.
The artwork and ordering information can be found at the website fazzi
no.com/unity. The gallery is currently closed for drop-in visitors however they are still available seven days a week by calling the gallery at 805-730-9109.
You might also be interested in...