Gros Says Goodbye to SBCC Theatre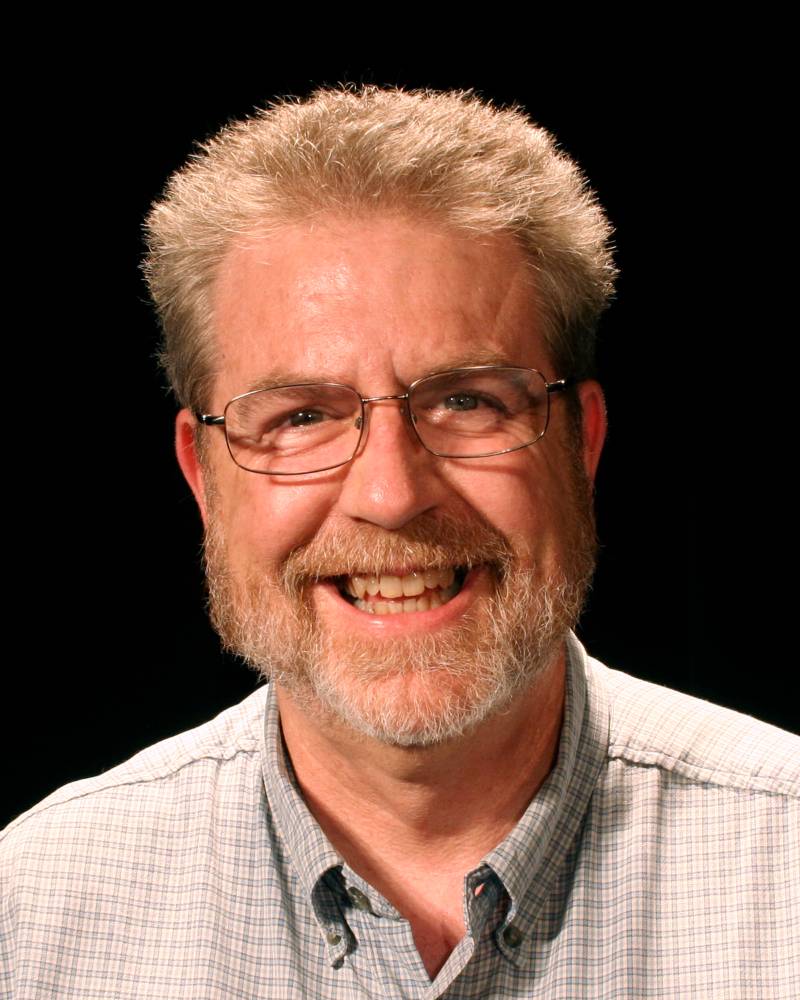 R. Michael Gros's direction of Santa Barbara City College's student production of Antigone represents both his debut of putting together a show via Zoom and his swan song at SBCC Theatre. That's because, as he announced on his Facebook page early in the morning of November 4, Gros has submitted his formal retirement papers as associate professor and co-chair of the SBCC Theatre Arts Department, and resident faculty director for its affiliated producing wing, the Theatre Group at SBCC, positions he has held for more than a decade. Retirement also brings to an end nearly three decades of theater work in the area, which included a stint as Artistic Director/Associate Dean at PCPA Theaterfest and Production Manager at Shakespeare Santa Cruz as well as founding co-artistic director of PlayFest Santa Barbara, a company dedicated to the development of new plays, playwrights and audiences. 
Among Gros's credits at SBCC are productions of Other Desert Cities, Proof, The Music Man, The Hound of the Baskervilles, Bus Stop, The 25th Annual Putnam County Spelling Bee, Light Up the Sky, and Present Laughter, the bubbly and elegant Noël Coward work that earned Gros an Indy Award for direction.
For Gros, taking on an adaptation of Antigone from Sophocles' original text was a matter of matching both medium and message, as the Greek tragedy serves students and the Zoom platform as well as bring a work from ancient times into modern focus. The production debuts an on-demand video streaming event on November 14 and will be available through the end of the month. Tickets cost $15 general, $10 seniors, $5 students per household and can be purchased at www.theatregroupsbcc.com or by calling (805) 965-5935.
Q. Why is Antigone the right play to produce now?
A. One of the things about Greek plays is that there are a lot of two-person scenes, and a chorus who are observers, so it lent itself to being produced online in a way where modern playwriting does not. That was necessary because we've got students spread all over the world and this format, the technology, supports bringing them together. Antigone in particular has a lot of themes and subject matter that talks about hypocrisy, church, and state, how a lack of compromise leads to destruction and the concept that without there is no justice. A lot of what's in this play is reflective of our society. And even after the election results, our society is still dealing with it. More than 70 million people hold opposing views from the 75 million people on the other side. The play addresses how without compromise, the rigidity can lead to destruction. 
Of course, there's also the theme of hubris: the character Creon says "I alone can solve the problem." He doesn't listen to any of his advisers and just says "I'm going to save the city from the civil war and I alone am the leader who can pull us through." This is a play that's 2,500 years old, reflective of life in ancient Greece, which was a new democracy, which had the same kind of challenges that we face in many ways.
You're using the Woodruff translation, which takes a modern approach and focuses on making things clear and lyrical, using more poetic English. Why does it work for you?
I've been into Greek theater for a long time because I think that they resonate with us in extremely strong ways even today. So over the years I've looked at a lot of different translations and adaptations, including many that are very scholarly and dry, which makes them not performable. The Woodruff is a modern translation with the intention of it to be performed. It certainly captures the intent of the original author but is accessible to the performers and audiences of the 21st century.
I understand you've designed the production as a theatrical graphic novel.
The idea was that instead of just having a bunch of square boxes with talking heads, we wanted to energize it and capture the sense of the chorus as witnesses being present without it being structurally boring. Most of the cast is under 25, and we thought they might have an interest in how it would be produced. And so it also created opportunities for us to do the prologue in a really exciting way, like a trailer of a show that's about to come. We started with the idea of book chapters, or turning the page, as the story unfolds, and wanted to present that idea with energy and really get across that the world was being shattered. Using the graphic novel concept, I don't think we had a single truly rectangular-only page – there are lots of angles and size changes, with the video clips inside – and we overlaid some other design elements to try to parallel the energy of the graphic novel, which is what young people are reading. We're pretty excited by the additive qualities that it brings, making it more interesting visually to watch. But it was a challenge because everybody was shooting in their living rooms or bedrooms or their garages, some with a smartphone, others on laptops, and a few with a real digital camera.
It's still a video, so the visceral aspect and the catharsis that comes with seeing a Greek play in person is lessened. But the story, the message, still resonates and certainly speaks to our world today.
I'm going to close by stealing the title of the previous SBCC theater production, "Looking back, looking forward." What stands out from your time here, and what are you going to do in retirement?
It's like asking which is your favorite child, but there are some that rise above, like Proof, which was an extraordinary production, and Spelling Bee was a tremendously fun show. We did the West Coast premiere of Ground, about border crossing issues and my God we're still talking about that six years later. I made my PCPA debut with (David Mamet's) Oleanna, which is about student-faculty relationships and the shifts of power. I've been fortunate to be able to have a career in the theater as both a professional artist and educator.
(Going forward) I hope to be able to pick up a few freelance directing gigs, which I wasn't able to do at SBCC because they don't authorize us using a sub for the period of time it takes to direct a play. I need to update my website after 10 years and see what happens. But mostly I hope to travel. I know it's a cliché for retirees, but there are places in the world that I want to go, and I'd love to see theater and art museums around the world, visit friends and former students and just enjoy seeing that world while I'm still ambulatory.
Theater Talk: Table Top Shakespeare Comes to a Close
One of the more intriguing pandemic pivots that arrived this season has been Complete Works: Table Top Shakespeare: At Home, a COVID-coerced adaptation of Forced Entertainment's five-year-old concept that found six performers creating condensed versions of all of the Shakespeare plays, comically and intimately retelling them using a collection of everyday objects as stand-ins for the characters on a stage made from a table top. Complete Works has been performed in theater spaces across the world as well as being webcast to thousands of international viewers, but with stages shut down everywhere and the actors living through lockdown largely confined to their own homes, the series has found an intimate new life by staying home with the performers. Meaning that rather than adorning a table set against the red drapes of a theater, manipulated by the half-dozen performers, the object-characters have instead found their starting positions on an individual actor's kitchen table or desk.
The nine-week-long Thursday-Sundays production of condensed versions of all 36 Shakespeare plays, which was co-commissioned by UCSB Arts & Lectures, comes to a close this weekend with a final quartet of classics, all of which, like their predecessors, are actually being livestreamed daily at 12 noon from across the pond. Taming of the Shrew (November 12), The Comedy of Errors (November 13), Timon of Athens (November 14), and The Tempest (November 15) round out the series, with Sunday's presentation being followed by a post-show discussion and Q&A with all of the actors over Zoom. All of the previous productions are also available for streaming until at least Sunday night. Visit https://artsandlectures.ucsb.edu/TabletopShakespeare.aspx or www.force
dentertainment.com/tabletop-live.
POS-itive Vibrations
Each fall for more than a decade, Pianos on State has placed up to a dozen upright pianos that have been painted and decorated by local artists at various corners of lower State Street and environs for performances and impromptu playing by anyone who happened by. The pandemic obviously put the kibosh on that tradition for this year, but POS decided instead to consider other possibilities. So the keyboards will instead be the instruments for a virtual concert series. The pianos will be transported to treasured performing arts venues – including the Lobero, the Santa Barbara Bowl, the Marjorie Luke Theatre, SOhO, and Center Stage Theater – where musicians will perform on them for streaming events. 
The online concert series kickoff at 5 pm on Friday, November 13 with a 30-minute show livestreamed from the Santa Barbara Bowl on its Instagram @sbbowl, followed by Zach Gill and Opera Santa Barbara teaming up for a 5 pm concert Tuesday, November 17, at the Lobero. Brian Mann, Gil Rosas, Michael Mortilla, Sio Tepper, Jay Real,and Mendeleyev come together at the Marjorie Luke Theatre for a show that debuts at 9 am Wednesday morning, November 25. Dates and times for streams from
Center Stage and SOhO have yet to be finalized.
Community members are also being invited to create videos of themselves playing piano-based music from their own homes and include some words about what music means to them in these troubled times. Post the videos to the Pianos on State Facebook page and to your own social media accounts with the hashtags #pianosonstate2020 and #arthelps.
Among the artists painting the pianos include Solange Aguilar, David J. Diamant, Stephen Harper, Jack Mohr, ART from the HEART with Karen Putnam, and the team of Ginny Brush, Eliesa Bollinger, Adrienne DeGuevara, Judy Nilsen,and Wanda Venturelli at the Community Arts Workshop.
Visit https://pianosonstate.com/2020 and www.facebook.com/pianoson
state for details.
You might also be interested in...