Focus on Film: Good Trouble with John Lewis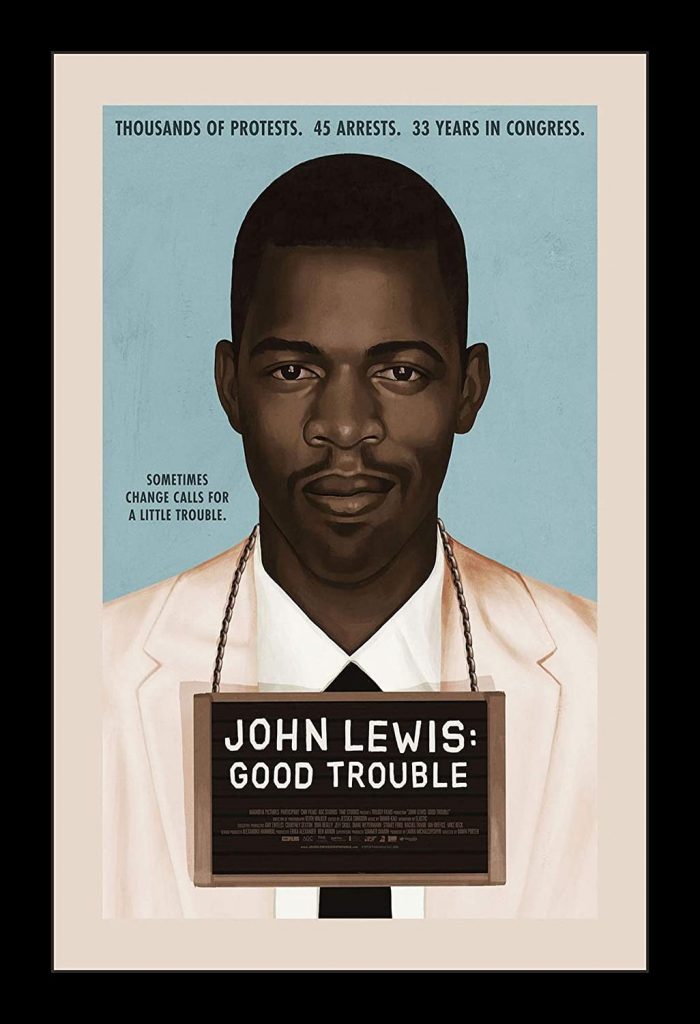 Dawn Porter's much-heralded documentary, John Lewis: Good Trouble, which chronicles the life and career of the legendary civil rights activist turned longtime Democratic Representative from Georgia, came out shortly before Lewis passed away last summer. The film, which features both rare archival footage and exclusive interviews with Lewis, celebrates his 60-plus years of social activism and legislative action on civil rights, voting rights, gun control, healthcare reform, and immigration, among other issues. Porter's film takes the full measure of the man, going back decades to his childhood experiences and his inspiring family that led to his fateful meeting with Dr. Martin Luther King, Jr. in 1957, and includes interviews with political leaders, congressional colleagues and other people who figured prominently in his life. 
The film screens at 5 pm on Tuesday, November 17, as part of both of UCSB Arts & Lectures' current series, House Calls and Race to Justice, and will be followed by a virtual Q&A with filmmaker Porter about Lewis' legacy of fearless protest as well as her views on how to keep his campaign for justice alive. Visit https://artsandlectures.ucsb.edu.
Things to See Through CWC
UCSB's Carsey-Wolf Center's Subversives series offers a daring double dose of cutting edge cinema, beginning with a discussion of Blood Quantum, a 2019 Canadian horror film that depicts the effects of a zombie uprising on a First Nations reserve whose residents are immune to contracting the plague because of their indigenous heritage. The title refers to laws that define Native American identity by percentages of ancestry, and writer-director Jeff Barnaby (Rhymes for Young Ghouls, File Under Miscellaneous) turned historical and popular narratives of contagion and infection on their heads, something that seems perhaps even more timely today. Barnaby and Métis writer, lawyer and public intellectual Chelsea Vowel will talk about film and its implications over Zoom at 4 pm on Thursday, November 12. The film can be streamed on Shudder.

A week later, the CWC series eschews the virtual world this week for an in-person double feature at the West Wind Drive-In theater featuring a throwback evening of subversive cult horror. Recreating the drive-in movie experience from the ground up, the show will begin at 7 pm on November 19 with the 2016 retro feminist horror film The Love Witch, followed by the iconic 1982 slasher The Slumber Party Massacre. 
In between, CWC's Script to Screen program soars over to Birds of Prey (And the Fantabulous Emancipation of One Harley Quinn), the 2020 superhero film based on the DC Comics team, the eighth installment in the DC Extended Universe and a follow-up to 2016's Suicide Squad. The twisted tale is told by Harley, played by Margot Robbie, in the screenplay penned by screenwriter/co-producer Christina Hodson that Richard Roeper of the Chicago Sun-Times called "stiletto-sharp." Hodson joins Pollock Theater director Matt Ryan for a conversation on Zoom at 2 pm on Saturday, November 14. Birds Of Prey can be streamed in advance on Amazon Prime, Apple TV, Google Play, HBO Max, Vudu, and YouTube. Visit www.carseywolf.ucsb.edu to register for any of the free CWC events.
You might also be interested in...