King Explores Whether 'Nothing' is Sacred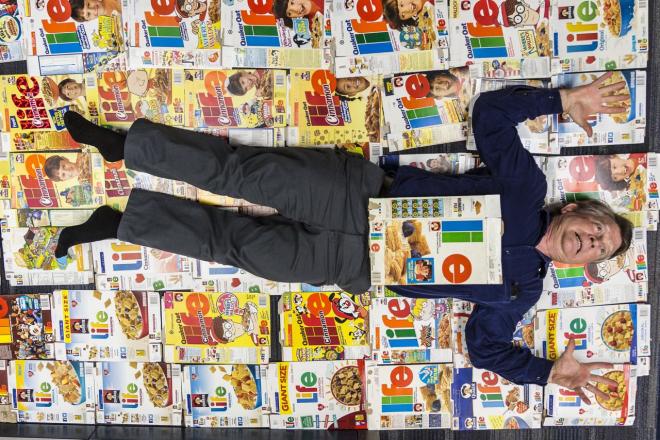 By his own accord, UCSB Professor of Theater and Dance William Davies King has spent a lifetime collecting nothing, which he brought to light in his 2008 book Collections of Nothing. Cheez-It boxes, "Place Stamp Here" squares, hotel door cards, and the little stickers found on fresh fruit are examples of the valueless ephemera that fascinate him, to the tune of collecting tens of thousands of items. However, King has also devoted years to engaging with the arts – drama, performance art, collage, and the like – and also explores the ways the activity of the collector, who thinks through the world, connects to the work of the artist, who makes a world through things.
King was the focus of an exhibit last winter at the UCSB Library, which showed a selection of his stuff in "The Creative Edge of Collecting," which was open briefly before COVID-19 concerns shut down the campus. (You can still see the exhibition online; visit https://www.library.ucsb.edu/events-exhibitions/creative-edge-collecting.) Now the decorated hyphenate – the literary scholar King's CV includes editing critical editions of Long Day's Journey Into Night (2014) and The Iceman Cometh (2020) – returns to attention via a two-pronged program next Thursday, November 5. 
In his 4 pm talk "The Creative Edge of Collecting," King will use exhibits, imagery, anecdotes, and ideas to open up the creative nexus of collecting and his take on its power to re-create the world. In the evening, UCSB Theater Department Launch Pad program will present a virtual staged reading of Collections of Nothing: Enough is Enough, King's new adaptation of his own book into a two-character play that delves into the mixed up mind of the mega collector and wonders, "Is having enough enough? Why need more?" The Zoom play – about knowing the world through the lens of its carefully collected objects – goes knee-deep into collecting and neck-deep into mortality.
The reading, at 7 pm, stars King's department colleagues Irwin Appel and Anne Torsiglieri and is directed by fellow theater prof and Launch Pad founder Risa Brainin. A Q&A with the author follows. In between, Rebecca Falkoff, an assistant professor of Italian studies at New York University who recently completed her first manuscript, Possessed: A Cultural History of Hoarding, will offer her own take on the subject in a talk entitled "An Oikos for Everything: Hoarding against Waste." In recognition of the fact that hoarding has been the subject of recent documentary and feature films, novels, memoirs, self-help books, installation art, stand-up comedy acts, and reality TV series, Falkoff will explore the relationships between hoarding and wasting, followed by a Q&A session. Visit www.theaterdance.ucsb.edu/news/event/843 for details.
You might also be interested in...