State Street Ballet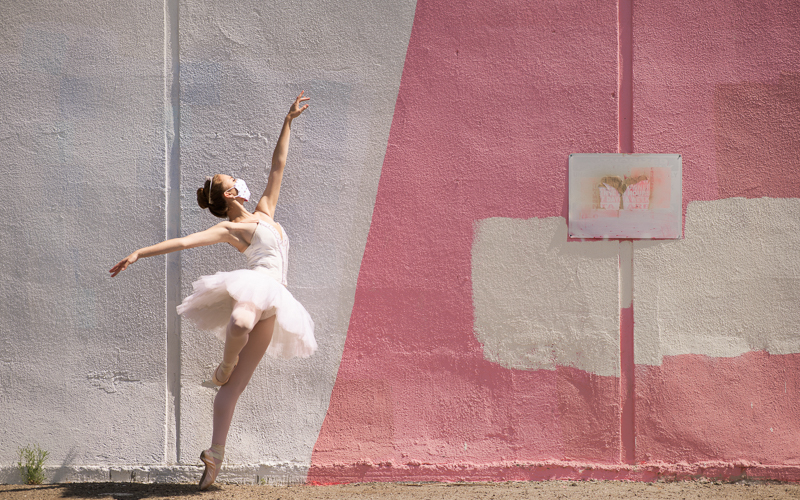 State Street Ballet was the first arts organization in town to perform the pandemic pivot as the statewide orders that shut down audience events came just two days before their planned premiere of Sleeping Beauty back in March, forcing the company to come up with a new approach quickly, resulting in a studio rehearsal version streamed on Facebook Live. Soon after, State Street Ballet adapted to COVID regulations by making streaming videos of previous productions something more immediate by turning them into interactive online events, where choreographers and dancers engaged in conversations and Q&A with the audience as each show progressed.
Now the ballet is pirouetting once again, this time airing a video-only event on their YouTube channel and Facebook page sans real-time commentary. But the good news is virtually all of what we'll see on "Art While Apart: A Celebration of Dancing While Distanced" is brand new, post-lockdown material actually produced for virtual viewing. Created and co-produced by eight-year veteran SSB dancer Anna Carnes along with the ballet's Library Dances director Cecily MacDougall, the event should serve as a cross between the ballet's Modern Master event, studio shows known as Evenings, and the genre of dance film.
The show is an ambitious attempt to keep audiences clued in to the whirlwind of activities that the ballet community has been pursuing alone at home and beyond, Carnes explained.
"Just like everyone else, we've been going through this crazy, challenging time where the arts have been impacted in a big way, and it seems we're not going to be able to be in our regular theaters anytime soon," said Carnes, who trained at LINES Ballet and whose credits include dancing onstage at the Hollywood Bowl, on the Ellen DeGeneres Show, and at the MTV VMAs. "But professional dancers all over the world looked around their house and tried to figure out what they could use as a ballet bar to continue training and how they could keep taking class during quarantine and see how to work from home. When I go online, I see so many dancers creating inspiring video projects, and I knew a lot of us (at SSB) were doing that too. I wanted to show our audience what we've been up to and how we've continued to create during this time."
To that end, the streaming event includes everything from clips of dancers working from home and exploring new movement ideas in a studio or outdoors to professionally produced video projects that were shot in iconic locations around Santa Barbara. Also included are snippets of Stewart's collaboration with Laguna Blanca School filmed by Andre Yew and a special focus on two of the SSB dancers who are back in quarantine in their native Japan. There are also interviews and discussions with the dancers, directors, and collaborators, and a series of short solo pieces choreographed by Ariana Harkin that were filmed at SSB's studios following strict safety protocols.
The latter vignette, titled "Serenity vs. Solitude," is Harkin's response to coping with COVID. "They're beautiful, classical pieces that have a kind of pensive feel to them," Carnes said. "It very much speaks to that experience."
So does one of Carnes' own contributions, part of a clip filmed back in the spring for a Visiting Nurses Association benefit that she filmed on her iPhone, just propping it up against a succulent planter, she said.
"It was during those first few weeks of quarantine, when it was so surreal," she says. "It was about whatever comes out in your movement and expressing through your dancing to embody that experience."
"Art While Apart: A Celebration of Dancing While Distanced" closes with an ensemble work set to Buddy Holly's "Every Day." "All of the dancers in our company contributed a little something, maybe a few seconds, to create a dance chain effect. It's a sample of what we might be doing in the near future when it will be more virtual as we adapt and jump into new roles. It's a fun little finale."
"Art While Apart" will also be augmented by a week-long auction featuring one-of-a-kind items such as Carnes choreographing a commissioned work based on the winning bidder's ideas and inspiration, which will run as part of the virtual version of Evenings due in early December.
"I like the idea of involving the audience in the collaborative process, although it might be a little challenging," she said. "But I'm excited to take it on."
(State Street Ballet's "Art While Apart: A Celebration of Dancing While Distanced" streams at 7 pm Thursday, October 29, on YouTube and www.face
book.com/statestreetballet. Free.) 
Westmont With Winds
The Westmont Orchestra Friday Night Concert series continues with its most ambitious program to date as the show, recently recorded live, features the student-fueled ensemble playing outside in an open-air, element-influenced tent while masked up and socially distant with bell covers over their instruments. "An Orchestral Sampler" program, which begins streaming at 7 pm on Friday, October 23, www.vimeo.com/showcase/westmontmusic, features Mendelssohn's "Fingal's Cave Overture," Mary Watkins' "Soul of Remembrance," Grieg's Piano Concerto in A Minor Movement No. 3, and Philip Stern's "Arches Over Water."
Opera Goes Dark, Twice
Opera Santa Barbara's attempt to concoct an end run around current local COVID regulations by hosting Opera in the Park in Godric Grove at Elings Park last weekend got shut down a few days before the planned safety-conscious socially-distant show. It was an understandable effort, given the perhaps absurd set of restrictions that allow indoor movie screenings, religious services, and gym workout among other seemingly more virally dangerous activities but prohibit performances of any kind anywhere, even outdoors. A Facebook thread from local arts folks sported a lot of running commentary on the inconsistencies earlier this week. But if the opera's outdoor offering was forced to go dark, the company's back-to-streaming broadcast of perhaps the darkest work in its history can't be canceled by coronavirus concerns. Opera Santa Barbara will raise the "virtual" curtain for a first-ever videotaped view of its 2009 world premiere commissioned production of Séance on a Wet Afternoon, the first and only opera to date created by award-winning composer Stephen Schwartz, known for his Broadway powerhouses Wicked, Godspell, and Pippin.
Based on the novel by Mark McShane and the screenplay to the 1960s noir film by Bryan Forbes, the Séance plot takes viewers deep into the world of medium Myra Foster (sung by soprano Lauren Flanigan) who is aided by her reluctant but devoted husband Bill (Kim Josephson) in manipulative moments that turn to mayhem and the macabre. The video streams for free for a week beginning on Tuesday, October 27. Meanwhile, OSB is planning to open Little Women as an in-person performance in mid-January. Visit www.operasb.org for info, a preview video and to register.
You might also be interested in...