Charles Lloyd at the Lobero: Surfing the Creative Wave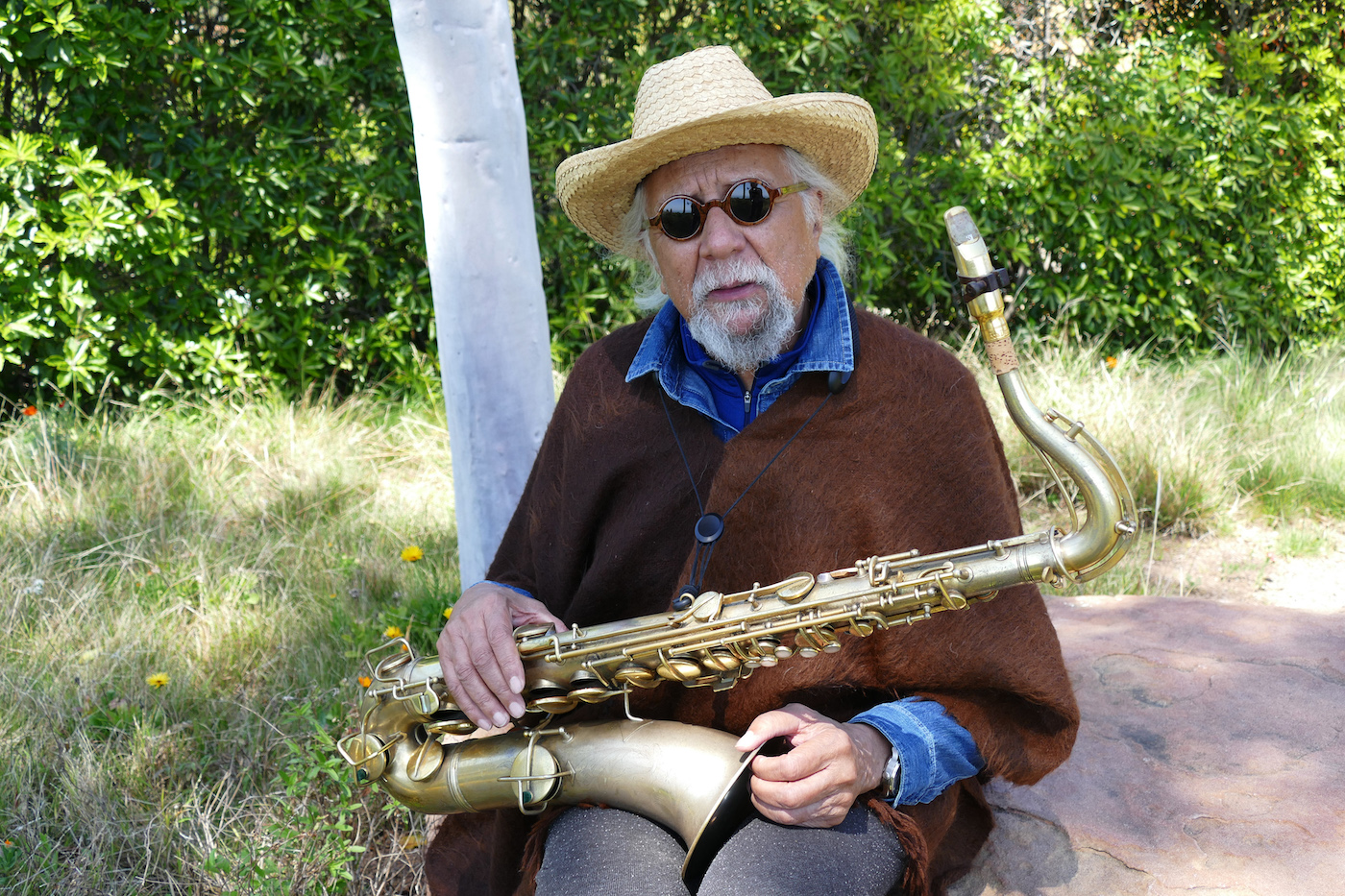 Interviewing Charles Lloyd can be almost as enjoyable an experience as attending one of the legendary saxophonist's concerts, which are always journeys into the ever-in-the-moment confluence of man, musician, and his muse that can veer from riveting to soul-stirring to spiritual near-bliss. That's because Lloyd, who has lived in the hills of Montecito with his photographer wife Dorothy Darr for decades, seems equally spontaneous in conversation, and perhaps even a bit less confined by the boundaries necessary for a collaborative concert.
Alas, we had to resort to an email chat this time around, but at times, reading his responses to my questions almost felt like we were actually talking in person. I bring this up because Lloyd has now joined the ranks of the local musical luminaries lending their talents to the ongoing Live from the Lobero's series of streaming shows, inexpensive pay-per-view concerts that benefit both the theatre and the National Independent Venue Association, which is comprised of nearly 3,000 independent venues, clubs, theaters, festivals, performing arts centers, and promoters struggling to survive the pandemic's financial fallout. It's hard to tell in advance whether the jazz giant's virtues will come through intact in the virtual world, but if anyone can transcend the medium's mucking up of the message, Lloyd would be a leading candidate.
Indeed, Lloyd has been a boundary-busting expectation-defier since early in his career that saw the well-educated Memphis-born musician embrace the era in San Francisco in the mid-'60s, when he shared bills at the famous Fillmore with Jimi Hendrix, Jefferson Airplane et al. and became one of the first jazz artists to sell a million copies of an LP with 1967's Forest Flower. Not long afterward, he walked away from performing, and perhaps the fortune and fame befitting a jazz superstar to hunker down in Big Sur, the better to be closer to nature and feel more of the essence of inspiration that transcends the physical that still inspires him today.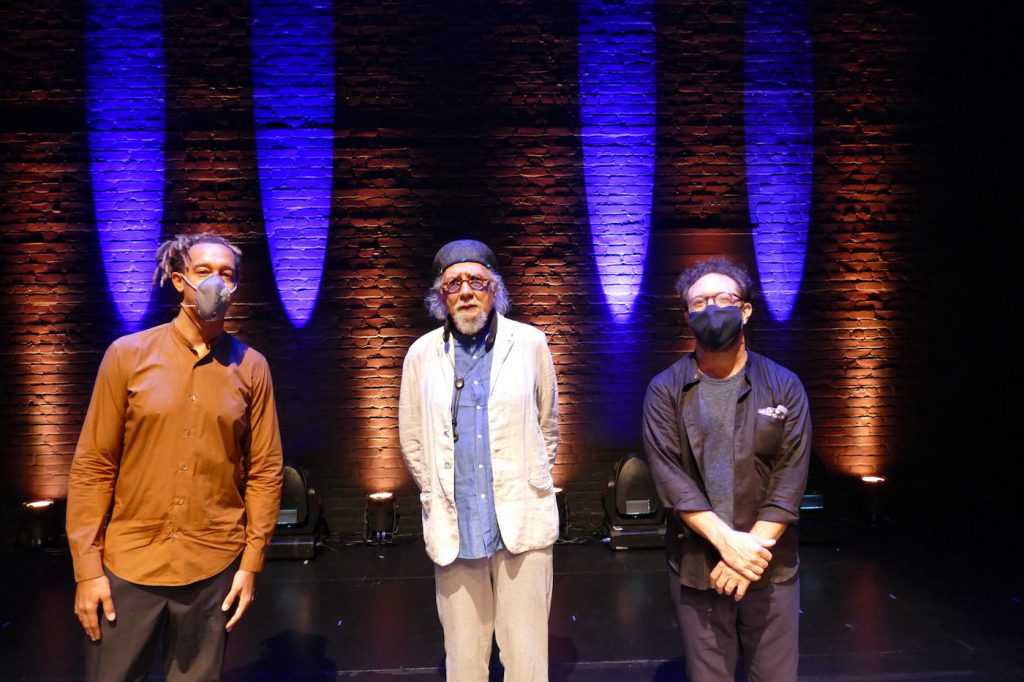 The Lobero show, which will be available for three days beginning Friday, October 23, also serves as a replacement for a canceled live concert slated for October 25 that had already been postponed from April. That would've been with The Marvels with whom he recorded his most recent record at the venue, a much-lauded double disc. Last month, Lloyd did his first streaming concert in Europe for the Healdsburg Jazz Festival with tabla virtuoso Zakir Hussain and guitarist Julian Lage. But Friday's concert features yet another configuration, boasting four-time Grammy-nominated pianist-composer Gerald Clayton, a Lloyd favorite in recent years, and guitarist-composer Anthony Wilson in their first-ever performance. Reason enough to stream the show.
The following is a lightly edited transcript of our email interview last weekend.
Q. You've said many times that the Lobero is one of your favorite places to play. What is it about the venue that feels right to you, and how does that show up in your performance, if at all?
A. Adobe walls, Jose Lobero, opera, Lutah Maria Riggs, Marian Anderson, Jonathan Winter, Odetta, my friends Wayne Shorter, Herbie Hancock, and Roy Haynes, and so much more. I love the use of adobe for homes and architectural spaces – it embodies the concept of "terroir" in the purest form. Created from the earth it stands on, made malleable by water and fortified by the sun. I am endeared to Jose Lobero for wanting to create a place for opera, and to Maria Lutah Riggs for her work on it many decades later. Jonathan Winter was a Montecito neighbor, who along with his wild humor had a love of jazz. I knew he loved Lord Buckley – we had deep conversations when we ran into each other in the village. When I was a boy growing up in Memphis, struggling with the oppression of the South, Marian Anderson lifted us up and gave us such elevated inspiration.
I have performed at the Lobero something like 17 or 18 times. Todd Jared, who heads up the production team, knows me backward and forward, so it is always a relaxed setting. On top of all of this, I don't have to get on a plane or check into a hotel to perform there!
You performed this show with Gerald Clayton, who you've been playing with the last few years (and made a live record at the Lobero with). Can you speak about the interplay between you, and how it facilitates your in-the-moment expression?
Gerald started playing with me in 2013 when Jason Moran had to stay home with his young twins. Later that same year, I took Gerald with me to Poland where I had been commissioned to write a new suite of music "Wild Man Dance," for the Jazztopad Festival in Wroclaw. Gerald revealed a very sensitive poetic side of himself in that performance, which was released on Blue Note Records in 2015. Since then, he has toured and performed a lot with me in quartet, quintet as we did at my 80th birthday at the Lobero, trio, duo and symphony orchestra. Each time we get together, I hear the expansion in his approach to the music. It is edifying to witness. Gerald was born in Holland, but loves to surf and has chosen California as his home – it's great to know he is just down the road a piece in Hermosa Beach.
Anthony Wilson is new to you. What drew you to him, and what makes him a good fit for the Ocean trio?
His father Gerald Wilson was the great composer, arranger, and bandleader, a messianic kind of guy who had written for Jimmie Lunceford, Count Basie and Duke Ellington, and was also a ghostwriter for a lot of Hollywood film scores. When I was a student at USC I was in his big band. There were a lot of great musicians in the band – Ornette (Coleman) was there for a while, Don Cherry, Horace Tapscott, Eric Dolphy, Clifford Jordan, Lester Roberston. We rehearsed a lot and at one point we went to Las Vegas for six weeks to play at the Flamingo Hotel. We drove up from L.A. and stayed in rental houses along roads across the tracks in the Las Vegas ghetto. Segregation was still very much in effect.
Many years later, I met Anthony through my tone poet friend, Joe Harley, who was keen to hear Anthony play with me. Last winter I had a gig in L.A. and invited Anthony to be part of it. I could hear something special in his playing, so when we started planning for this concert in the midst of COVID and with travel extremely limited, I invited Anthony to join me and Gerald at the Lobero.
Speaking of which, I'm curious about the name for the group: "Ocean Trio" to me evokes a sense of rhythm, power, and flow. What resonates for you?
Fluidity. All of that – and the great expanse and openness of the sea.
Being that the Lobero performance was already recorded, can I ask: How did it go? What surprised you? Did you find those transcendent moments that make your concerts so compelling? And were you able to feel fully expressed even without an audience? (I imagine so, as you often perform for extended periods with your eyes closed.)
I think the three of us were riding a wave of joy just to be in the same space and making music together. We were focused and it just flowed. Before we knew it, two hours had gone by and they told me we had to stop because they ran out of space on their storage drive. The beautiful thing about the "now" is that it defies the concept (of time). We had no idea two hours had gone by.
When people share their wonder that you are still working so creatively, trying out new configurations, working with new material, seemingly endlessly innovating – what does that bring up for you? Your own sense of wonder? Perhaps frustration that people are surprised? Gratitude? Or something else?
Every day I marvel at my blessings in life – I think you know I have nearly checked out a couple of times. The creator keeps restoring my health – there must be a reason. I can't take it for granted.
This COVID has taken several dear colleagues. It has been heartbreaking. It has underscored the need for sages, not politicians. I am doubly blessed to live where we can walk around freely outside and get fresh air. (Wife) Dorothy (Darr) has been growing our fruits and vegetables for many decades. God willing, we will get through the fall and winter without any other disasters to complicate things.
What's been your experience of coping with COVID and our "new reality." I know you live in an area as remote as Montecito gets, and have cultivated a "friendship with solitude" over the years. Does your experiences with the pandemic in the last seven months show up in your creativity, your music?
There has been an ebb and flow of anxiety, frustration, and appreciation. Anxiety and frustration over the slow response of this country and the toll it has taken on every aspect of each of our lives. For us, as musicians, it is unknown as to when our normal performing lives will return – or whether the great venues large and small in the world will even be able to survive the financial devastation of such a long closure. This didn't have to be. On the other hand, I appreciated big time not having to run out to the airport at 4 am to catch a flight to connect to a bigger plane to fly to Europe or Asia and then go through all the toll booths required to enter a country and check into a hotel. I don't miss that at all. I have done a lot of playing outside in nature with the frogs, bees, birds, and my cat, Cochise. That has been grounding. It is great that the Lobero embarked on presenting live stream concerts. Even without an audience, there are enough vibrations in those hallowed adobe walls to feel the presence of so many great spirits – and that helped us navigate those waters.
What drives or inspires you now, and how is that perhaps different from 10 years ago, or 50 years ago?
A great inner joy and deep gratitude fills my life. I sometimes ask myself how I could be so blessed. Yes, I am angry about the condition of the condition – things that I never thought I would see again in my lifetime. And things I have never seen in my lifetime. To our work we have a right, and while I am still here and still able, I will continue to try and make a contribution through my music that will uplift, inspire, and console as music has always done for me.
There's a recent quote from Clayton about how when you play, he can hear Howlin' Wolf, the Beach Boys, the Grateful Dead, and Keith Jarrett – not to mention Bird and Bach. It seems that comes from having your curiosity about music remain intact, and a willingness and the humility to continue to be impacted. Does that fit for you, or does it resonate in a different way?
Beginner's mind, Prez. Gerald has big ears and can hear around a corner.
Your music always seems to me to be a search for a place between seeking the truth and expressing it. How do you find that balance between truth-seeking and truth-telling?
We are reporters living in this world – what we report is based on experience. I have the benefit of a long life to draw from. I try to maintain Beginner's Mind. At this stage in life I am all music.
You might also be interested in...