Arts in Lockdown Series Part 12 Artist and Art Teacher Paulo Pereira Lima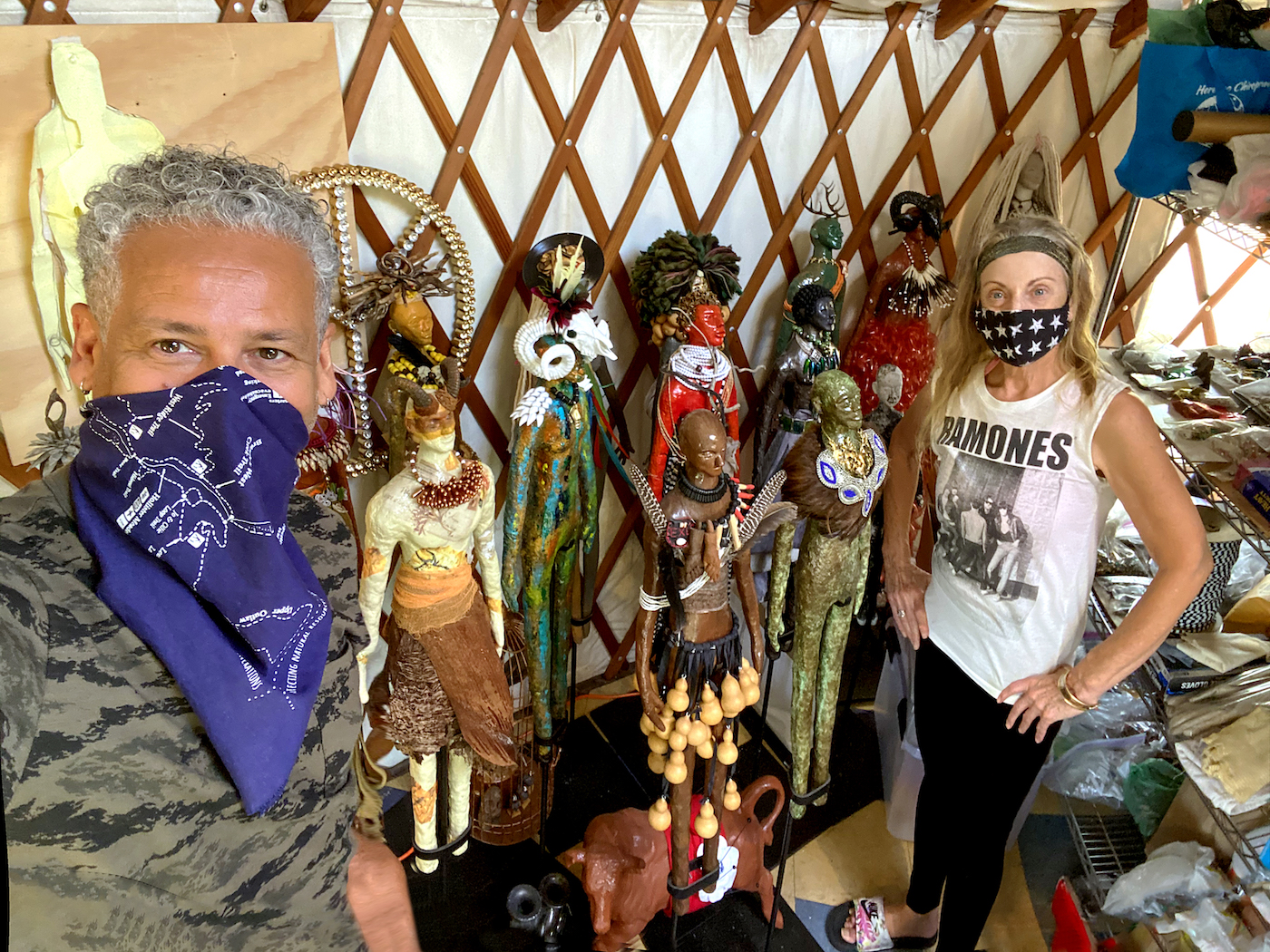 Artist and university teacher Paulo P. Lima has an overtime schedule creating art and teaching online during COVID-19. He has a studio at Fairview Gardens in Goleta where he creates art and pays homage to his ancestors. Works from the series were selected by Sullivan Goss Gallery for their "Summer Salon" group show in August, with COVID-19 precautions for in-person viewing.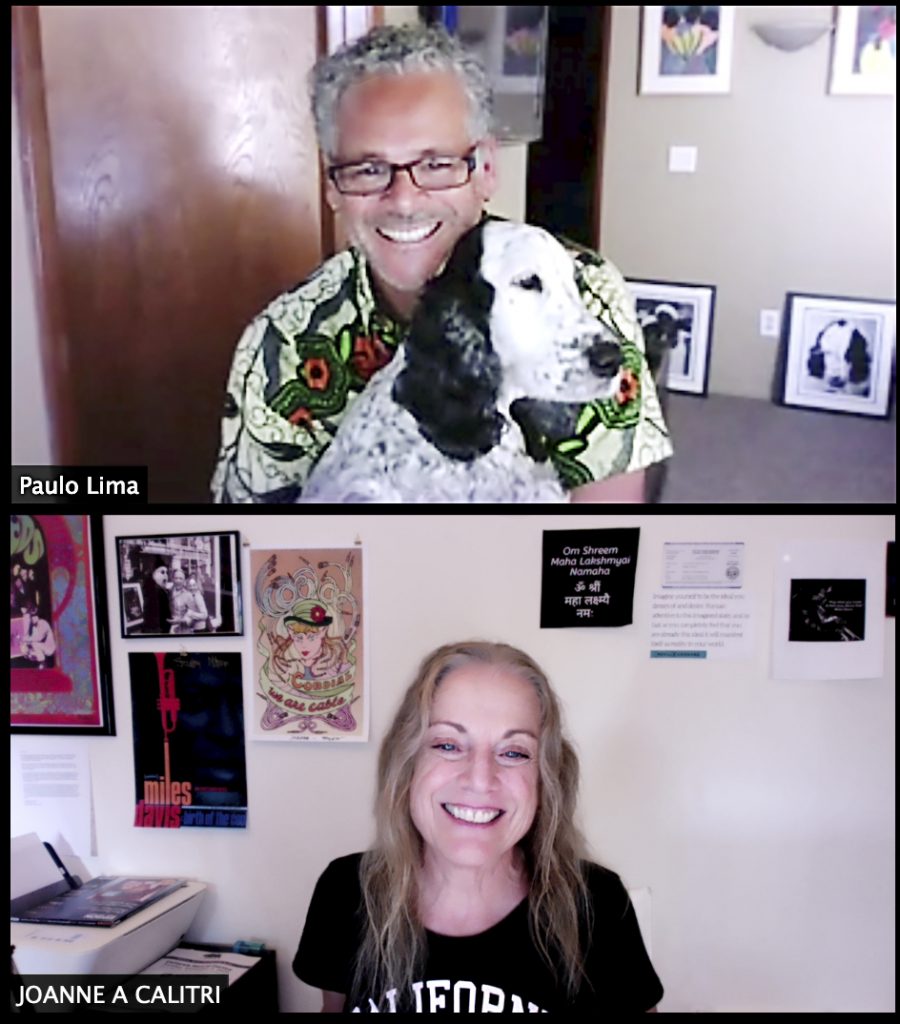 Paulo teaches at Loyola Marymount University and at California State Polytechnic Institute, Pomona. His classes are Diversity in American Drama at the LMU Theatre Department, and Costume History and "Through an Artist's Eyes" at CSU. He holds a master of fine arts in costume design at California State University, Long Beach (2009) and a doctoral degree in theater and performance studies at UCLA (2014). He has been an artist for more than 20 years and has exhibited for 11. His mediums are sand, wire, papier mâché, cloth, air-dry clay, glue, and acrylic paint. In addition to creating works and teaching, he is writing short stories based on his family history.
I interviewed Paulo, masked and socially distanced, at his Santa Barbara yurt and again via Zoom, where he was at his Los Angeles office after casting his votes in the 2020 election. Here is our interview:
Q. During lockdown, is being an artist and an art teacher a plus or minus for you?
A. Being an artist and an art teacher is a plus for me. My practice as an artist offers me new ways of seeing the world, which I explore and share with my students. I view teaching as an opportunity to learn and to develop myself as a human being. My artistic "eye" is a response to the relationships I have, to the materials I work with and the environment – social, political, and economic – that I live in. Being an artist is the way I find to engage with my new realities, social distancing and the virtual world. Teaching online is a challenge that forces me to be creative in various ways. They are both creative processes. While working in my studio, I am focusing more on my feelings, the materials I am using, the space itself. Art in my studio is done pretty much in solitude, accompanied by music, some incense, and the lovely company of my dog. When quarantine started in Santa Barbara, I found refuge in my studio, and I took the opportunity to be creative, with some moments of anxiety and the uncertainties of the times (exhibitions, sales, money). Teaching art at the university is more of a collaborative effort. I challenge my students to use this moment of uncertainties and social distance to create art as a response. University students are eager to learn and to explore new ideas, and this exchange always rejuvenates me.
What are LMU and Cal Poly admins' concerns for online teaching?
The universities are worried about the quality of the courses and how qualified the teachers are to teach online. They have offered important resources for faculty and students about online teaching and learning. Both my universities provide mental health resources for students and health guidelines for those living on campus. All efforts are made to ensure quality education, maintaining a healthy environment and academic success. Another big impact is that libraries have been closed for seven months, which limits students' access to resources such as computer labs and physical books. Most research has to be conducted online. However not all materials are available in digital format.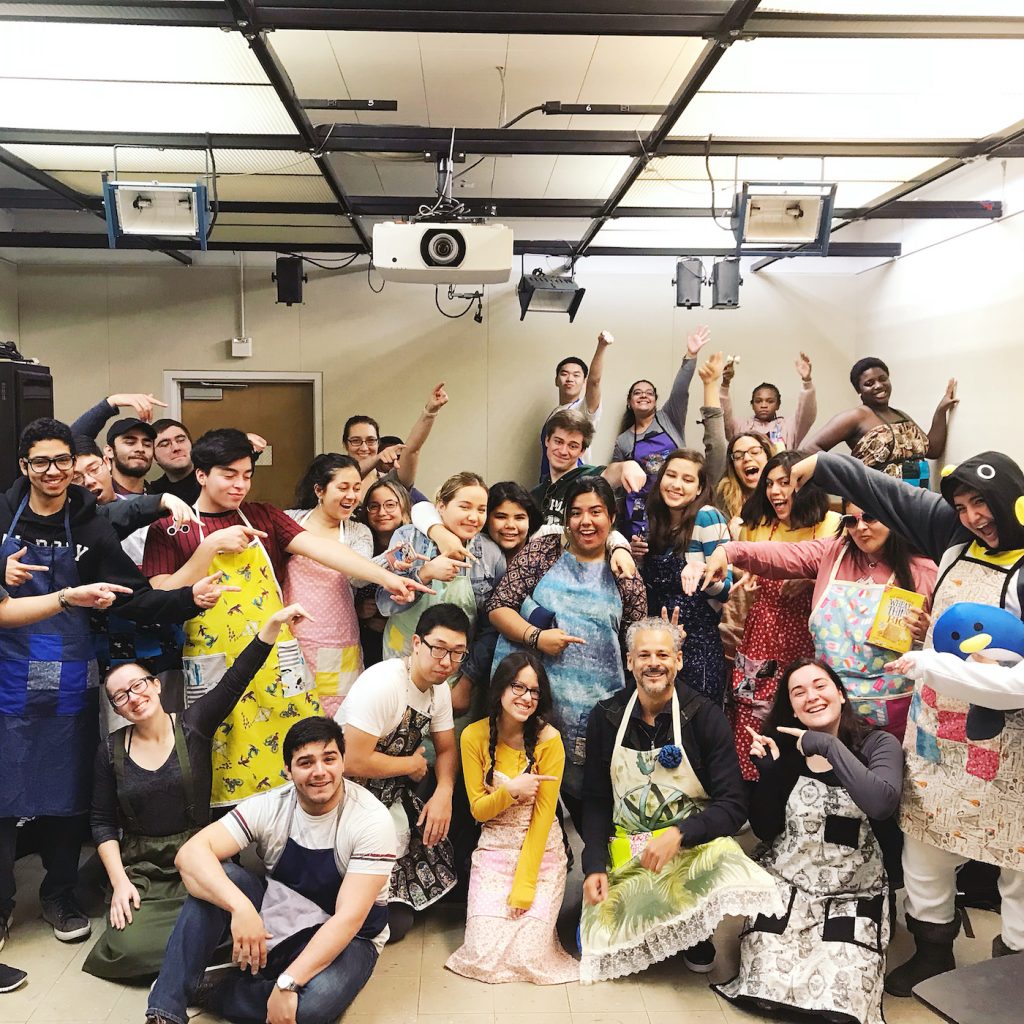 Talk about teaching online.
My journey teaching art virtually started in March when both of my universities decided to take their classes online. It has been a tremendous effort to transition from face-to-face engagement with my students to virtual teaching. They are both creative processes, but extremely different. I like to respond to the energy of the classroom, to move around and occupy the space as if an invitation for my students to speak up. Online, I miss that movement part. Now I have to create other forms of engagement, either by having them work in smaller groups aka "breakout rooms" or having them participate in discussion boards. 
What do your students think about online learning?
Some of my students are struggling to take classes online. Many of them have complained that they are not receiving the kind of education they were promised when they enrolled at the university. My students miss the personal relationships and extra-curricular activities that could have been formed while experiencing life on campus. I do not blame them. College experience is about sharing spaces, creating communities, finding like-minded people to bond and to grow as people, away from parents and their local communities. I have insisted to my students that this is the time to find communities and opportunities virtually, and to expand on those relationships formed if they were on campus before the pandemic.
What is the world feeling like now?
It feels like a big bubble ready to burst! There is so much energy all around, but everything seems to be contained, restricted. Our movements, the freedom to come and go are hindered and minimized. I see people I love and I feel like hugging them, but I can't. I have all this art stored in my studio that I want the world to see, but the opportunities to have them on display is very limited. I remain hopeful! The various bubbles are somewhat connected and reenergized by how creative people have been to communicate, to explore new ways to share their talents online.
Do you want a change?
I want people to be more open-minded and loving towards each other. I teach diversity classes at LMU and at CSU Pomona, and in both universities, I feel that my students are ready to have this conversation. Their desire to learn from the various groups we study in my classes, tells me I am heading in the right direction. I do not expect everybody to change, but if I can offer new ways of seeing and if those new ways of seeing change the world of one person for better, I am happy.
Any issues influencing your art?
My art has been highly influenced by my own history. My upbringing in Brazil, my sexual orientation, my beliefs in Buddhism, my encounters with the Orixás and their dress during my doctoral research at UCLA, my travels and materials I collect from all over the world. Our social and political world, especially the recent acts of violence against communities of color, has shaken me to the core. This is the moment to have our voices heard and to make a statement, big or small. I love using my racial and ethnic background when relating to my art. Who are my ancestors? How can I pay homage to those men and women whose memories I do not have access to because there is no documentation that allows me to know who my ancestors really were. I can only go back two generations in one side of my family – there is not a genealogical tree I can refer to. I insist in dedicating my art to my limited references. Instead of limiting how I could express myself, my imagination pushes me forward at the same time that I look back. The image I have is that of the mythological Sankofa bird, a bird with her head turned backwards while her body is moving forward. The familiar sensation of being stuck propels me to reach out to other artists and art enthusiasts, as if to find the inner strength that, at times, vanishes through my fingers like sand from a broken hourglass.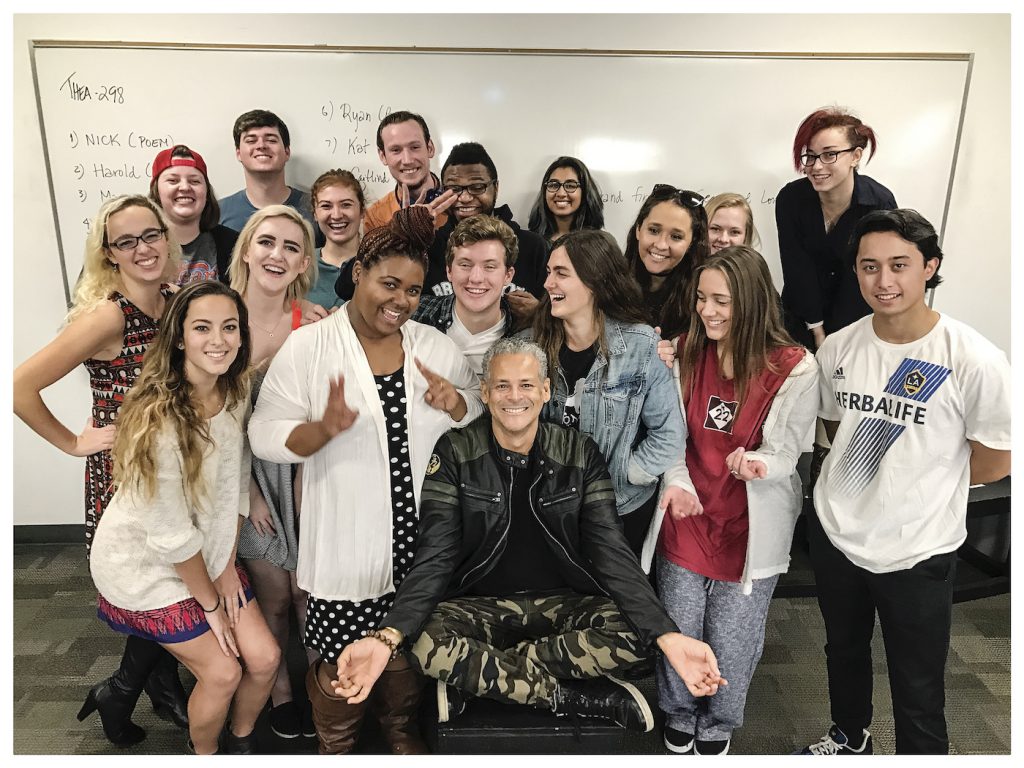 Giving back/paying forward?
My husband and I are supporters of organizations and not-for-profits in Santa Barbara, such as the Santa Barbara Museum of Art, Lotusland, the Santa Barbara Botanic Garden, the Land Trust for Santa Barbara County, and the Ensemble Theatre Company. I have donated artwork for auction at the Pacific Pride Foundation Gala and the Santa Barbara High School's Visual Art & Design Academy (VADA) in 2019. At my studio space at the Center for Urban Agriculture at Fairview Gardens in Goleta, my contribution is recreating the garden space surrounding my studio.
What's next for you?
To continue working in my studio to finish my new collection of figures and find a place where I can show them. I am looking forward to teaching my diversity classes online in the spring, and two exciting classes: costume design and costume craft (sewing). I want to learn more about 3D printing and buy a printer. It is a passion I discovered last year working with students in the maker space at CSU Pomona.
Any advice for artists?
Keep working and producing your art. This pandemic shall pass, and we will be looking at this moment as an opportunity to grow as people and as artists. I am trying to keep a positive vibe and to keep myself busy (with many naps in between). Creativity in times of stress and disillusion may serve us to dig deep and to find the strength and response we need to move this world forward. It is not easy. At times, I have to regroup, take deep breaths, and continue sculpting, painting, drilling, sanding, and planting succulents in my garden. I am trying to find peace in my times of solitude. We, as artists, have the responsibility to respond to our contemporary times, but I do not feel pressured to make big statements. I want to be comfortable in my own skin and to touch people's hearts with my art, even if for a brief moment.
And for students?
Be curious and be kind to yourself! Read more! Love more! Worry less! Explore your feelings and how you are "seeing" the world right now. There are ways in which you can, and should, express yourself that reflect your difficulties to personally connect to other people. Use that! Maybe in a few months, or in a couple of years, we will be looking at this moment in history and find out that we responded to these issues with the best of our abilities, given the circumstances. Be positive and kind to yourself and others. •MJ
411: Instagram: @chatzagor 
Facebook: www.facebook.com/pau
loplima
Website: https://pauloplima.wixsite.com/figurines
email: paulolima.design@gmail.com
You might also be interested in...