UCSB Shakes it up All Over the 'Net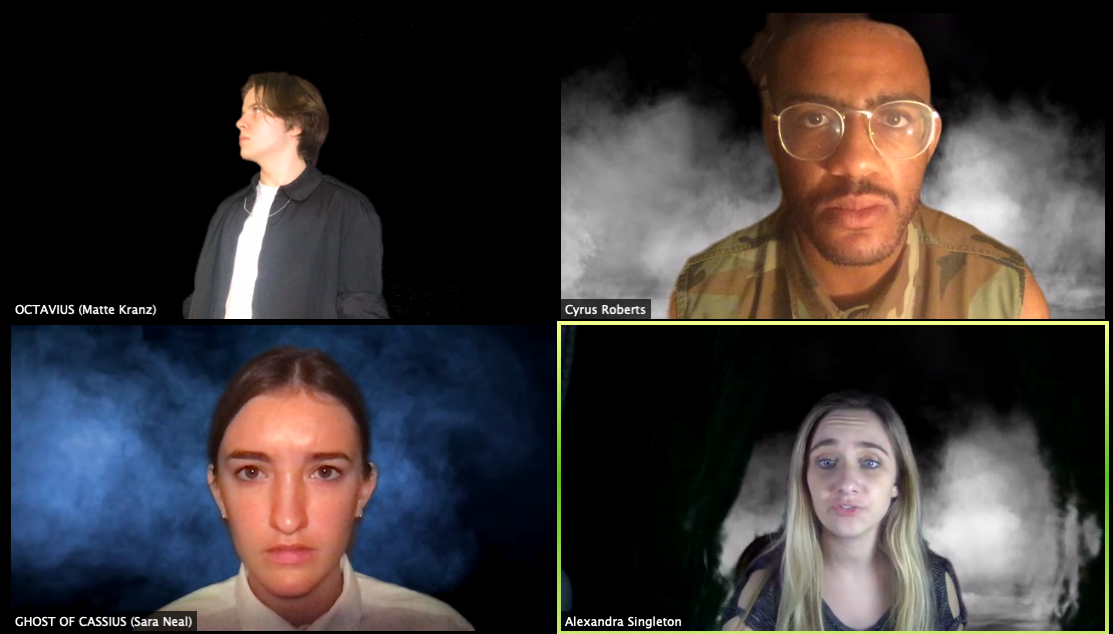 UCSB's Department of Theater and Dance's new season got underway last weekend with a reprise of its summer production of Immortal Longings, a serious take on deals on issues of power and corruption in Shakespeare adapted and directed by Irwin Appel. This weekend, Appel launches its first-ever Naked Shakes Solo Festival featuring renowned artists Debra Ann Byrd, Patrick Page,and Lisa Wolpe with one-person shows exploring Shakespeare's take on race, villainy, and gender. The first show, Becoming Othello: A Black Girl's Journey, is an autobiographical memoir about award-winning Shakespearean actress Debra Ann Byrd's trials and triumphs with race and the classics, her memorable experiences growing up in East Harlem, and her gender-flipped journey on the road to taking on the role of Shakespeare's noble, flawed general. The solo show features songs and lyrical language from Black women playwrights, as well as Langston Hughes, Martin Luther King, Jr., Frederick Douglass, and Harriet Tubman. See the 90-minute, five-act performance at 6 pm on October 17 via Zoom at https://bit.ly/302SdXU.
Meanwhile, Forced Entertainment's Complete Works: Table Top Shakespeare, co-commissioned by UCSB Arts & Lectures, continues its series of virtual stagings of Shakespeare's complete works re-imagined by the innovative theater company for viewing and interaction online. The At Home edition was conceived to be presented in the time of the coronavirus lockdown and its aftermath by telling the stories from Shakespeare's plays as a series of inventive, intimate, and playful presentations direct from the kitchen tables of the six Forced Entertainment performers in London and Sheffield, England, and Berlin. The production of each of Shakespeare's 36 plays features just a single performer, with ordinary objects on the tabletop cast as stand-ins for the characters.
The series continues at 12 noon every Thursday-Sunday through November 15, and can be accessed via www.artsandlectures.ucsb.edu. This week's schedule features Henry VI, Part 1 (October 15); Henry VI, Part 2 (October 16); Henry VI, Part 3 (October 17); and Richard III, followed by a live post-show discussion over Zoom with the week's performers (October 18).
SBCC Theatre Group is 'Looking Back, Looking Forward'
Santa Barbara City College's theater department is blessed not only with a barely decade-old facility that includes the large and well-appointed Garvin Theatre, but also the more intimate black box-style Jurkowitz Theatre. But the organization has never taken advantage of another space that lies just steps away from its seaside headquarters: the lush green meadow on the West Campus overlooking the ocean that is made more accessible by our year-round tepid climate.
Now, in our new reality of the COVID-19 pandemic, SBCCTG is eyeing mounting a production on the spot. Of course, protocols and guidelines for such live outdoor performances with an audience have not yet been released, so such an outdoor opportunity is something we can look forward to, perhaps in the spring.
But education and entertainment must go on. So in the meantime, the group is, like almost every other arts organizations, pivoting to provide online access to something new. In this case, it's a musical revue called Looking Back, Looking Forward, consisting of songs from past and planned future shows of the Theatre Group at SBCC, more than eight decades worth in all. Among the classic Broadway shows represented are Cabaret, Guys and Dolls, Little Shop of Horrors, West Side Story, Oklahoma!, Rent,and many more, as well as such modern works as the 2017 Sara Bareilles-composed musical Waitress, and Be More Chill, which premiered off-Broadway just two years ago.
"When we thought about what we were missing most during this period of theatre shutdown, (we realized) it was the unique emotional experience provided by great songs from musicals," explained theater department co-chair Katie Laris, who is directing the production that will premiere as an on-demand streamed video on October 17. "Broadway is going to remain closed at least through May, which leaves a huge void in the life of everyone who loves theatre, but Broadway shows continue to hold so much importance in all of our hearts. (The revue) lets us celebrate our longevity as a community theatre by choosing songs from shows we've produced over eighty years, and also (previewing) songs from shows that we'd like to do in the future."
The cast of singers participating in the production are split between students and local professionals, including Hazel Brady, Christian Duarte, Nick Ehlen, Amanda Elliott, Grace Gibbs, Felicia Hall, Aaron Linker, Miranda Ortega, Margaret Prothero, Daniel Sabraw, Shannon Saleh, Willie Simpson, Levi Smylie, Travis Stehmeier,and Tiffany Story. Of course, the actors can't be close on stage, so the idea of a full musical production was out. Instead, a revue allows for mostly solos, with a few duets and trios.
"We were able to rehearse in person in a very limited way outside, masked and socially distant, individually or in very small groups with very strict safety protocols in place," Laris said. "And there was a lot of organization involved in scheduling (inside the theater for the actual shoot) because we could never have more than a few people in the same space at the same time and had to surround the actors-singers with plexiglass shields."
SBCC's team was up to the challenges, Laris said, noting that the stage designers had to work mostly in isolation but managed to create beautiful designs while Pat Frank created gorgeous lighting looks on the stage and longtime costume creator Pamela Shaw pulled together elegant clothing for the actors. A professional quality television production featuring four cameras, audio equipment, a switcher and monitors captured the performances in the Garvin Theatre.
If conditions allow, SBCC hopes to remount Looking Back, Looking Forward as a live outdoor show during the afternoon, with the audience attending on the West Campus lawn fully masked, as soon as the spring. But for now, anyone anywhere can stream the revue whenever a viewing is desired through November 7, at a cost of $15 per household. Visit www.theatregroupsbcc.com or call (805) 965-5935.
Luke Livestreams Resonance
A sizable swath of Santa Barbara spoken word artists, singers, and musicians have come together to create Resonance, the second installment in the Marjorie Luke Theatre's periodic Virtual Concert series that streams for free on its website starting this Friday, October 16. The aim of the event, and indeed the whole series, is to uplift, unite, and inspire the community's spirits, according to its creator-producer, Luke executive director Rod Lathim, who said the more than 30 participating artists and community members were chosen to reflect our diverse cultures with songs, musical compositions, and spoken word selections that resonate with the times.
The musicians, who performed established and original compositions created specifically for the event, include classical guitarist Chris Fossek, composer Cody Westheimer playing the shakuhachi, Alice Bradley on banjo, Charlotte Choi on cello, Gil Rosas and Jay Real on piano, Santa Barbara Folk Orchestra founder Adam Phillips singing and playing guitar and Chinese flute with Laurie Rasmussen on Celtic harp and Nicole McKenzie on violin, and Miguelito Leon & Friends sharing a traditional Afro Cuban percussion and vocal work.
Spoken word pieces performed by Remi Sandri, Solomon N'dungu, Jane Sweeney, Jean Howard, Sharon Hoshida, Gil Rosas, Kareem Battle, Lailan McGrath, Aliz Rubicalva, Fred Madrigal, Rich Hoag, Marion Freitag, Rosalina Macisco, Jay Real,and Tom Hinshaw include works by Maya Angelou, Robert Fulghum, Suzy Kassem, and Albert Camus, plus a monologue from the Stage Manager character in Thornton Wilder's Our Town read by 14 community members stitched together seamlessly in the editing process.
Resonance, which was videotaped over three days on the Marjorie Luke stage in late September followed by rigorous post-production, is presented in conjunction with The Luke's "Mind, Body & Soul Series." The program will stream on demand at www.luketheatre.org, where viewers can also watch the first episode, "Mendeleyev In Concert." Upcoming productions include "Jackson Gillies in Concert," "Pianos at The Luke" in collaboration with Pianos on State Street, "Tariqh Akoni & Friends," and a special holiday show to be announced soon.
You might also be interested in...