Doubly Distanced Day of the Dead Celebration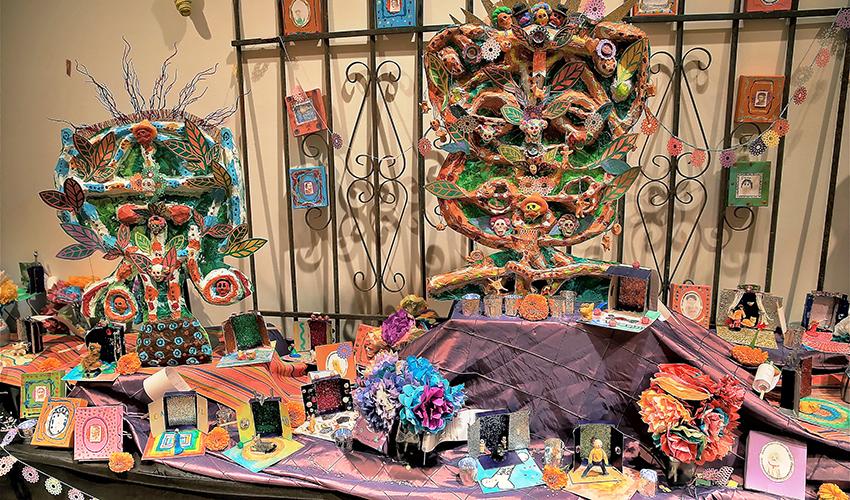 The Santa Barbara Museum of Art has celebrated the Mexican tradition of Día de los Muertos ("Day of the Dead" in English) with music, dance, art activities, and altar displays for decades, long before the Pixar film Coco brought the South of the Border holiday to mainstream attention. This year, in light of the continuing pandemic restrictions, the museum is hopping on the virtual bandwagon to take the festivities online via Zoom. The good news is they'll be streaming live from Oaxaca, offering a behind-the-scenes glimpse of the artisans and art that are central to the deeply moving holiday. Over two, one-hour livestreams taking place at 11 am on Saturday and Sunday, October 17-18, cultural anthropologist and museum travel guide Florencio Moreno will speak about how some of the traditions and unique ways Day of the Dead are celebrated in Oaxaca via visits to the home studio of woodcarver Zeny Fuentes Santiago and papel picado master artist Margarita Sanchez Martinez, both of whom were selected as a Great Master of Mexican Folk Art by the Rockefeller Foundation and National Bank of Mexico's Cultural Foundation. After the Q&A with each artisan, museum teaching artist Tina Villadolid shares ideas about how to create meaningful elements out of simple materials that can be added to home altars to honor loved ones who have passed. Reserve tickets for the free events at www.tickets.sbma.net.
Greene Screen
COVID-19 doesn't seem to be cramping the creative output of Santa Barbara blues-rock guitarist Alastair Greene. His forthcoming album, The New World Blues, which we're told is not a reference to our "new reality," is set to be released on October 23, but you can get a sneak preview this weekend of a number of the songs via his band's first live concert since March. The Alastair Greene Band, with longtime mates Jim Rankin on bass and Austin Beede on drums joining the guitarist/singer-songwriter, has filmed and recorded the performance at the Los Angeles studios of Bandprod.com employing a fully professional production, including audio, video, and lighting. The show includes Greene favorites from his eight-album catalog as well as the live debut of the songs from the new record, which was produced by Tab Benoit.
Greene will return to the BandProd.com studio to host the livestream playback of the concert film at 5 pm on October 17, and will tell stories and answer fan questions live during and after the screening. Greene, who toured internationally for seven years as lead guitarist with the Alan Parsons Project, also recently spent a year as the guitarist in the Sugaray Rayford Band. His last album, Live from the 805, was recorded at SOhO. Visit https://agsongs.com for details and tickets.
You might also be interested in...