Arts in Lockdown Series Part 11: Fashion Forward with Couturier Catherine Gee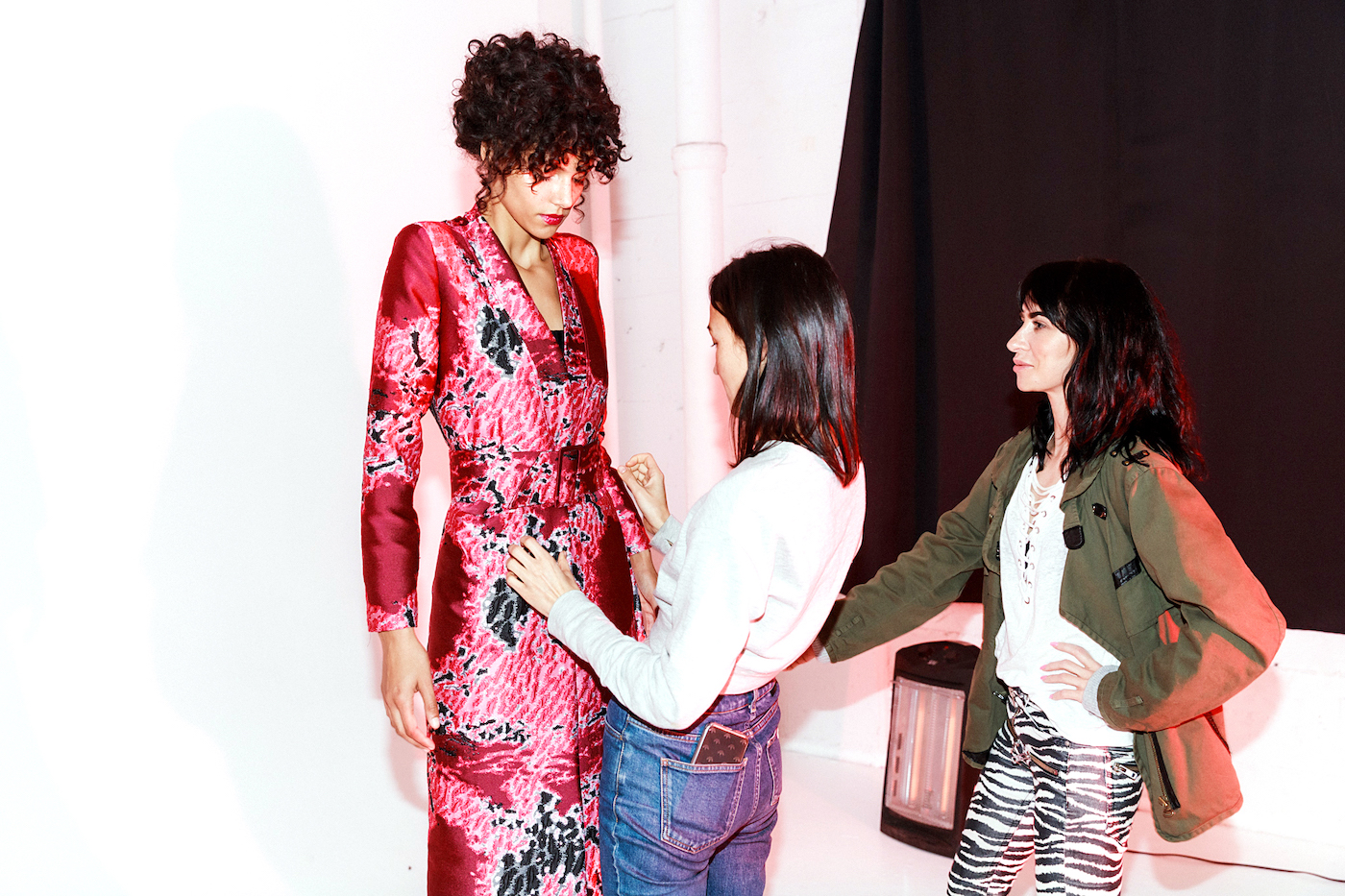 "Style is a way to say who you are without having to speak," the fashion designer Rachel Zoe once said. Yes, indeed, fashion is walking art, and at times, a political statement. From 1940 through 1970, women's hemlines were an economic indicator. In Los Angeles, the Fashion Mart for Spring/Summer 2021 is on now both in person and via virtual runways, with NYC-Paris-London already done in September. So, are we ready for the birth of spring in our lives and our clothes? What are the designers promoting we wear going forward? How did Leatrice Eiseman, executive director of the Pantone Color Institute, choose French blue, warm marigold, serene cerulean blue, and "illuminating" yellow as the colors of 2021? 
To explore this and more, I interviewed our town's award-winning fashion designer and artist Catherine Gee, whose silk frocks are worn by Charlize Theron, CBS news anchor Betty Yu,and a diverse international demographic. Awards include "Top Travel" brand by Sportswear International 2018, the WWD (Women's Wear Daily) MAGIC and Galeries Lafayette Paris Emerging Designer Crème de la Crème 2016 competition winner, and the brand was invited to show the collections at the first annual (2017) Japan Fashion Week International Fashion Fair (JFW-IFF) / WWDMAGIC Tokyo tradeshow.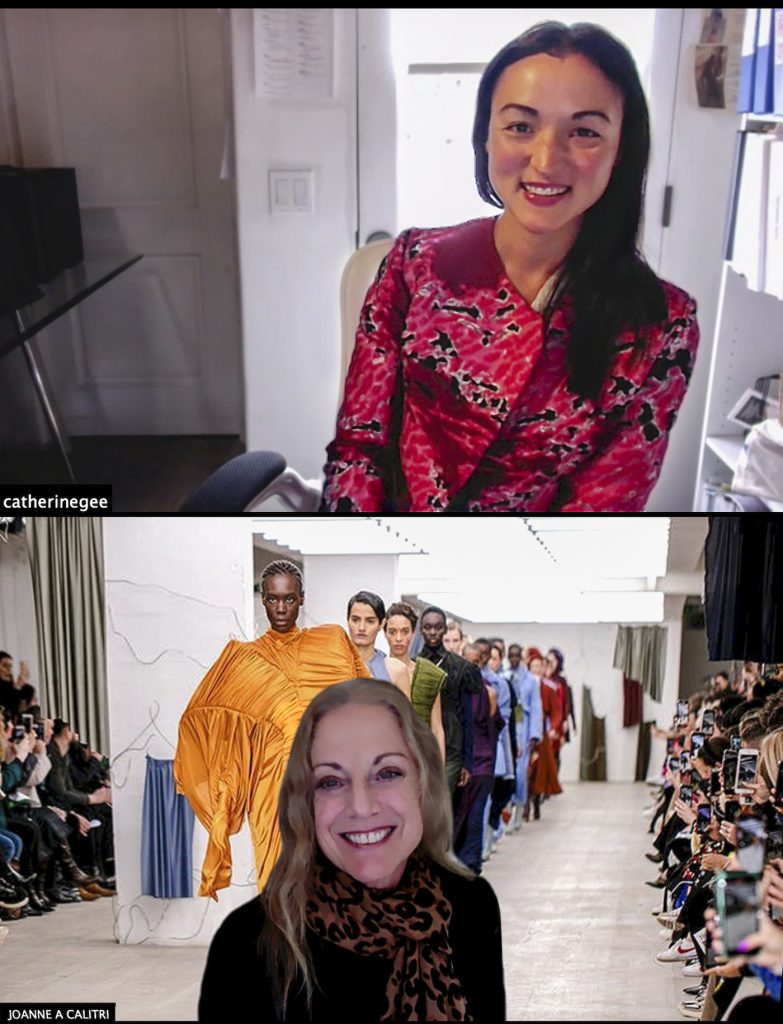 Gee's collection is advanced contemporary with elegant, modern lines. Fabric choices are primarily silks, and recently added high-quality jacquards, denim, cotton twill, and pima cotton. She designs 80 percent of the prints on the fabrics used, inspired from her paintings and photographs of the world around her. Catherine has been designing her collection since 2014, and was mentored by Jodi De Marcos of the De Marcos Fashion Academy. Her other interests are painting with watercolors, drawing, and she played violin growing up.
Here is our Zoom interview.
Q. At Fashion Week NYC 2020 panels are presenting on how fashion plays a role in cultural change, the barriers to entry, industry accountability and changes for equity. What has been your experience?
A. As an Asian-American business owner in my industry, I can honestly attest that I've never experienced direct racism. I have encountered sexist men in the industry, and I think that comes with the territory at a certain level in all industries. Through my travels selling the collections in New York, Paris, Los Angeles, Dallas, and other cities around the world, I've seen inclusivity of all genders and ethnicities. Talent is talent. That's how it is seen.
What is the fashion designer scene like for you during lockdown?
I used to travel to tradeshows at least ten to twelve times a year, so my whole business model is turned upside down. I realized COVID-19 was about to change the world when I was in Paris during Fashion Week in February. I was in a multi-brand wholesale showroom with eight other brands in the Marais district of Paris. We had scheduled ten days with 400 buyers – all of the "majors" (Neiman, Nordstrom, Net-a-Porter etc.). Over half the buyers did not show up, the Louvre Museum shut down, and one of my colleagues kept calling me that I may need to leave Paris early or be locked down there. It was a palpable moment. So real, yet so surreal. I remember thinking, Catherine, what do you do? What do you have control of? I saw the buyers that attended and planned to start making positive and colorful prints, a strong category in our business. Each evening when I left the market, Parisians were living their "normal" lives, drinking wine and dining at the cafés, being with friends, shopping, going to work, but the news kept getting worse every day. I thought life isn't going to be what it was. I left Paris on March 7 and went straight to downtown Los Angeles to set up another show from March 8 through 11, and I arrived home to Santa Barbara just days before our lockdown. Back in my studio here, I did what all of the industry was forced to do, look at how we resource everything from our fabrics and current stock to employees.
Any changes in promoting and selling your pieces now?
The biggest challenge in selling to our buyers and new accounts is touch. Sure, I can send an email with the campaigns imagery and styles on a model, but nothing replaces the way a fabric feels and how it drapes on your body. I think the biggest joy of what I do is not only the design but also connecting with my buyers and clients and seeing their reactions to how a material feels on their skin. Something that has been very successful for us is sending the actual styles in a "Sample Box." We have been very consistent with our messaging and e-mail marketing throughout this period, and it has become a focal point of how we adapt and how we move forward and learn in these challenging times.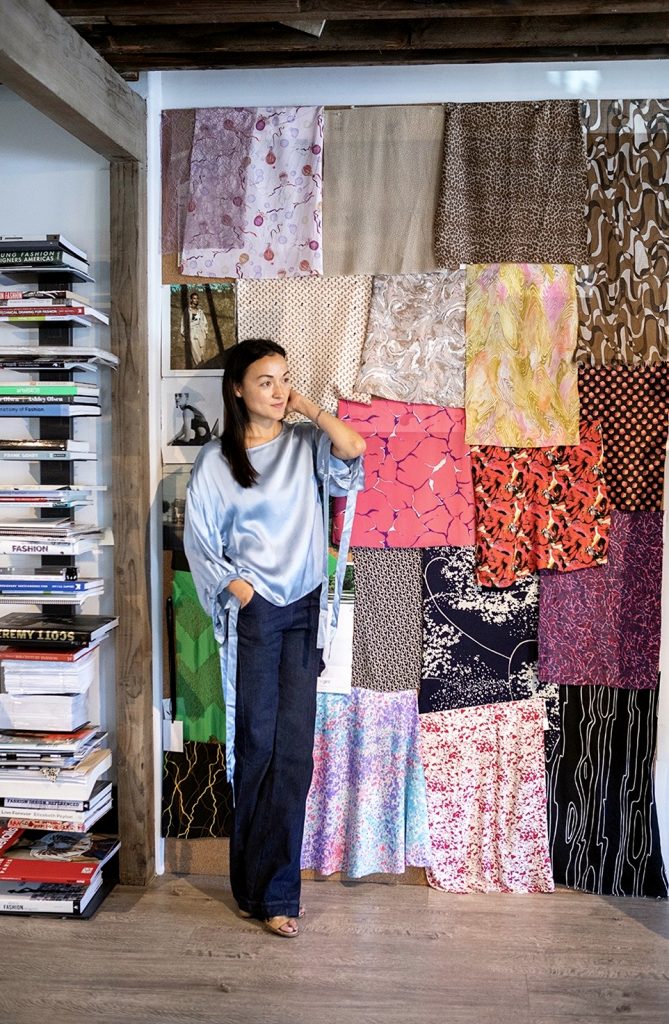 As far as retail, we have also adopted the above strategy for personal styling and offer retail clients a home delivered "Style Box." Our storefront is at the Mill on Haley Street, and I am available for one-on-one personal styling sessions, which are becoming increasingly more popular.
Is your experience a trend in the industry?
I feel as a designer, this is a shared experience we're all going through. Sourcing has become challenging as we obviously cannot travel like we did before to sourcing fairs to discover, touch, and feel new materials. Prior to COVID, I was in Los Angeles at least one day out of the week working with my patternmaker, going to the factory and seeing fabric vendors. The garment industry in L.A. has been hit particularly hard with cases so I've only been to L.A. three times since mid-March. This is happening around the globe with brands and design houses from Los Angeles, Milan, New York, Paris, and cities everywhere. 
Where do you see fashion heading?
Consumers, now more than ever, want to know the story of the brand, the why and the how. I know firsthand that educated consumers want authenticity, and I truly believe we are going to continue to see a mass exodus of fast fashion. Even through these unprecedented times, women want to feel 'normal' and beautiful, enough with the sweatpants! I think that successful fashion brands will focus on quality and timelessness. This will drive designers to focus on smaller capsule collections rather than cranking out 36-50 styles per season, which is not sustainable. Most designers will create classic, thoughtful silhouettes.
When we launched the brand, we focused on the resort wear category including bias-cut slip dresses and travel-friendly linens. Subsequently, we moved in the direction of a broader ready-to-wear category to include tailored cotton/ denim trousers from Peru and our most successful category, effortless, day-to-night solid and printed silk blouses.
In April, we delved into our fabric archive and started manufacturing masks. The return has been phenomenal. We have not only seen a tremendous increase in our direct-to-consumer business but we're seeing women all over the country (and world) Zoom in our matching silk blouses.
Has lockdown been a plus or minus for you?
Quite honestly, it's been a major plus for us. Fashion is a tough industry, and the lockdown forced our team to slow down and reflect on what is essential.
It's been disastrous for the global fashion industry. Our team is small enough to be able to pivot and take advantage of the lockdown through a healthy production of masks and matching blouses.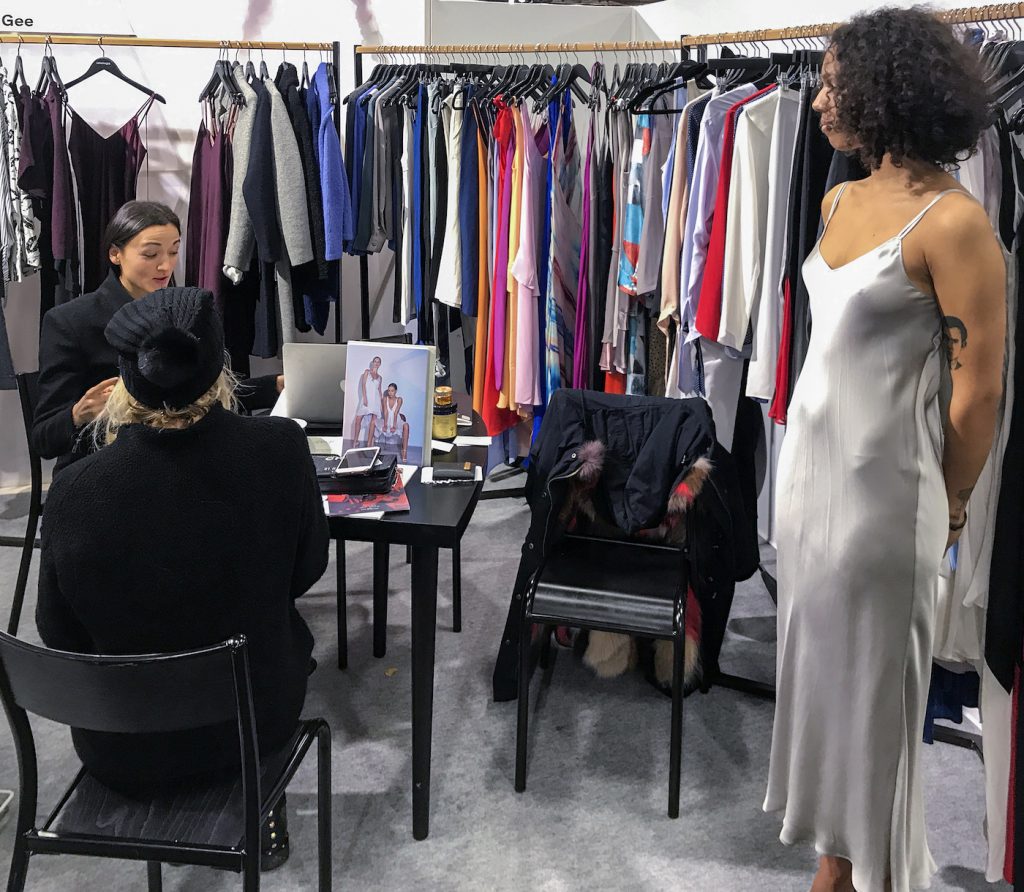 Any diversity sensitivity issues affecting your fashion design work and production right now?
Overall, I think society as a whole has had to confront its race and diversity issues, which really came to a head this past summer. In regards to the fashion industry, we've seen global legacy brands such as Chanel and Gucci create diversity and inclusion roles within the past year. I do think making diversity and inclusion a priority within these larger fashion houses effectuates change and trickles down to the rest of the fashion industry on all fronts. I am proud to say that my team is majority female and minority led, but I think it's important to recognize shortcomings and do better to achieve a more equitable society. The prominence of the BLM movement has forced many people to confront these issues and hopefully create change for the better.
You are a voice for fashion and your generation. How do you see the world now and your thoughts for it going forward?
Everything is about investing in personal/business relationships. It is essential to keep in touch with both your retailers and personal buyers by regular communication with not just a focus on selling but taking a personal interest in how they are coping in these demanding times.
Giving back/paying forward?
The masks have become quite the symbol. Our archival prints and vibrant colors are now seen on faces all over the country, and it's been a great way to connect to our wholesale and direct-to-consumer clients. It is important to utilize our resources and give back to others in our community. I'm proud to be able to donate a portion of our mask sales to our local Foodbank.
What's next for you?
In the beginning, I always thought our "woman" was a certain age, held a certain degree, you know all the psychographic/demographic things, etc. What has been really cool to see unfold over the years is that our "woman" is all encompassing. I have a lovely client in town who is 75 and owns a dozen Catherine Gee styles, and I also sell to 30-year-olds. I think the "wow" moment was when Charlize Theron stepped out in our Emma trousers last fall. I almost wrecked my car when I was notified of that! Next for me, as a designer, is to continue studying how women want to feel and adapt in our current world and how to fill a pragmatic yet emotional place within their sartorial needs. Catherine Gee's personal style manifesto has always been less is more, and we focus on that.
Any advice for fashion designers and promoters going forward? What is their role right now?
We need to make people feel good. Whether that is through a symbol such as a heart print, a luscious butter-like fabric or a vibrant, positive color, we have the responsibility to provide comfort through our medium. Storytelling is paramount, and it's about finding your voice and connecting through our platforms.
411: www.catherinegee.com
Instagram: @catherinegee
You might also be interested in...