Arts in Lockdown Series Part 8: J.J. Kandel, Stage to Screen, NYC to L.A.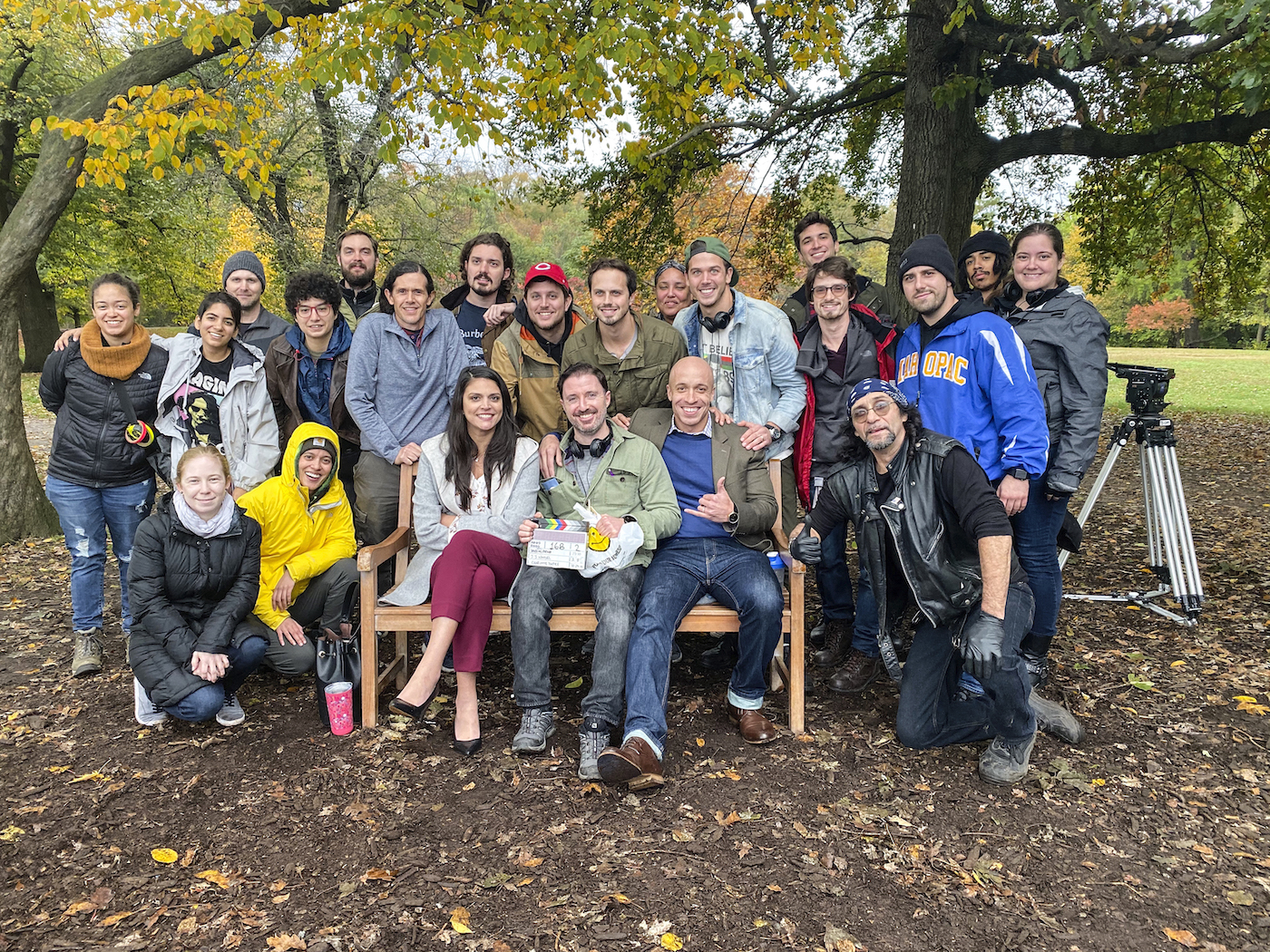 Multi-talented millennial J.J. Kandel was born in Long Island, New York, and grew up on East Valley Road in Montecito, attended Montecito Union, and decided on acting, film, TV, and theatre for his life's work. He attended a summer drama program at Yale University prior to his senior year at Santa Barbara High School, briefly moved to Los Angeles and went to New York at the age of 19. He interned at live theatre companies and got hands-on experience working with top professionals in the field, leading to where he is now, an acting member of Ensemble Studio Theatre in New York City, the co-founder and producing artistic director of the Summer Shorts at 59E59 Theaters, and the owner of his own company, Stage to Screen NYC.
His theater directing credits include the plays Lucky, by Sharr White; In This, Our Time, by Academy Award-winner Alexander Dinelaris; and the upcoming short film Sparring Partner, by Neil LaBute with Cecily Strong.
As an actor, Kandel's film and television credits include 10 K (2017 Santa Barbara International Film Festival) and The Mulberry Bush, written and directed by Neil LaBute (2016 Tribeca Film Festival); Chuck with Liev Schreiber and Naomi Watts; Zero Dark Thirty and The Hurt Locker (Best Picture 2010), both directed by Kathryn Bigelow; We Need To Talk About Kevin; Billie & Billy; and Law & Order.
He was living the dream in New York until COVID-19 shut down theatres. Now he shares openly about the reality of theater and film, how he is keeping creative and provides advice to live by, in our recent interview:
Q. What really is going down in theater in NYC?
A. I'm involved in theater and film, and for the past 13 summers I'm typically doing my Summer Shorts Festival at 59E59 Theatres in NYC. That did not happen this year and the theatre is still closed; in NYC all public gathering places are essentially shut, this includes theatres. I've been in touch with 59E59 and everyone is trying to figure out how to keep their audiences engaged in some way. It's tough. Everyone is having meetings and conversations about, "Can we do Zoom play readings, record it, and then send that out?"The fact is, live theatre on a Zoom screen is not the same, and it's not ideal.
When the Theatre contacted me for input, I said, I'm in a unique position because I have a film production company, and I've turned a lot of the plays from the Summer Shorts festival into films, with my company Stage to Screen. And your audiences will know these stories because they have seen the one-act plays at your theatre. My company will donate the films to the theatre, pick the ones you want to use, sell tickets as a fundraiser for the theatre company and we'll add a Zoom question and answer event with the filmmakers and the actors. Everyone can buy a ticket to the event and watch the films online when they want to. The audience is watching content that is meant to be seen on the screen and then they get to participate in a live interactive zoom Q&A for a behind-the-scenes experience with the artists.
Describe Stage to Screen NYC.
I started Stage to Screen NYC in 2014, and have currently developed and produced five films. Stage to Screen uses the rehearsal process that films today usually don't have, which ultimately limits the time you need on set. From the original play, I try to have the same writer adapt the script for the screen, it mostly involves cutting down the script, since film is a visual medium where a play relies more heavily on the words. As a direct result of this process, the piece has been honed over a full rehearsal process and public performance period as a play prior, so when you go to film it, everyone involved has an intimate understanding of the story, so you get a different quality to the film. I select the plays that think can be effective on film, get everyone on board, fundraise a modest budget, and work very efficiently to shoot it one or two days.
I just finished the film, Sparring Partner, which we shot in one day, in Brooklyn, outdoors in the rain with lots of planes overhead! We got it done because we knew the piece so well. I had directed it as a play. I worked through all the storyboards with my editor, and hired a great cinematographer. The actors, Cecily Strong from Saturday Night Live and KeiLyn Durrel Jones, who was in the stage version, showed up knowing the piece really well, so all I had to do was capture it. I stuck to my shot list, and we were able to improvise creative solutions in the moment. We filmed everything and got Cecily back to 30 Rock by 6 pm.
I've never had the luxury of doing things any other way, I come out of the nonprofit theatre world, where you're always challenged by a lack of finances. You have to be extra creative in order to get things done with less.
How does Live Theatre influence the human condition?
Theater brings people together. Under the best of circumstances, I think it helps facilitate a better understanding of ourselves and those around us. It also presents alternate points of view and experiences that we may not otherwise be exposed to.
Is there a story you are inspired to write, or a character to be in a play?
Interesting question. I've always been interested in characters that are extremely disciplined, with very specific routines and methodologies. Routine and discipline have been very helpful tools to help preserve my sanity during the lockdown.
Do you feel you have been typecast as an actor?
I've had some amazing experiences as an actor so far, and I'm grateful anytime I get to work with people at the top of their game. I don't necessarily feel like I've been typecast, but I certainly haven't been given all the opportunities I would like. That's why I started producing 15 years ago. It's my way of staying proactive.
How are you dealing with the lockdown going forward?
I've produced 90 plays over the last 14 years. I think working in live theater is going to be challenging for the foreseeable future. This is why I've really focused my energy toward TV and film projects. I will be going back and forth from New York to Montecito where I grew up, and be in L.A. more to further my involvement in film and TV. I'm using my background and everything I have at my disposal to move forward through the lockdown.
Stage to Screen is my company and I would love to find a way to get it going in Los Angeles where the film industry seems more active than NYC right now.
I've always been a creative person, making things out of what appears to be nothing. I guess I create the thing that I want to be a part of. I was never one to wait around for the phone to ring to go to work. You have two choices, wait for the phone to ring or create it yourself, bringing people together around a project and making it happen.
All this isolation and free time, which can be dangerous for some people when they don't have a schedule, is the normal for me. As creatives, we have a bit more experience at that way of life than others, due to the lockdown we're living now.
Is that different for film or music and art?
I think film will ultimately come back very strong. I think we've all thoroughly combed through our Netflix and Amazon libraries during lockdown, so there is definitely a need. I think music and art also faces a real challenge. The question is how comfortable people will be going in spaces (such as museums and concert venues) with a bunch of strangers.
For your generation, what is the world looking like/feeling like now?
The world feels like a scary place right now, I don't think I've ever seen the world so fundamentally divided. I try to stay positive, but it's difficult.
How did growing up in Montecito influence your direction in life, and is it still a grounding point for you?
I feel unbelievably lucky to have grown up in a place as beautiful as Montecito. It set the bar very high, and that keeps me reaching. There is nothing more grounding then coming back to those mountains, blue sky, and the ocean.
Giving back/pay it forward?
I'm big believer in that. I founded and produced a successful play festival in NYC for 13 years straight, with my nonprofit theater company. I'm proud to have given professional opportunities to so many artists, and will continue to do so as I write my next chapter.
What's next for you?
I'm directing a world premiere play by Neil LaBute called True Love Will Find You In The End at the Denizen Theatre in New Paltz, New York, to premiere October 8. And I just finished postproduction on my directorial debut short film Sparring Partner with Cecily Strong. I hope to get that on the festival circuit next year when things start to open back up – fingers crossed.
Any advice for actors/directors/producers going forward, what is their role right now?
Obstacles and limitations provide opportunities for creativity. Embrace what is, and keep doing the work. Let the creative solutions surprise you and inspire others to do the same. There is always a way forward.
Your advice for everyone during lockdown?
Find a way to access your own creativity! Embrace the circumstances fully, try to find inspiration in the limitation, get the results you want with the things you have. What people do is their identity, as an artist what you do changes on a daily basis, so you have to define yourself. As a producer, I'm always challenged with finding a solution to move forward, saying "it doesn't work" is not an option.
I simply can't afford to look at what I don't have! Deal with what is, you can't change the past or predict the future. Look at the present and find the opportunities that are right in front of you. Live in the moment, be fully aware of your surroundings and the effect they have. This is not to be confused with making everything about you – it's not a selfish thing. Don't wait for the past to come back, better to figure out what your new normal is, accept that reality and move forward. Examine, reflect, and reinforce, this is a process I go thru on a daily basis. Listen and support internal dialogue that is useful. Find the yes, don't waste time on the no.
411: Instagram: @mrjjkandel
www.StageToScreenNYC.com
www.jjkandel.com
www.59e59.org
www.DenizenTheatre.com
You might also be interested in...