Convivo – A World of Flavor in Every Bite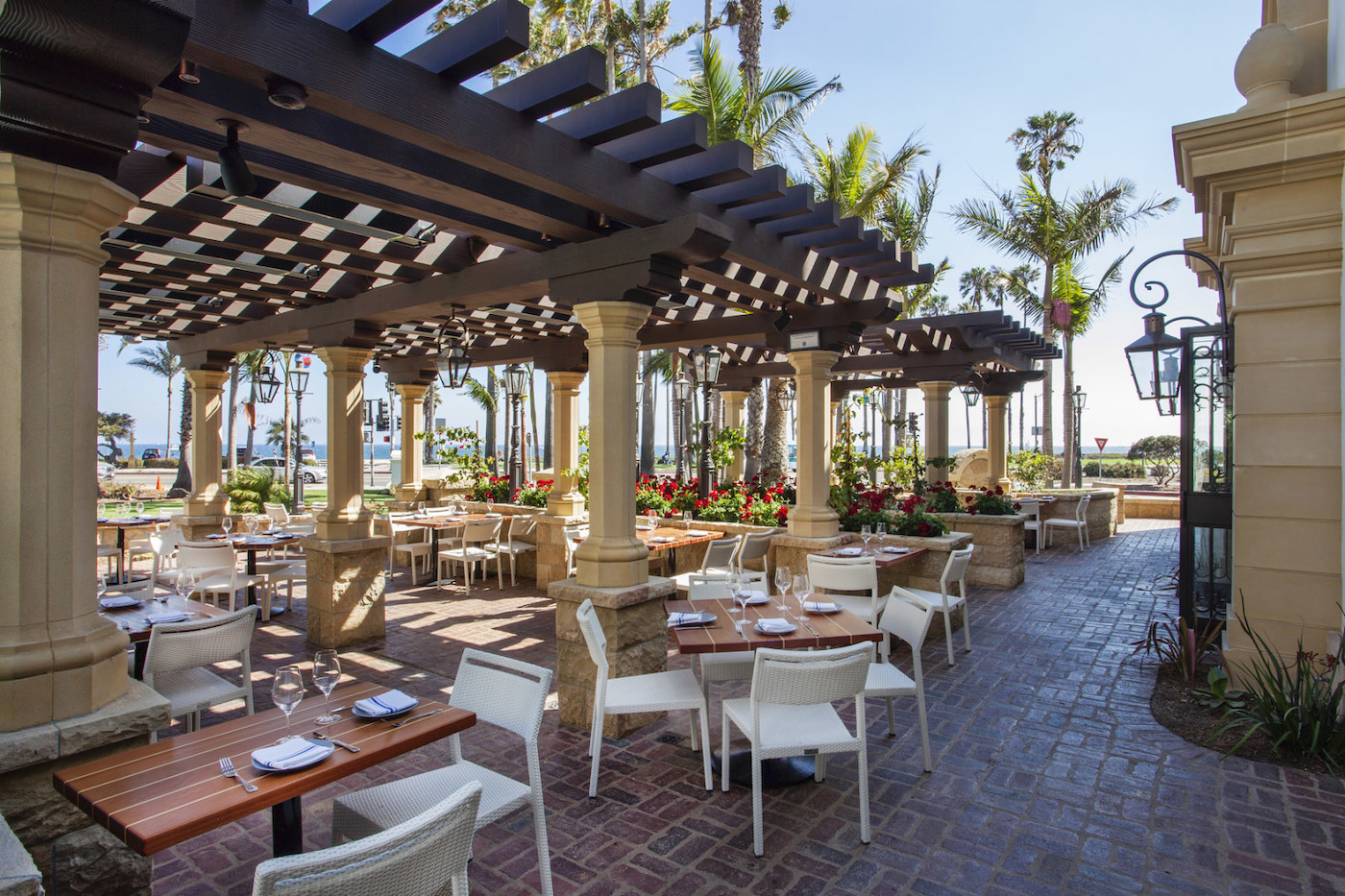 For those who want to venture outside their usual comfort zone, Convivo allows diners to expand their cuisine horizons far beyond the expected. The Italian fusion eatery nestled on the ocean side of Santa Barbara Inn offers traditional Italian fare married to exotic, rustic world cuisine.
Sesame flat breads, seven-hour veal Bolognese served on house-made pasta, charred prawns with shaved fennel, citrus and dukka (a mixture of herbs, nuts and spices from the Middle East), roasted Brussels sprouts seasoned with Aleppo pepper, lemon juice and agave and topped with crispy sweet and sour chicken skin are a few globally inspired dishes on the menu.
With a blend of cultures, the dishes and flavors are broad and give diners the chance to have an unforgettable experience.
"The concept is nomad Italian because it borrows from so many other cultures," said Chef Peter McNee. "There's Mediterranean, Moroccan, Middle Eastern, and Spanish influence, but there's also Californian influence on everything we do here. We do that for a number of reasons, mainly because it's more interesting from the chef's perspective, the cook's perspective, and the kitchen team's perspective, to have different, interesting flavors on the menu and have new ingredients to work with. Nomad Italian allows us to go in any direction we want."
Convivo opened four years ago, inspired by the trattorias Chef McNee had come to love during his time in Italy. McNee teamed up with Santa Barbara Inn owner Larry Mindel and director of operations Amy Svendberg to create this special concept with chef-driven sharable dishes. They named it Convivo, which means eat together, to feast.
These days that's hard to do.
After the statewide shutdown, Chef McNee pivoted with a carryout menu called Provisional, but visually it didn't hold up to his expectations. "It was just sad to see it go in a box and not presented on a plate as it should be," he said.
When the restaurant was allowed to reopen Chef McNee went full force in the kitchen, churning out new global recipes (some vegan, some gluten free), each one exquisite and perfect in its intricacies.
First came the kale salad with chickpeas, cherry tomatoes, cucumber and lemon tahini ($15) and then a seafood paella made with saffron risotto, uni butter, mussels, clams, and prawns ($28). For the seasonally inspired burrata salad, Chef McNee creates a kabocha squash purée with mascarpone and pomegranate molasses, plates it and finishes the dish with sweet red beets, apple, crispy fried Brussels, creamy burrata, and Ojai Mission figs.
Convivo's shareable dishes combine perfectly with recipes from entirely different continents, offering the very best of diverse cultures.
An egg dish with sautéed tomatoes and Tunisian harissa is baked and served in a traditional cazuela ($15); a mixed seafood dish combines shrimp, clams, mussels, octopus, seared ahi, and thick chunks of sea bass garnished with roasted peppers and is served with a side of lemon and shallot preserve ($48). The spit-roasted chicken with olives, almonds, and roasted cauliflower comes with chermoula for dipping ($26).
There is also a selection of wood-fired pizzas and flat breads ($10-$23) as well as savory and pungent sides including hummus, baba ghanoush, and halva.
Notably, the menu also dabbles in Asian culture with pickled side dishes such as kimchi and Japanese-style pickled cucumber with seaweed and daikon.
Most of the seafood, such as sea bass, ahi tuna, and vermilion, served at the restaurant come from local waters. Although the octopus – grilled and served with slabs of pork belly, watermelon radish, and frisée and topped with a poached egg – is from the Mediterranean.
Al fresco dining has always been a part of the restaurant's format; the wooden trellis jutting out from the hotel's Spanish style architecture and the neatly landscaped palm tree garden lends a Mediterranean feel to the dining experience. A tempting handful of boutique Italian and Spanish wine selections pair perfectly with the cuisine.
Serving breakfast, lunch and dinner 7 am to 9 pm daily. 901 East Cabrillo Boulevard. www.convivorestaurant.com.
You might also be interested in...