Arts in Lockdown Series Part 6: Michael DeVorzon, Actor and Writer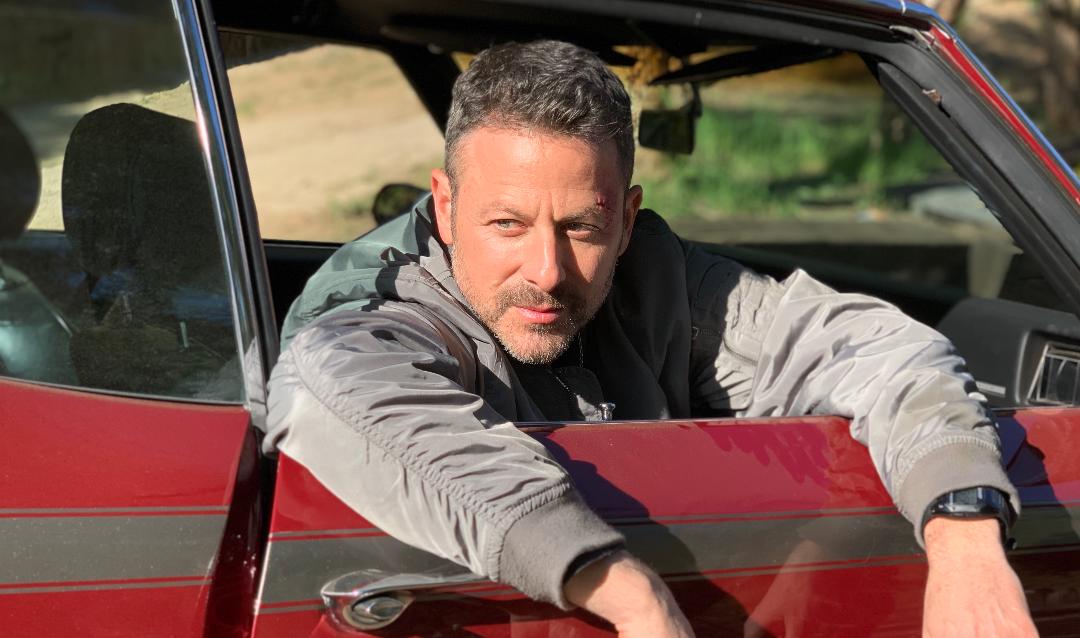 Michael DeVorzon grew up in Montecito, with a great family lineage in music, and carved his own way in film and TV. Still working actively during the lockdown, he is polished in defining the narrative of the hard work it takes to stay in the game, do it like a pro, and always with kindness. Michael's versatility is evidenced by the wide range of genres he worked in, films Fast and Fierce: Death Race (May 2020), Her Deadly Groom (July 2020 on Lifetime), Any Day (2015), Submerged (2016) and Producer Sam (2013); and TV shows Charmed, Beverly Hills 90210, Passions, Son of a Beach, and Melrose Place. He is the son of Barry DeVorzon, a Grammy-winning composer, and Jelinda, an honored philanthropist in our town and a former model. On and off set, he is open, kind, thoughtful, productive, and generous to others. Here's our interview:
Q. How does film/TV influence/change the human condition?
A. Film and TV can entertain and inspire, but it also teaches us about life and allows us to connect to the human experience. It's a great way to feel something through a character in a story. We also can experience different cultures and this big beautiful world that we all inhabit.
Is that different for music and art?
The beauty of music and art is that they both bypass the conscious mind and speak directly to the subconscious mind, which is where our emotions live. This is why music and art communicate in such a powerful and meaningful way. Music does it primarily with audio but can often affect us more as an audio/visual experience. Art is a visual experience that gets to you almost immediately. I can't imagine life without either one of them.
During lockdown, is your work in films/TV a plus or minus, for you?
I was lucky to complete two movies before the lockdown occurred and both films happen to come out during the pandemic. It's a very unusual time, one none of us has ever experienced. So many businesses, including entertainment, completely shut down so I focused on what I could, writing, the release of both movies, writing a song, and doing some deep inner work. As Eckhart Tolle said, "Whatever is could not be otherwise" so I try not to label it as good or bad, rather, just the way it is.
Are you typecast as an actor?
I think when you walk in a room, people tend to make assumptions in regard to casting. I used to resent it more when I was young but not so much now. I once had a meeting with a casting director and she looked at me and said, "You're trouble!" and I laughed and said "Why do I have to be trouble?" I have been cast as some complicated characters and I've learned to embrace that. I also feel like I've grown as a person and that could influence the range of roles I can play. In my two recent films, I was cast as the action hero in one and, in the other, a likeable romantic lead who's really a psychopathic killer! My mom didn't like the idea of me playing a killer. She kept saying "You are too kind and sensitive." But I couldn't resist the part, it was a challenging role to take on and get into the mind of a mad man. With that said, I guess the lesson is don't judge a book by its cover.
Is there a healing way out of systemic racism for people?
Systemic racism is in the DNA of our country and it's going to take some time to bring about the change that is needed. It's going to take the majority of us coming together with a common purpose to overcome those who will never change. When it's time to vote this November, we can elect leaders who will dismantle these broken systems and hopefully rebuild them with racial equality in mind.
Diversity in film?
The world is diverse as is life and film is a powerful medium to show this. I'm for inclusivity versus exclusivity and I've had friends from all walks of life and I've learned from all of them. The ability to connect to another human being, regardless of their cultural or religious background, is always there. It's our minds, opinions, and judgments that create the separation and the idea that we are different. Deep down, we are all the same.
A story you're inspired to write or a character a film, for the current times?
With everything going on in the world right now, I would love to do a comedy and bring some laughter to the world. I also would love to play a character who inspired and motivated people in some way.
For your generation, what is the world looking like now?
Today between technology and the fast pace of life, we are bombarded with sensory overload. There is less human connection because we can't turn off our computers and put our phones down. Growing up, we didn't have cell phones or computers, we played outside all the time and interacted with each other more. Back then, life seemed less complicated. Today, we are living in a more challenging society, but we live in a great country and the spirit of this nation will persevere.
Paying forward/giving back?
My life's journey with all its ups and downs has made me much more aware of the suffering of others. I mentor and lend my support whenever I can to people who are facing challenges, dealing with pain and searching for inner peace in the storm.
What's next for you?
I just finished writing my third feature film screenplay, it's a small town love story. The first script I wrote is a dark, edgy drama about a social issue that affects over thirty million people worldwide. The other screenplay I wrote is a comedy adventure set in Manila, Philippines. I also wrote a dark comedy for television. I really enjoy the writing process and, as far as acting, I'm staying open to see what comes along next, maybe a comedy or a western!
Advice for actors/writers going forward?
It's a good time to grow as a human being and I believe that will impact your journey as an artist. For actors, keep working on your craft, study the masters, and never give up. For writers, if it's your first script, sitting down and actually writing it will be your biggest challenge. If you can do it, it will be a great learning experience and very rewarding. If you are an experienced writer, just keep writing and exploring ideas, it's the only way to get better at what you do.
Thoughts about growing up in Montecito?
Montecito was such a small town at that time. At age six, I would drive our lawnmower down East Valley Road to pick up my best friend and drive him back home so we could play! Can you imagine doing that today! Those days have long past, but I still have so many great memories. I still think Montecito is about as perfect a place to live as any on earth.
Acting/music studies?
I did some plays as a young kid, briefly studied acting in college and started taking acting classes when I moved to L.A. I studied for many years but for the last decade, I've tried to learn by becoming a real student of films, studying them and observing other actors. I've also learned a lot with each new project that I've done. Experience is the greatest teacher. I grew up playing piano and guitar. I had a small statue of Beethoven on the piano. Moonlight Sonata was my favorite, it spoke to the depths of my soul. Music is a big part of our family as my dad is a songwriter/composer. I stopped playing music at age 16 to go surfing and skateboarding but, after all these years, during the lockdown, I started waking up in the middle of the night recording melodies into my phone. Two of those melodies are in the works in my first song, which I'm writing with my brother Daniel. It's a rock song.
Who inspires you?
My family and friends who have stood by me through the dark times and celebrated with me during the best of times. People who have overcome great challenges and suffering and have risen to become better human beings. Spiritual leaders like Oprah Winfrey, Eckhart Tolle,and Pema Chödrön have been a great source of inspiration. Actors and filmmakers, there are too many to list whose work inspires me to keep going and the comedians of the world, thank you for the laughter, it truly is the best medicine.
411: Instagram & Twitter: @michaeldvz
You might also be interested in...