Grape Recognition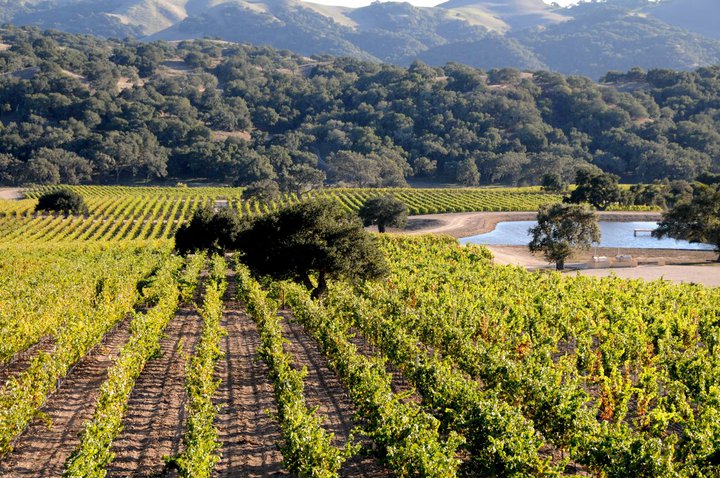 Alisos Canyon Gains AVA, the seventh for Santa Barbara County
Santa Barbara vintners are celebrating the feds' decision last week to designate Alisos Canyon as an American Viticultural Area, the seventh for the county. This new AVA covers 5,774 acres nestled in the Los Alamos Valley, roughly between the Santa Ynez and Santa Maria Valleys. Here, a steady influx of marine air and fog create some of the greatest variation in daytime and nighttime temps on California's Central Coast, and the soils are primarily weathered sandstone and shale. Well-known vineyards like Dovecote (formerly Thompson), Martian Ranch, and Watch Hill call Alisos Canyon home.
AVA refers to a region recognized by the federal government for its unique ability to grow quality wine grapes. The distinction denotes pedigree and signals that site-specific factors, such as climate and soils, converge to create a special winegrowing destination. It also allows wine producers who may have used more broad identifiers on their labels in the past – phrases like "Santa Barbara County" or "Santa Ynez Valley" – to more specifically showcase that their wines come from "Alisos Canyon."
Winemaker Wes Hagen, brand ambassador for the Miller Family Wine Co., and the primary petitioner for the new AVA, calls Alisos Canyon a "Goldilocks Rhône Zone" that's ideal for growing Rhône grapes – reds like syrah and grenache and whites like viognier and roussanne. "They are all going to be fantastic here," he said in a video release following last week's AVA announcement, "along with cabernet franc."
One notable topographical feature of Alisos Canyon is that it rests at the end of a 24.5-mile watershed, the San Antonio Creek basin, which stretches out toward the Pacific. Two other watersheds – the Santa Maria River, which leads to the renowned Bien Nacido Vineyard, and the Santa Ynez River, which leads to Ballard Canyon – are equally distant from the shore. "How cool that exactly twenty-four and a half miles down these regions we have these beautiful places for growing Rhône varietal wines," Mr. Hagen says.
If a new AVA is a boon for vintners who can now highlight a special growing region, it's an asset for consumers, too. Anyone looking for world-class syrahs or viogniers can now seek out the Alisos Canyon nomenclature on a wine label and, by extension, make a more informed purchase.
The designation of Alisos Canyon follows Santa Maria Valley (established in 1981), Santa Ynez Valley (1983), Santa Rita Hills (2001), Happy Canyon (2009), Ballard Canyon (2013), and Los Olivos District (2016).
One More Thing
To coincide with Suicide Prevention Week, the owners of Artiste Winery, Bion and Anna Rice, will join clinical psychologist Brian Satt, PhD and actress Mariel Hemingway next week for a live broadcast from their Los Olivos location to discuss suicide and mental health. Ms Hemingway co-founded Dead Poets Foundation with artist Nicola Carpinelli in 2019 to raise suicide awareness through art and education and to empower teens to open up conversations about suicide. To register, visit artiste.com. The virtual event coincides with three new Artiste wines, which feature label artwork by Mr Carpinelli and honor writer Ernest Hemingway (Ms Hemingway's grandfather), model Margaux Hemingway, her sister, and musician Chris Cornell, all victims of suicide.
The discussion takes place on Thursday, September 10, from 6 pm to 7pm. Proceeds from sales of the red blend wines, which range in price from $47 to $60 and are available through the Artiste website, benefit Dead Poets Foundation.
You might also be interested in...