Rolling On: Ventura Band Works its Voodoo Magic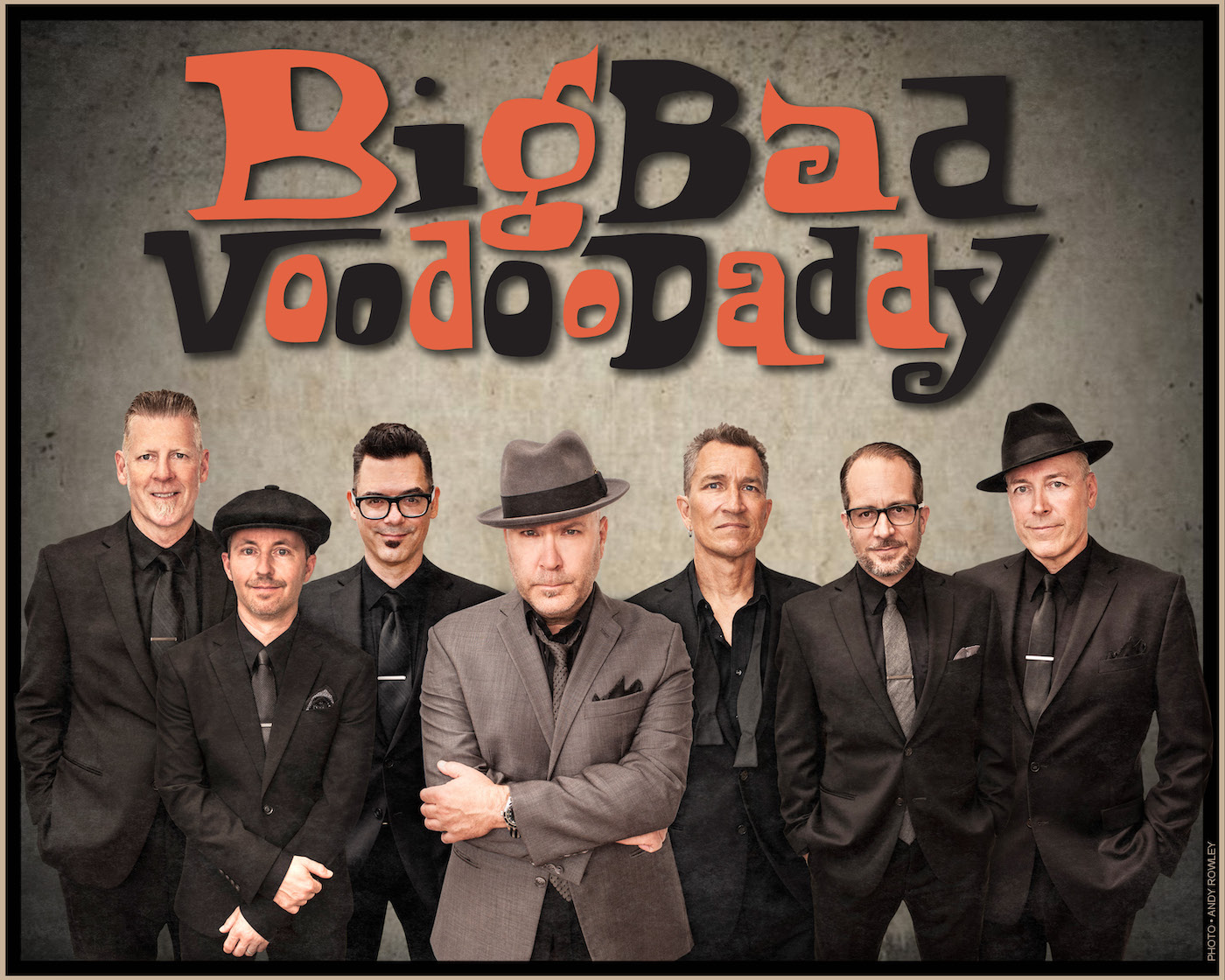 Big Bad Voodoo Daddy has had perhaps the most unlikely career of any local band in history. Formed in the early 1990s just to play swing music and jump blues pioneered by Louis Prima and Cab Calloway, the Daddys showed up just in time to take advantage of the swing revival. Or rather in many ways launch it. The group turned heads with their pivotal part in the 1996 indie movie Swingers, then went on to play at the halftime show for Super Bowl XXXIII in 1999, sharing the stage with Stevie Wonder, among others.
But BBVD was no flash in the pan. While songs such as "Go Daddy-O" and "You & Me & the Bottle Makes 3 Tonight (Baby)" and their outlandish zoot suit costumes launched their career, lead singer-songwriter-guitarist Scotty Morris and the rest of the septet kept churning out great music, long outlasting other swing revivalists such as Royal Crown Revue and The Atomic Fireballs. From its home base in Ventura, BBVD have logged platinum albums, played sold-out venues from the Hollywood Bowl to Lincoln Center – and logged their 3,000th performance at Sony Hall in New York just last January – and appeared live performing for dancers on Dancing with the Stars. But Ventura has always had a calling for the band, and when Jimmy Messina had to cancel his August 17-19 dates for the concerts-in-your-cars Rubicon Goes Retro series – where fans watch the music performed on an extra-high stage augmented by digital screens with sound via FM radio from the comfort of their cars – due to travel issues, BBVD quickly stepped in.
Morris talked about the band's history – including appearances at the Santa Barbara Independent's Christmas party – and evolution as well as coping with the new coronavirus and the upcoming shows over the phone from his Ventura home earlier this week. (Get tickets and more online at www.rubicontheatre.org/rubicon-goes-retro.)
Q. You guys are from Ventura. There's almost no live music anywhere. How excited are you to be doing the Rubicon's Retro show, even though you're performing in front of cars?
A. It's great on two ends. It will break the longest streak of not playing live for me in just about 40 years, because I've been playing since I was a little kid. I was either in an orchestra or school jazz bands or a rock band, so this is the longest stretch for me without a gig ever, and for Big Bad Voodoo Daddy, it's the longest in our 27-year stretch by four months. So I feel really good about playing music live under whatever circumstances, but it's also great that it's a benefit for the Rubicon, an organization I really am happy to support.
OK, no in-person shows since March, but have you guys been doing any Facebook Live or Zoom concerts?
Oh yeah. We did a two-month series on Mondays and that first was a month of performances of songs that we've never played live, and we did really interesting variations of those album tracks. That was really good times. On one of them we did a song from our 1999 record that was a full 17-piece big band on the album, but we did it with just the seven of us by overdubbing all the parts. The guys did 'em on their iPhones and then I mixed it in ProTools and it sounds unbelievable. That was such a killer event for us to do.
The other month we did behind the scenes of all of our videos, which was a blast because I could go on and just explain how everything was done and bring to life some of the old videos that used to run on MTV, which a lot of our younger fans had probably never seen. It was kind of cool to go through and re-examine and look at pictures and tell stories and have fun.
Anyway, I've been super busy because I'm not a sit-on-my-hands-and-worry-about-the-world-ending kind of guy. I'm more, let's get on with it. If this is a new reality, then I'm in. So I have written a bunch of music too, but the problem is of course that we can't get together because we have had to isolate. We have to take it seriously, because most of us have elderly parents who we have to be around to take care of. So we can't be taking any chances.
Have you written any new songs, maybe something in response to the pandemic?
Oh, yeah. I wrote a lot of music in this downtime. I mean at first I was just cramming it all in, because if we're off for even nine days, that's a long time for me and I always use it to get in some studio time and do some business. Then I realized, wow, I have all this free time. So the flood gates opened at first, but then after a month or so – which was more time than I'd had off the road in 20 years – it started to really dawn on me that this is a whole different existence. I wrote a song called "Oh, No!" that's 100 percent a pandemic song. It just came to me as one of those old black and white animation cartoons from the 'twenties and 'thirties. I could just see the whole song in my head.
I sat down with my guitar and piano and my banjo and I constructed it that way. But it's funny because the music is really super lighthearted, funny and bouncy, but the lyrics are by far the darkest words I've ever written. It's completely literal, a pure pandemic song. It's about the virus as the boogeyman. I was really feeling the isolation. But because I wrote it as a cartoon animation in my head it sounds cute and fun. I can't wait to get together with the guys and get it arranged and get it out there.
So we're not going to hear it next week?
No. I've given the guys the demo of it and it's pretty close to done, but it's one of those songs that takes time. We have to play something a bunch of times for it to start to get right. We're not going to have a chance to do that. We only have one rehearsal.
That brings up the idea of how it's going to work with you guys having not played together since March, and that you still can't really get too close together. How are you approaching the show itself?
When we agreed to do the show last week, everybody self-isolated. We all took a (COVID-19) test and everybody's checking their temperature every day, doing the protocols. In that one rehearsal we have a huge room where everybody can social distance and use our monitors so we don't have to be right on top of each other. Then we just have to trust that all of us are taking our commitment to this seriously. We've been together for so long and I trust them. So I'm hoping that this thing goes off without a hitch.
Having seen BBVD at least a dozen times and witnessing the kind of energy you normally put out on stage, I'm imagining you must be like a caged animal suddenly being set free. What's going through your head as you anticipate the concerts?
It's really exciting. When you play music together as much as we have for as long as we have, there's a real comfort in knowing that you're going to get on that stage again. That's where I feel like I'm in control, that's a domain that I have honed over the years to where I felt like I'm the master of the situation. But that being said, once a year we always do a month-long Christmas tour where with holiday songs that we only play for a month, which can be nervewracking to get on that stage and do a completely ground-up different show. So I'm thinking the Ventura shows are going to be a little bit like that because my brain has shifted out of performer mode into where I'm at now – living in my house with my family and doing my family things. I think I won't know until soundcheck how I really feel.
It's really quite astounding to think about how long the core of BBVD has been together, more than a quarter-century. That's longer than most marriages last. What's your secret?
We always have great communication. But the main thing is that all the success, the international and national exposure, was a bonus for what we were doing, it wasn't the goal. There wasn't anybody in our band that was trying to be famous. Not from the get-go. Especially me. I wanted to do pretty much anything I could to not be. But what I did want was to be one of those bands that every time you go see them, you think to yourself, man, that was a really, really good. That was so worth the money I just spent. That came from all those great shows I would see in L.A., and that's what I strive for. So everything else was based on that motif. So when all things like the Super Bowl or anything big would happen, I'd constantly tell the guys, don't buy big houses on the hill or get a fancy new car. Don't think that this is going to last because it's just a blip in time. We play swing music and we're a really good band. The world discovered us for a moment. But it's what we do afterward that will sustain us and be our legacy.
If I remember this is bigger than my ego, I can have what pretty much only one percent of the planet will ever get to experience. The guys are all open to adventure and thankfully as we've grown old together, we know how to maneuver the relationship. That's the reason why to this day we get to play amazing theaters all across the country to a diverse audience with ages spanning four generations.
What about musically? What is it about swing music that comes from more than 70 years ago that so attracts you, keeps you curious, keeps you excited, after 27 years?
It's simple: There's something about when that music is played that it goes straight to me. It makes me feel the best I can. I have listened to every kind of music over the years and I love a lot of it. But when I hear or play (swing) music like this, it makes me happy. It keeps me motivated and uplifted. I'm a positive person. I don't like looking at the darker side of things. I'm not a big fan of "Woe is me." There's something about the way this music is presented and played that I'm always looking for the perfect song to keep me motivated and to then share with people to hopefully keep them motivated, too.
Or cars. Which is all you'll be able to see at the Fairgrounds.
That's cool. We've played over 3,000 shows together. And on those tours where we're playing large theaters or even bigger venues, I've gone months without even seeing the audience because I've got a giant spotlight in my face the whole time. I just have to rely on my experience and what I'm putting out there that, hopefully, the audience is feeling the same thing. That should work in cars, too.
You might also be interested in...