Throwing Clay: A Mental, Physical & Spiritual Well-Being Workout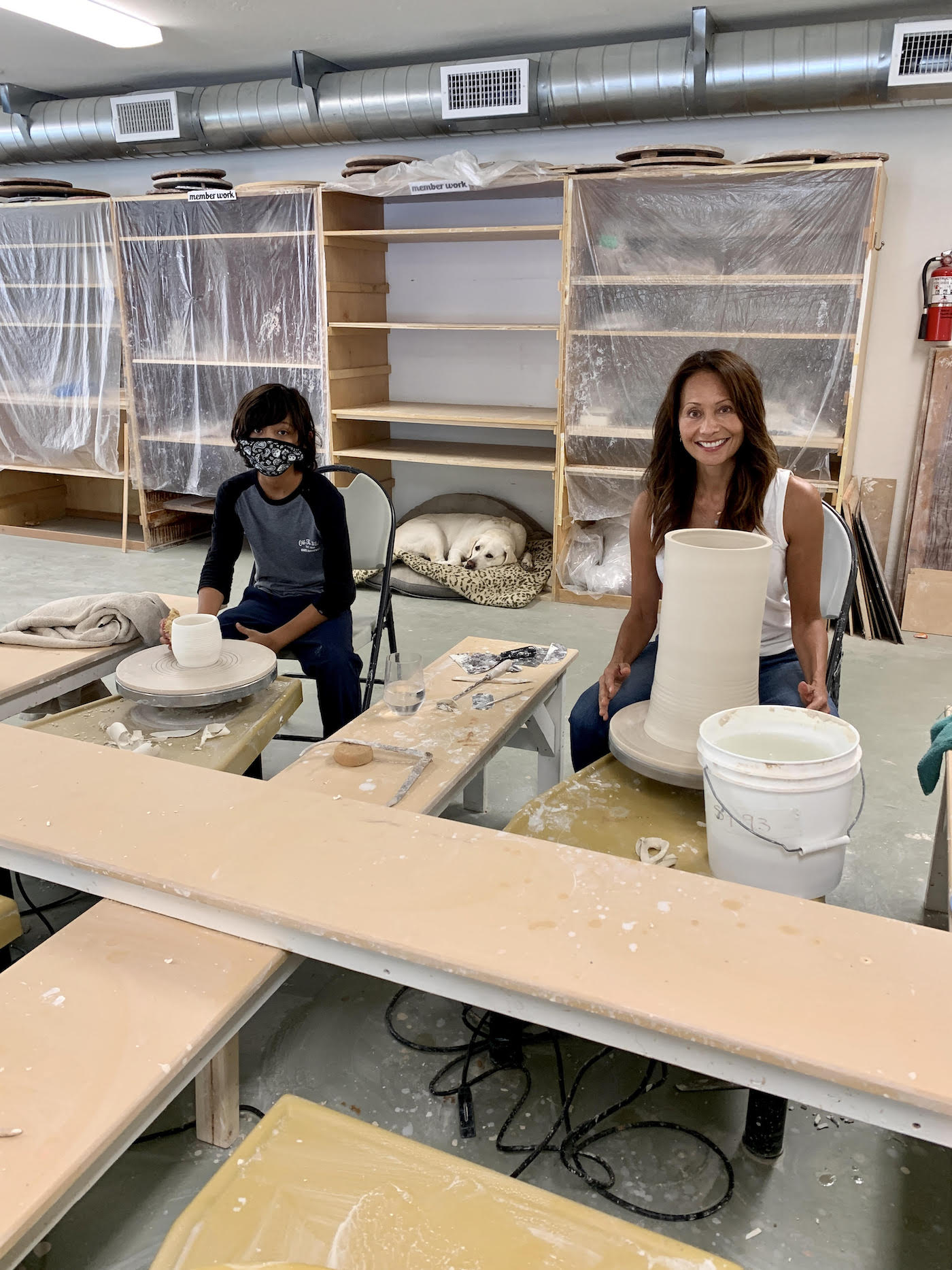 It seems apropos to be writing about one of my newfound loves, pottery, on the 30-year anniversary of the movie Ghost, in which a clay-splattered Demi Moore and Patrick Swayze share the pottery wheel in one of cinema's most famous romantic scenes. As inspiring as that movie scene was, after months practicing how to "throw clay" (the term for shaping clay on a spinning wheel) I can tell you that while pottery is as sensual and mesmerizing as it looks, it's definitely not as easy to do! Yet even when things don't turn out as you planned (as in your bowl collapses like it does for Demi and Patrick), working with clay is one of the best creative outlets with numerous mental, physical, and spiritual health benefits. I must admit, I'm obsessed.
Pottery, I've learned, is much more than a form of functional art. It's one of the most relaxing, therapeutic, and challenging artistic activities I've ever tried. I had never come close to a pottery wheel before, but I was surprised how quickly I became addicted to the feeling of clay spinning beneath my hands and new creative ambitions swirling in my head ("I'm going to make a bowl!"), both of which provide a calming respite from the worries of the day. And right now, there are many.
There's something so soothing about the tactile feeling of moving and molding clay that allows you to block out distractions and shift your focus to self-expression and the creative process. It's a great way to explore, experiment, and tune into yourself for a little while. As I wrote in my book, The Touch Remedy, the sense of touch is the first to develop in your body and it's directly connected to creativity. With pottery, your hands become your creative outlet and the stress relief is palpable.
Believe it or not, it's also a good physical workout as you use your arm muscles to "wedge" the clay (to get air bubbles out), and your core muscles to remain steady, especially when trying to center clay on the wheel. It's a whole body feeling and once you get used to it you can lose yourself in a dreamlike state. Hours fly by like minutes.
A few months ago, in search of something for my 11-year-old son to do during quarantine, I stumbled upon Clay Studio, a super cool haven for exploration in clay, from handbuilding to wheel throwing to 3D printing, and more. This hidden gem is a nonprofit, creative hub for the Santa Barbara arts community and for anyone interested in exploring the ceramic arts. Founded originally in 2012 by artist Patrick Hall and reopened in January 2020 in a new state-of-the-art facility in Goleta, Clay Studio fosters the creative process, with the goal "to enrich lives by teaching and promoting the ceramic arts." The caring, experienced staff, including program and creative director Erica Ales and studio manager Dini Dixon, can help you develop your potential in any direction you choose.
While recent COVID-19 safety guidelines have prohibited holding in-person classes, Clay Studio is offering live virtual handbuilding classes and workshops for adults, teens, and kids. You can work on your pieces at home and they will finish and fire your pieces for you. My son took a weeklong "Clay At Home" workshop and was fired up (no pun intended). Clay Studio provided all the tools and clay, and he spent hours learning new techniques and creating masterpieces.
They also offer no-contact clay pickup, drop-off, and glazing for those who would like to work at home but wish to fire and glaze their work at the studio. They have monthly memberships, which are an opportunity for participants to come and work independently with supervision from a studio manager. Member open studio time is a great way to meet other local artists, share ideas, and inspire one another.
During this pandemic, working with clay has become one of my favorite forms of therapy. In this bizarre time of no-touch, simply getting your hands on some clay for a little while can relax your body and soothe your mind. Whether you're a beginner or an experienced ceramicist, check out Clay Studio.
For more information visit www.claystudiosb.org or call 805-565-CLAY.
You might also be interested in...