Fiesta Comes to Montecito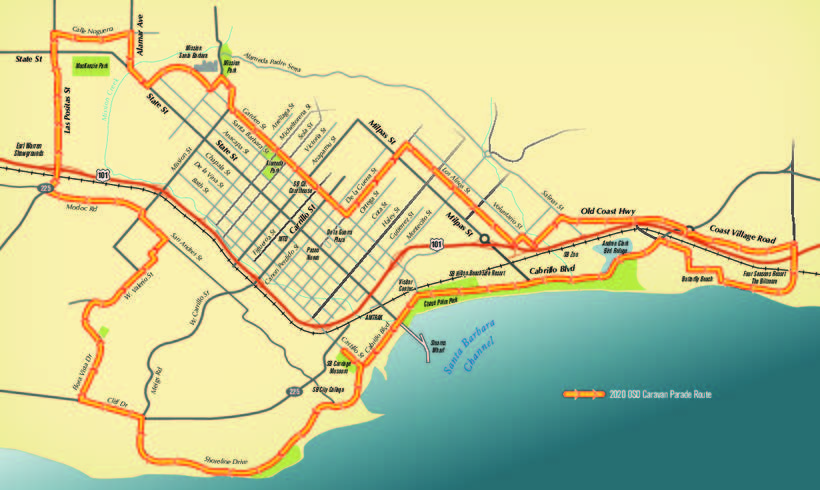 Virtually all of Old Spanish Days' annual celebration of the city's heritage have been cancelled due to the ongoing COVID-19 crisis. But apparently even a deadly disease can't rain metaphorically on the most popular events in the five-day Fiesta as the 2020 El Desfile Historico has been reimagined as the Caravan Fiesta Parade. As always, the parade takes place on Fiesta Friday, which this year falls on August 7, and starts at 12 pm. But rather than drawing thousands of people from town and far beyond to downtown State Street for a cavalcade of floats, marching bands, flamenco dancers, cheerleaders, and more, the pandemic parade will feature classic cars and decorated vehicles traveling with a police escort through Santa Barbara and Montecito neighborhoods.
The route begins, as always, at the Carriage Museum on Castillo Street, but rather than heading up State Street – which has been blocked off since Memorial Day in favor of foot traffic and restaurant tables – the parade will wind its way through the Mesa, the West Side, across Las Positas and past MacKenzie Park (site of one of the Mercados), touch the lower tip of San Roque, round Garden Street kitty corner to the Mission (where the TV-broadcast only version of La Fiesta Pequena takes place the night before), cut across De La Guerra (right past the plaza that would normally host the other Mercado), down North Alisos Street (just a block from Milpas, where the children's parade would take place on Saturday morning), across the Old Coast Road and on into Montecito via Coast Village Road, down Olive Mill to Channel Drive and past the Biltmore to Cabrillo Boulevard, where it will pass by East Beach and Stearns Wharf on the way back to the Carriage Museum.
Later that night, Fiesta 2020 wraps up with the finale of its summer concert series Fiesta Music and Dance Fridays featuring performances by Fiesta mainstay The Bomb and flamenco-style acoustic guitarist and composer Chris Fossek, a favorite of locals for his residencies at the Biltmore's Ty Lounge. Visit www.sbfiesta.org for details.
You might also be interested in...