Elocutia Does Pygmalion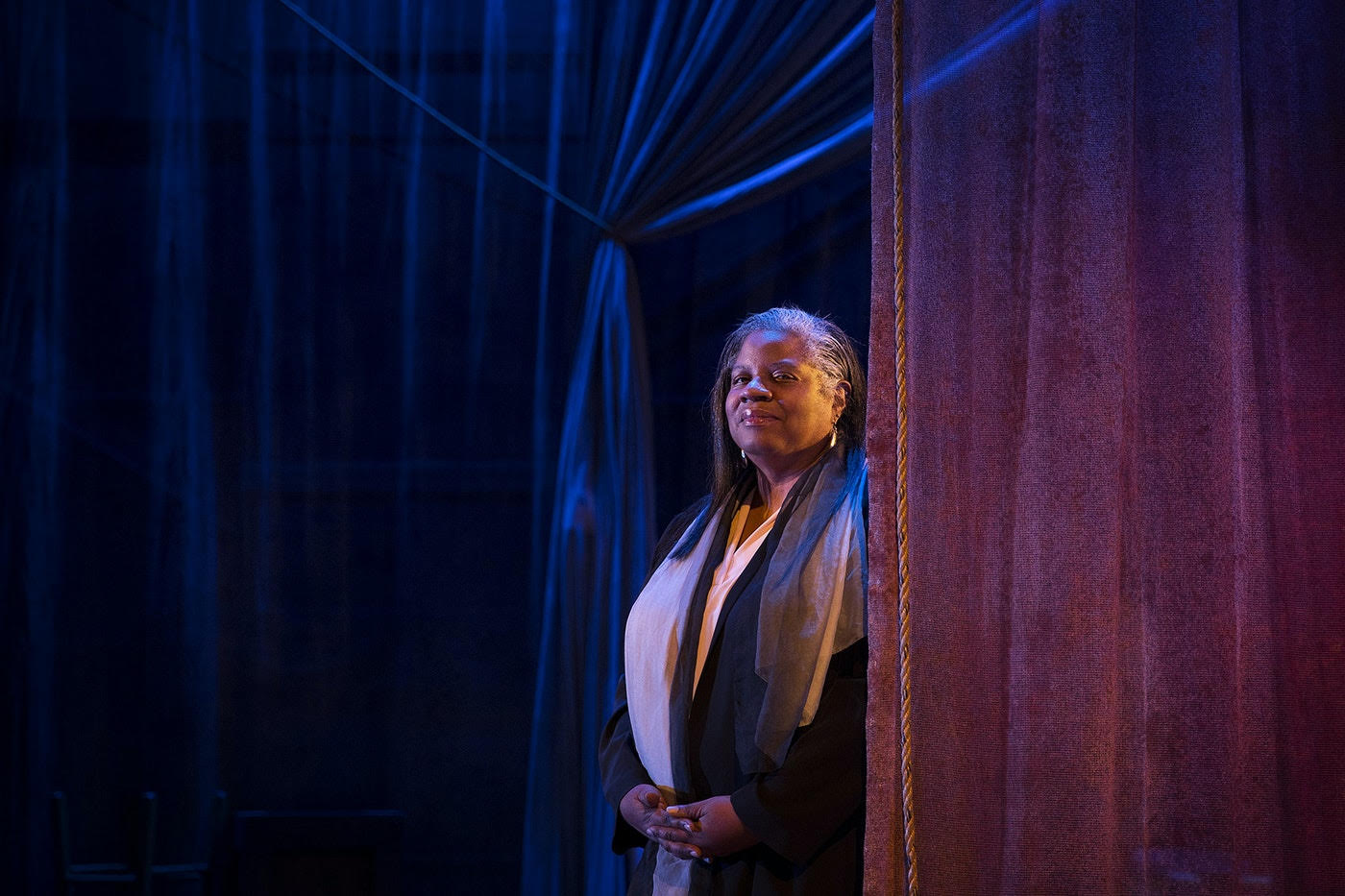 Cheryl L. West's plays have been performed on and Off-Broadway and on stages in England as well as myriad regional theaters across the U.S. including Seattle Rep, Arena Stage, Old Globe, The Goodman, Indiana Rep, Williamstown Festival, Cleveland Play House, South Coast Rep. Those venues have collectively produced some of her long list of titles that include Shout Sister, Shout!, Akeelah and the Bee, Pullman Porter Blues, American Girl Story,and Jar the Floor, among others. West has also written TV and film projects for Disney, Paramount, MTV Films, Showtime, TNT, HBO and CBS and was nominated for a Webby for her scripts for the original web series Diary of a Single Mom.
But she also has a special place in her heart for UCSB's Launch Pad program. That's where West's adaptation of The Watsons Go To Birmingham – 1963 was developed via Launch Pad's summer reading series in 2018 and with a full preview production in January 2019 before making its professional debut at the Chicago Children's Theatre later that year and playing to sold-out houses at Indiana Repertory Theatre last season.
Last June, West also contributed three works to the program's Alone, Together festival that featured dozens of short works written specifically to be performed during the pandemic-forced relocation of classes and performances on Zoom. Now West has returned once again through the wonders of cyberspace to bat clean-up for this summer's Launch Pad reading series in which student actors, faculty and community members collaborate with authors to flesh out new works for just a week before offering a reading, this year, of course on Zoom.
The play she's workshopping, Elocutia Does Pygmalion, could barely be more timely, as it's West's African-American adaptation of the famed George Bernard Shaw play that most folks know better for the 1950s musical conversion called My Fair Lady. Elocutia and professor Herbert Hughes are the sparring partners in the "Black riff" on Shaw's Eliza Doolittle and Henry Higgins, replete with both comic twists and turns and themes addressing race, class and language-based identity. Launch Pad founder Risa Brainin directs the 4 pm reading of Act 1 on Saturday, August 8, that features Chuck Cooper, who won a Best Actor Tony for The Life in1997, plus film and stage actor Shaunyce Omar and UCSB Theater Dept. chair Irwin Appel appearing alongside student thespians. Visit https://launchpad.theaterdance.ucsb.edu/reading-series/2020 for details and link.
West talked about the work and how the current racial protests have influenced the writing over the phone from Seattle earlier this week.
Q. I'm thinking you must have gotten started on this before the George Floyd killing. What prompted you to undertake your adaptation of such a famous work?
A. I'd been asked before about doing an African-American version of Pygmalion, which I thought might be kind of interesting because at the time there was a lot of discussion about how hip hop was destroying language and the moral character of Black youth. Especially how the cultural signifiers of how we dress and how we speak has people deciding what kind of class you're in. It was very ripe to look at those issues that were happening in the Black community. But I didn't really crack it back then. So when Risa asked me if I had anything to work on for the summer, this came to mind because it would be interesting to revisit it right now in these times.
Meaning the protests increased awareness of racial issues that have come since George Floyd?
When people are saying no longer are we going to be silent, we're going to speak, because in our culture sometimes we get muted by power structures. The idea of actually speaking up for your rights, of feeling that there's not going to be some backlash because you did. The theater is one of the places that is very, very biased. Women and people of color are always worried whether they're going to be the only one in a season, for example. When I first started out, there would be maybe three for the entire country. So you twist yourself into a pretzel to get your work done authentically, have it be respected, and then get another chance at the table. Oftentimes, that has caused people to be silent, to be in their own oppression with their silence. But now people are saying no more of that. And if you're going to be an ally, your silence when you see wrong being done is just as destructive.
How did that help you find your way into the play?
The central character speaks in a way that she would be judged for not using the King's English. She has her own vernacular in which she's very musical in her language. What class do we assume she is when we hear her speak and she's not putting the adjectives, verbs, and nouns in the correct order? My sense was to explore how we do speak up with power, and continue to speak out when we are attacked. That's what's going on right now, with young people being very brave and getting out there with their signs and their slogans and their protests, while some of the older generation are fearful about that. The character of Higgins, called Herbert in my play, is a professor and he has his sense of what is a Black person with dignity. He has an attachment to that appropriated whiteness.
Our initial discussion with the cast today was so interesting because everybody comes from very different backgrounds, but said that at some point they have struggled with that, or still are. It brings up code switching, where you speak a certain way when you're with one population, and a different way with your family, and maybe another one when you're at work. That's something people of color are often expected to do.
Hearing that, I'm curious about what your intention is with "Elocutia." Is it meant to educate or enlighten and/or entertain? Do you want to speak to all audiences? Or maybe how you want it to land?
With any work I do, I look first and foremost at what am I really concerned about? That's how I start. You always want to be entertaining, but you also want to raise questions even if you don't have all the answers. Our job as a dramatist is not to have the answers or even to judge what I'm writing but to reflect the world as we see it back to the world, ask some questions and have people engage with that. And then maybe they don't feel so alone, or they feel challenged, or feel like maybe they learned something and might look at things differently.
But I also think people are going to find it rather funny as well as disturbing in parts because it does hit close to the bone. There are some things that are quite wrong. I think that whatever their history is, what they bring, is how they'll experience it. The beautiful thing about theater is that we tend to experience it communally and then hopefully leave there and talk about it. We don't have a lot of institutions where we get that chance.
That brings me to Zoom for a moment. How does all that translate to an online format?
The one thing I will say is that it's difficult to do comedy, because it's all about timing, picking up cues, and being able to see the other person. So it's a bit of a challenge, but we've got great actors and I think you'll get a sense of where I might be going even though it's nowhere near a complete work yet. And Zoom also lets us work with actors who don't have to come to Santa Barbara. So we can get Chuck Cooper, and also Irwin Appel, and those two together are just hysterically funny.
How is the work itself being shaped by the process with Launch Pad?
Yesterday, we were working on a scene and when we took our break I asked for twenty minutes instead of just five because the actors taught me so much in that one moment that I wanted to rewrite on the spot. They're so skilled you can see where you're dipping and diving. I knew what exactly to do after hearing them read it. They help in shaping the piece, and raising the stakes by asking very good questions about what I was intending, which makes me re-examine where I was going and what I meant. I love actors because they can really teach you what you intended, or how to make something clearer. They can be lightbulb moments.
I'm grateful for Launch Pad because you get to be away from the pressure. Working with students who have so much energy, you're also helping the next generation who are going to be practitioners out here. It's a very nonthreatening environment, and sometimes you can do your best work.
You contributed three pieces to Alone, Together which I imagine was a different experience since those short works were written to be performed on Zoom. I am curious not so much about that experience itself, but more about if it in any way shaped you as a playwright or communicator to have that restriction. I know that for me structure can often provide an opportunity for more creativity within the confines. Has what you learned doing your Zoom plays shown up in other ways?
When Risa asked me to get involved, I was having a very difficult time concentrating and focusing on anything. I had several rewrites to do but wasn't getting work done. But she said it was 10 minutes or less, so I thought maybe I can handle that. For whatever reason doing that helped unlock whatever else was going on and I've been writing ever since. Also, it's such a different medium because you have to be patient, and maybe listen differently, which might not be a bad thing. But what I love about artists is that we find a way to continue to work. Toni Morrison said it best: "When things are tough, it's no time to wring your hands in despair. That's when artists get busy."
You might also be interested in...