Summer's Savory Meats & Tasty Craft Brews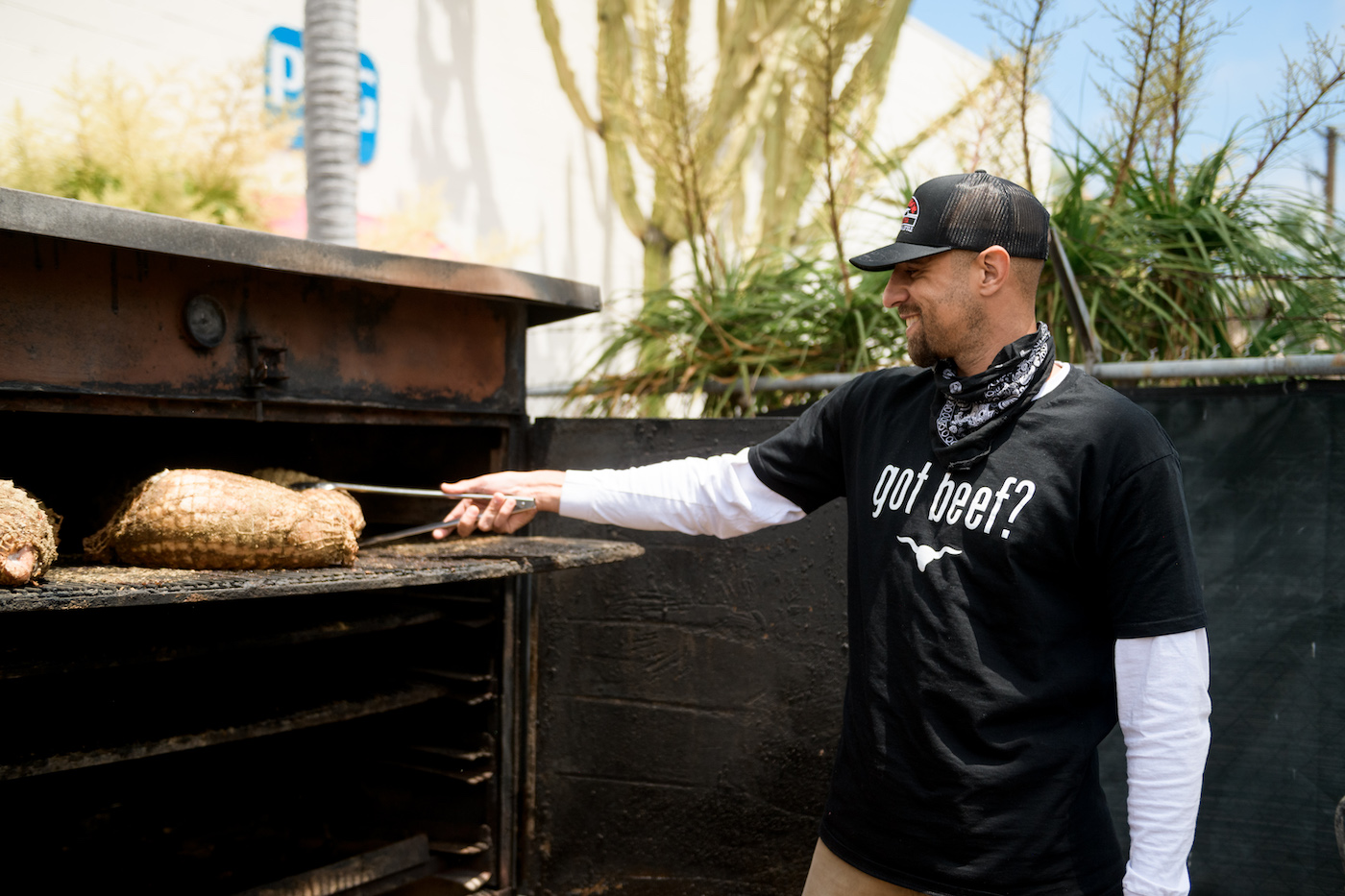 The Shalhoobs' Secrets for Smokin' Summer Barbecues
For some folks in the neighborhood around Shalhoob's Funk Zone Patio, the aroma of burning white oak has the same tantalizing effect as a chuck wagon dinner bell.
If you love Santa Maria-style barbecue then you've come to the right place. Shalhoob's hip outdoor barbecue joint is famous for its tasty ribs and sausage, served with a well-curated selection of home-cooked style side dishes and easy-drinking I.P.A.s.
On a recent sunny day Shalhoob's staff, equipped with face masks and gloves, busily assembled combo plates for carryout and delivered trays of smoked meats to meticulously spaced diners on the outdoor patio. Diners are content waiting, sometimes long periods, for a table. There is no sign that a pandemic can slow the consumption of this savory meat.
Third-generation Santa Barbara siblings Leeandra and LJ Shalhoob helm the popular restaurant, a family business. In recent years the duo have grown the family business to include an offsite catering outlet and a small-batch brew company.
Leeandra runs the butcher shop, LJ oversees the restaurant, and their father John operates its wholesale division. Grandfather Jerry Shalhoob, 77, retired a few years ago and took up windsurfing; he's the restaurant's landlord.
LJ Shalhoob honed his culinary chops in the cutting room and kitchen at Shalhoob Meat Company, founded by his grandfather as a butcher shop nearly a half century ago. He's a rebel butcher and meat smoker who bucks conventional methods in favor of regional styles. He credits his passion for meat smoking to years working alongside his dad and learning the nuances of flavor.
Shalhoob's smoker is a sight to behold. It holds 250 pounds of meat; all the spareribs, pork shoulder, tri-tip, poultry and spicy beef hotlinks served at the restaurant start here and come out smoked to delicious perfection – fork tender and each bite peppery and bathed in savory drippings.
We checked in with LJ recently to discuss the secrets to his savory barbecue.
Q. What's your take on Santa Maria-style barbecue?
A. I grew up eating regional Southern California barbecue with a Mexican influence. Our version of Santa Maria-style barbecue is more grill-oriented than traditional pits. First we smoke our meats using white oak wood then we grill them to get that crispy texture we all love in our barbecue. The meat rub is coarse and has a rustic texture. Our approach to meat rubs is unrefined granulated garlic, freshly ground pepper and turbinado natural brown sugar. The result is tender meat texture and cooked-from-scratch flavor.
Which cuts do best on the grill?
Tenderloin, New York strip steak, ribeye, and porterhouse are great choices for juicy steaks. A marinade tenderizes and infuses flavor into tougher cuts like tri-tip (my favorite), hanger steak, flank, flat iron, and skirt. These meats can be tender if sliced across the grain. Burgers, steaks, and kebabs should be grilled at a higher heat – 375 to 400 degrees [Fahrenheit] ­– and more rapidly. Ribs, brisket, and pork butt are cooked at a lower temperature – 225 to 250 degrees – for longer periods, up to five hours, to achieve the best flavor and texture.
What's your go-to summer marinade?
I always go simple and fresh for summer with salt, chili flakes, roasted garlic, lemon juice, olive oil, and – my secret ingredient – a dash of fish sauce.
Should barbecue be brined?
We brine our turkey breast and pork chops for 24 hours to keep them moist and delicious. It's as simple as it gets: 1 cup salt, 1 cup sugar, 1 gallon water, just enough to enhance the flavor. You can buy meat and brine it for a few days and have an amazing meal.
Any favorite summer sides?
Corn prepared elote style. At home we eat it on the cob, grilled and smothered in mayonnaise, lime juice, parmesan and Tajin. It doesn't get any better. My sister Lily will always bring her delicious oven-baked mac and cheese. I can't tell you how it's made, she won't give up the recipe – it's her secret. [Editor's Note: We twisted Lily's arm, see her recipe below.]
Name your desert island grilling tool?
The meat fork, not sure there is even a second or third place after that.
Can you steer us to a tasty pairing with Shalhoob's new craft beer selection?
Our tri-tip is seasoned, tenderized, and grilled in a salty, buttery marinade, and pairs well with our Mexican-style lager. We also offer IPA, blonde, and pilsner on tap or sold canned, on-site or at local retail stores.
Care to share the soundtrack to your grilling?
Zapp & Rodger
LJ's BBQ Rub
Ingredients:
2 cups brown sugar
2 cups salt
1 cup hot smoked paprika 
3 tbs. garlic granules
3 1/2 tbs. onion granules
3 tbs. cayenne pepper
3 tbs. cumin seed (toasted and ground)
5 tbs. black peppercorns (toasted and ground)
5 tsps. celery salt
Directions:
1. Mix everything together in a bowl.
2. Store in an air-tight container in your pantry. Stays fresh for up to one month.
Lily's Mac & Cheese: Serves 4-6
Ingredients:
1 egg
3 oz. cream cheese (softened)
4 oz. sour cream
1/3 cup heavy whipping cream
1 tbs. salt
1 tbs. olive oil
1 ¼ pound bag large elbow macaroni
3 oz. edam (shredded)
3 oz. gouda (shredded)
5 oz. sharp cheddar (shredded)
5 oz. colby jack (shredded)
5 oz. havarti (shredded)
Directions:
1. Preheat oven to 325 degrees Fahrenheit.
2. In a large bowl mix the egg, cream cheese, sour cream, and heavy whipping cream and mix well with a whisk. Set aside.
3. Bring a large pot of water to a boil over high heat and add the salt and olive oil. Boil the pasta for six to seven minutes until al dente (just tender) and strain.
4. Place the boiled pasta in a Dutch oven over medium heat.
5. Add the egg mixture and stir constantly until warm.
6. Add the shredded cheeses, stirring continually, until all the cheese has melted.
7. Transfer the mixture to a large baking dishand bake in the oven for 45 minutes, rotating the dish halfway through the cooking process until top and corners are golden brown. If needed, bake for an additional 10 minutes.
8. Remove and let sit for 15 to 20 minutes before serving.
You might also be interested in...