Desert Storm in 'Palm Springs': Montecito-raised filmmaker twists genres, and hearts, in his debut film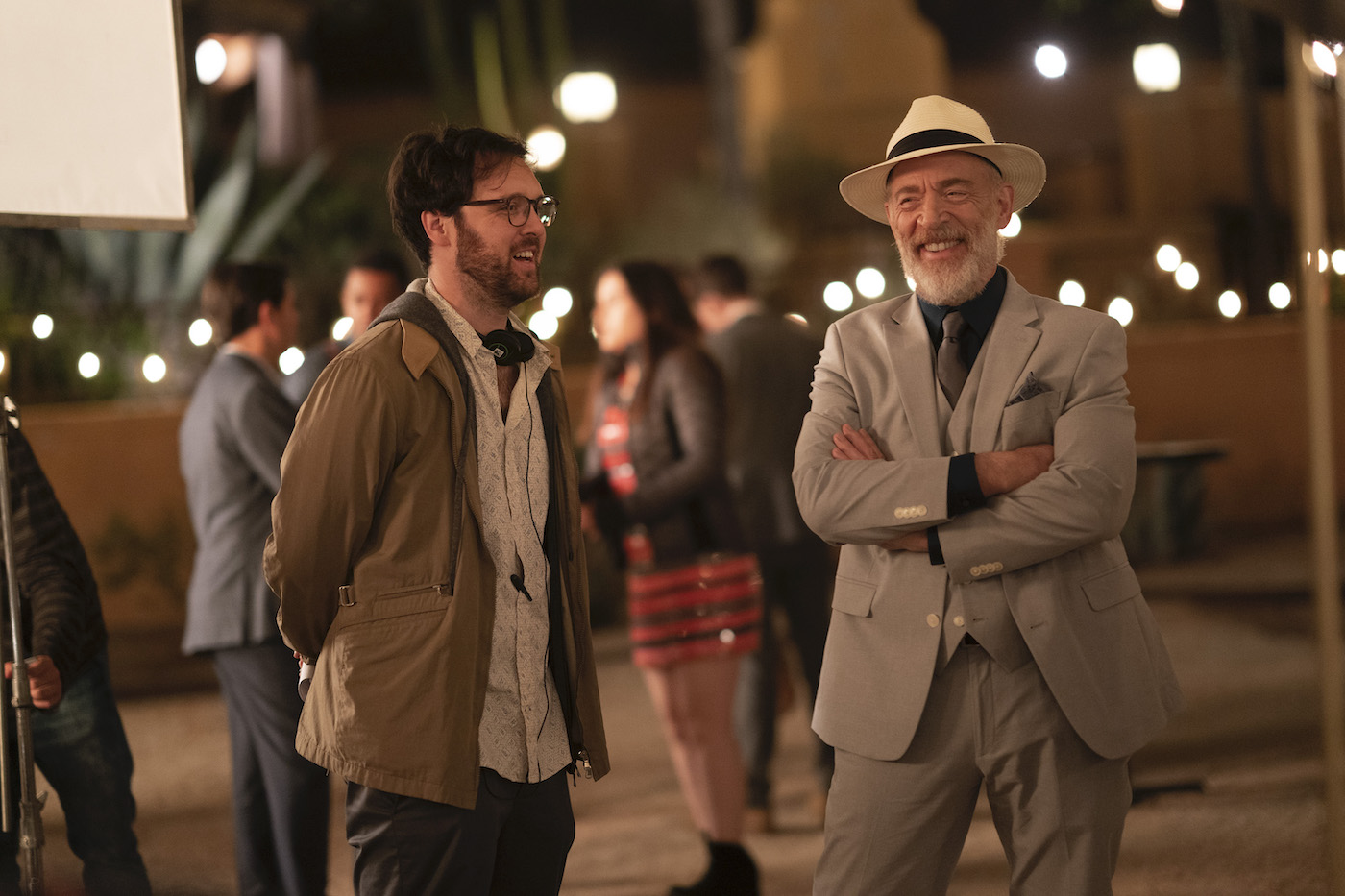 Critics have been falling all over themselves to praise Palm Springs, the new ambitious yet taut genre-scrambling sci-fi/existential/rom-com starring Andy Samberg and Cristin Milioti that made its debut on Hulu on July 10. As the film buffs have suggested, the movie that employs an infinite time loop as its central conceit is much more than an updated Groundhog Day for our COVID-crashed times.
Among Palm Springs' fans are A.O. Scott, the notoriously hard to please New York Times scribe who called it a "wildly funny, admirably inventive movie" and made note that the fact that couple Nyles and Sarah, who meet cute (if cynically so) as disaffected guests at a wedding, are forced to relive the same day over and over is "less a goofy premise than an unnerving reflection of the world as it is."
That thought seems more accurate in our current pandemic-suppressed society, but loneliness, depression, rebellion, resignation, addiction, self-sabotage, and even nihilism are themes that would play at any point in history – just rarely in a way that's also so smartly funny and sweetly romantic. Samberg, the star of TV's Brooklyn Nine-Nine is matched note-for-note by Milioti, a Tony nominee for the Broadway musical Once, each displaying spot-on comic timing and surprising vulnerability.
Palm Springs is also the debut narrative feature film from director Max Barbakow and his writing partner Andy Siara, who are film school buddies from their time at AFI Conservatory. If the director's name sounds familiar, that's because he's the Montecito-raised film-soaked son of former Santa Barbara International Film Festival president (and MGM studio head) Jeff Barbakow. Max's clever autobiographical documentary about being adopted, Mommy, I'm a Bastard, played at SBIFF a few years ago, as have all of his short films made at AFI which hinted at his incisive voice. But the Crane School-educated Barbakow hits his stride right out of the box with this first fiction film, which set a sales record at Sundance in January.
Max took nearly an hour earlier this week to talk about the film and his Montecito days.
Q. How do you think growing up here influenced you as a filmmaker?
A. My family is everything to me and everybody in my family loves film and is very creative in their own way. As the youngest child, I was very much encouraged to pursue whatever my passion was. The way that evolved was that growing up in Montecito is so idyllic and I was so comfortable just in terms of being able to read, and indulge my curiosities and be close to nature that by the time I got to high school I wanted to explore the world, have life experiences, get into a little bit of trouble here and there, and expand my consciousness. That's why I studied abroad in Bolivia, went to Yale back East, lived in New York for a while and traveled Southeast Asia for six months – always with a camera in hand learning what it meant to distill life experience into filmmaking.
How have your short films led to Palm Springs?
It's the most personal film I've made where all those shorts led up to because we were working on it and incubating it for a while. Everything I've made comes from a place of trying to do something that I could sink my teeth into emotionally, mess with form, subvert expectations of what a movie might be and surprise myself in the making of it. I want to entertain people but also make them feel something.
Making this movie was about digging deep and doing some personal inventory. And then engaging in a process that feels safe and creative where you're not overthinking or turning on that critical voice. My process with Andy (Siara) started five years ago with a weekend trip to Palm Springs right after we graduated and then we sat in a room together trying to entertain each other and make each other laugh. It was about rediscovering my instincts after overthinking the craft for so long at film school, and not waiting for permission to make a movie as easily as it had been at school.
The way you handled the time loop was very smart in basically assuming that by now your audience knows how that works. But I understand there were a lot of shifts in focus along the way.
The original version was a Jungian journey out in the desert on a weird dark version of a safari where he'd meet all these different characters along the way toward self-actualization. Just learning to be at peace with his pain and whatever kind of existential suffering that was. It was very abstract. Eventually he became a commitment phobe as his personal hell, so having to live the same day over and over again at a wedding was a perfect place to start… But almost everything in the movie has roots in those first passes we came up with.
What's also a lot of fun are the way movies that influenced you as a filmmaker show up on the screen in Palm Springs. Can you share some of those?
Andy and I first bonded in film school over Eastbound and Down and the way that show can kind of switch from moment to moment and within scenes from being very funny to heart-wrenching and tragic, very moving and laughing in the same breath. We wanted our characters to use their toxicity as a self-defense mechanism against their own vulnerability in a way that you can still care for them. With our time loop structure, it became about kind of creating these little short vignettes that leaned into different genres that we love. So we had our Saving Private Ryan moment with the beer cans shooting through the pool and a Zero Dark Thirty moment where Roy is torturing Nyles… Then there's Punch Drunk Love and Eternal Sunshine of the Spotless Mind, great offbeat love stories. But mostly it's just about our friendship and the writing of it and trying to make each other laugh and feel stuff together.
Andy Samberg is just great. How did he influence the movie?
Once we met with him it was obvious that he was the perfect guy for the role, maybe the only actor who could do it. I think one of the reasons he wanted to play Nyles – and he doesn't say yes to a lot of offers – is that he knew he was capable of it. I truly think he's a special performer who can do so much more than what you've seen in his comedies. He saw the movie the same way we did, and having him as a producer and actor, he was able to protect that throughout.
The film has a singular tone that you are able to maintain even when sub-themes enter such as existential questions, nihilism, magical realism, and more. That seems like quite an accomplishment to cram all those things in there in a way that's really fun.
I'm glad you feel that. I think that it comes from the fondness that I have for those characters. It was always about creating a grounded human story where we can journey with them throughout their predicament. Even with all their contradictions and messiness, they are the engine of the film through all the craziness that they navigate. It's awesome that you got that.
Not to offer spoilers (and please stop reading if you haven't seen the film yet) but there's something of a less-than-idyllic ending in terms of they're still doing the same thing even though they're out of the loop. And, um, dinosaurs?
We shot a lot of different endings because the goal was always to create something that was ambiguous so that people would be able to see it different ways. It holds a mirror up to what an audience member is bringing, whether they're cynical or hopeful, and how they feel about their relationships. We also wanted to button up the three main flavors of the movie – the romance, the nihilism and the sci-fi – and have them feel complete… Everybody who worked on it thinks different things about the ending, although there are (clues) that will point you in the right direction. But there's no question about the dinosaurs – they are definitely real. Andy and I are both big Jurassic Park fans, but it was even more about wanting to visualize and symbolize what love feels like, which is something totally transcendent and impossible for those two characters. But it becomes possible, which is what the dinosaurs are.
The film has received strong reviews everywhere, and registered a hard-to-achieve "universal acclaim" at Metacritic. I'm imagining that's been rewarding.
It's been incredible and I'm so gratified by the response. I love that people are engaging with it in a sincere and fun way and getting all the things out of it that we put into it. Obviously we would have loved to play theaters, but I think we've still been able to make a cultural ripple on Hulu. And I could argue that being available for streaming during this moment that's so surreal when our minds seemingly resonate with it might actually have helped.
Palm Springs hit Hulu during this stage of the pandemic where we're back on near-lockdown, which almost feels like a real-life time loop, maybe reflecting the line from the movie about "Yesterday, today, and tomorrow" all being the same.
Yeah, the movie was born out of a similar confusing moment in 2016, where the world shifted seismically with (the election) of Trump. So maybe it was always destined to validate another strange moment. But in another sense, the movie gods were on our side and maybe, in a similar way, they're thinking about now by giving us this kind of framework to bring the movie out into the world with them… The whole thing started from a very personal place and was about having the courage of our own peculiarities. So it's gratifying to be able to take that approach and have it pay off as people identify with it. It makes me feel less alone. And I think it's made other people feel less alone, too.
You might also be interested in...