Sing! Sing! Sing! — Music Academy Hits High Note with Kids Choir Performance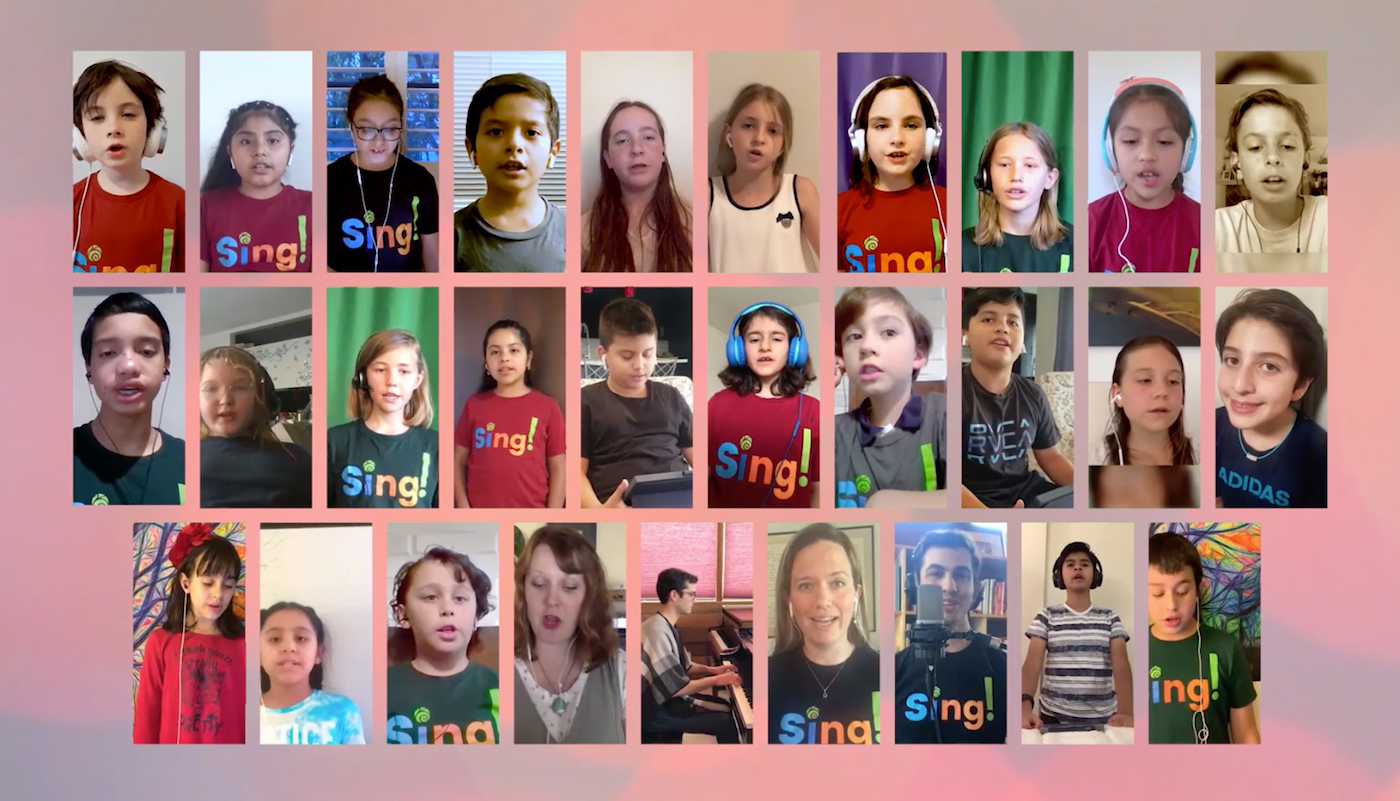 Music Academy of the West's Sing! program – a free, after-school choral initiative that, in normal times, takes place at six elementary schools for Santa Barbara County kids age 7-12 – was only in its second year when the coronavirus pandemic forced schools to close back in March, obviously also ending any possibilities for the children to continue meetings and rehearsals in person. But not only did the gatherings carry on over Zoom, the program – whose goals are to allow the young singers to learn how to work with others, build confidence, expand their cultural experience, and get real-world appreciation of music – also forged ahead with its major planned performance, albeit a truncated concert delivered via video rather than the full show that was supposed to take place at Hahn Hall in May.
More than 200 participants took part in the adjusted curriculum, taking classes and then rehearsing and recording performances from late April through mid-June. The final show was produced in the same way that so many professional concerts have been since the stay-at-home orders went into effect, via individual performances being fused into one through the detailed use of recording technology known as layering.
The result, though, is nothing short of stunning, as the virtual choral concert has proven to be one of the highlights of MAW's Concert Hall Online, daily video postings that serve as its only public offering this summer via a sampling of masterclasses, Picnic Concerts, compiled records, and more from the first four weeks of the Academy's Remote Learning Initiative. The young singers shined on works by Britten and Handel as well as traditional songs from Brazil, Russia, Nova Scotia, Japan, and, most movingly, Shine on Me, an American spiritual from slavery days.
We caught up with Choral Director and Administrative Coordinator Daniel Newman-Lessler, who, along with Christine Hollinger and Erin McKibben, coached the kids and put together the program, to learn about the mayhem behind the magic during a break from last-minute work to put together the Sing! choir portion of MAW's Hansel & Gretel opera recording slated to air on the online platform on Monday, July 20. (Visit www.musicacademy.org/home/concert-hall-online to view the videos.)
Q. You obviously didn't sign up for running a program on Zoom back last August when the year began. How did you get up to speed with doing things online?
A. I was just another one of the choral directors but then we found ourselves in need of an administrator at the last minute so it was just learn on the job. I have some very basic background in recording, but not an engineer. So it was just sort of trial by fire.
I know you guys worked with an outside company to stitch together the concert. But just having to break down rehearsals and do things via video to avoid latency seems overwhelming let alone help create the final mix.
Each of the directors had our own rehearsals because you can't do anything in a group over Zoom without latency issues. We'd either be singing and playing with all of the students on mute, or have one of the students unmute themselves and lead the group, or play some kind of a recording that they would then sing along to on mute. Those teaching modalities were in addition to the regular theory and ear training things we would normally do.
For the recording we created guide videos, the three directors individually playing piano and singing for the three choral parts, which virtualchoir.net editors then put together so that the videos and audio lined up so the kids could sing while listening through an earbud in one ear.
Putting together the concert was phenomenally painstaking. I listened to and made notes on every single student recording and went over all the edits measure by measure, page by page, to say what needed to happen with the recordings of each student. It was a lot of back and forth with virtualchoir.net in massaging the mix for things like students where we could only use video if there's too much background noise going on, for example.
I know the Music Academy fellows all received expensive tech packages to do something similar, which I imagine didn't happen for Sing! It's amazing what you were able to accomplish with what was closer to tin can and some thread. You must be really proud of how it turned out.
Virtual Choir gets major, major kudos because not only were they able to turn out an amazing performance at the end, but they also did it under a serious time crunch… (For me), it was a simultaneous feeling of both pride and then just exhaustion because I had to jump right back into the opera excerpt which is even more complicated because we're getting the kids involved with the pre-professional fellows at MAW and they're singing in German.
That sparks my curiosity about what draws you to work with elementary school kids in the first place?
Part of it is a sense of duty as a professional musician. I do things that are more musically fulfilling, composing and experimental things with groups in L.A. But it's important to nurture and foster the next generation of people who love music and do my part by exposing them to as much really great music as possible. And that means music from all different cannons beyond Western classical and Eurocentric, with as great a diversity as possible. That's part and parcel of raising a more complete human being who shares a sense of community and empathy, teamwork and understanding, and the desire not to just tolerate other cultures and communities, but to actively seek them out and engage with other people. Ones who aren't like you and who don't sing like you and may have entirely different tuning systems from you.
The concert program was developed last summer, before COVID and the recent focus on racial equality. How have current events informed the material?
I think it was John Cage who said that all music is political. There's just the music that knows that it's political and there's the music that doesn't know that it's political. I very much resonate with that philosophy in that whatever music we work on with the kids cannot exist in a vacuum. So for a song like "Shine On Me," which arose out of the suffering of enslaved black people and was arranged by the great Black composer-pianist Rollo A. Dilworth, we have to discuss what it means historically and in the current climate.
And I refuse to shy away from those issues with children. We don't give them enough credit for how insightful they are, and how much they can handle if you discuss it in a way that is honest and open. I don't want to shield them from things that they need to confront. The conversations that we had with these kids were devastating and inspirational. It's really incredible to hear the wisdom that comes from the mouths of babes, so to speak.
I still remember when I was applying to grad school, a dean of music told me that whatever happens with my auditions that when I go out into the world I must make the music matter. As a result of these profound conversations surrounding this particular piece of music, that song mattered so much more, and you can see it in the faces of the kids. You can hear it in their voices. It's not just notes. It's not just words. It's not just rhythms. It all comes together to communicate something that needs to be communicated at this point in time.
You might also be interested in...