Montecito Village Fourth Roadshow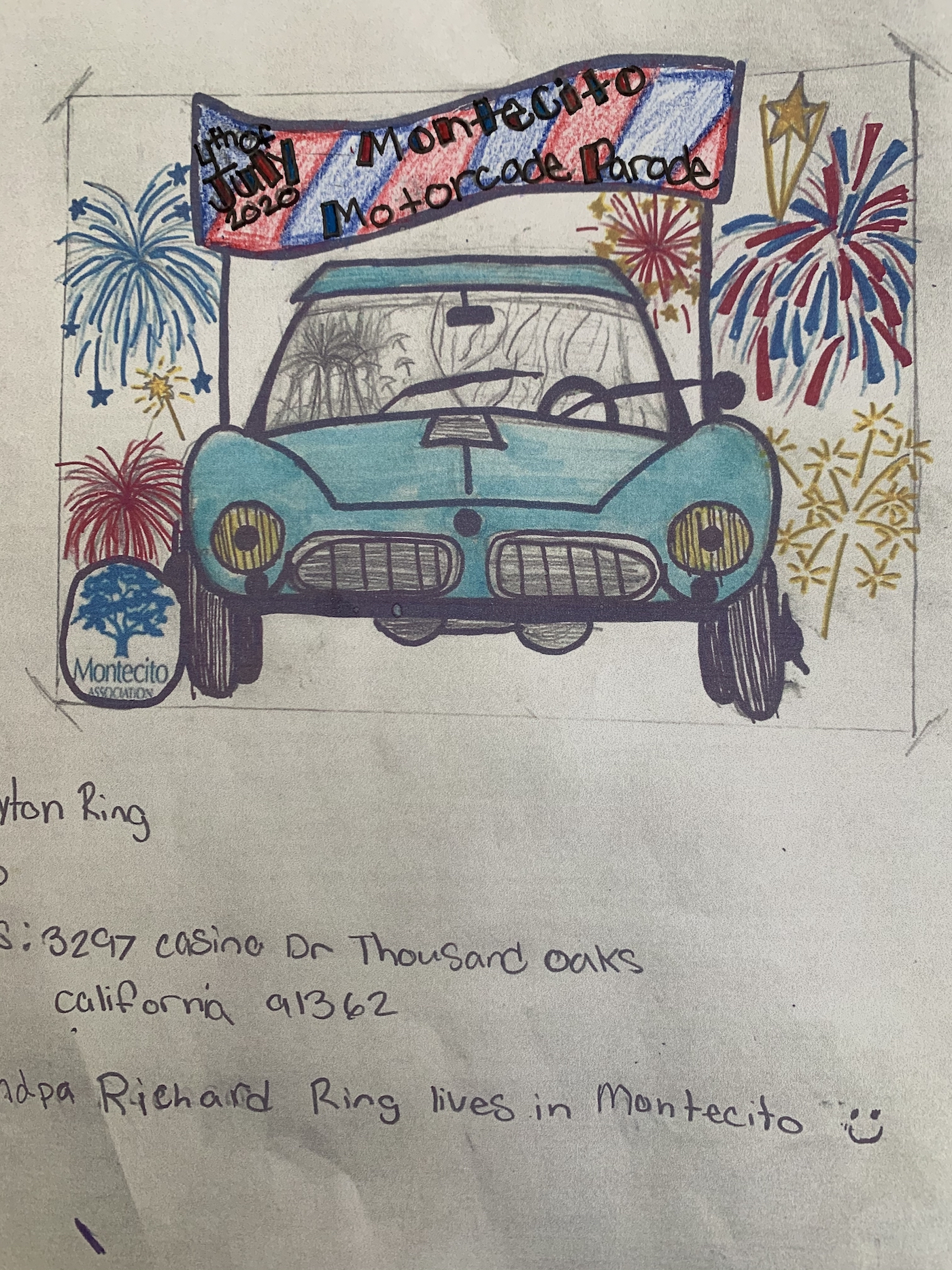 Montecito Association's Village Fourth committee is taking their patriotic show on the road! This Saturday, July 4, over 30 vintage vehicles, firetrucks, and police cars will go on a "socially-distanced" parade throughout Montecito, in an effort to bring patriotic cheer during a pandemic. "It's going to be really fun, and a parade to remember!" said co-chair Mindy Denson, who is organizing the event with Kathi King and Trish Davis, along with a dedicated committee.
With the COVID-19 pandemic still going strong, this Fourth of July will look different than past celebrations: there will be no pancake breakfast at the firehouse, no gathering of thousands of residents on San Ysidro Road to watch the world's shortest parade from Upper Manning Park to Lower Manning Park, no t-shirts, no BBQ and fair, no Grand Marshal, and no Montecito Cup games. Instead, the parade will begin at Montecito Union School, travel down San Ysidro Road to San Leandro, down Sheffield to North Jameson, down Olive Mill to Channel Drive, past the Music Academy and Cemetery, up Coast Village Road and Olive Mill to Hot Springs, up Sycamore Canyon, turnaround at Montecito Covenant Church, and take Mountain Drive to San Ysidro, ending at MUS. Montecito residents are encouraged to come out and watch the parade while being socially distanced, and cheer on the vintage vehicles. The parade will begin with a flyover of four vintage airplanes, at 11:30 am sharp.
The official artwork for the parade was created by 13-year-old Peyton Ring, who freehand drew a 1958 BMW 507 in a patriotic parade; the artwork is on posters that will be displayed during the parade. For residents who do not live on the parade route, parking is available at Lower Manning Park and the Montecito YMCA for those who would like to watch the beginning of the parade from MUS.
The crew putting on the event include Denson, King, and Davis, as well as Dana and Andrea Newquist, Conner Rehage, Michael Edwards, Dana Hansen, Nina Terzian, Jean von Wittenberg, Christie Venable, Houghton Hyatt, Cindy Feinberg, Jeff Norman, and Donna Spivak.
For more information, see the map on page 21, or visit www.montecitoassociation.org.
If you are looking for a sweet treat before the parade, Cold Spring School is hosting a Bake Sale Caravan at the school's parking lot, to benefit the Foodbank of Santa Barbara's summer nutrition program. The program provides over 39,000 nutritious lunches to children in need during the summer. The Bake Sale is from 9 am to noon on Saturday, July 4, and volunteers approaching vehicles will be in masks and gloves. All treats will be individually wrapped.
Cold Spring School is located at 2243 Sycamore Canyon Road.
PHOTO CAPTION:
A) Peyton Ring is the winner of the children's art contest for the Village Fourth
B) Peyton's artwork features a vintage BMW, the Montecito Association logo, and fireworks
You might also be interested in...