Droughts, Conflagration, Pandemic. What's a Garden Lover to Do?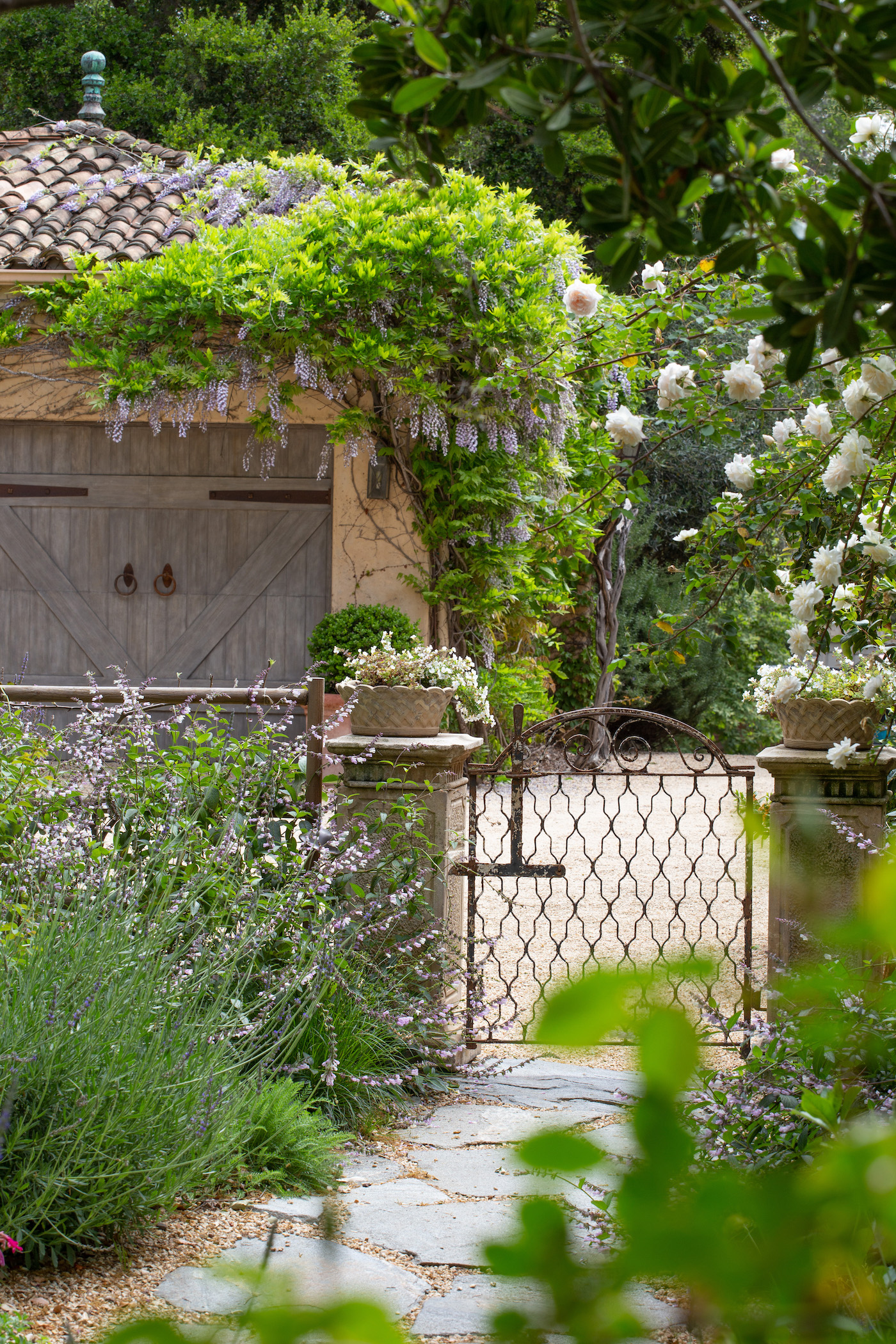 The answer this season in Montecito clearly is, "Don't give up, dig in." With winter's rains nurturing a robust planting season, home gardeners, garden designers, and professionals have been eagerly cultivating throughout spring and into summer. Sheltering-in-place during COVID has only accelerated this trend.
Drive around any corner, you'll see raised beds or garden walls being built of local stone, fire-resistant shrubs lined up as hedges, water-filtering gravel driveways replacing blacktop, boulders becoming garden accents, and "instant" home orchards of mature citrus, avocado, and apple trees. "The themes are drought, fire, and food," says landscape architect Kris Kimpel.
In the hedgerows just east of Olive Mill Road, where just about every family was affected by the January 2018 debris flow, dozens of households are sporting new rustic stone-bordered gardens filled with climate-appropriate plants like lavender, sage, bottlebrush, and bougainvillea. High in the hillsides, large properties are being relieved of their acres of old-fashioned turf lawns; in their places, designers are envisioning a variety of sustainable "outdoor rooms," a design concept employed brilliantly by earlier generations of landscape designers at estates throughout Montecito – and visible today at Lotusland and Casa del Herrero. The 2020 versions, though, often include sport courts, outdoor kitchens, and structures to hide private wells, along with the more traditional rose gardens, potagers, and cutting gardens.
So much mud was left behind in some areas affected by the debris flow that designers were compelled to incorporate Mother Nature-created changes in terrain into their garden renaissances. Landscape architect Margie Grace "moved a lot of mud to the south and west, creating hills" at the two-acre garden of Adam and Penny Bianchi on the 1700 block of East Valley Road, a street that was devastated by the debris flow. She also found places of honor for large stone jardinières pulled out of the mud – brought down from somewhere uphill. At another mudded-out property Ms Grace turned a variety of stone tiles that emerged from the mud into a new mosaic patio of "old, new, and leftover." She recalls, "I like how this patio tells the story of the site."
Longtime Montecito landscape designer Alida Aldrich observed from afar two years ago as three of her favorite landscaping projects, all in Riven Rock, were wiped out by the debris flow. Ms Aldrich asserts nonetheless that homeowners aren't interested in recreating their former gardens, as post-drought thinking has moved toward conservation and environmental responsibility. "Everybody is in the mind of drought tolerant. A few people start out afraid it will look like a desert, but when they see the huge plant palette of Mediterranean plants and gardens, that's the end of that story." Ms Aldrich observes how well Mediterranean plants look with the architecture prevalent in this area. "One of the key things I try to impress upon my clients is to marry the plant palette with the architecture of their home," she says.
At a home on upper East Mountain Drive, landscape architect Steve Gierke reduced three and a half acres of mostly lawn to an area measuring 30 ft by 70 ft, "just big enough for the kids to kick a football around." The old lawn, as is typical in California, was difficult to keep green, and "was mostly dirt and weeds," he says. Today, this property's garden rooms have "floors" of gravel, decomposed granite, and stone slabs that allow water to seep through into the water table. These are accented with vegetation that thrives on Montecito's rocky hillsides and complements its native oak trees: creeping fig as a ground cover and large sculptural plants like "blue glow" agave.
According to the Natural Resources Defense Council, lawns are the most resource-wasteful and polluting elements of the American landscape, annually consuming nearly three trillion gallons of water, along with 200 million gallons of gas for mowers and blowers, and 70 million pounds of pesticides.
That doesn't include the sounds made by those machines. Dan Siebert, a private gardener at various Montecito estates and former head of the landscaping team at El Encanto, is exasperated after spending nearly three decades listening to mowers and blowers. At one home where he works, "I have to listen to three solid hours of noise from next door every Wednesday," he says. "Multiply that by every property in Montecito. It's better to get rid of the lawn and save all this pollution."
California water agencies are well on their way toward a goal of encouraging homes and businesses to replace 50 million square feet of old turf throughout the state. Many towns in Santa Barbara County have in place rebate programs to reward homeowners with up to $2,000 for replacing turf grass with more appropriate plants and groundcovers, and with water efficient, less expensive drip irrigation. Unfortunately, the Montecito Water District doesn't have a water conservation rebate program, although environmentalists say it's needed, since Montecito has one of the highest water usage rates in the state, 200 gallons per capital per day (with 85% of it used outdoors). The MWD's website states that 800 households in Montecito and Summerland have requested a home visit and consultation on water conservation by MWD employees.
As this community turns increasingly toward environmentally friendly gardens, one benefit will be cutting outdoor water bills in the face of another sizable proposed increase, as the MWD's new "water security" board contemplates how to fairly pass on to households in Montecito and Summerland the estimated $4 million-plus-per-year cost of a proposed 50-year desalinated water contract with Santa Barbara. The rate increase could be quite substantial, according to an analysis of the proposed contract conducted by retired MWD General Manager Bob Roebuck. "Base rates were already up 64% since the drought surcharge was imposed," he notes. Within five years, the average customer bill, he says, is likely to be nearly twice what it was in 2013.
"Our clientele are far more savvy on water use than they used to be," says Ms Grace, whose drought-tolerant garden designs are so popular that she's been "working flat out" with a staff of 15. "There are more people who are hip to the reality that we're one notch above a desert, and we have to use the plants appropriate to the climate we live in. There were no lawns in Victorian-era Santa Barbara, they had no irrigation systems, so they planted what would grow here." Only in later decades, Ms Grace notes, did nostalgic Easterners and Midwesterners plant turf (helped by sprinkler systems invented in 1932 by a California farmer).
You can't say that folks weren't warned about what does and doesn't belong in Montecito's fragile ecosystem. In 1924, landscape architect Lockwood de Forest circulated an essay arguing against turf lawns, "Do Lawns Belong in Southern California?" This has become a seminal document of the sustainable horticulture school of landscaping, as well a recent spin-off known as the right-plant-right-place movement, which posits that choosing plants well suited to any local environment results in less care, water, and chemicals. Noted Mr. de Forest's granddaughter Ann de Forest in a book about his work, "Today, his advocacy for drought-resistant indigenous plants and water conservation seems uncannily prescient."
Homeowners are far from the only ones transforming their gardens to benefit Montecito. Grassy areas are being reduced in size or substituted – as drip irrigation supplants "spray" sprinkler systems – at local country clubs, hotels, restaurants, and public spaces. The Montecito Inn, following the debris flow, covered its former turf lawn with sod made of kurapia, an evergreen groundcover that uses 60% less water than turf. This groundcover, which has been championed by the University of California at Davis, also was installed last year at Santa Barbara's Trinity Episcopal Church, where it now requires little to no water.
As beachside home prices have skyrocketed in recent decades, condominium communities are becoming aware of the connection between replacing tired 1960s landscaping and improving property values. At Montecito Shores on Hammond's Beach, Ms Kimpel is replacing half the old turf and English ivy – an invasive weed with aggressive water-stealing roots – with colorful Santa Barbara-grown perennials and dwarf native myrtle, a low-water groundcover that's become a lush emerald carpet. Around the property, three empty grass hillsides that overlook the ocean have acquired what she calls "garden pauses," where residents gather at newly installed stone platforms or wood benches to view the Pacific, surrounded by roses and gazanias, a South African native daisy that thrives in this climate. Next to come in this horticultural facelift are raised-bed community gardens. Small wonder that a first-floor condo at Montecito Shores, surrounded by a sustainable landscape, set a new beach record last month when it sold for $5.5 million.
About the only garden-related item that isn't part of Montecito's garden transformation trend – many would say thankfully – is artificial turf. "They love it in Palm Desert," says Mr. Siebert, "but I just can't see anybody putting it in here."
Quintessential Montecito Plants
We spoke to a wide variety of homeowners, landscape architects and gardeners, and nursery owners and asked them to consider, what constitutes the rather splendid "rural yet cultivated" atmosphere of Montecito gardens? Here's their list of quintessential Montecito plants, grasses, and trees – and other landscape features.
Landscape Features
Walls of local stone or stucco
Custom gates of wrought iron or wood
Driveways of decomposed granite, gravel, or paving stones
Front hedges of cotoneaster, bush honeysuckle, or currant (recommended by the Montecito Fire Department)
Water features in the rear – fountains, streams, and ponds
Plants
Pride of Madeira
Matilija Poppies
Santa Barbara Daisies
Roses of all types
Oak, Olive and Jacaranda trees (below is Jacaranda)
Lavenders (below is Spanish lavender)
Agave (below is Blue Glow Agave)
You might also be interested in...