People of Summerland: Gordon Morrison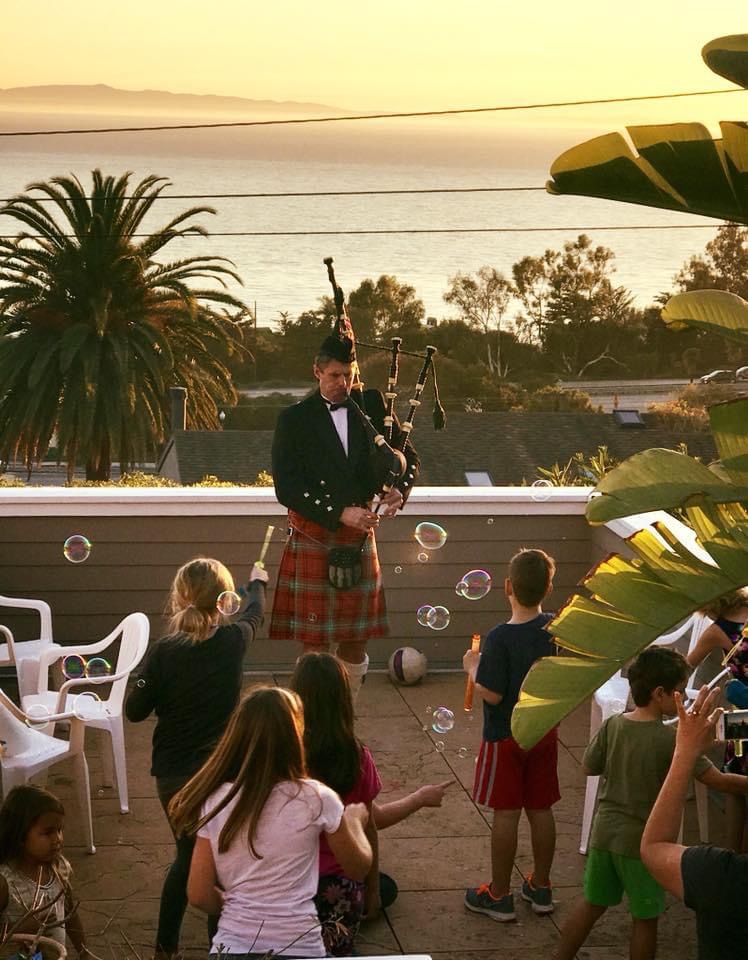 Every Sunday evening at 7 pm Gordon Morrison, bagpiper, husband, father, and VP of Engineering at Freedom Photonics, steps onto the porch of his family's Summerland house and plays the bagpipes as the sun sets. It's a comforting lament during these difficult times. I asked Morrison our usual "People of Summerland" questions. I also sat in on the Summerland Citizen's Association May meeting that Morrison chairs as President of the SCA. Here are his thoughts, as well as a short report on the confab, which certainly wins the Summerland Zoom prize for most unusual board meeting. The meeting included an update on the Whitney Avenue organic farming project on the Summerland School/Carpinteria Unified School District property from Leslie Person Ryan who prepared her dinner – roasted cauliflower with grilled sausage on a bed of arugula and goat cheese/harina/baba ghanoush sauce – throughout the Zoom board meeting, which made it infinitely more entertaining.
Q. With COVID-19 changing the way we interact as a community, how are you making it work through this difficult time and do you have any tips to share?
A. To be honest, I think that my wife Sandra and I have been very fortunate. I know this has been an incredibly difficult time for most people, not just in Summerland and Montecito, but throughout California, and indeed the world. Surprisingly, I have found the transition to working from home less difficult than I expected, largely thanks to online meetings. At Freedom Photonics, the small technology company at which I work, we have been quite nimble about reorganizing our schedules to frontload the work that can be done from home where possible. Without my regular commute to Goleta and back, I can get in an extra 40 minutes of work every day and still have a short lunch break with my kids, which has been wonderful.
My three kids, Anna (12), John (10), and James (8), are all playing together better than usual, and are doing a great job of keeping up their schoolwork online with help from their teachers at Summerland School and Carp Middle School. I suppose when your only playmates are your siblings you start to appreciate them more! So, spending more time together as a family has been a real blessing. That's not to say we don't miss our friends and all the extracurricular activities and so forth that usually keep us busy, but with the assumption that this will eventually pass and that it is a disruption rather than a permanent status quo, it has been quite nice. One of my favorite new activities has been going for regular runs with my three kids on their bikes either through Montecito or around the back of Summerland, usually early in the morning or before dinner in the evening. Montecito and Summerland are beautiful with all the spring flowers at this time of year, and the brooks and creeks in the area are making their lovely babbling sounds next to many of the trails.
What is your favorite memory of living in Summerland?
I have so many great memories of this town, so I will cheat by sharing a single memory genre: I have so many wonderful memories of the ocean views in Summerland and the surrounding areas. Sunsets, dolphins, whales, breaking waves, overexcited kids silhouetted on the beach, moonlight glancing off the ocean, and yes, even the gentle ebb and flow of sea fog in May and June. If you live around here, you know what I'm talking about. These amazing images are stuck in my head (I hope) for the rest of my life and are associated with all sorts of happy experiences. Experiences such as family potlucks at Summerland School, moonlit runs up Franklin trail or through Montecito with my friends, sunrise bike rides up Romero Canyon, AYSO soccer games for the kids at Viola Fields, or lazy sunny walks with the family through the many wonderful local trails maintained by the outstanding Montecito Trails Foundation. The ocean view with its everchanging face makes the perfect backdrop for all the wonderful memories we have in this community. People here are blessed, and all you need to do is look south from Summerland to be reminded of that.
You might also be interested in...