Moore Ends Coaching Career on Top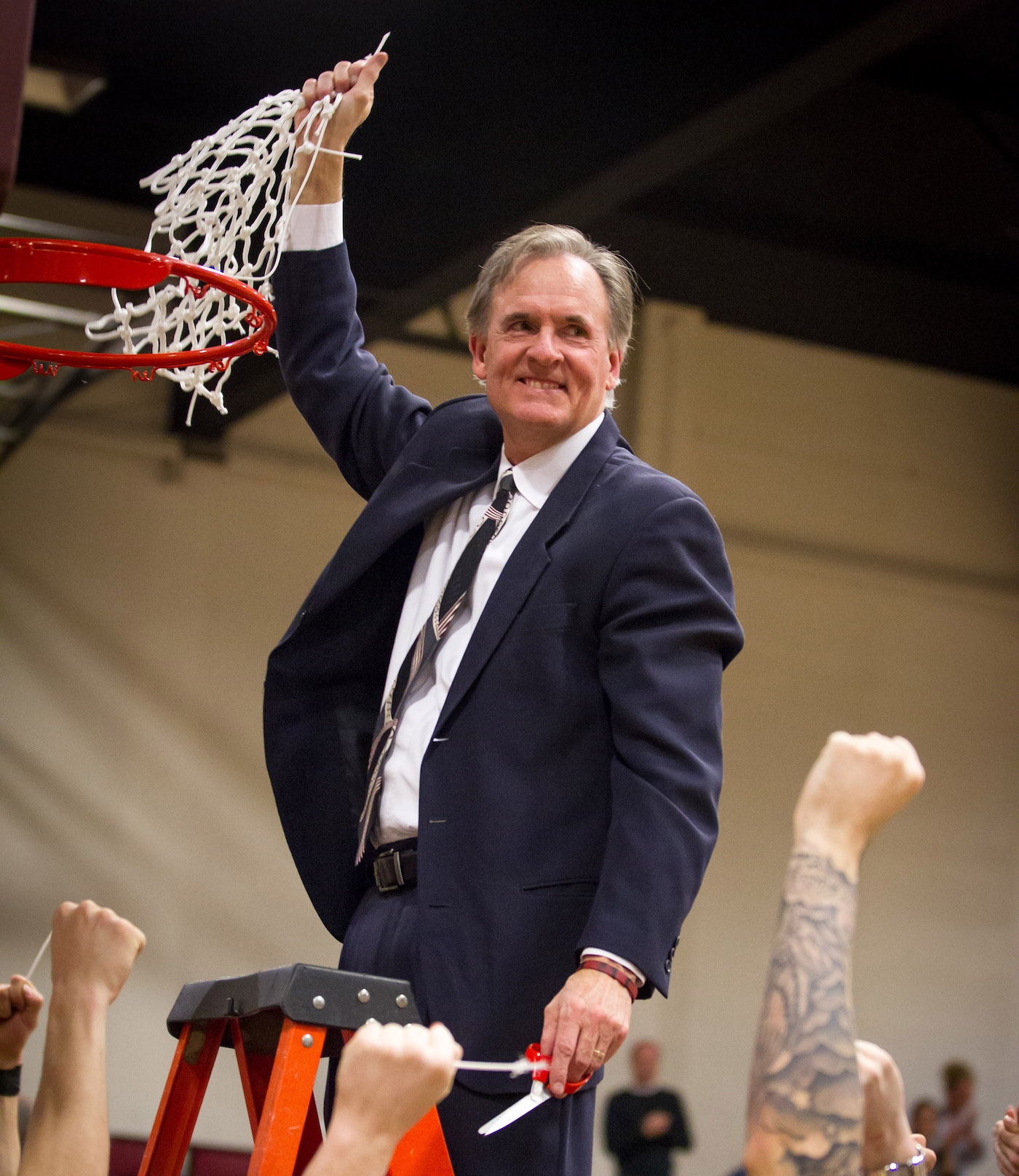 John Moore, the Warriors' longest tenured and all-time winningest men's basketball head coach, is ending his coaching career after 27 years at the helm of the storied program. Moore will continue to serve as an associate professor of kinesiology and associate athletic director.
"It's hard to imagine 27 years have passed since that first year when Jeff Azain and I coached a team of players whom today I call lifetime friends," Moore said. "Every team Jeff and I have coached has been unique, and while we have had success on the court, it has paled in comparison to the friendships our players have forged and the growth our men have experienced through their time at Westmont.
"I have always believed coaching and teaching at Westmont have been what God has called me to do. It is in these deep bonds of brotherhood that God has done his finest work. And for this I am eternally grateful."
Moore departs from his illustrious tenure following perhaps his most successful season, one for which he was honored as the 2019-20 NAIA Men's Basketball Coach of the Year. It marked the first time a Westmont men's basketball coach had been selected by his peers for that recognition.
Westmont Athletic Director Dave Odell announced that alumnus and assistant coach Landon Boucher '12 will take over for Moore as the next head coach of the men's basketball team. Odell describes Boucher as a big-picture thinker with a strong faith commitment, a deep understanding of the college's academic mission and aspirations of immediate success for the athletic program.
"In a way, coach Boucher had an eleven-year interview for this job," Odell says. "The last few years, it became quite clear as he made an immediate impact helping recruit many of this year's GSAC championship team, scouting and developing winning game plans. Landon is ready for the next challenge."
Boucher played for Westmont under Coach Moore during the 2010-11 and 2011-12 seasons, finishing his Warrior career as a 41 percent 3-point shooter. After graduating, he coached at Providence High School and San Marcos High School, where he guided the team to its most wins in a single season in school history (27), a Channel League title and the Royals' first ever CIF-SS championship. He was named Channel League and CIF-SS Coach of the Year, before returning to Westmont, where he has been an assistant coach for the past two seasons while earning a master's degree in coaching and athletics administration from Concordia University Irvine.
You might also be interested in...