Painting Through the Pandemic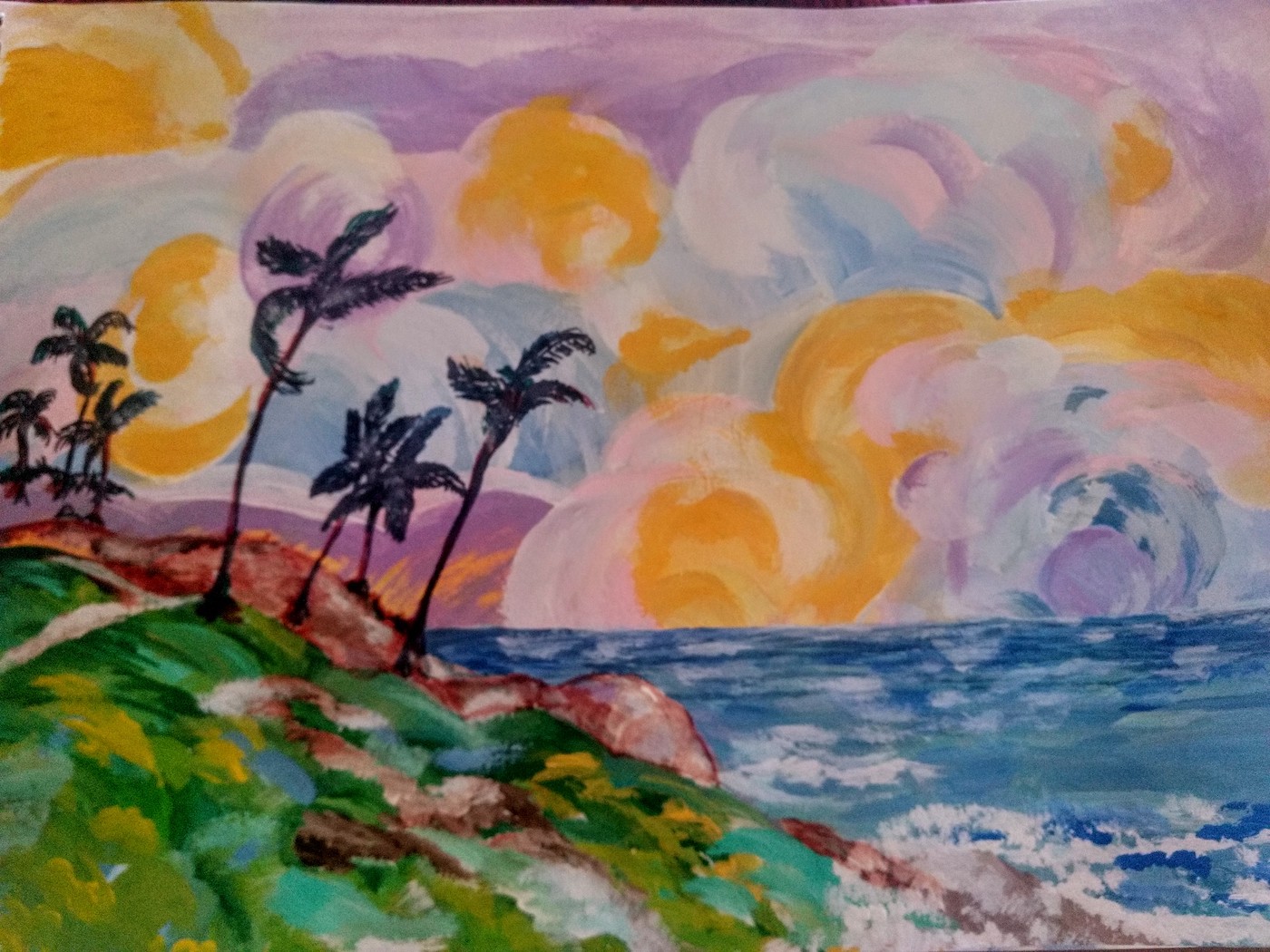 Claudia Hoag McGarry has been involved in writing and literature for decades. Her resume includes more than a dozen screenplays, several novels and, more recently, a handful of theatrical plays as well as 30 years of serving as a Santa Barbara City College English skills teacher.
Then COVID-19 arrived, shut down just about everything, and McGarry found her creativity careening in an entirely unexpected direction.
"I started painting on Day 1 of the lockdown," said McGarry, noting she'd never trained as an artist and had only sold a few paintings during her college days at UC Santa Cruz 45-plus years ago. "But something just happened when we started staying at home and I just started painting for fun. Now I can't stop."
That's partly because when she posted a couple of her works on her social media sites on Facebook (www.facebook.com/claudia.h.mcgarry) and Instagram (@claudiahoag) to share with friends how she'd been spending those early self-quarantine days, the paintings sold instantly.
"Honestly, I am in shock. I'm painting almost every day and my living room has turned into an art studio."
The seeds for McGarry's new obsession were planted about a year ago when she won a silent auction for art supplies in a raffle at SBCC, a bounty that included lots of paints and brushes. Then her sister gave her a bunch more art supplies for her birthday, which came at the beginning of the stay-at-home order. The timing was perfect.
"I had just finished a couple of writing projects so I wanted a break from that," she explained. "It was just for fun and just for me, but when I posted them, people started asking if they were for sale, which I hadn't even considered. Then I started getting multiple offers. I mean, it's crazy."
McGarry is calling her series of paintings her "Quarantine Collection," which as of the weekend had soared past 40, with more than three-quarters already spoken for. "I paint almost every day, and give each one of them a name, and then people just snap them up as soon as I post them."
McGarry, who works in a combination of watercolor and acrylic – her own technique, she said, applied to heavy-duty watercolor paper – said she "just had the idea to try it, even though I hadn't done any art at all in decades.
"I think it's just something about being older that liberated me to try new things. So I went to town trying things out and I guess people like it."
Sheltering in Place but Pulling Inspiration From Everywhere
The ideas for the subjects come from all sorts of inspirations, McGarry said.
"I watched Free Willy the other night, so I did one of a whale. Then I talked with a friend in Arizona, so I painted one of the cacti. It just comes to me, whatever I'm thinking about. Usually at night I have an idea of what I want to paint the next day, but sleep on it, and in the morning I know much more and get to work."
Friends and fans have also started asking McGarry for particular pieces, commissioning her to create works to help them through this period of isolation.
"A friend in New York asked me to do one of the city because she hasn't been out of her apartment, and another one wanted me to paint the Santa Barbara Mission for her family who just love Fiesta (Pequena)."
Other times, someone asks if she has painted a subject they're interested in right after she completes one that fits. That happened with a lighthouse, among other subjects, she said.
"Someone told me I'm channeling something, which I don't understand, but it's been eerie the connections that are happening," McGarry said.
McGarry prices each of the paintings, which take her four to five hours to complete, at $200, a price point that, along with the vivid colors that characterize all of the works, has helped them move quickly.
"It's a nice chunk of cash that I wasn't expecting at all. But the bills, the cleaning, everything in the house is suffering because I'm just painting all day. I got five commissions for Mother's Day alone, and I'm painting like crazy so I can get them in the mail in time to arrive before Sunday. My daughter told me not to get stressed doing it. But I won't. I get up, I paint, I post it, and if it sells, great. I just want them to make people happy."
Meanwhile, McGarry's latest screenplay, a romantic comedy co-written with Sheila Murphy called Dying to Meet You – which she said was about two best friends who crash funerals of middle aged women like them in order to meet the widowers – "like Wedding Crashers meets Book Club" – was completed just before the coronavirus caused everything to shut down in Hollywood. "So we haven't gotten it read by anybody yet, but we think Rob Lowe would be perfect to play the male lead."
If the pandemic fades enough to allow for audiences, her new play, Breaking the Code, is set to premiere at Center Stage Theater in mid-August. It's also a rom-com, about a 48-year-old woman who meets a young Muslim man sitting on a park bench in New York City, and they fall in love.
"People ask me if it comes from my life. I kind of have a crush on the UPS guy, but that's about it."
You might also be interested in...