Village People: Slim Gomez, Matt Mosby, Caroline Geddes, and Jorge Bernabe of Montecito Natural Foods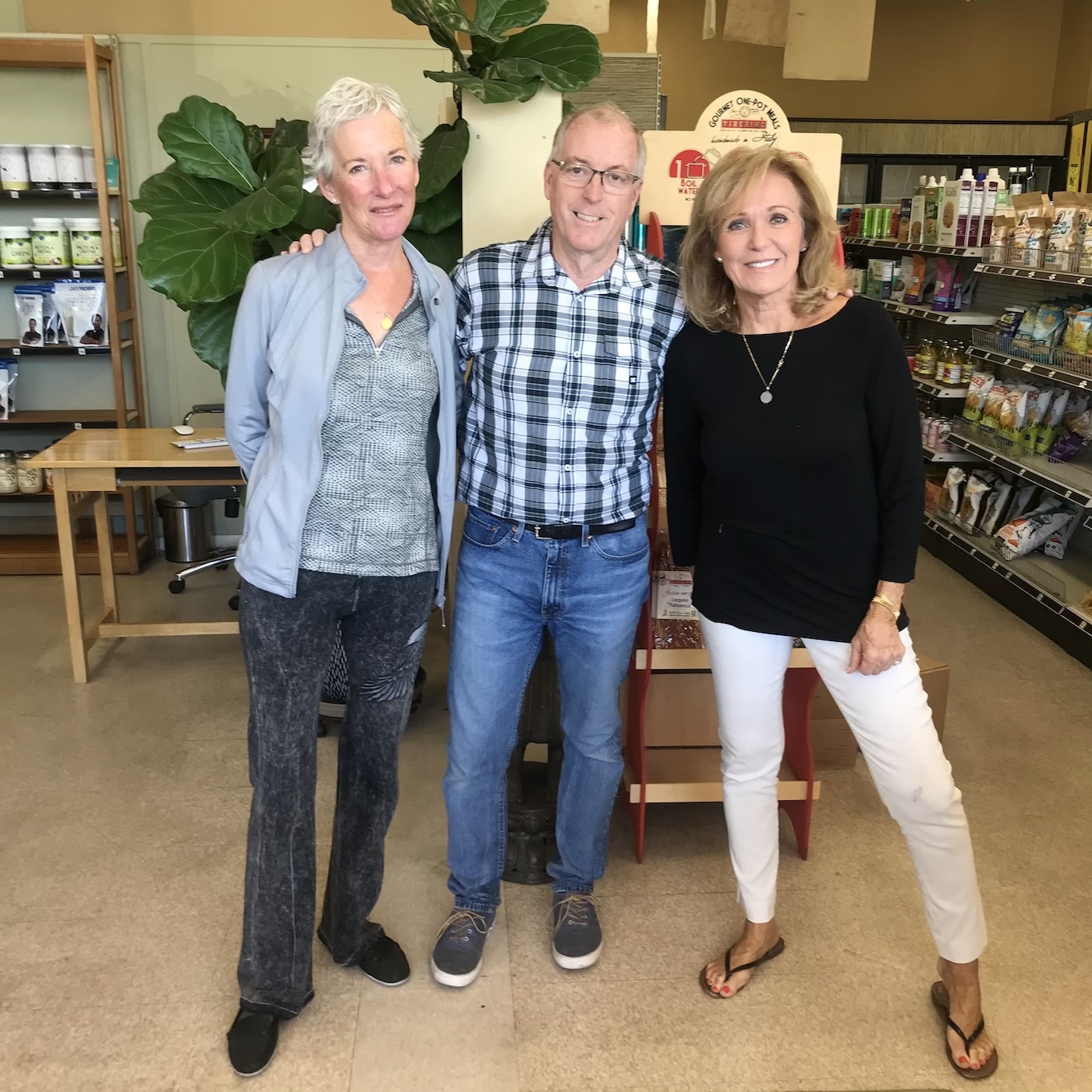 During the disastrous Thomas Fire and debris flows two years ago, the entire Montecito Country Mart was closed for business with the exception of Montecito Natural Foods. That turned out to be a good thing for the town's first responders, particularly the Montecito Fire Department, because emergency workers were laboring under high stress in unsanitary conditions with weakened immune systems.
"There were fire trucks and emergency trucks and all that out there," recalls Slim Gomez, who has owned the store for the past 28 years. "We stayed open for them." Gomez says that the store provided responders with healthy drinks as well as a natural immunity-boost liquid shot, which is applied by directly spraying onto the throat. "One of the firefighters tried the immunity shot because he was getting sick and they were all compromised," she adds. "In two hours, he was better and he told all the firemen. So now all the Fire Department takes these on a regular basis."
Fortunately for Montecito residents, the store remains open during the forced closures that have come about as a result of the COVID-19 pandemic. "When we had the mudflow, we stayed open as a staging area, and we are staying open now, too," says Matt Mosby, who has worked at Montecito Natural Foods for the past 10 years. "Right now, I think we are the only business right here who are doing well," he added. "People are worried and we are able to supply them with products that will keep them healthy. The staff has well more than one hundred years of combined experience in nutrition and supplements."
According to Gomez, the store has been around ever since the shopping center opened in 1963. It used to be larger, until a new owner reduced their square footage to put in public restrooms. Gomez estimates that 75 percent of the shop's sales are health supplements. "We're very focused on providing knowledge to our customers," she says. "Most of our demand is for zinc lozenges, Vitamin C, and probiotics," the latter of which the shop offers under its own label. "We sell more of it than anything else and have been for the past fifteen years," she says. "People come by and buy four or five bottles at a time."
Another product that's been high in demand lately are the shop's line of propyl alcohol-based hand sanitizing spray bottles. "We're very fortunate because one of our skin care suppliers lives here in Montecito and she made these hand sanitizers for us, and it's great; we're selling a lot of them."
For those who haven't dropped by to pick up their favorite natural supplements or immunity boosting products, be forewarned that you must come equipped with a sense of humor, Gomez warns, referring to the fact that Mosby loves to tease long-term customers. "Oh, that's number one," confirms employee Caroline Geddes. "If people don't have a good sense of humor they won't come back, but they do, because we have wonderful customers." (She's not kidding: When I interviewed Mosby for this story over the telephone, he put down the receiver so he could banter with one such visitor. "Thanks for visiting Montecito Natural Foods, where you are our favorite customer," he said by way of farewell to the shopper, who left in a fit of laughter.)
Humor, much like a virus, is contagious: Both Mosby and Gomez laughed aloud when I shared this anecdote with her after she issued her facetious customer service disclaimer. "Right now we have the best crew we've ever had," Gomez says, referring to Mosby, Geddes, and Jorge Bernabe, who wasn't there when I stopped by but who handles ordering and stocking as well as working with customers. "And we are very lucky to have a very loyal following in the community."
Montecito Natural Foods is open from 9 am to 6 pm Monday through Saturday, and 10 am to 5 pm on Sunday. 1014 Coast Village Rd # B. For delivery or pickup orders, call 805-969-1411.
You might also be interested in...