Tecolote Book Shop's Mary Sheldon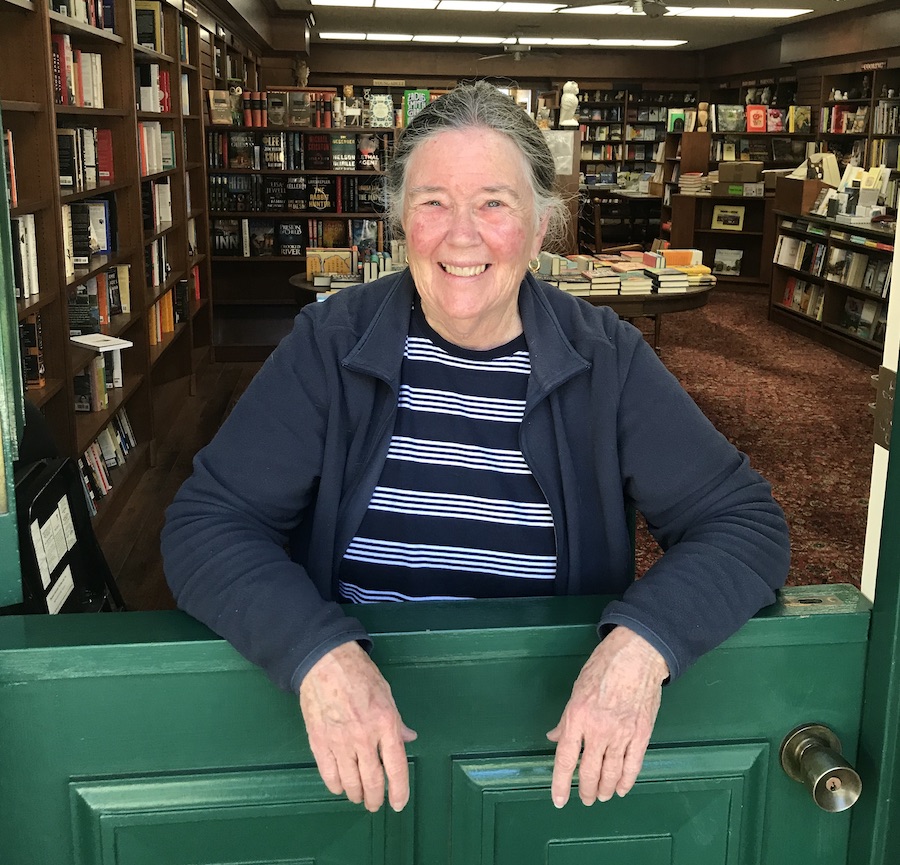 Don't even try to tell Mary Sheldon about how COVID-19 is hurting local businesses.
After all, the owner of Tecolote Book Shop in Montecito's Upper Village has been a bookseller for 30 years, the last 20 of which had the misfortune of taking place after the unprecedented rise of online shopping spearheaded by Amazon. Technically, Tecolote has been open almost four times as long as the internet has existed: since 1925 to be exact, although not at its current location on East Valley Road. The bookstore's first iteration was in downtown Santa Barbara's El Paseo. "There were Tecolotes in a few spots and then it ended up at what is now the De La Guerra House Museum," Sheldon explains. "They moved out here in the early 1960s when this shopping center was built. Then in 1975, they closed the other store in Santa Barbara, leaving this as the only one."
Sheldon began working at the shop in 1991, managing it for then-owner Peggy Dent until 12 years ago when Dent retired, at which point Sheldon realized she had an opportunity to save the local landmark. "She said that if I didn't buy it, she would probably close it," Sheldon recalls. "I thought the store needed more respect and so I contacted a regular customer who was interested in buying it if it was ever for sale. We made a partnership and here we are."
Ever since all but essential businesses in town were forced to close to the public because of the coronavirus pandemic, Sheldon has been keeping the shop open thanks to the fact that her main entrance features a Dutch door. This feature allows her to keep the top half of the door open so the public knows the shop is open, yet the bottom half of the door can remain locked to prevent anyone from wandering inside. "It's great," Sheldon says. "I can say hi to people and people can come by to pick up books they've ordered or to ask if there is a book that they could get for their son for a birthday."
Sheldon likens Tecolote's temporary business model as somewhat akin to what used to be known as a carriage trade, where people would ride up to a shop in a carriage and purchase something and have it wrapped up for them on the spot. Long-term customers have also made a point of dropping by. "I think right now people really like to get out of their houses just to take a walk," she says. "There are a lot of people walking around, and this is kind of a destination: Let's go by the bookstore and see if it's open."
That said, Sheldon adds, she hasn't been able to help but notice a lot of shops nearby have closed in recent years, including a stationery shop and then a jewelry store, Sheldon's next door neighbor, which shuttered in March. "A lot of people have moved to other places in Santa Barbara or other places in the U.S. We've also lost a lot of our customers to age."
And then there's Amazon, which while now offering self-isolated shoppers everything from toothpaste to toilet paper, actually started out as a simple online bookselling website. "Something that has hurt all retail businesses, but which hurt booksellers to begin with is this twenty-year span that we have had to put up with Amazon," Sheldon says. "I guess it's what the American people want, but it sucks."
That said, Sheldon tries to remain humorous about the competition. When she's unable to find a book for a customer, she recommends the website, although not exactly by name. "We tell people, 'If you can't find the book, you can always go up the river,'" she says, only half-jokingly. "With technology, I want it to work for me. I don't want to work for it."
Tecolote Book Shop is located at 1470 East Valley Road; 805-969-4977; tecolotebookshop.com. Temporary hours: 10 am-1 pm Monday-Friday.
You might also be interested in...