Blues Legends in Concert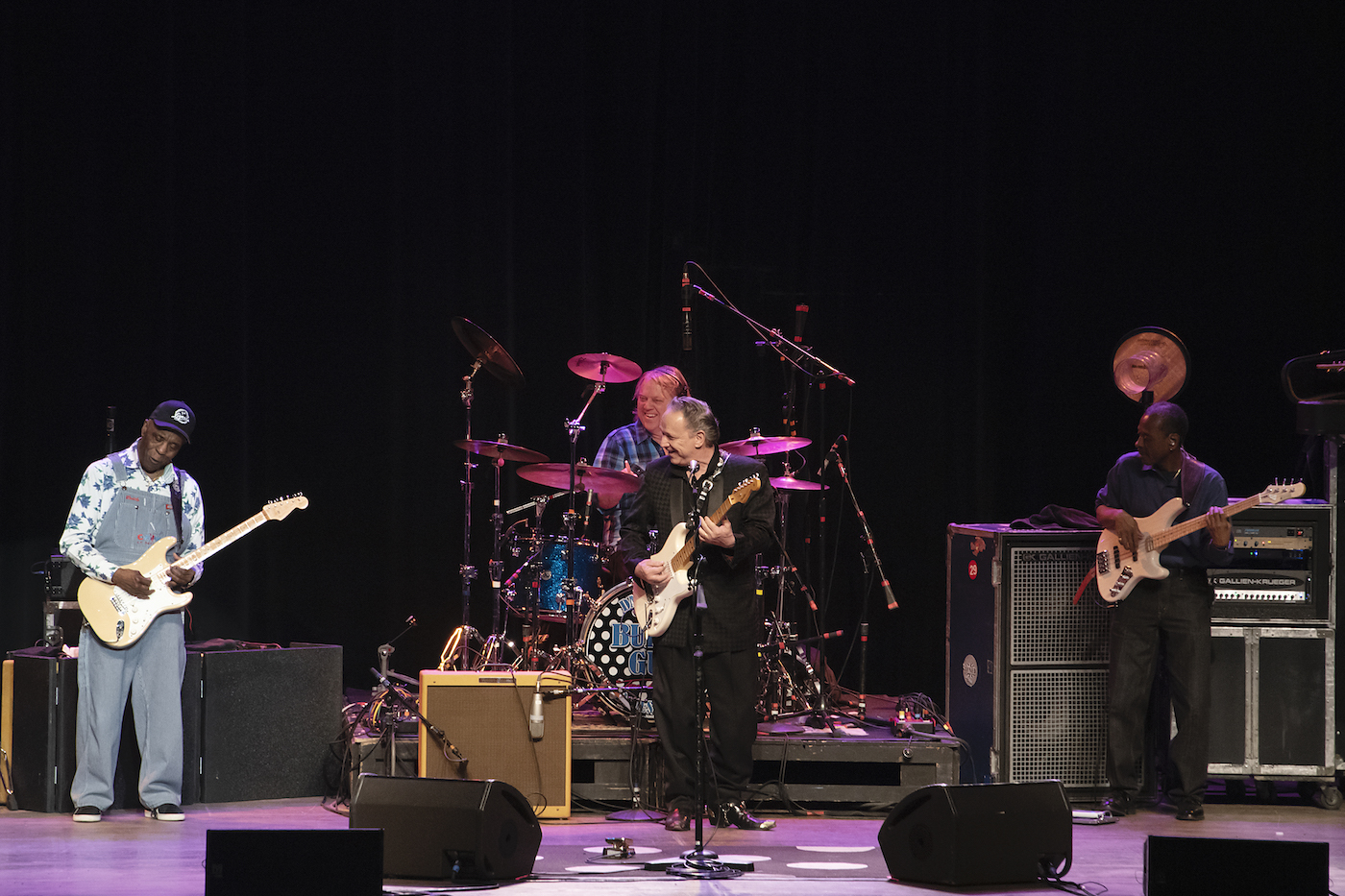 Tipping the charts at a double sold out concert, UCSB Arts & Lectures knocked it out of the ballpark in early March with a triple-header of blues legends at the Arlington Theatre, presented with additional support from Sharon and Bill Rich. The blues is America's heartland music, one that is respected worldwide as our country's contribution to music and music theory.
The concert started with Kosciusko, Mississippi harmonica blues player Charlie Musselwhite (2019 Memphis Hall of Fame) and his band, who at 76 proved clearly music has no age, playing the harp with clear, clean full range of notes and keys, testing all the limits of its boundaries. There was a noticeable adopted surf-Ventures sound on the lead guitar's solos, but Musselwhite kept the blues intact with songs, "Wild Wild Woman" and "Crazy for My Baby." He stayed after for fans in the lobby.
Next up was guitar master Jimmie Vaughan from Texas and elder bro of late Stevie Ray. In his black leather cowboy boots with silver tips and his classic off white Fender Strat, his focus on playing with his band held us in the flow of his music, along with his, "Hey y'all!" His seven-piece band covered the waterfront from strings to brass, bringing a full and classic Texas blues sound that he stylized as his own, and from the first chorded notes you know it's him. Set list included, "It's Been A Long Time," " I Ain't Seen Nobody Like You," and two 2019 new releases, "Baby, Please Come Home" and "The Crawl."
English rockers Mick and Keef named their band from the lyric line in Muddy Waters' "Catfish Blues" – "I got a boy child comin', sure enough he's gonna be a rollin' stone." And at this concert, 83-year-old blues legend Buddy Guy said, "Let's give due respect to Mick when he told the American TV show producers of Shindig he would only do the show if Muddy Waters performed with the band. When the producers did not know who Muddy was, Mick gave them a serious lesson in American blues history, and how they named their band, The Rolling Stones. Muddy got booked on the show with them, hallmarking the first time Americans heard the blues on TV."
Buddy's set was a mix of his classic songs, starting with "Damn Right I Got the Blues," "Hoochie Koochi Man," and "Sunshine of Your Love" by Cream. He alternated playing with just his left hand on the fret board, switching to a black silk scarf and some drumsticks while placing the guitar on an amplifier, over his head and just playin' regular. A nod to his elders, he teased out a few measures of "Nineteen Years Old," first recorded in 1963 live at Big Bill's Copa Cabana with himself, Muddy, Willie Dixon, Jack Myers, Fred Below, Otis Spann, Jerret Gibson, and Donald Hankins. Following suit with "Miss You" (The Rolling Stones), and the Jimi Hendrix classic "Voodoo Child (Slight Return)." He thanked his drummer Tom Hambridge, a three-time Grammy winner, who produced Guy's winning LPs Living Proof, Born to Play Guitar, The Blues is Alive and Well, and Skin Deep.
Guy finished his set with a few reminders to be kind and love everyone no matter if you have a difference of opinion. He brought out Jimmie Vaughan to play a few songs with him to close the show, like Little Walker's "Everything's Gonna Be Alright," lifting everyone up like we had just gone to church, the great music church which unites us all.
You might also be interested in...