Three Billion Birds Lost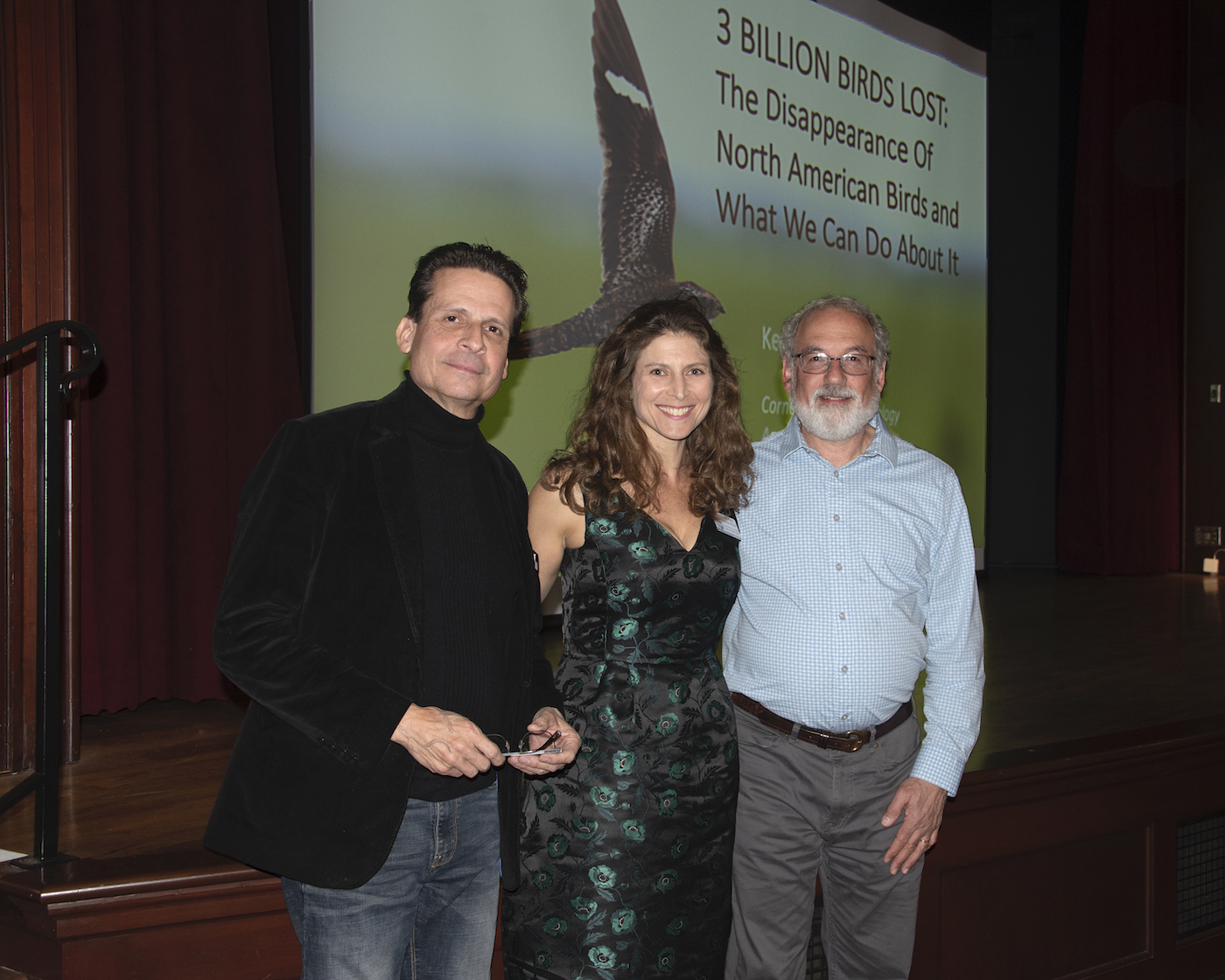 A most pivotal lecture of our time was presented at the Santa Barbara Museum of Natural History on January 29, titled, "Three Billion Birds Lost: The Disappearance of North American Birds and What We Can Do About It."The standing room-only lecture was given by renowned scientist and author, Kenneth Rosenberg, who works at the Cornell Lab of Ornithology. The presentation was co-presented with Santa Barbara Audubon Society and the UCSB Arts & Lectures Thematic Learning Initiative sponsored by our town's Lynda Weinman and Bruce Heavin. Roman Baratiak, Associate Director of A&L, acknowledged the co-presenters and Luke J. Swetland, President & CEO of Santa Barbara Museum of Natural History, for its continuing support of their educational series. Katherine Emery, Executive Director of Santa Barbara Audubon Society, introduced Ken.
The lecture focused on the explanation of a landmark study recently published in the Journal Science that stated a loss of 1 in 4 North American birds since 1970. Rosenberg succinctly outlined, using a slide show, how the data was collected, what the loss of common birds signals for us all and suggestions on what we can do to reverse these trends and restore bird populations. Ken said, "Birds are sensitive indicators of environmental health. We have seen this issue prior documented in the book, Silent Spring by Rachel Carson (1962). When we decided to do the study, we had to ask if there was a decline in one location was it balanced by an increase in birds in another location, and are the shifts in bird population relative to human population. We gathered all data from four lead sources: Fish and Game, National Audubon Society's BBS data, Shorebird Migration studies, and national Christmas Bird Counts. Later we added electronic Radar Ornithology based on weather radar. The results showed 2.9 billion birds lost from 2007 through 2017, the largest loss was in grasslands and the largest increase was in wetlands. Europe was also noting a decline in house sparrows, starlings, and pigeons. The geography shows the loss is concentrated from the Mississippi River east to northeast U.S. What causes the decline is primarily the loss of habitat, urban sprawl, and increase in serious storms that damage food and shelter supplies. The good news is there is hope; birds are resilient, as noted in the 50% increase in waterfowl when hunters asked for increased conservation of wetlands. There are many things people can do individually and collectively."
Suggestions to help bird populations range from doing what the Federal Government did in changing out their building windows to safe bird windows, support bird-friendly coffee, plant native bird habitats, decrease plastic use and share your bird sightings to online resources like the "eBird" app, www.3billionbirds.org, and the Audubon Society. There is also a shift in restoring habitats to using dynamic conservation, Ken explained, "California farmers were paid to flood their fields during the period that the migratory birds would be in their area. It worked out well for both the farmers and the birds." Following the hour lecture, he fielded question from the audience.
Noted attendees were Montecito's expert birder Joan Lentz, members of the SB Audubon Society, leader of the annual Christmas Bird Count Rebecca Clouter with her staff and citizen scientist members and UCSB science students. The SB Audubon Society gave out a free 51-page color booklet on California Birds at risk relative to climate change.
411: www.3billionbirds.org and www.ebird.org
You might also be interested in...