Lyle Lovett in Concert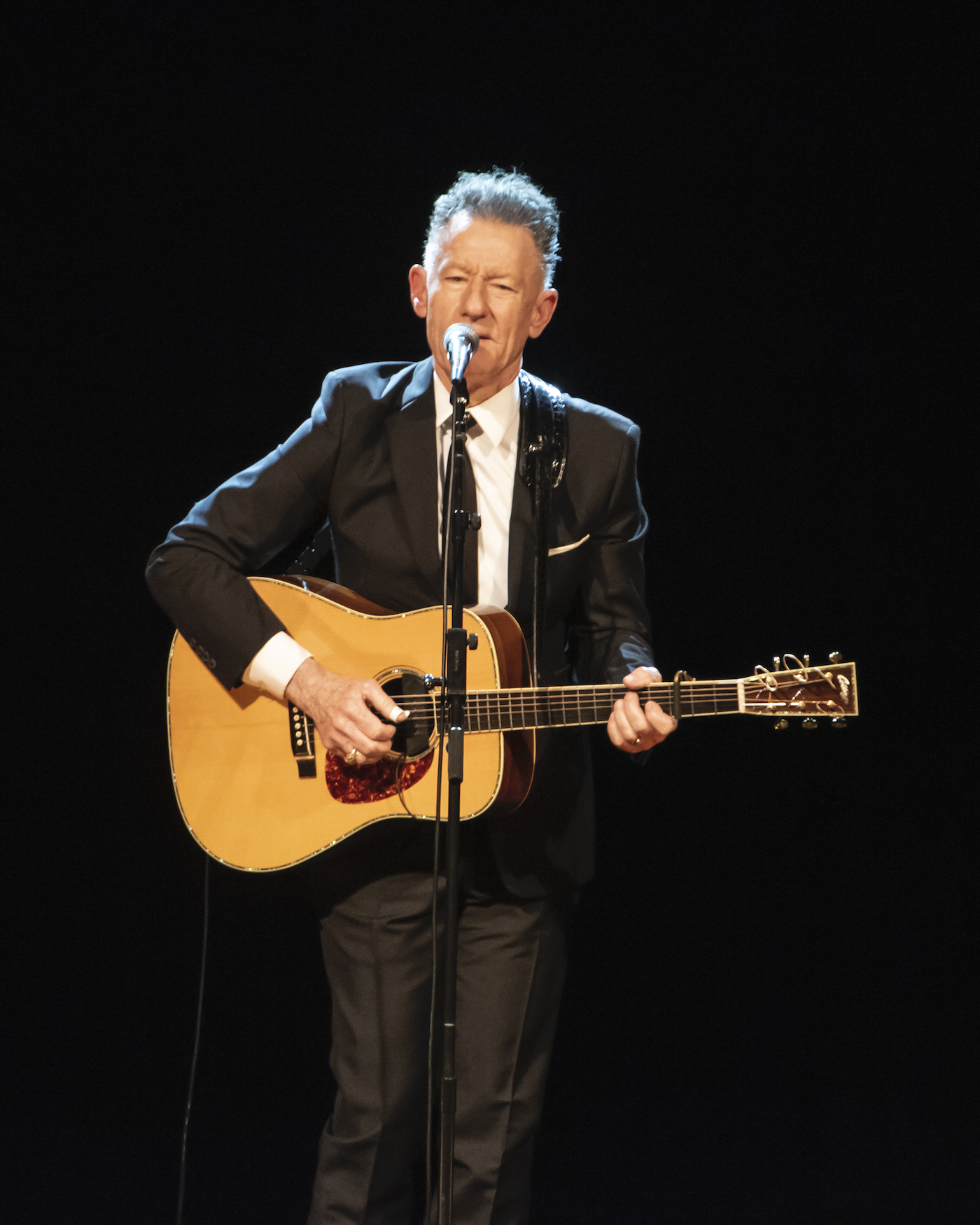 Gracing our town with five-part harmonies from heaven, four-time Grammy winner Lyle Lovett made a serious stop here with his all-strings acoustic band called Lyle Lovett and his Acoustic Group, presented by Arts & Lectures UCSB at Campbell Hall. One of 46 tour dates in a five-month spread across the country, he uses buses and schedules time after the show for good friends in each town. Here he gave a nod to many locals and L.A. fans in the audience, and some were honored with a song. Of note, the sponsor of the concert was Ms Loren Booth of Booth Ranches.
His band opened the concert with a core acoustic intro, and then Lyle came full on with "Once Is Enough" and "Head Over Heels." Moving seamlessly from his first LP, Lyle Lovett from 1986 on MCA Records at age 26, with the song, "God Will," progressed to witty lyrics in "Queen of No-F," "Pants," and "She's No Lady" and added a few sentimental issues, "A Private Conversation" and "12 of June." Each member of his band is a superstar of their instrument with vocal ranges sans auto-tone or pro-tools. On fiddle is Grammy winner Luke Bulla who has played with Lyle since 2014, Viktor Krauss on stand-up bass since 1994, Jeff White on lead guitar and mandolin since 2002, and Josh Swift (Doyle Lawson & Quicksilver) on a Resophonic model slide guitar named after him, the Josh Swift Signature in black – total ear candy.
Weaving captivating and hilarious stories of the band members' personal goings-on, winning and not winning Grammys and inviting them to retell a tale or two, Lyle also shared humble details about his family as an only child with lots of relatives growing up on a farm in Texas, family road trips, and cutting early chops at local steak restaurants for people who wanted to dance, with his sound system plugged into the restaurant's food-ordering P.A. Lyle teasing the known-to-be-health-conscious California audience said, "Steak brings people of Texas together, you know, MEAT!"
Playing for over two hours straight up on his Bill Collings custom hand-made acoustic vintage guitar using individual finger picks, he brought us home with rich, warm and eclectic music, coupled with compelling lyrics. Yes indeed, once again showing us why he is one of the most beloved artists working today. After a brief off-stage moment, he came back for a 20-minute encore. The finale, "That's right you're not from Texas" got everyone up, real happy and in Love-ett!
You might also be interested in...