Girls Take the Lead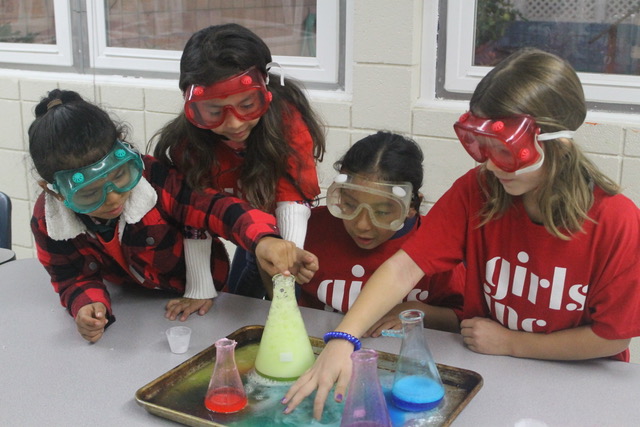 Gwyn Lurie sits in the back office of the Montecito Journal. Mock-ups of issues are fanned to one side as she types on her laptop at her long wooden desk. A large-scale photograph by Alan Kozlowski is propped on the wall behind her screen, waiting to be hung. The image titled "The Lake of Turquoise Lion's Tears" shows a crystal lake at the base of the Himalayas, mirroring the sky as Buddhist monks and spiritual seekers circle the rim; a contrast to the fast-paced energy of a newspaper weekly. It's there, Gwyn works. Quietly writing at times but mostly encouraging writers, meeting with advertising reps, conferring with business partners and, most importantly, listening to new ideas to produce a quality paper and other new platforms. How Gwyn accepts challenges parallels the motto of Girls Inc.: "Inspiring all girls to be strong, smart, and bold." This quality of being both personable and passionate not only makes her qualified to be the CEO of the Montecito Journal Media Group, but to be the featured speaker for the Girls Inc. 35th Annual Scholarship Luncheon with this year's theme entitled, She Leads.
Girls Inc. is well known in our community but the history, maybe less so. Founded in 1864, towards the end of the Civil War, Girls Inc. began as a way to assist young women and girls during a time of social and political discord. But Santa Barbara's story begins almost a century later, in 1955, when the Girls Club of Santa Barbara formed. The idea for the group came three years earlier when the Junior Women's Club of Santa Barbara heard a local teenager on the "Free Speech" radio program ask, "Why can't we have a Girls Club in Santa Barbara?" With a mission to help girls become "good wives, mothers, homemakers, and citizens," the Girls Club of Santa Barbara became a non-profit in 1958 and served almost three hundred girls per year from ages six to eighteen with a membership fee of a dollar. Six years later, the group raised enough funds to build a Girls Club facility on East Ortega Street, where Girls Inc. stands today. Soon after, the Girls Club of Goleta opened its doors and with more than sixty years in operation, both centers have served more than thirteen hundred girls each year.
As times changed with each generation, so did Girls Inc. But what remained was the "founders' fundamental belief in the inherent potential of each girl." For example, the '70s shifted the mission of domestic pursuits to encouraging well-rounded and independent young women, a mission carried forth as the number of women increased in colleges and in the workplace. In the '90s, the Girls Club of SB affiliated with the national Girls Inc. organization to become Girls Inc. of Greater Santa Barbara, adding to affiliates in over 1,500 locations in 350 cities in Canada and the U.S. After-school and teen programs, gymnastics, and summer camps are just a few resources available for schoolgirls age six and up. Research based programs including Project Bold, Operation SMART (STEM), Media Literacy, Economic Literacy, Healthy Sexuality, and She Votes are also in the mix. The core principals of Girls Inc. are found in the Girls' Bill of Rights which states a commitment to allow young women to be themselves and to resist gender stereotypes, express themselves with originality and enthusiasm, take risks to strive freely and to take pride in success, accept and appreciate their bodies, have confidence and be safe in the world, and to prepare for interesting work and economic independence. Girls Inc. keeps these core values in mind when inviting women leaders to speak at their annual scholarship luncheons. This year, it's Gwyn Lurie.
For Gwyn, it's also personal: years ago, her daughters attended gymnastics with Girls Inc. and as a mom at Montecito Union School, Lurie discovered the organization was helpful in connecting with other moms in the community. Both Girls Inc. and the Montecito Journal interviewed Gwyn on her journey through leadership and, coinciding with the Girls Inc. Girls' Bill of Rights, we've listed her answers here.
Allow Young Women to Be Themselves and to Resist Gender Stereotypes
When I was girl, I always competed against boys. I ran for office every year from the fifth grade to my senior year of college – vice president of elementary school, student body president of junior high and high school, student body president of UCLA. For some reason, I always gravitated towards student politics and I often ran against boys. I never really thought about the differences between boys and girls and never felt intimidated by competing against boys.
It was not until I went to work after graduating from college that I began to see the difference between men and women and the ways in which women are treated differently. And it was a rude awakening. I began to understand that it was not only about doing good work, but that I'd have to learn to navigate the power structure that was mostly controlled by men. In some ways, that was the most challenging part of most jobs.
… Express Themselves with Originality and Enthusiasm
Girls Inc.'s Mission to be Strong, Smart and Bold completely aligns with my personal and professional missions. My professional mission, as defined by my current endeavor with the Montecito Journal Media Group, is to build community through inspired content. My personal mission is to be an upstander and, during my brief stay on this earth, to make my life matter by bringing about meaningful change. I don't think you can do that without being strong, smart, and bold.
We live in complicated times. Daily we are being fed messages that being like everyone else is a good thing. Social media puts great pressure on girls, and all of us, to follow the crowd. It's so easy to measure ourselves daily against the curated pictures of other peoples' lives. I see how prevalent this theme is in the young lives of my two teenage daughters and my heart goes out to them. My sister, one of my most cherished role models, always advised me: "stay in your own lane." Her metaphor was from her days as a competitive swimmer where, every time you look over your shoulder to see where someone else is, you're losing time. To follow your own path and become your own person demands us to be strong, bold, and smart. Because the opposite of that is to be weak, impressionable, and to organize your life choices based around the opinions of others. My personal experience has taught me that that is a path to disappointment and regret. A path that will never lead to greatness, joy, or fulfillment. I'd much rather fail on my own terms than live on someone else's.
…Take Risks to Strive Freely
It takes great strength and resolve to plot and follow your own path, to take chances. Someone recently asked me, after I raised the money to buy the Montecito Journal, "What about the way you were raised allows you to try to do things that so many women would never attempt?" In other words, "What makes you think you're good enough or strong enough or qualified enough to pursue the things you do?" I was surprised by the question. I had never been asked that before. Truthfully, I even took a little umbrage because somewhere in that question I heard the judgement: how do you pull these things off when you're not necessarily qualified enough to do it? But I thought it was an interesting question. One worth contemplating. I had never thought of it that way.And after thinking about it, I decided the answer was in the question itself. "Why do I have the audacity to believe I can do things?" I manage to do things simply because I have the audacity to believe I can. Maybe a small part of that audacity comes from a naïve place. Sometimes maybe even ignorance. But couldn't we talk ourselves out of doing almost anything that's extremely challenging? The reality is, everything can't be done until it can. We've gone from "there could never be a human on the moon" to now sending people to Mars.
…When I took over the Montecito Journal, our premiere event was a candidates' debate at Hahn Hall between our 1st District Supervisor candidates. My co-host and I decided that we would use a very sophisticated mechanism – a coin flip – to determine which candidate would get to answer the first and the last questions. Twice I stood on the stage, flipped a quarter up into the air and caught it, slapping it onto my wrist to see the result. After the debate the comment I heard the most was: "How did you stand on a stage in front of 350 people and flip a coin high into the air without dropping it?" The truth is, it never occurred to me that I might drop the coin. If I had spent any time considering that possibility, I quite possibly might have.
…Have Confidence and be Safe in the World
The desire to lead is something that is deep within you. And there are many ways to lead. Some people lead in obvious ways – chairing a board, running for office, starting a business. Other people lead in more quiet ways – by taking their own unique path, mentoring others, helping someone in a time of need, standing up for someone who isn't in a position to stand up for themselves. I would call that leading by example.
I think that being a leader is a choice you make about how you live. Anytime you make a bold choice based on something you believe is right, in a way, you are leading. But I think it's important to understand that the trust of those who are willing to be led by you, must be earned. No one is always a leader. Every leader is also sometimes a follower – which is important – because unless you understand what it is to put your faith in someone else, unless you have allowed yourself to be lead, you cannot possibly understand the awesome responsibility that comes with leading.
…It's important to remember that leading doesn't always mean winning. When you put yourself out there as a leader, when you ask people to buy into your ideas or your plans or your beliefs, sometimes they will and sometimes they won't. But in order to lead, in order to win, you have to risk losing. I don't know a single leader who has never lost. And perhaps the greatest ones have lost the most. Because it is in those moments, when you lay it all on the line and you give something your all, that win or lose, you truly understand the journey of a true leader.
…Prepare for Interesting Work and Economic Independence
Though I've been involved with the Journal for some time, and I began my career in TV Journalism at ABC News in New York, I have only been running the Montecito Journal Media Group for a few months, and every day I feel the weight of what I've taken on and the reverberations from lessons learned. It's the first time I've run a company where I'm responsible not only to my investor partners and to my employees but to my entire community. I take each of those responsibilities very seriously and if I told you that it didn't weigh on me, every day, I would be lying.
When you put yourself out there in such a public way, people are going to take shots at you, they're going to have opinions about the things you do, and the things you say, and the quality of your work. For me, that's a double-edged sword. I love the challenge and I love having the platform to write about important things, to give others a voice, and to be able to have some small influence over the way people think about things. But sometimes I find myself caring too much about what others think. This is why I often remind myself of Eleanor Roosevelt's words: "Do what's right in your heart, because people will criticize you either way."
She Leads, the Girls Inc. 35th Annual Scholarship Luncheon benefiting Girls Inc. of Greater Santa Barbara
Friday, March 20, 2020, 11:30 am
The Coral Casino Beach & Cabana Club
You might also be interested in...