MAW Piano Winner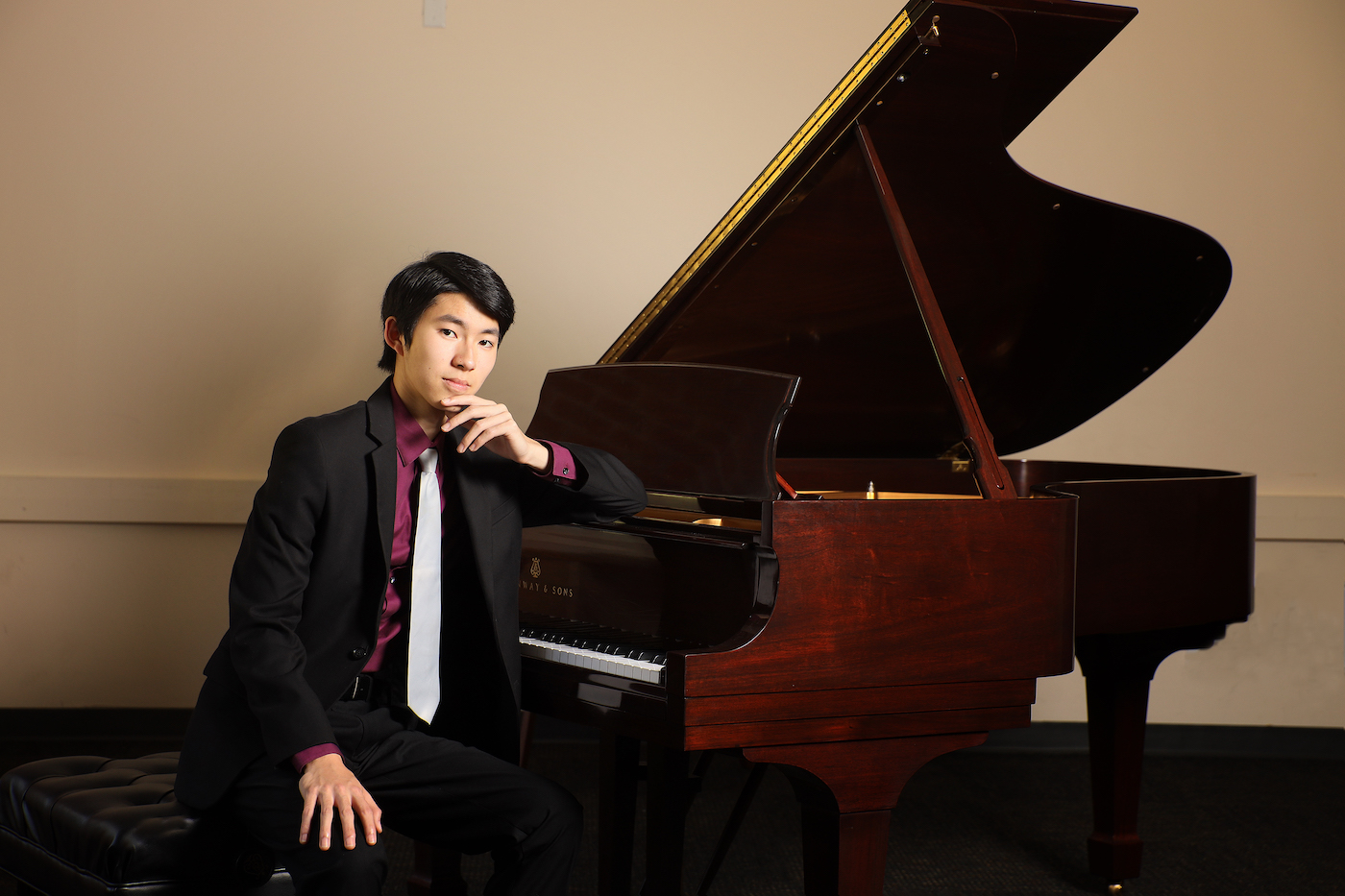 Elliot Wuu doesn't have a direct memory of the first time he slept next to the bench while his older sister Rebecca practiced on the family's piano, something his parents told him he started doing as a baby barely one year old. But he does recall frequently taking naps as a toddler while Rebecca, who is almost six years older, went through her paces on the keyboard, and he believes those experiences shaped his desire to follow in her footsteps even though neither of his parents are musicians.
"I'd hear her practice day in and night out, and I loved listening," Wuu recalled. "I'd go to all of her recitals, and I grew to really like piano. So I told my parents I wanted to be like her."
Things have turned out pretty well so far, as Wuu, who is just 20 years old, was named a Young Steinway Artist and 2018 Gilmore Young Artist – the latter is one of the most prestigious as it is bestowed every two years to just two young pianists – as well as a 2014-2016 Young Scholar of the Lang Lang International Music Foundation, all before turning 18. Last summer, he capped off his teenage years by winning the Music Academy of the West's third annual Solo Piano Competition, earning The Luria Foundation Prize of $5,000, career consultation with music career experts 21C Media Group, and an innovation fund to use towards recital programming and commissioning as well a multi-city solo recital tour in partnership with Steinway & Sons.
The latter prize brings Wuu back to Hahn Hall on Tuesday, March 10, to kick off the three-concert excursion that also includes appearances at the National Gallery in Washington, D.C. on March 27 and at the Chicago Cultural Center as part of the Dame Myra Hess Memorial Concert Series on April 1, with the Chicago recital broadcast and streamed live by WFMT.
(Mezzo-soprano Sun-Ly Pierce and pianist Chien-Lin Lu, the winners of MAW's 2019 Marilyn Horne Song Competition, will take their turn at Hahn on Friday, April 10, when the program include the world premiere of Wise Moon, commissioned by the Music Academy and written by Jennifer Higdon. Look for an interview closer to the concert.)
Wuu took time out of rehearsing in the studios at Juilliard in New York to talk about his time here at MAW in Montecito, and the upcoming concert.
Q. I'm guessing that winning the competition, which we'll talk about in a moment, was the highlight of your summer at MAW. But what else stood out in your experiences here?
A. Spending eight weeks with the seven other pianists and in the incredible learning environment. We all had our own little projects going on, but all eight of us became a very tight knit group, got along very well, and even now we still talk a lot, and see each other frequently, especially the ones who are also at Juilliard. The friendships we made during the festival, and connections, seem like they'll be lifelong and lasting. I really enjoyed watching the faculty concerts too, and PianoFest at the very end of the summer, where all of us and Conor Hanick played really unusual pieces, including ones for four hands, eight hands, and even 16. That was really fun.
You've had a lot of experiences in competing and have won quite a few. Do you enjoy those experiences? How does it further your growth?
I have done a lot. The more I competed the more I began to understand the value. Now my perspective is that it's a chance for us to put ourselves on the outside world stage beyond what's happening in schools. For me, it's not about being compared to others, it's about experiencing what else is happening. I love watching the other pianists play. Even at the Music Academy, as soon as I finished, I watched the rest of us play. It's one of the ways I learn the best, by seeing how they perceive music, their interpretations and approach. I love the learning aspect.
So you don't get nervous?
It's really that there's a different kind of focus. There're so many outside factors that matter in those 15 minutes you have on stage that you can't control, so you can't afford to make any mistakes. It takes a pure concentration mentality, giving 120 percent. Every time I perform and prepare there's an extra adrenaline that pushes me to be even better. That's why I like to line up competitions, because it forces me to become a better musician, exceed what I can already do, and find new ways to do things that's different from others.
How do you do that, separate yourself?
That's what it's all about, really. It's one of the reasons I love to listen to recordings, seeing what the others' nuances are and how they work. We have to produce something that's most convincing to ourselves but also convincing to the audience. That's why every performance is different.
Returning to the MAW competition, did you know that you nailed it when you finished?
(Laughs) Actually I was upset at myself. There was a technical passage I'd been working on, a new piece to me, but it wasn't completely in my hands yet and I fumbled it a tiny bit. We musicians are always nit-picky on the stuff we didn't get. But I guess it went OK.
Among your prizes, of course, is getting to premiere a piece commissioned by MAW from Amy Williams, who was also one of the judges. How is the work, Piano Portraits, resonating for you?
Oh, it's completely fascinating. It's the first time I've ever had anything written for me, so it's always going to be special. It's written as five mini movements, piano portraits of five people who are very important to her life. (Williams' teachers Yvar Mikhashoff and Elizabeth Wright, colleagues Ursula Oppens and Helena Bugallo, and musician role model Lukas Foss). There are so many characteristics for each one so it's very exciting to learn, and it encompasses both virtuosity and lyricism. I talked to her a couple of weeks ago about her inspirations for each movement and you can hear a lot of things going on now that I understand that. It's so fun that I get to unravel everything, and I feel so lucky that she's trusting me with such a personal work.
Can you take us through the piece and how you connect to it?
The first movement is for Ursula Oppens, an important pedagog, and you can hear a lot of jazz influences, from the walking bass line in the left hand and the free rhythm in the right. And the rest of the movements have different elements of Stravinsky and Bach. There are some movements that are very lyrical, personal and intimate, and that was one of the things I grasped onto immediately, and there are also very virtuosic ones. My hands are just flying all over the keyboard. Even though I'm spending a lot of time learning them, once I get the hang of it, it will be a lot of fun. I'm getting there.
How do you think the piece will evolve as you continue to practice and perform it and develop a relationship to it?
Each movement has such a distinct characteristic, so they'll evolve differently. I've never played jazz before, but day after day I'm getting more comfortable with the idea of tempo freedom, having a less strict ideology that I can relate to. Amy plays a lot with different textures you don't find very often in western classical music. So I need to experiment and find what I like best, which is why each performance will be slightly different. That makes it cool.
How did you choose the other works on the program (Bach's Capriccio sopra la lonrananza del suo fratello dilettissimo, Beethoven's Piano Sonata No. 18 in E-flat Major, Op. 31, No. 3, and Schubert's Wanderer Fantasy in C Major, Op. 15)?
They're all works I love, and they each have an aspect, a theme of wandering out into the horizons and having a sense of traveling. The Bach I first heard a few years ago in a master class by Leon Fleisher (who, coincidentally, was a guest artist at MAW two years ago) and I thought it was so beautiful as the suite, which is about his brother, goes thru the entire emotional process of feelings, and is very sentimental. The Beethoven is nicknamed The Hunt because of the horn call that comes in the first three notes, which represents sending someone off who is leaving, while the Schubert, his most technically difficult solo piano work, encompasses a lot of journeys the pianist has to go through to make it to the end.
What's your growth edge now?
Honing the technical ability for the piano is important, but much more, what differentiates great performers, is being able to put oneself in the music without being too intimate. That can only come from life experiences. I have had teachers who told me to get a girlfriend because he can't teach me how to play pieces about love otherwise. Or that I have to lose someone to truly know what pain and loss feel like. I get that. The pianist can share his own experiences with the audiences through the pieces.
You might also be interested in...