Drug Bust in Montecito?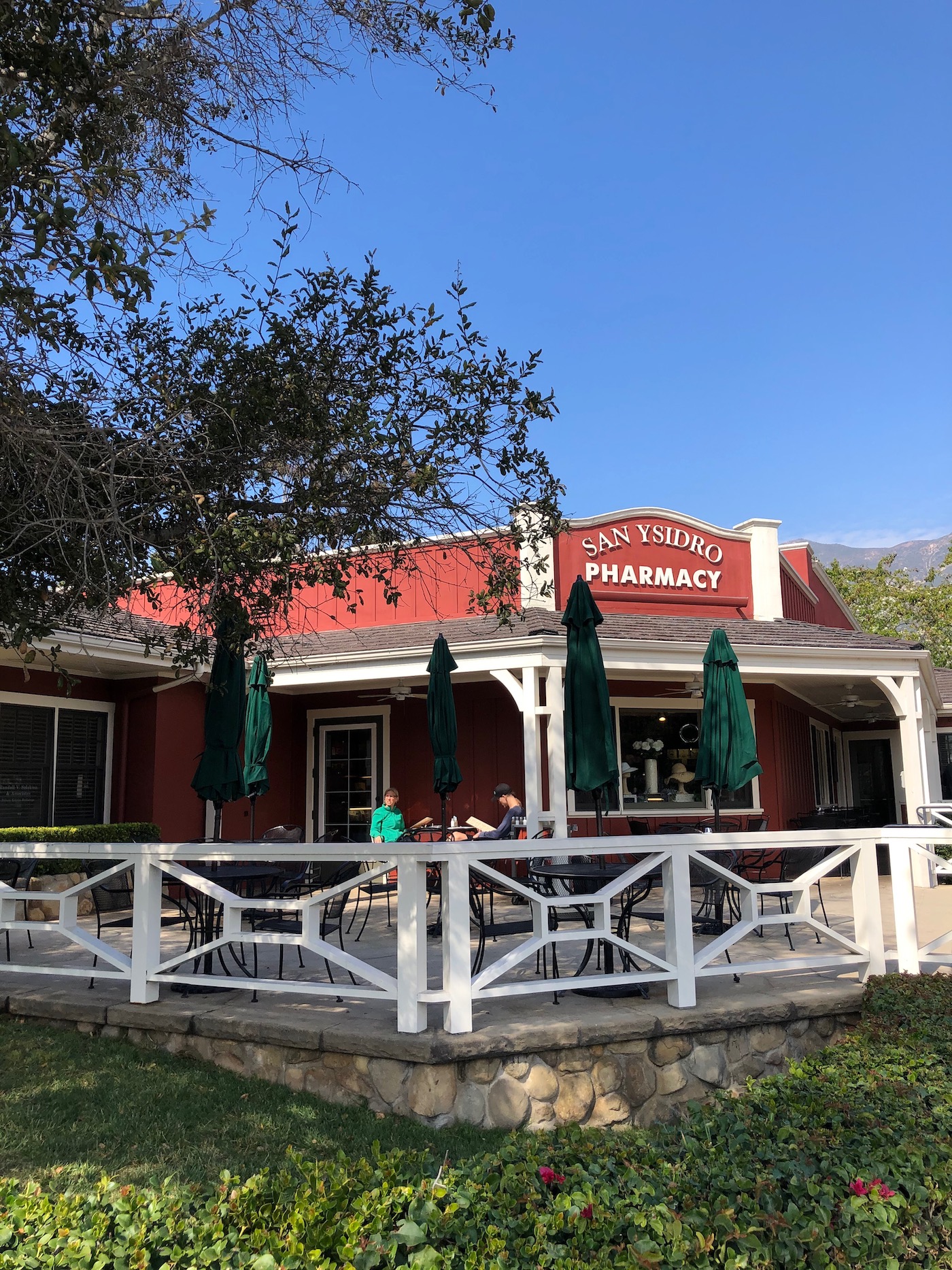 Rumors were rampant last Wednesday as federal agents from the Los Angeles Field Division of the DEA (Drug Enforcement Agency) swarmed the Upper Village to serve an inspection search warrant on the iconic San Ysidro Pharmacy and its popular owner Steve Hoyt. The audit began at roughly 9 am and ended by mid-afternoon.
Customers were surprised to see the pharmacy closed while federal agents loaded their vehicles with six boxes of files and computer records. Callers to the pharmacy seeking information received a recorded message: "Due to unusual circumstances, we will be closed today (Wednesday) until further notice. We may be open later in the day, but we do apologize for the inconvenience and we will keep you posted."
A sign posted outside the pharmacy read: "We will open a little later today," but the pharmacy did not reopen until Thursday morning. Pharmacy employees have said only, "We are pretty much in the dark what this is all about. They just took some records from us and said it was an on-going investigation."
Rumors Abound
Wagging tongues in Montecito immediately leaped to imaginative scenarios. Nearby store owners tried to dampen the most outrageous claims, but this is Montecito.
No One is Talking
A week after the DEA audit, no one is talking. The DEA will only say that this is part of an ongoing federal investigation. The Santa Barbara County Sheriff's Office reports it was told that this was a "pharmacy audit." From our own investigations, we are hoping to help our local community better understand what is going on and why they need to support our local family-owned businesses.
A Legacy of Care
The San Ysidro Pharmacy is one of only two independent compounding pharmacies in the Santa Barbara area. There are currently only about 600 compounding pharmacies in the United States, down from over 2,000 just a few years ago. Only 1% of these, including the San Ysidro Pharmacy, have received accreditation from the PCAB (Pharmacy Compounding Accreditation Board). The San Ysidro Pharmacy ranks among the top 1% of pharmacies nationwide for compounding volume. It is the only pharmacy on the Central Coast that works with Hospice to provide compounded medications for aid in dying patients.
The strength of this pharmacy lies in its personalized wellness plans for its 2,500 pharmacy patrons, many of whom value the unique role of a licensed "compounding pharmacist," specializing in the art and science of preparing personalized medications for individual patients.
Patients and doctors who prefer compounded drugs seek help when a drug has been discontinued, or the patient does not respond to the traditional forms of treatment from commercially-available drugs in limited strengths, sold by chain drugstore giants like CVS Health, Rite-Aid, Walgreens, Costco Pharmacies, or Walmart stores.
Compounded drugs may be easier to use for children, the elderly, or even pets. Patients who have problems swallowing pills may find liquids or creams more tolerable. Compounded drugs can eliminate certain fillers and preservatives for patients with allergies. Women seeking hormone replacement therapy often rely on the more natural ingredients available in custom compounds. An average pharmacy with 100 patients per day can easily have five patients who will benefit from compounded prescriptions.
Pain Management
Pain management is one of the fastest growing areas in modern medicine. An estimated 50 million Americans are partially or totally disabled by chronic pain. Most turn to over-the-counter pain medications like Ibuprofen (Advil) and acetaminophen (Tylenol) which provide short-term and marginal relief.
Dr. Paul Erickson, head of Cottage Hospital's Psychiatry Department, points out that there are individuals out there experiencing difficulty getting their pain needs met. Opioids are successful not only in quelling physical pain but also in subduing anxiety, depression and other psychological conditions. It is clear for some people, that compounded medications are highly effectual and helpful. If improperly managed, compounded medications can cause real harm.
Hoyt and his team at the Pharmacy pride themselves in working patiently and prudently with those who have difficulty metabolizing opiates effectively. Some patients may be seen as abusing opiates because of the larger dosages required to manage their pain, at times due to genetic enzyme deficiencies.
DEA and California Pharmacy Board Position
The DEA and the State Board of Pharmacy maintain that pharmacists like doctors have a responsibility to ensure that prescriptions are filled for legitimate purposes.
February 20, 2019: California State Board of Pharmacy vs. San Ysidro Pharmacy, Raymond Steve Hoyt, President
The state's growing concern over opioid addiction caused a state medical agency, the California Board of Pharmacy, to serve legal notice on October 4, 2017 that the San Ysidro Pharmacy had failed to exercise proper due diligence in dispensing narcotics. On February 20, 2019 the First Amended Accusation was filed, threatening to revoke the permit license of the Pharmacy issued in June 2004 and the license of Steve Hoyt in March 1986.
The first accusation was related to 24 patients who died under the care of Santa Barbara Dr. Julio G. Diaz, M.D., Family Practice, two of whom utilized San Ysidro Pharmacy. Dr. Diaz was arrested in January 2012 for the illicit sale of narcotics. In November 2012, the California Medical Board revoked Dr. Diaz's medical license for gross negligence and for prescribing profound doses of powerful painkillers like OxyContin, Fentanyl and Dilaudid to patients who were drug addicts with no legitimate need for drugs. In August 2015, the feds sentenced Diaz to 27 years in prison on 79 felony counts for overprescribing painkillers.
San Ysidro Pharmacy Charges related to Dr. Diaz
The State Pharmacy Board alleges that Steve Hoyt had filled prescriptions for two patients under the care of Dr. Julio Diaz. The San Ysidro Pharmacy dispensed 22 of the 56 prescriptions written by Dr. Diaz in 2011 for one of the patients who later died of a heroin overdose. The second patient died of alcohol intoxication.
The California Board of Pharmacy accuses the San Ysidro Pharmacy of ignoring or not adequately checking CURES (Controlled Substance Utilization Review and Evaluation System), a state database that contains over 100 million entries of controlled substance drugs dispensed in California. Investigators look for multiple pain therapies being prescribed, duplicate treatments, patients driving miles to fill the same or similar prescriptions, or potent drug combinations.
Hoyt's response was that in 2011, the CURES system had been approved by the State, but the State did not provide sufficient funds to run the program. Hoyt worked for over a year to get signed into the then voluntary version of CURES, but access to the system was problematic. Worried about the volume of meds being prescribed by Dr. Diaz, Hoyt met with Diaz to express his concerns. The patient was a young kid with severe and chronic back pain who ultimately died from a heroin overdose. His family then hired an attorney to sue Dr. Diaz and the four pharmacies dispensing prescription drugs, charging that all five were responsible for the patient's street-drug-seeking behavior that ultimately led to his overuse of heroin.
Other Santa Barbara Pharmacies Shuttered
Four other Santa Barbara pharmacies were found to have serviced Dr. Diaz's prescriptions by the State Board of Pharmacies. Peter Caldwell and Abdul Yahvavi of L.M. Caldwell Pharmacies on State Street lost their licenses and their two pharmacies were shut down in 2017. Caldwell paid a $15,000 fine to cover the cost of the State Board's investigation.
The Medicine Shoppe at 1435 State Street closed abruptly in 2013. Owner Sanjiv Bhalla went to work for another pharmacist in Westlake Village. Steven Cooley, former owner of the Sansum Clinic Pharmacy, had his license revoked. He retired and sold his pharmacy to the Sansum Clinic in 2014.
San Ysidro Pharmacy Charges Related to Dr. Bjorn Eek
In 2017, the San Ysidro Pharmacy was accused of issuing 1,403 prescriptions under the ostensible authority of a collaborative practice agreement, for treatment of patients requesting bio-identical hormone replacement (BHRT), with supervising physician Dr. Bjorn Eek, an orthopedic surgeon residing in the City of Long Beach. The collaborative practice agreement was signed by Dr. Eek and Hoyt on or about June 12, 2014.
In a declaration signed on or about March 7, 2018, Dr. Eek stated that he did not see, examine, or review charts for any of the patients issued 1,403 prescriptions by Hoyt, and stated that he did not authorize the prescriptions – and had never prescribed medications for the patients identified in the prescriptions – despite his frequent visits to the Pharmacy every one to two months to talk with Hoyt about his patients.
The Bottom Line
The 2020 audit for records indicates a more aggressive investigation, which is bad for Hoyt, bad for the San Ysidro Pharmacy and bad for the residents of Montecito. Says Hoyt: "As an all-inclusive community pharmacy, our goal is to share knowledge regarding prescriptions, special compounds, health and wellness for you, your children and even your pets. We compound prescriptions you might need for pain management, natural hormone replacement, pediatric needs, as well as veterinary needs."
The 40-year roots of this pharmacy run deep within the local community. Hoyt's knowledge and expertise in the industry have been recognized on the national level. Let's hope that there is a good explanation for the DEA and State accusations in this investigation and that the Pharmacy and its owner can remain an independent community-based business, working hard to provide excellent service and quality customized patient care to its customers.
You might also be interested in...