Carey On at the Rubicon: A Powerful, Poignant Point of View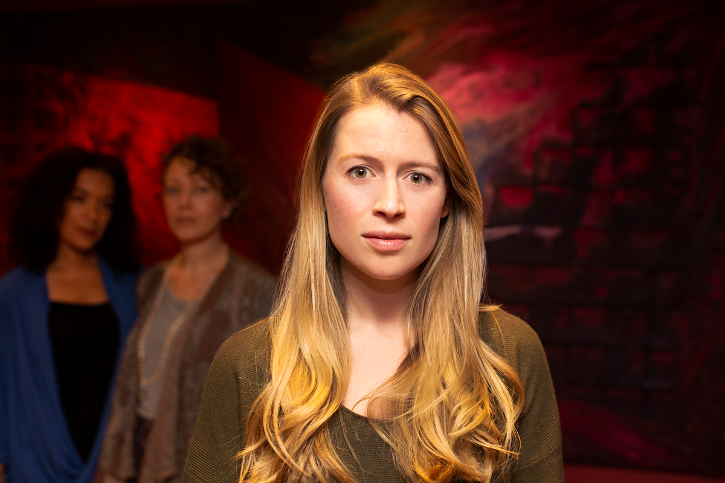 Carey Crim finished her original draft of Never Not Once – which gets its area premiere at the Rubicon Theatre Company this weekend – three months before the revelations about Harvey Weinstein exploded into the #MeToo movement in the fall of 2017.
"So it became unexpectedly – and unfortunately – timely," the playwright said over the phone last week. "But it's always been timely. #MeToo just made those things more front and center."
Those things – sexual assault and other forms of power struggles – are themes that run through much of Crim's writing, but as with Conviction, her previous play produced at RTC, the works are more about impact on family and friends, the erosion of trust, how people suppress emotions and, perhaps, ultimately heal.
Crim didn't need to read all the posts with the hashtag to understand the pervasiveness of the issue. She not only knew of a number of friends who had suffered with sexual assault, she'd been a victim herself.
In Never Not Once, Eleanor, a biology major at Princeton, brings her boyfriend Rob home to meet her two moms, and also tells them that she has hired a private investigator to help her find her biological father. As a scientist, she's curious about her genetics, but it's also evident that she just wants to meet the man who impregnated her mother during a one-night stand in college. How that plays out as Eleanor embarks on a journey to answer the question "Where do I come from?" provides drama that, nowadays, is something we're learning happens far too often.
"Much of this came from my own personal experiences, and those of too many friends, as well as articles I read," Crim explained. "It's very personal, but not autobiographical. It's just a part of women's reality."
Part of what has earned Never Not Once strong reviews is the grace with which Crim weaves twists and angles into the story, including the perils of addiction, spiritual underpinnings, and a situation where the men call each other out for misogyny.
"I wanted to explore the ideas of forgiveness and grace. Are there things you can't make amends for? What does it take? What decisions do we make about the family we choose vs. the one we're born into? I wasn't trying to explore all of these themes, but they came up when I dove into the territory. But the strings all come together into one story."
Rubicon will be presenting just the third production of Never Not Once barely a year after its world premiere at The Purple Rose, the intimate theater company founded by actor Jeff Daniels, where Crim has debuted four previous works.
"I worked with them as an actor, and when I wrote my first play, they were who I thought of," she recalled. "I was just looking for some honest feedback, and they ended up producing it. So Purple Rose became my grad school – having work produced, getting to do rewrites in the room – it's like a master class."
But there was also never really any doubt that Rubicon Theatre Company would mount the latest work from Crim, a former actress who began working professionally at age eight. RTC helped launch Conviction via its Plays in Progress staged reading program a few years ago, and RTC's then-new resident director Katherine Farmer and the company's co-founder Karyl Lynn Burns forged fast friendships with the playwright.
"All three of us collaborated [on Never]," Crim recalled. I remember talking about it with Katherine on a beach somewhere before I'd written much when I just toying with the idea. We've been working on it ever since, sending notes back and forth."
Now, Farmer – who also helmed Rubicon's productions of Gulf View Drive, Incognito, Heisenberg, and South Pacific in recent seasons – is set to direct the five-character work that Encore Michigan called "a rare experience… live theatre so moving it provokes tears."
"Writing plays is my way of working through things," said Crim, who will be on hand for the previews and opening nights on Saturday, February 8. "I don't know how I'd do it without that outlet. I don't mean to use it as my therapy. But it's certainly my way of processing. Even when it's completely fictional, there's still something true in it."
Still, the playwright, it seems, is as moved as the audience, even a year after Never Not Once was first produced.
"There are some things that I feel are resolved in my heart. But after the play was produced, a friend I hadn't seen in twenty years since we'd done theater together as kids called me and said, 'That's my story.' So it's continued my journey and made me want to explore and dive even deeper. There are so many stories out there that are untold that I feel even more drawn to explore."
You might also be interested in...