Bringing Accordion into the Spotlight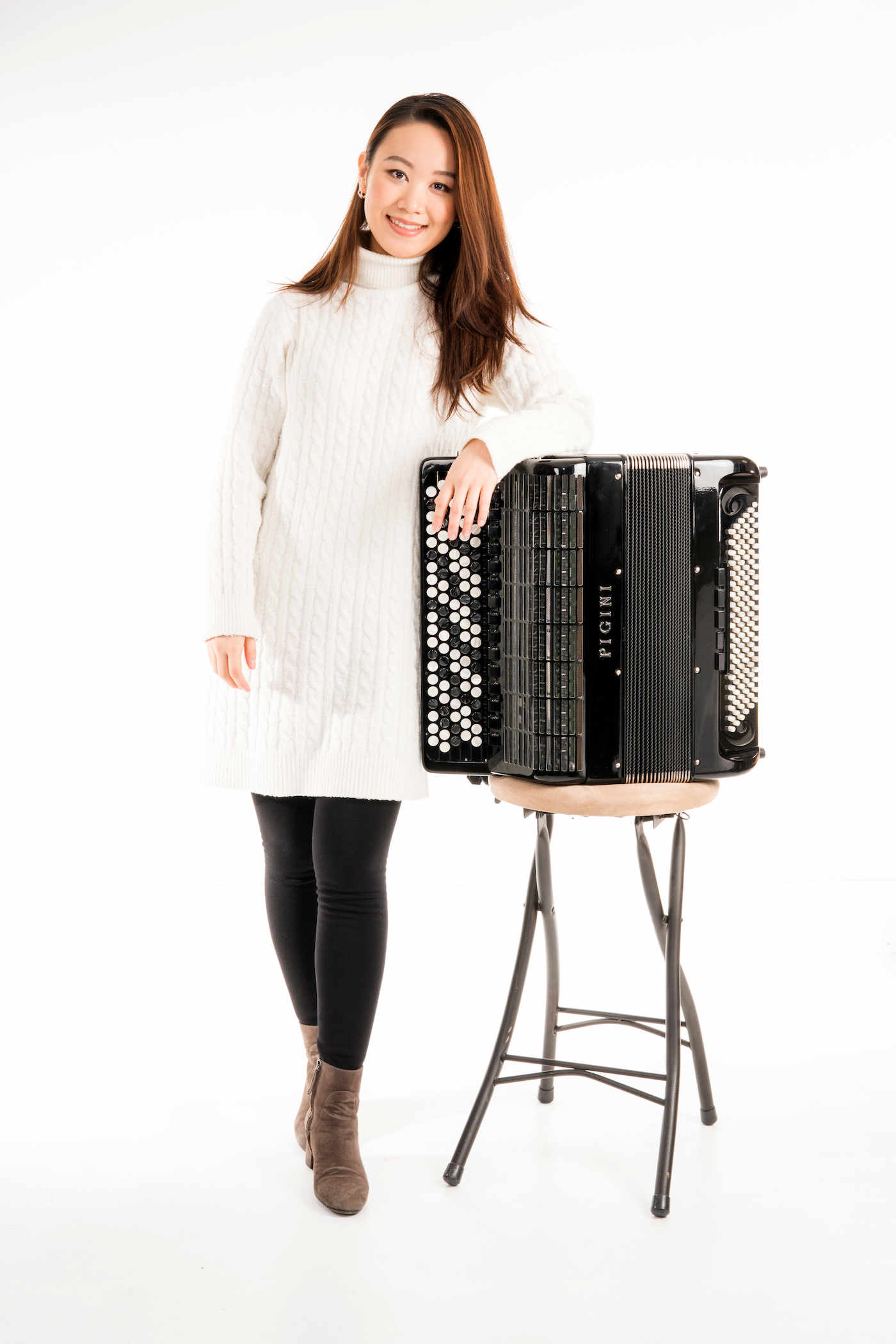 Hanzhi Wang wasn't born an accordion player. But it was only a few years later at age six that the young Chinese girl fell in love with the instrument when she overheard it on the soundtrack of an Italian movie. "My father was watching it and I heard the most beautiful sound I'd ever heard in my life," Wang recalled earlier this week. "I was fascinated by what seemed to be something very unique, and I didn't know what it was."
Wang may not have been familiar with the accordion, but she knew how it made her feel. "It's like it was telling a story, someone talking very kind and warmly," she said. "It just touched me even though it was just a simple solo."
Within a few weeks, Wang's parents bought the budding musician a toy accordion, a colorful red box with only a few buttons for the left hand, she recalls. But the girl was smitten. Within a couple of years, and armed with a real instrument, Wang was fooling around with folk music and polka – "the oom pah pah" and traditional songs, she said – but by 13, encouraged to follow a professional path in classical music by her teacher who noticed her exceptional talent, her parents enrolled her at the China Central Conservatory of Music in Beijing, where she eventually earned a degree in the instrument.
Wang then pursued a master's degree and Performer's Diploma at the Royal Danish Academy of Music in Copenhagen with the renowned accordion professor Geir Draugsvoll, who recruited her after hearing her perform at a competition, telling the then 21-year-old, "The accordion needs you. Come develop your career with me." Despite the inherent difficulties for a slender girl performing on a 32-pound instrument, one that doesn't seem as readily controllable as, say, a piano or violin bow, Wang has become a master of her instrument.
"And you can't see the buttons at all from either hand. You are playing basically blind," Wang added. "But we do have the bellows, which are the soul of the accordion and let you control the intensity of how you make the sound, but it's not easy. You have to have not only muscle memory but a brave attitude on stage, especially when jumping octaves."
Things went very well, as Wang perfected her artistry and craft to the point where she claimed a number of competitions, and in 2017 became the first accordionist to win a coveted place on the roster of Young Concert Artists in its 58-year history. Her hour-long interview and performance on the 2,145th episode of New York WQXR's Young Artists Showcase marked the first appearance of a solo accordionist on the program. As the First Prize Winner of the 2017 Young Concert Artists International Auditions, Wang's debut opened the Young Concert Artists Series in New York in The Peter Marino Concert at Zankel Hall at Carnegie Hall, and her Washington, D.C., debut opened the 40th Anniversary Young Concert Artists Series at the Kennedy Center, co-presented with Washington Performing Arts.
Her mastery of her instrument is complemented by her creative taste in programming, with concerts ranging from her transcriptions of Baroque music to tangos and contemporary works written for the instrument or for Wang herself.
Wang now serves as an assistant professor at the Royal Danish Academy, and in August 2018, Naxos released Wang's Danish-recorded solo debut, On the Path to H.C. Andersen, which also happened to be the label's first-ever solo accordion album in its history. The record features works by Danish composers that explore both the darkness and luminosity of Hans Christian Andersen's famous stories, tales that also had resonance for the accordionist when she was growing up.
"I loved his fairytales, and would always ask my parents to read me his stories at bedtime," Wang recalled. "To have music entirely written by Danish composers that was inspired by Andersen, like 'The Little Match Girl' (which was composed for her by Martin Lohse) and 'Little Mermaids,' is exciting both for me and because it spans generations."
This weekend, Wang makes her Santa Barbara debut with a solo recital at Hahn Hall on the campus of the Music Academy of the West, offering locals their first chance to see and hear her impeccable technique and captivating stage presence, one that comes naturally.
"On the stage are the most happy moments for me," Wang said. "Piano is great, but they don't get to hold the instruments as close as an accordionist does. We are hugging the accordion close to our hearts. It feels like a part of my body, a big part of who I am."
Wang is also an artist with ambitions to expand the accordion's repertoire, especially in America, where, unlike in China, there are literally no programs for students to study the instrument at a classical conservatory.
"The accordion has such a huge potential, and I used to wonder why people there don't understand the instrument, or consider it as a classical one," said Wang, who will play works by Bach, Scarlatti and Rameau in the Baroque-oriented first half of her concert on Saturday, February 1, followed by pieces from Alfred Schnittke and Edvard Grieg. "They don't realize how versatile it can be. But back in China, we do have the education for an accordionist. But I hope it will come. When I play in the U.S., people are really enjoying it. Since the musical history of the accordion is fairly new, my main focus is to help the accordion establish its own identity as an instrument, and to encourage American composers to write for the instrument. I think it's just a matter of time."
You might also be interested in...