Brad Pitt Tribute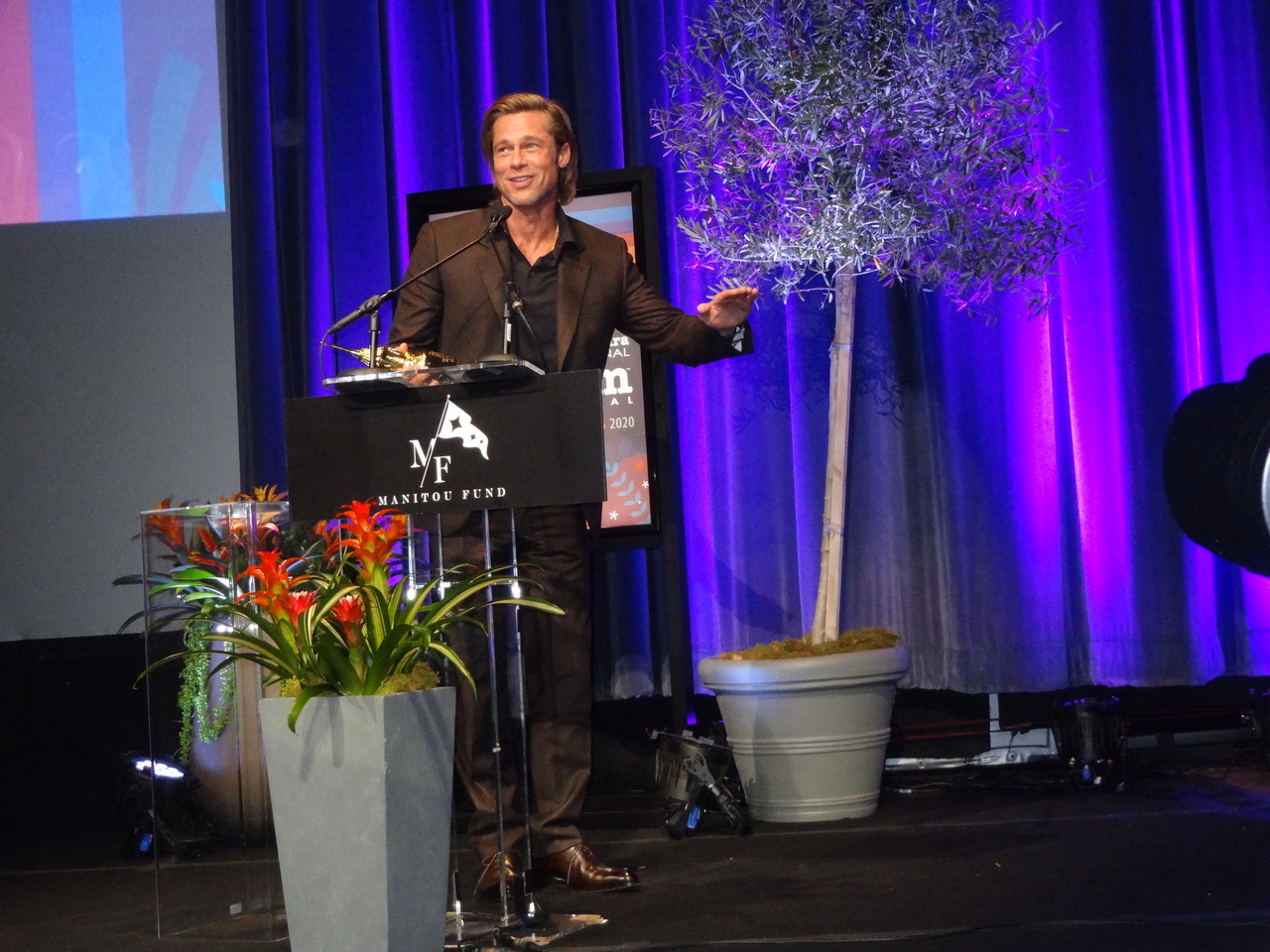 It had to be the biggest night ever for the Santa Barbara International Film Festival (SBIFF) and I've been to all 34. This was the evening they honored Brad Pitt with the Maltin Modern Master Award. As I approached the Arlington Theatre the street had been blocked off and there were solid people clear across the street to the opposite sidewalk. They didn't have tickets but wanted to watch Brad arrive, some in hopes of an autograph and others to see him walk the red carpet.
Other lines were for ticket holders and press passes like mine. I arranged to be there when the doors opened at 7 pm so I could sit in the front row to take photos. The theatre was sold out and excitement palpable. Leonard Maltin returned for his 29th year to moderate the evening. SBIFF executive director Roger Durling welcomed all. I always remember about 20 years ago when Roger had a coffee shop, the French Bulldog, in Summerland and my husband Don and I were some of his first customers. When he volunteered to take over the SBIFF it was the perfect match. He has the biggest passion for film I could imagine and an uncanny eye for what's going to show up at the Oscars.
Brad's latest is Once Upon a Time… in Hollywood.
Leonard interviewed Brad in between film clips of his work including Thelma & Louise. I remember gasping in wonder at this hunk in a film that I had never seen before. Brad told us that he was from Missouri and had gone to the University there but dropped out to move to Los Angeles. "Within a week I was working as an extra. You can't get into SAG (Screen Actors Guild) unless you have a line and you can't have a line unless you are in SAG." He tried a line on his own and the director told him if he did that again he'd be thrown off the set. After about a year and a half he got a part. Our local Jeff Bridges helped me get into SAG when the director didn't tell me what to say. That was way back in 1981 when Cutter's Way was being filmed in Santa Barbara.
The audience was even more with Brad when he confessed, "You guys don't know this, but I hang out here a lot. I have been in Goleta since 1999." Big groans when he admitted he had turned down The Matrix but wouldn't tell what others.
Director David Fincher who worked with Pitt in the acclaimed films Seven, Fight Club, and The Curious Case of Benjamin Button presented Brad with the award, saying, "You just roll the camera and be. And this is the gift to your film that Brad Pitt brings. He form-fits his characters to the overall narrative. So few people have been good at this. People like Bogart, Cary Grant or Jimmy Stewart or Paul Newman. They exist on celluloid in a way that mere mortals can't. They are movie stars. And this is one of them," as he pointed to Brad.
Pitt responded eloquently and ended with, "I feel really blessed to be here and I feel grateful for this."
The SBIFF is no longer just a festival, but an active year-round education center. It's time to "CUT" and roll up the red carpet for the 35th time remembering it attracted 95,000 attendees, 200 plus films, tributes, and panels with 600 volunteers helping. Way to go, Roger!
You might also be interested in...