Leadership by Laura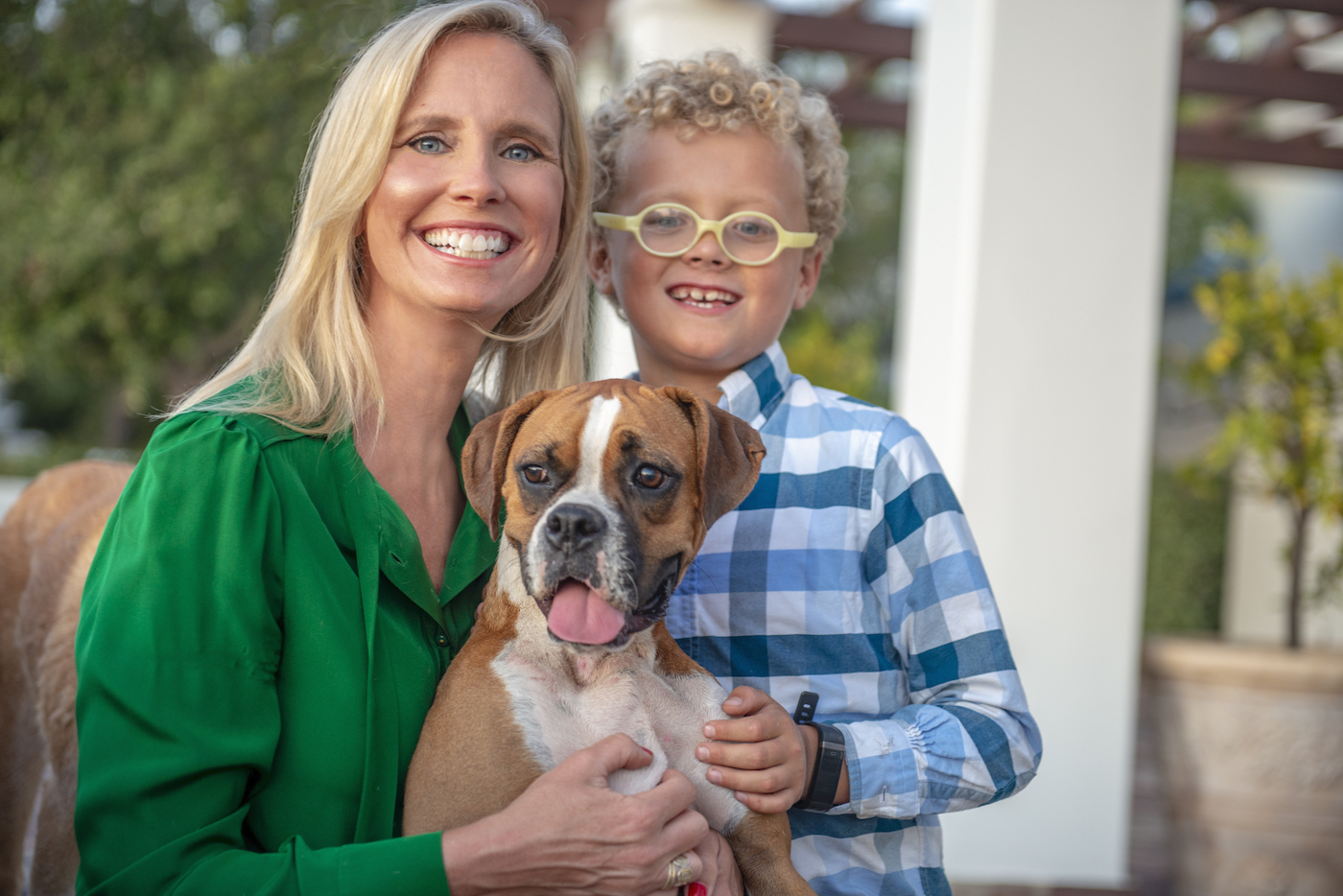 The hottest ticket in Montecito for the month of January is a seat at the Music Academy of the West's Hahn Hall on Monday evening, January 27, 6 to 8 pm, for a FREE, 1st come, 1st served, debate between the Democratic incumbent, 1st District County Supervisor Das Williams, and the Democrat challenger Laura Capps, President of the Santa Barbara Unified School Board. Mark your calendars now for this unique event.
Why a Candidate Debate?
The debate, sponsored by the Montecito Journal and public radio KCRW, may not quite match the excitement of the October 30, 1974, "Rumble in the Jungle," between undefeated world heavyweight champion George Foreman and challenger Muhammad Ali, the former heavyweight champion, but we can promise you that the evening will be both entertaining and informative.
Debate moderators Gwyn Lurie of the Montecito Journal and KCRW radio host Jonathan Bastian will do their best to make sure that there will be "no softball questions" and "no talking point answers." The intent is to be informative: Why should voters choose either candidate? Which candidate better understands Montecito's needs and will proactively work with the community's leadership? What will each candidate do to help Montecito preserve its precious semi-rural identity? Can voters expect either candidate to solve our community's problems in innovative ways? Candidate's answers will be time-limited to avoid posturing and boring filibusters.
The Coming Election
It is my supposition that most Montecito residents have no idea that ballots will be mailed out in just three weeks, on February 3 for a March 3 election. The 1st District County Supervisor race is the one political contest that matters most to Montecito residents because our elected supervisor represents our most powerful voice in local government. 1st District voters reside in Montecito, Summerland, Carpinteria, a large swath of Santa Barbara and the remote Cuyama Valley in the northeastern corner of the County.
The 1st District Supervisor seat is currently held by Das Williams, who won the seat in June 2016 over conservative Independent County Investment Officer Jennifer Christensen. Das took office on January 2, 2017. He won handily capturing 59% of the voters (10,702) compared to Christensen's 40% (7,391). 48% of voters in the 1st District are registered Democrats, compared to 22% registered Republicans and 24% Independents with no political preference. Based on the 2016 voter turnout, either candidate could win in 2020 by reaching 9,049 supporters.
Meet Laura Capps
I recently sat down with Laura Capps to learn from her why she believes voters should choose her over Das Williams as our next 1st District Supervisor. Next week's editorial will be Das's turn to share his ideas on the race.
My first question concerned rumors that Laura Capps was not a serious candidate because she allegedly and reluctantly agreed to run at the behest of outraged voters in Carpinteria, concerned about the pungent odor of marijuana wafting around Carpinteria schools. Laura, who is both charming and intelligent, looked me straight in the eye and assured me that not only was she was a serious candidate, but given her extensive experience and her ideas on a broad range of issues, she is confident that she will win this election against the entrenched incumbent Das Williams.
Who is Laura Capps?
Most voters are still learning about the real Laura Capps and her work as a public servant. Some recognize her parents as Congresspersons Lois and Walter Capps. They do not know that Laura was born and raised in Santa Barbara. Her first elective wins were as student body president of Roosevelt Elementary School, Santa Barbara Junior High and Santa Barbara High School. After graduating from UC Berkeley, she earned a master's degree from London School of Economics. She then went on to have a successful career in national politics and non-profits, serving as a speechwriter in the Clinton White House and as a senior aide in the U.S. Senate. Laura returned home to Santa Barbara in 2013 to raise her son and become deeply involved in her local community.
Local Experience and Aspirations
Capps has distinguished herself locally by serving on the Unified Santa Barbara School District Board, the Women's Commission and the Community Environmental Council, focusing on poverty throughout the state. "We have a crisis," says Capps. "We have the second-highest poverty rate in the entire state, and California has the highest poverty rate in the country. As supervisor, I will create a task force on poverty that will bring all of the pieces together. We can't have the second-highest poverty rate in the state. We can't. And I don't hear much discussion of it."
Temperament and Approach
Capps contends that there is a big difference between Das Williams and herself. Like Salud Carbajal, she believes her strong suit is constituent relationships. She describes herself as a listener. "The constitution of the State of California mandates that every local office must be non-partisan – and that's for good reasons. We need local government to not only function, but function well – and partisanship can often get in the way. Much of successful governing has to do with collaborating, building alliances and working well with others. Unlike my opponent, I am not beholden to any special interests or the political establishment."
Laura maintains that "she has earned her reputation as a person who is accessible to all who want her ear." She claims strong relationships with community leaders throughout the County and State that would serve her well should she win. "Bottom line: She would pay close attention to Montecito and her leadership would be responsive to our community needs." Capps is well aware that the Montecito community constitutes only ¼ of 1% of the total land area in the county, but it generates approximately 17% of the county property tax collections and 62% of the hotel transient occupancy taxes for the County's General Fund.
Innovation is #1
"The underlying theme of my policy proposals is a strong commitment for our county to push the boundaries of thinking and be more innovative, first by looking to the successes that other counties and cities have achieved," Capps insists. She is part of a prestigious national network of 150 rising star locally elected leaders, called "New Deal Leaders," who help foster and disseminate innovative ideas that work.
Ask Laura about housing affordability and she brings up the example of Cincinnati, where low-income renters can pay their security deposits in the form of insurance rather than cash. That allows landlords to get paid but reduces the pressure on renters from upfront costs thereby making renting more feasible.
Ask her about homelessness and she points to Houston where they've reduced their rate by 54% by focusing on their veteran population.
Ask her about emergency preparedness and she brings up the example of Fremont where local officials have installed microgrids allowing the community to rest easy recently when PG&E shut off power to the region. Under her leadership, the Santa Barbara School District is transitioning to alternative energy and microgrids.
Regarding campaign finance reform, she notes a major difference between her position and Das, who has taken some $62,500 from the cannabis industry while regulating it. Laura favors fundraising limits, transparency and accountability, such as other counties like Ventura have done. "We need leaders with Laura's integrity and values to stand up for what is right, even if that means taking on powerful special interests." Says Bill Cirone, retired Superintendent of Schools for Santa Barbara County, and a supporter of Laura Capps.
Laura contends that her broad depth of knowledge and experience allows her to forge progress on a range of issues that defy typical simplistic party solutions. "I have put forward well-researched, thorough plans on emergency preparedness, poverty, housing, homelessness, campaign finance, as well as a balanced approach to managing cannabis in our county," says Capps.
What Can Either Candidate Do for Montecito?
Here are some Montecito-specific issues that I hope will be raised with both candidates on January 27:
Safety and Resilience. The Parnership for Resilient Communities (TPRC), a volunteer group in Montecito, raised in excess $5 million in private funding to install six ring nets to double the storage capacity of Montecito's inadequate storage basins. Fish & Game officials and the County need to extend the ring net permits and take responsibility for maintenance and removal. Capps supports TPRC team. She will use her elective office to extend the life of the ring net program with its life safety benefits to Montecito.
Water Banking. Montecito residents recognize that the increasingly expensive and outdated State Water System is overpromised, underdelivered, inefficient, and unreliable in periods of drought. Innovative solutions like re-purposing Platform Holly as a new desalination plant (turning oil into water). This involves using the $1 billion in oil company decommissioning reserves. An idea worth studying. So is an effort for County Supervisors to convince Santa Ynez, Carpinteria and Goleta to establish huge underground water storage banks for all central coastal communities, stored in wet years for withdrawal in dry years. Capps promises to explore options to ensure regional water supplies and break down the artificial geographic boundaries that divide communities. She favors partnership agreements that secure an affordable and reliable water future for all her constituents, a key foundation of a healthy community.
Bumper to Bumper Traffic. Gridlock in Montecito. The shortsighted shutdown of the 101 southbound on-ramp at Cabrillo Blvd. has created a nightmarish gridlock on Coast Village Road and local community byways in Montecito. Laura Capps will work with Supervisor Gregg Hart and SBCAG to fast-track the 101-widening schedule. She is well aware that if local small businesses, hospitals and health care providers cannot recruit skilled workers from Ventura, Oxnard, Solvang and Buellton, who are increasingly turned off by daily gridlock, many of our small businesses will suffer, or be forced to close.
Employee Pension & Healthcare Costs. Santa Barbara County is effectively bankrupt. Traditionally, no "blue" elected official has ever championed real reforms (not band aids) for unsustainable lifetime public pension plans and lifetime retiree healthcare coverage. Excessive pensions and lifetime healthcare expenditures squeeze out needed county funding for roads, schools and housing. Laura Capps has demonstrated at the School Board a strong sense of fiscal discipline and the courage to do the right thing and seriously address the county's fiscal issues without regard to potential political fallout.
How Can You Help?
Do you care about your community? Become informed. Know the issues. Hold elected candidates accountable. Attend the debate on January 27. Please forward your own tough questions for the candidates to letters@montecitojournal.net for possible inclusion in the debate.
You might also be interested in...