End of an Era: Nack Reins in the Reindeer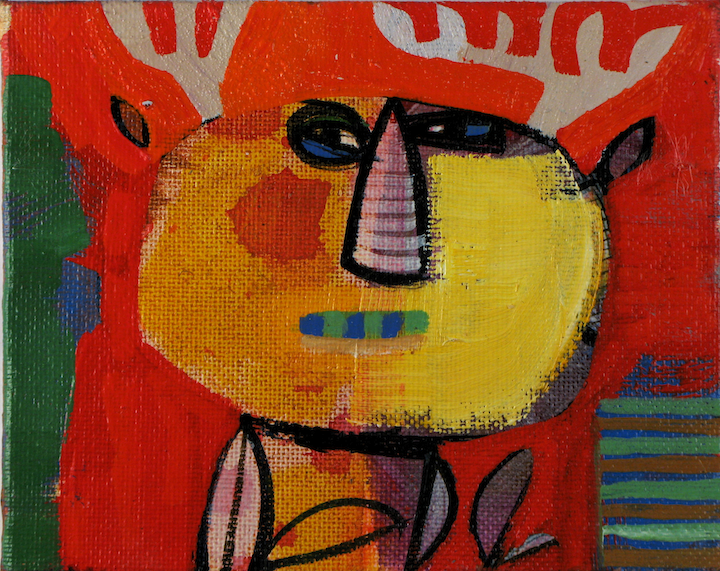 Brad Nack has been creating whimsical mini abstract oil paintings of reindeer for more than two decades, working on capturing the critters in a variety of expressions, colors, and angles that come from his unconscious mind – he's said that what ends up on the canvas often represents the opposite emotion to what's going on inside. He works on them part-time all year long and then exhibits the new batch for just a single night shortly before Christmas.
The 100% Reindeer Art Shows, which are actually parties where people purchase the paintings in just two small sizes – 4″ x 5″ and 5″ x 7″, priced from $150-$325 depending on Nack's own assessment – have become must-attend events over the years with folks lined up early to get first crack at the new herd. But after this Saturday night, it's all coming to a close.
Nack has announced that after 21 years he's hanging up the hooves on making the tiny portraits of the antlered beasts after a final unveiling at Restaurant Roy on December 14. We caught up with the affable abstract artist, a former professional musician, to find out the reason.
Q. Why are you saying goodbye to reindeer?
A. They're turning 21 this year, and it's time for them to go free . . . Really, though, for me each reindeer is like a song. It's like I'm writing and recording and singing it, mastering it, making a CD, and then having a release party. But I do 50-70 a year, so it's like creating a six-disc album. And it's year-round because normally I start thinking in January about the following year's show. That's a lot to do for 21 years in a row. I just want some more time to not say no to other projects.
I imagine that includes the larger works that are on rotating exhibit at MichaelKate in the Funk Zone, where you also just painted a massive mural on the brick wall outside.
I was doing large paintings even before I started the reindeer, so it's more like it's been a 21-year departure . . The mural was sponsored by the Arts Fund (where Nack was the former executive director as well as the ex-curator at MichaelKate) which wanted to have the artist be free to express their vision… It's representative of my deep dissatisfaction with the state of humanity and how it's evolved over the last 17,000 years.
No, actually, I was just being spontaneous. It was all done by freehand, no projections, based on art that I've made in the past, which was inspired by mid-century artists like Paul Klee and Matisse, big wigs who aren't thought of as cutting edge now, but sure were for their time. It took 21 days, and I got over my fear of heights because I had to use a cherry picker that was very wobbly. It was grueling but really fun. I'd love to do that every day.
Hmmm . . . 21 days. One for each year of painting reindeer. Now I'm wondering how many reindeer would fit in the mural space.
It's 20' x 100', so a lot. But I've done about 70 per year on average, so there's maybe 1,500 in total.
My trusty calculator says that would be more than 8,000 of the 5' x 7's, if I did the math right, so I'm thinking you must have been very efficient on top of the cherry picker as well as using the big brush. Anyway, where is your reindeer energy going to go?
I'm booking bands at the Mercury, and I'm also doing a movie. It will be my debut as a director, writer, and producer. I thought it was going to be something about the music scene in Santa Barbara, but it's changed. It's currently called "Untitled" and the subject is unknown, but you definitely need to come see it June 4 at the Lobero. It's going to be great.
Is there anything special planned for the final romp with the reindeer at Restaurant Roy?
Not really. What's unique about the series of shows is that it started out with a bang – it was very successful right away, and it's stayed the same all the way through. It's a fun party for people who want to be there; I sell a bunch and we all have a good time. Most things grow or get bigger or dissipate and stop. But it's still just a small intimate art show, consistent all the way through.
Are you sure you're really done with the 'deer? I thought I saw something in the flyer about a possible comeback in 2021.
Well, I have 800 more that I've already started, so who knows?
(The Brad Nack 100% Reindeer Art Show takes place 6-9 pm on Saturday, December 14, at Restaurant Roy, 7 West Carrillo Street. Visit http://bradnack.com.)
You might also be interested in...