4Qs: Einhorn Decks the Granada with Boughs of Holly Pops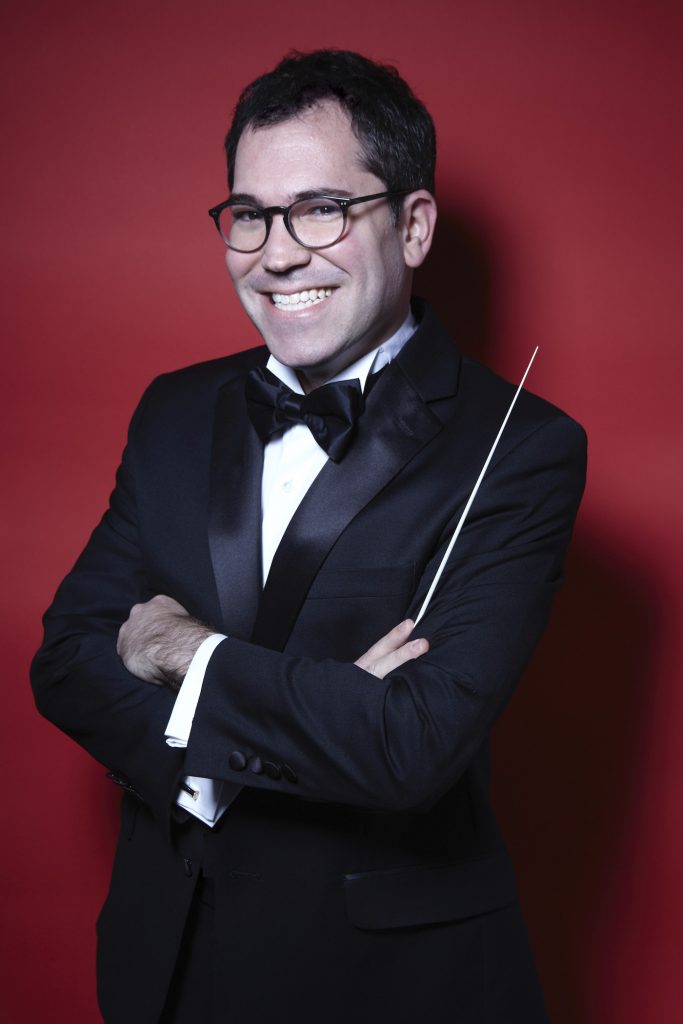 Maybe the Santa Barbara Symphony was taking a cue from the old commercials for Wrigley's Doublemint chewing gum when they launched a second pops concert last December to go along with its longstanding New Year's Eve show. As in, "Double your pleasure, double your fun." Whatever the motivation, Year 2 for the Christmastime concert brings to town the estimable Andy Einhorn, whose credits include music supervisor/director for the Broadway productions of Carousel and the Tony Award-winning revival of Hello Dolly! and serving as music director and pianist for six-time Tony Award-winner Audra McDonald, performing with her at The New York Philharmonic, the Boston Pops, The Philadelphia Orchestra, among others.
Broadway singer Christiane Noll and the UCSB Choirs will also join in for the family-friendly holiday program slated for 8 pm Saturday, December 7, at the Granada, where the program includes an audience sing-along of popular favorites with songs like "It's Beginning to Look a Lot Like Christmas" and "Frosty the Snowman" and much more. Einhorn talked about the show over the phone from New York City earlier this week.
Q. You have quite the resume with some big names, Broadway shows and touring company and major orchestras. How did we entice you to head out to our little berg?
A. I'm always up for any chance to come out to California, particularly in December. I secretly have a desire to move out there, or maybe it's not so secret. I've done holiday pops shows around the country, which is how I got hooked up with Santa Barbara. These kinds of programs bring everybody together. But I was drawn because they said they don't need it to feel like traditional, sacred, religious holiday concert because the audience there expects things slightly left of center. So I've got Broadway shows with themes, songs from the movies, and interesting arrangements of songs from holidays with a twist.
With a twist?
We've got a version of The Nutcracker that's not the normal one, but I don't want to give away much. It's very exciting, and fun for the musicians as well as the audience to hear something they know and love in a different context. Also, I like picking pieces that I feel a strong persona connection to rather something generic. So we've got the Marvin Hamlish song because both C and I know people who worked with him, and I know the guy who did the choral arrangement.
We'll do "O Holy Night" and "I'll Be Home for Christmas", but also a Charlie Brown medley with all the Vince Guaraldi themes, which I love. And I really fought to get the UCSB choir to sing with us because it not only brings in the community aspect but also gives college students a fun experience and makes it a merry festival for everyone. We even have Hannukah songs.
Pops has been growing in popularity in recent years due to the financial benefits for orchestras. Is that a good thing?
Pops is a great alternative because it brings in a slightly different audience that won't come to hear Mahler or even Beethoven. Our job is to challenge and cross-pollinate as much as we can. But we have to push the boundaries of what pops is so that we don't divide that audience completely, which is why orchestras are showing films while playing the score live. Ultimately it doesn't matter, as long as you are presenting works at a high musical level. Jerry Herman's "We Need a Little Christmas" is no slouch for the orchestra to play, by the way.
Speaking of which, you get even fewer rehearsals than a typical guest conductor. How do you get connected quickly to the musicians?
It's a mutual respect that you build within the first few minutes of rehearsing. I welcome them to my world and thank them for including me in theirs. Part of the joy as a traveling musician working with so many others is that music is its own language… But I realize that it's all about the partnership… It's important to cater to the orchestra. You have a lot of Hollywood and studio players, so they know how to play this music a little jazzier. My goal is to be that prime collaborator who can support these people I've never met before to help them shine for their audience. And I learn something new every time that I take on to the next job.
PHOTO CAPTION:
Santa Barbara Symphony presents Holiday Pops with Broadway star Christiane Noll and Andy Einhorn on Saturday, December 7, at the Granada
Classical Corner
Camerata Pacifica closes out its 2019 concerts with two masterworks, pairing Bach's A Musical Offering, BWV 1079, with Beethoven's String Quartet in C-sharp Minor, Op. 131, performed by ensemble musicians Demarre McGill, flute; Joseph Lin, Tricia Park, violins; Richard O'Neill, viola; Ani Aznavoorian, cello; Timothy Eckert, bass; and Paolo Bordignon, harpsichord. (Friday, December 6, at Hahn Hall)… Oboist Adelle Rodkey and pianist Eric Valinsky perform Poulenc's Sonata for Oboe and Piano followed by pianist and Argentinian music scholar Kacey Link playing Piazzolla's Three Preludes for Piano and Adiós Nonino tango rhapsody and Alberto Ginastera's Milonga in the next free Santa Barbara Music Club concert at 3 pm on Saturday, December 7, at First United Methodist Church, 305 E. Anapamu Street…
UCSB associate professor and opera star Isabel Bayrakdarian has been directing students from UCSB's Opera Outreach Program in performances of Evan Mack's 2016 children's opera Lucinda y las Flores de la Nochebuena for elementary school students at Karl Geiringer Hall on campus over the past week. Now, the community gets a chance to see the 45-minute one-act opera based on the Mexican folk tale of the same name that tells the story of how the poinsettia became a meaningful symbol of the holiday season. The final free show of the charming holiday opera that conveys a universal message of courage, hope and transformation that transcends religious and cultural lines takes place 6 pm on Sunday, December 8 at Geiringer Hall…
Pianist Stephen Prutsman has stepped in for Peter Serkin for CAMA's Masterseries' recital on Wednesday, December 11, at the Lobero, teaming with violinist Pamela Frank – who has served as a soloist with many of the world's leading orchestras (all of whom have performed for CAMA at the Granada in recent years) – in a rare performance of all six of Bach's sonatas for violin and keyboard. Visit www.lobero.org/events.
You might also be interested in...