Cahill Croons and Irish Hearts are Warming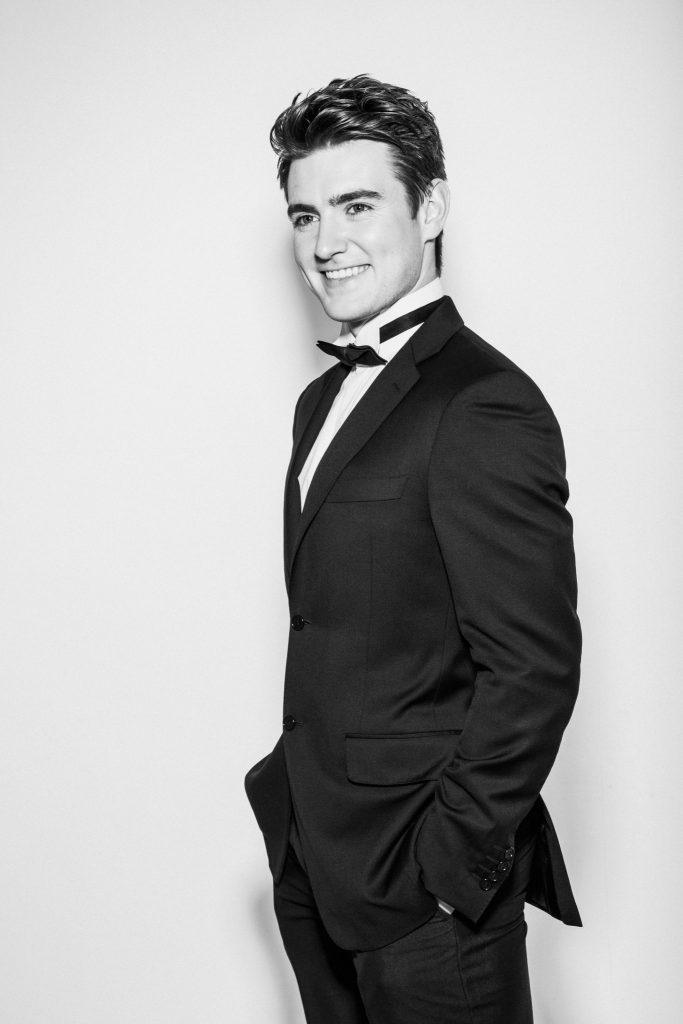 "Perfect singing is boring." That might seem like a strange declaration coming out of the mouth from Irish star Emmet Cahill, the widely hailed 28 year old who was named "Most Promising Young Singer" while still a student at the Royal Irish Academy of Music, awarded "Irish Tenor Of The Year" by the Irish American Music Association, and dubbed "Ireland's Most Exciting Young Tenor" not long after being named a lead singer with the music phenomenon Celtic Thunder back in 2011. The theatrical group that employs dramatic set pieces full of Celtic mythology, visual effects, and highly choreographed movements has played all over the world to millions of people.
The magic continued when Cahill took a detour for a solo career, releasing an orchestral album that debuted at No. 1 on the Billboard World Music Charts. He made his debut at New York's Carnegie Hall in a sold-out concert in March 2018, and in the Big Apple Cahill has also opened New York's famed St. Patrick's Day Parade and sung at the cathedral.
But a gorgeous voice is not enough, Cahill explained in a phone interview last week from his home in New York.
"Why do people listen to Tom Waits and Bob Dylan," he said. "They don't have the most beautiful voices, but they can tell stories that resonate, even ones recorded in an album decades ago that still connect today."
Cahill talked about his music prior to heading west for a leg of his latest solo tour on a year-long break from the Celtic Thunder "mothership" that stops on Wednesday, December 4, at Trinity Episcopal Church in Santa Barbara. The show, during which he'll be accompanied only by his pianist Seamus Brett, is part of a dozen date series of visits to similar venues where his Christmas in Ireland concert will include well-known religious songs ("How Great Thou Art," "Oh Holy Night," "Silent Night") blended with beloved Celtic ("Danny Boy," "Irish Eyes Are Smiling") and popular selections from Broadway musicals ("The Music of the Night") and more.
Q. You've been singing since you were very young, and have never really seen anything but success. Has it seemed like something almost predestined?
A. To be honest, music was always just a part of life like school and sports. Dad was a piano teacher and music minister, mom sang in church. When I got a bit older, we formed a quartet so music was part of daily life that started with family. But I wasn't one of those kids who always wanted to be on stage and tour the world. I'm not a natural performer. Singing was just part of daily life. I had no pre-written script or agenda.
So you sang in front of massive audiences with Celtic Thunder. What prompted you to try out a solo career?
I'm a storyteller more than a singer, really a conduit for people's own experiences and memories. Music connects us to moments in our lives. Songs can remind us of a parent or a loved one or an event and it can bring us back there when we hear it. I sing because I want people to be taken on a journey. Yes, I have a trained voice, and I work on my singing to make sure it all sounds right, but if there's no humanity behind what you're doing on stage, I think it would get boring pretty quickly. It's about connecting.
It seems you do move people at your concerts. Do you think it's being conscious about connecting is what makes that happen?
On the surface level, I immediately connect with people with Irish heritage, which is 40 million in America alone. But the songs themselves are stories of love, loss, and immigration. People cry at my concerts. I joke that I don't know whether to apologize or take it as a compliment. Truthfully, I love it when people tell me I brought them to tears, or that they played my CD as a loved one's funeral. Music is therapy. I realize when I'm performing that I'm bringing my own personal history to the songs, but there are as many stories as there are people in the room because what they're experiencing within is unique to them. My job is to take you on a journey of your own making. People tell me they love my music, but it's not really about me.
Why do you perform in church sanctuaries rather than concert halls?
I started doing it four years ago because I wanted to go back to my roots in churches, which my family did every Sunday. It's one of the things I miss being away from home. When I was touring with Celtic Thunder, I'd contact a church and tell them that I was in town and that I'd love to sing for them or join the choir for morning mass. A lot of people took me up on the offer. When I started touring on my own, a lot of those places invited me back.
Churches are beautiful venues, with lovely acoustics, where I really feel at home more than on a theater stage. Also, you get a much better sense of the community at a church than at a theater. I hear about what's going on in the area, connect to the people, who are from all sorts of backgrounds, and that's what matters most to me. I like to be part of something that's much bigger than myself, and not just think about my music and touring and my own little world.
I understand you also perform a medley of audience requests. How does that work?
We ask people to raise their hands, pick nine of the suggestions from the audience and then put them together in a medley. Actually Seamus does, because he can play anything off the cuff. I just have to keep up with him about which one he's going to next. It's a lot of fun and people love it.
Your entry to Santa Barbara came about through a local fan who saw you in Pasadena and invited you here. I know you've become friends, but it's striking that you'd rather play these small places than a big hall.
Singing my music is about much more than going out on tour and performing. Those big shows are not very personal. But in a small community, people actually care. They listen to you and allow you to contribute to the community. That's what happened in Santa Barbara and I'm really happy to be coming back again. You get to know people personally and it feels like I can have more of an effect rather than just entertain them.
(Emmet Cahill's Christmas in Ireland concert takes place at 7 pm on Wednesday, December 4, at Trinity Episcopal Church, 1500 State Street. Tickets cost $35, or $50 for VIP seats that include a pre-show Meet-and-Greet at 5:45 pm. Call 805-680-2613 or visit www.emmetcahill.com.)
You might also be interested in...