Brickman's Christmas Celebration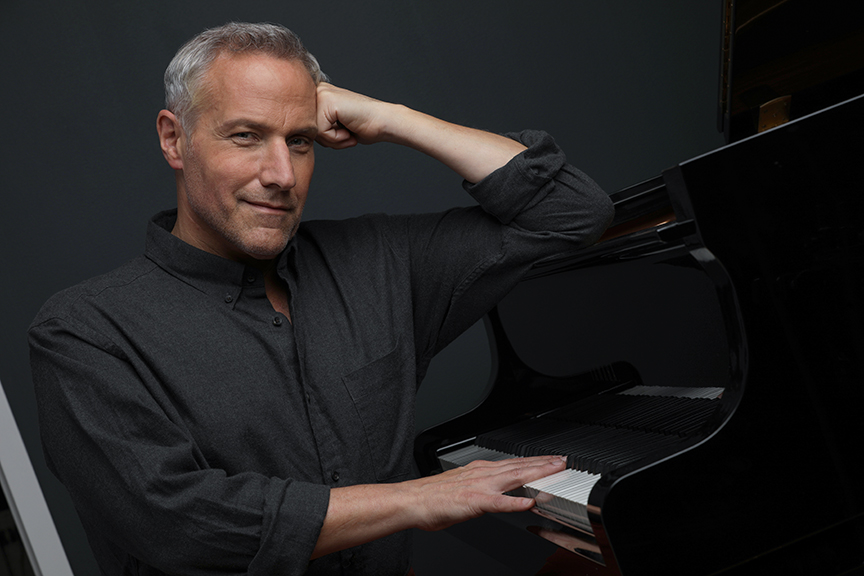 Jim Brickman's new album is a Christmas record – what else? – the seventh in his career that actually name checks the holiday in its title. Christmas Celebration is just that, a joyous journey through the carols, both classic and composed by the modern romantic piano sensation, pretty much like most of its predecessors.
"I still love Christmas music. I just adore it, even though people sometimes ask me just how many of those albums I can do," Brickman said with a laugh. "But when you are a songwriter, and one-third to one-half of the songs are your own, or instrumental versions of songs you don't often hear covered by a pop singer, I know it's not too much. And it's what I'm known for. I'm not just doing a one-off Christmas like some artists do just because they think they should. It's part of my thing every year."
So not surprisingly, Brickman's concert on Friday night, November 29, at the Lobero Theatre, is part of his annual Christmas tour, where he'll happily play originals as well as songs "familiar enough that you can play them on the piano instead of singing them with a choir." Stuff like "We Three Kings" or "God Rest Ye Merry Gentlemen." There will be a new version of "Felize Navidad" done up bossa nova style – Brickman's latest stylistic crush; he's making a new bossa nova record just because "I love the feel and vibe" – and "Christmas Where You Are," a tribute to the military personnel that he co-wrote with John Ondrasik of Five for Fighting, and "Raise a Glass," a self-described happy song about celebrating the season. He'll also play an update of "Merry Christmas, Beautiful," which was one of many hits from a few years ago, plus favorites from other non-winter seasons.
Brickman has earned six Gold and Platinum albums for his solo piano compositions and light pop-jazz (some might say New Wave) instrumentals, plus vocal collaborations with such artists as Lady Antebellum, Johnny Mathis, Martina McBride, Donny Osmond, and Olivia Newton-John. He's been twice nominated for a Grammy Award, won a SESAC "Songwriter of the Year" award, a Canadian Country Music Award for Best Vocal/Instrumental Collaboration, and a Dove Award from the Gospel Music Association.
Still, Brickman's output has often been relegated by critics to the snubbed at bin of "background music." But the pianist is OK with the assessment. "My philosophy is if even if it's in the background, the music is still creating an emotional vibe of its own. It's not just sound, but a soundtrack for whatever you are doing. If people choose to put it on, they are embracing that mood."
Anyway, he's been putting a lot more energy into songwriting to break out of the mold and reach new audiences.
"The evolution of my writing grows and changes when you collaborate and try different styles," the piano man explained. I like to try new things, at least out of my comfort zone if not my genre. It's more like theme and variation… I'm a very curious person by nature. I'm always getting fascinated."
Lately, that fascination has come from his podcast, "The Jim Brickman Show," that grew out of his decades-long radio show and pairs the pianist with Gen X and Millennial co-hosts Bob and Hannah Rae, in which the trio trade viewpoints while interviewing musicians from all over the generation map.
"I'm much more authentic on the [podcast]. I just say what comes to mind, and don't edit a lot, which also helps my live show because it's freeing. It makes me wonder what I was so afraid of in just saying those things on stage. I guess I'm finally coming in my own – 25 years later. I used to just let my persona take over, because when you have developed an image, people start to have expectations of who you are and how you do what you do. But my stories are a little more spontaneous now."
Local audiences will get a taste of that on Saturday, as the show kicks off the tour, meaning everything will be fresh and exciting as Brickman won't have tried out the latest stories or even seen how the songs work in sequence.
"The energy is great because it is so fresh," he agreed. "There really is something to be said for not being over-rehearsed. That might sound like you're not ready, but I'm a very in-the-moment type of performer anyway. My approach is that you can't sense what it will be like until you are literally sitting on the piano bench on the stage. I have a set list. But I'm sensitive to the audience and the environment, and I can feel the energy. So I can change my demeanor in how I approach things, how much laughter to bring, when to lay what. It can be very extemporaneous and free."
You might also be interested in...