The Mystery of Martha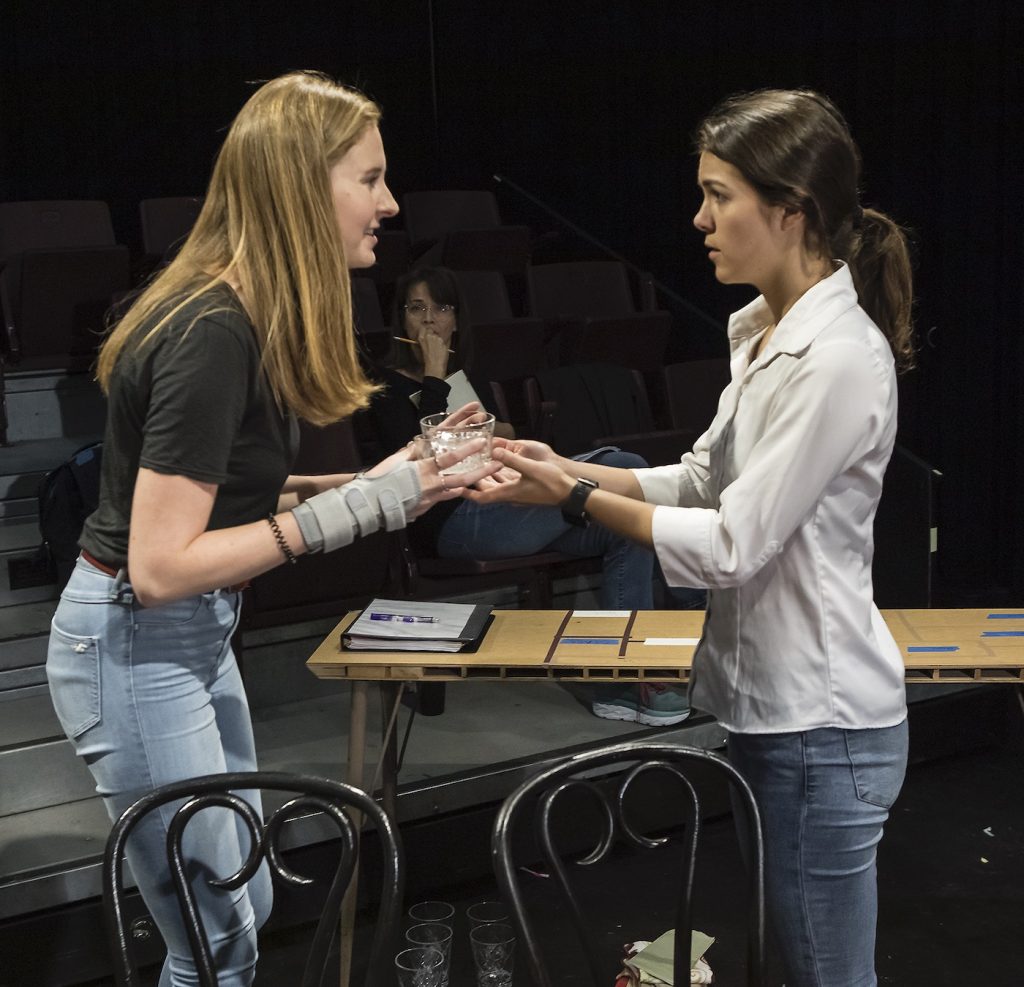 On the surface, What Martha Did might seem a strange choice for Launch Pad, UCSB's innovative model of new play development that serves as a high-tech lab for playwrights-in-residence, UCSB theater students, faculty, and guest artists. The darkly funny drama about regret, facing the truth, and finding forgiveness features largely middle-aged characters, a bit of a stretch for the late teens and early 20s students performing most of the roles. But on the other hand, the format allows the playwright – successful stage and screen actress Enid Graham turned author for whom Martha, her fifth play, will be her first to see a full production – a chance to dig in deep and have a full slate of collaborative artists in watching the piece come to fruition via the workshop to stage production.
"I have learned so much from them, maybe even more than they have from me," Graham said over the phone from Philadelphia where she was to begin shooting a new series for HBO the following morning before returning to UCSB for the previews and performances this weekend. "And they get a chance to stretch into roles they normally wouldn't be able to get."
What Martha Did takes place at a family gathering to commemorate the 25th anniversary edition of family member Martha's celebrated book of essays. All except Martha, that is, who killed herself soon after the book's publication. Her family continues to struggle to reconcile the Martha they knew who wrote so brilliantly about the joys of living with the hidden one who ended her life, along the way wrestling with taking stock of their own early dreams vs. the people they have become before a surprise guest throws a wrinkle into the whole thing.
Brian Harwell joins UCSB theater professor Julie Fishell, a colleague of Graham's from her days at Juilliard, as the two professional actors in the cast of mostly students, all directed by Launch Pad founder Risa Brainin. Graham, who was once nominated for a Tony and has worked steadily as an actress for film and TV series, talked about the story, its birth and her motivations as a writer last weekend.
Q. How did you start writing? It's not like you were hurting for roles.
A. I was invited to join a fiction writing group after my second son was born and I fell in love with it. But then I realized I should write plays, something I'm more familiar with… It's wonderful to be an actor, but you're always interpreting someone else's work, and trying to understand the idea behind the production and how you fit in. And it's a powerless position where you have to wait for someone to hire you. As a writer, I love that I can create anywhere or anytime, and I'm the generating impulse, making it whatever I want it to be. It's fun to be in charge!
I know there are actor's directors. Are you an actor's writer?
Definitely. I love actors. I write distinctive interesting characters that are fun to play. Which is not always true in the theater because with some writers all the characters talk just like the writer. Or the play could be about a plot or a trick, a fun inventive idea. or a topic. But actors like plays that explore people and allow them to do what they do best, bring themselves to a role that's distinctly different. That's what I write.
What Martha Did goes a step further in that it's about a writer. What was the impetus?
Actually, I started with the structure, thinking it would be fun to write a three-act play because of how they unfold. I also thought it would be fun to write a mystery play, which it really isn't. Except that's it's about the biggest mystery one can imagine – why would someone kill themselves, which is unanswerable.
What were you exploring by taking on that theme?
Martha is stuck in that youthful time in everyone's mind the way people are when they die young. So the theme is about being later in life and looking back trying to understand how you got where you are and who you are now, and trying to let go of the demons. As with all of my plays, it's about the kinds of thoughts and ideas like those that fascinate me… a kind of spirituality that's about an existential loneliness that we all feel and we're all trying to break through. In this play, the characters share this collective grief that they're still trying to transcend. Then it's shaken up and it forces them to deal with it in a different way where hopefully they've moved forward in their quest to have a deeper connection with others and let go of the things that keep them separated.
So I'm imagining that's what you also want the audience to take away.
It's hard to encapsulate. There's no over lesson or moral, but it's about the kind of magic that comes from the theater when you recognize something in yourself, and see human moments between the playwright, the actors, and you that creates a sense of connection. That's why I was drawn to the theater as a little girl and still love being an actor. At its very best, for one second you get to explore the world of someone else's brain, you inhabit it, and then hopefully the audience connects on a deeper level. That's a theme that knocks around a lot in my plays. I know it's what I've been trying to learn through art since I was 12.
(UCSB Launch Pad's preview production of What Martha Did runs November 15-24 in UCSB's Performing Arts Theater. Info at (805) 893-2064 or www.theaterdance.ucsb.edu.)
American Psycho's Perverse Pleasures
Who knew when multi-generational Santa Barbara native Samantha Eve launched Out of the Box Theater Company a decade ago with the musical version of the anti-drug school film-turned cult classic Reefer Madness followed by a revival of the beloved '60s Broadway musical Hair that those two would be pretty much the most traditional works in the company's oeuvre?
Since then, Eve et al have brought Assassins, a Stephen Sondheim musical about would-be and successful killers of presidents; Lizzie, the punk rock musical about Lizzie Borden, tried for murdering her parents with an ax; musical adaptations of the violent and/or gory movies Evil, Heathers, Bonnie & Clyde, and Carrie; and the psychologically edgy family dramas John & Jen, Next to Normal, and Fun Home.
"People don't expect these kinds of stories in musical theater, which has the traditional tract of fun and romance and living happily-ever-after," Eve explained earlier this week. "I like alternative stories told through musical theater because it really challenges what the genre can be."
That certainly goes for OOB's new show, American Psycho, a musical based on the satiric slasher novel by Bret Easton Ellis, published by the so-called Brat Pack writer in 1991, and promptly condemned by the literary establishment as overly violent and misogynistic. The musical tells the story of Patrick Bateman, a young and handsome Wall Street banker with impeccable taste and unquenchable desires. Patrick and his elite cadre of designer label-wearing Yuppies spend the early evening hours in chic restaurants and exclusive clubs. But at night, Patrick takes part in a darker homicidal indulgence, or perhaps it just exists in his mind.
In other words, perfect for Out of the Box.
"It's about a world that rewards sociopaths. But you don't really know what is happening for real because Patrick is an unreliable narrator and we see the story through his eyes," Eve said. "But even though it's based on a psychological thriller, it's also about the late 1980s in that era and desire for always needing more, the superficial morality outweighing ethics. That seemed like a relevant topic for today."
The musical – which features songs by singer-songwriter Du – earned mixed reviews when it opened in May, 2016, and ran for just 54 regular performances, but received nominations and awards for its production. Obviously OOB can't reproduce the grand design in its more intimate space in the 130-seat Center Stage Theater, projects will accompany original choreography to give the show added oomph, said Eve, who is directing the Southern California premiere of American Psycho, the latest in a string of recent Broadway shows she's landed for her tiny company.
The small space should also help us connect more with possible serial killer Patrick, who is the protagonist and anti-hero.
"He's interesting because of his flaws, but he also has power over us because he is so charming and good looking and understands how the game is played, and he plays it very well," Eve said. "But he also struggles with the mask he puts on. It's the cracks that make him interesting."
The musical version of American Psycho features a character not included in the book or the movie in Patrick's mother, played by OOB veteran singer-actress Deborah Bertling, which should also provide an entryway into the twisted story for the audience. "It humanizes him, shows where he comes from, and explains why he is the way he is," Eve said. "In many ways, he's a reflection of a society that rewards and misses the dangers of the superficial."
(Out of the Box Theatre Company performs American Psycho, November 15-24 at Center Stage Theater, upstairs in Paseo Nuevo. Call (805) 963-0408 or visit www.centerstagetheater.org.)
FestForums turns 5
Why would one not actually actively involved in putting on some sort of a festival be interested in attending FestForums, the industry conference for festivals producers, promoters, and professionals that takes place annually in Santa Barbara? Well, besides the fact that you can learn just about everything that goes on behind the scenes – from booking artists, to security to tickets sales to using metrics and analytics – at just about any kind of festival you can imagine. from film fests to rockapaloozas to cannabis conventions, it's also a chance to rub elbows with such big names as Michael Lang, the legendary promoter/manager who co-created the original Woodstock, and John Cooper, the 20-year veteran director of the Sundance Film Festival. You can also see if you've got what it takes to enter the industry via the festival bootcamp seminar, or take part in the Build a New Festival: A Group Activity for Everyone at FestForums in which all interested FestForums attendees build a new festival from scratch and then pitch to judges and sponsors to see who has got the goods (and for prizes).
But if you just want to sit back and be entertained, there's also discussions, talks, panels, and performances with legends of rock and roll (Jon Anderson, lead vocalist of progressive rock band Yes), Ray Parker Jr. (the recording artist responsible for the hit title song of Ghostbusters, plus "A Woman Needs Love," "You Can't Change That," and more), and Skip Martin, the former lead vocalist for Kool & the Gang and Grammy-winners The Dazz Band. Plus Penelope Spheeris, director of Wayne's World and The Beverly Hillbillies and the writer-director of The Decline of Western Civilization trilogy, and Montecito-based former world champion surfer Shaun Tomson.
Tickets to the November 20-22 event at Hilton Santa Barbara Beachfront Resort normally cost more than $600, but are available to Santa Barbara locals for just $99. Visit www.festforums.com.
4Q's: What's the Story with the New TEDxSB?
TEDx Santa Barbara's local, self-organized program of talks to spark deep discussion and connection steps up its annual event to a baker's dozen speakers for this year's program. Co-founder and executive director Mark Sylvester shared the story behind the show prior to the TEDx talks slated for 10 am to 5 pm on Saturday, November 16.
Q. How did you choose "The Stories We Tell" as a theme? That seems rather generic to all TED Talks.
A. One would think that stories would be rife in the TED community but ironically they're not. The talks can often be data rich, with lots of facts and figures and other information. We have a bias toward stories because we believe that a speaker telling a personal story that relates to why the speaker is on stage builds an immediate relationship with the audience, which is the best way to get an idea firmly implanted, and thereby potentially able to be spread… The theme covers the stories we tell, the ones people tell us, and the ones we tell ourselves.
Thirteen talks! That's more than ever. What do you think will be most exciting for the audience this year?
We started the Santa Barbara spotlight this year to focus on social innovation in the community because we believe this is the birthplace of world change – Earth Day, and so many other things began here. The TEDx platform is the perfect launching place: our previous 87 talks have had 16.5 million views online. This year it's Eric Talkin, the CEO of the FoodBank who has such a fascinating topic with "Why Giving People More Food Doesn't End Hunger." We also have an 11-year old who is very compelling asking why teachers aren't making more money, and the musical director of the touring company of Hamilton talking about perfection with a story that will curl everyone's hair. The senior VP of entertainment marketing at NBC Universal will share what he's learned in doing these mega events. The top cross fit coach in the country is coming, and we are also bringing back two speakers from previous years to talk about how their ideas have spread. It's all about making an impact. So you want to know which of my babies do I like the most? How am I supposed to choose?
As you mentioned, you can watch zillions of TED Talks streaming or via video, or on YouTube that many the speakers themselves might have made. What is it about gathering in the same room that makes it worthwhile?
Watching a single talk in isolation vs. being at the event is like comparing a movie in the theater vs. watching it on Netflix on your phone. There's an emotional impact being in the room with 300 other people that you can't recreate on video. And we know how to break the day up into shorter sections and curate them to alternate funny with serious, technology with something more humanistic. We don't want to pop anybody's brain. Plus, there's the live music and the party afterward where you can interact with the speakers.
You started some ancillary programs earlier this year. What's up with those?
TED events are by design meant to be very diverse. The Salons focus on a single topic. There's no live speakers; we get together to watch several previous TED talks on a single subject curated by a local expert who forms a narrative. Then we talk about them. The audience interaction makes it a full community conversation. We tried them out last year to increase awareness and engagement be more than a one-trick pony. We exceeded our expectations and sold them all out. So we're going to have one event every month in 2020.
You might also be interested in...