Community Arts Workshop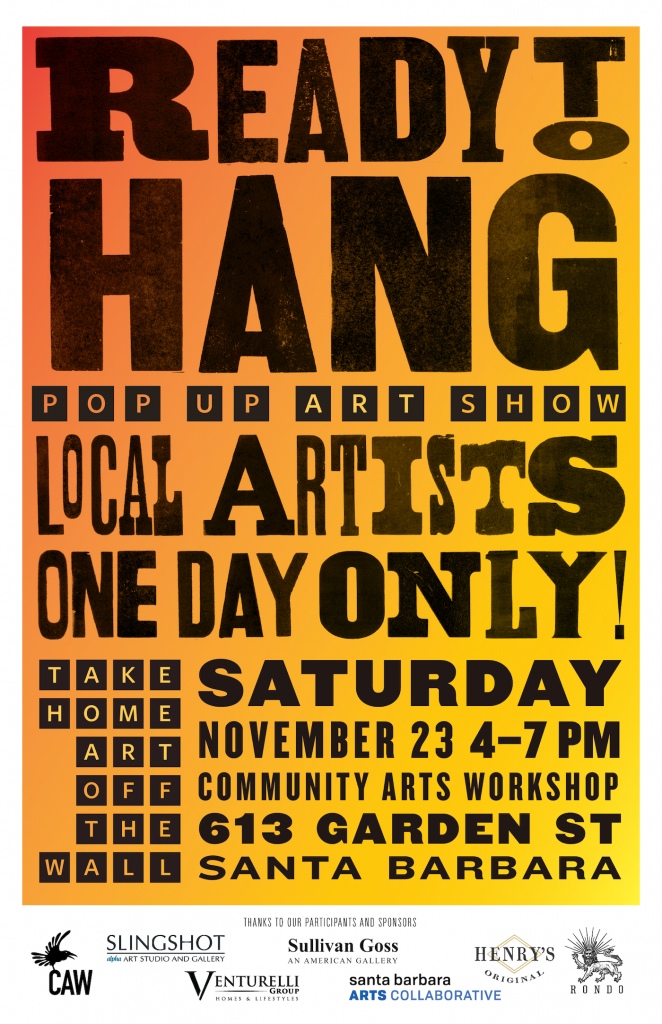 On the corner of Garden and Ortega lies an unmistakable workshop. A wide driveway gives way to two large buildings with high roofs. A distinct, bold steel gate designed by David Shelton makes a grand entrance to the space and provides a firm statement that this site is about the arts. The space is known as the Community Arts Workshop, or CAW, of course most in the community would identify it as the Santa Barbara Solstice Parade workshop. Each year at CAW, teams of artists toil away on their floats to help produce what is easily one of the city's most celebrated and colorful events.
The need for a space like CAW had long been recognized in the community, however it wasn't until 2010 and an initiative by Santa Barbara Arts Collaborative (SBAC) that CAW became fully realized. Since then they have been providing affordable workshop spaces for artists and the arts. Of course it is an ongoing process. Over the past three and a half years they have undergone a fundraising initiative and some much needed renovations. The renovations allow for a more functional space that permits simultaneous use between different art mediums. Theater rehearsals and art classes can take place without disturbing exhibits and gallery settings. While many of the renovations were to improve the structure and functionality of the space, others were more practical. Like installing some much needed bathrooms to replace the porta potties they previously used or soil mitigation because of the land's previous life as a city motor pool. Last year the city extended CAW's lease for another 25 years so the space is here to stay. And with four separate spaces that can host rehearsals, workshops, and gallery shows, CAW is open for use.
As Managing Director Casey Caldwell points out, the job is not done yet. To date they have raised about 75% of their capital campaign and are still seeking $700,000 in funding. Once their capital campaign is complete they will be able to finish the Ortega Street gate. Some of the remaining renovations are more functional like insulating and repairing the roof, or installing a heating and cooling system. This will also include repairs for the walls and parking lot as well as gardens and landscaping. Proper lighting for both gallery and theatre is vital for the success of either and with more funding they will be able to install lighting systems that will allow these art mediums to shine.
CAW is already starting to benefit from the renovations it has undergone. Ready to Hang, a one-day pop up art show will be held at CAW on Saturday, November 23rd, from 4 – 7 pm. The event is free to attend and during this show attendees will get access to all new works from a wide range of local artists. Don't worry if you're tight on wall space, every piece there will be exactly 12"x12" and no more than 5" from the wall. The idea began when Nathan Vonk, President of SBAC and owner of Sullivan Goss Gallery, and others were reminiscing on the parties that used to take place in the local art scene. Artists would bring their works and hang them on the wall for the evening. They wanted to bring back the spirit and camaraderie of those parties. To organize the event they brought on board local assemblage artist and master of the small, Michael Long. It is an open enrollment show and artists can submit up to four artworks. Casey mentioned that they have received tremendous feedback from the artists so far and are expecting a large number of submissions. Ready to Hang promises to be an evening full of cheer and art. And with more events like this taking place in the space, CAW's impact on the community will go beyond just Solstice, supporting local artists year round.
More information and artist applications can be found at sbcaw.org/hang. Prospective artists can submit their works on Wednesday and Thursday, November 20 and 21, from 7 am to 12 pm.
You might also be interested in...