Surf Film Fest Surfaces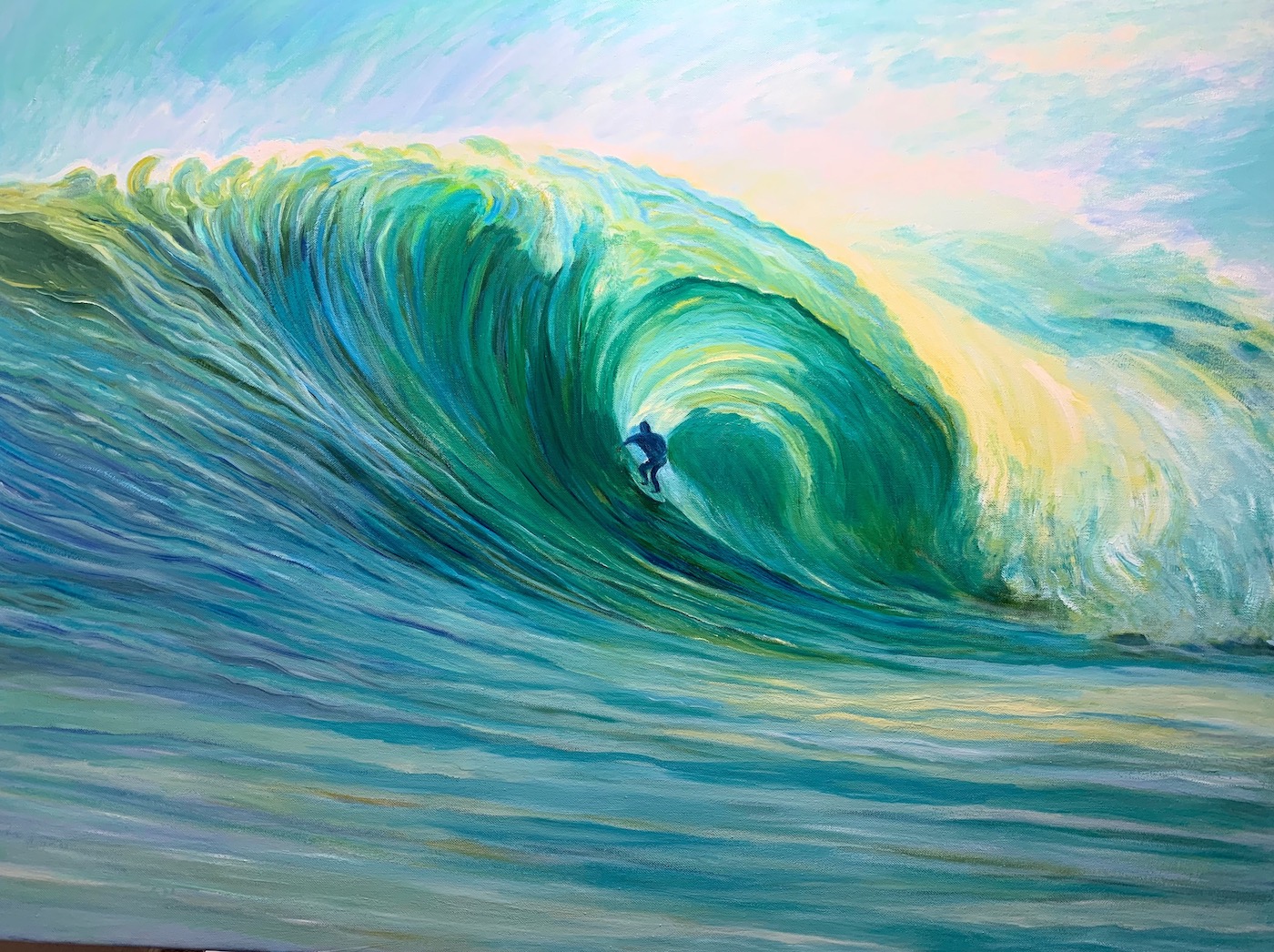 Surf movies, especially those with a Santa Barbara connection, have been a popular sidebar at SBIFF for many years. This weekend the genre steps to a fest of its own with the first annual event celebrating the "Santa Barbara Surf Culture" on film. The two-day fest, slated for full 12-hour plus schedules on both Saturday and Sunday, November 8-9, will screen around 20 films in all – at the Arlington Theatre, just like at SBIFF – including a number that have been shown previously in town and even more local debuts, plus the world premiere of Zombie Tidal Wave, created by long-term collaborators Ian Ziering and Sharknado franchise director Anthony C. Ferrante. A mysterious ocean-borne outbreak threatens rogue veteran sea captain Hunter Shaw's (Ziering) seaside island community, forcing him to lead a disparate band of locals to uncover the origins of the undead pandemic in the flick that pays homage to the zombie classics of the '80s with a modern twist. As with SBIFF, most films with have Q & As, plus speaker panels, sponsor exhibits and even festival parties. For tickets, film details and more information, visit http://santabarbarasurffilmfestival.com.
Classical Corner: Three Organists
Emma Lou Diemer, Steven Hodson, and Thomas Joyce team up on Saturday, November 9, for the Santa Barbara Music Club's next program, this one presented in collaboration with the Santa Barbara Chapter of the American Guild of Organists. Diemer, who taught composition and theory at UCSB from 1971-91 where she also co-founded the electronic/computer music program, remains an active keyboard performer (piano, organ, harpsichord, synthesizer) and a composer who has played at many prestigious venues around the country. Hodson is Professor of Music and Director of Piano Studies at Westmont College, where he teaches choral conducting, piano, and organ. Joyce only moved to Santa Barbara in 2014 to take the position as Minister of Keyboard Music at Trinity Episcopal Church and serve as an adjunct instructor of organ at Westmont. The keyboardists will perform works by Diemer, Duruflé, Pachelbel, Buxtehude and J.S. Bach on the pipe organ at First United Methodist Church, 305 East Anapamu Street, which stands today at 52 ranks, totaling more 2,500 pipes, plus three digital pedal stops. Admission to the 3 pm concert is free.
Master Chorale's Meditative Masterpiece
The Santa Barbara Master Chorale sings Brahms' Ein deutsches Requiem (A German Requiem) as its featured piece on the ensemble's fall concert. Composed between 1865-68, the requiem is recognized as one of the most extraordinary spiritual compositions ever written, and is believed to have been created as Brahms struggled to overcome his losses of his mentor, Robert Schumann, in 1856, and his mother in1865. For text, the composer did not follow the traditional Latin Mass, instead carefully selecting poetic passages from Martin Luther's German translation of the Bible and set them to music aimed to offer consolation to those left behind. Soprano Christine Hollinger and baritone Michael Shasberger serve as soloists under the baton of the Master Chorale's veteran artistic director and conductor Steven R. Hodson for the concerts at First Presbyterian Church, 21 East Constance Avenue, at 7:30 pm Saturday, November 9, and 3 pm Sunday, November 10. Tickets are $22 general, $20 seniors and disabled, $12 college students, free for children in grades K-12. Call 805-682-6516, or visit www.sbmasterchorale.org.
Scandinavian String Wizards Return
Santa Barbara chamber music lovers can't quite claim to be as intimate with the members of the Danish String Quartet as they are with each other, as the foursome are fierce friends who have been playing together since childhood. But locals sure seem to love the Nordic lads who have made a habit of multiple appearances in town in recent years. This time through the DSQ – violinists Frederik Øland and Rune Tonsgaard Sørensen, violist Asbjørn Nørgaard, and cellist Fredrik Schøyen Sjölin – are toting a 2019 Grammy nomination for Prism I, the first disc of a five-album project for the ECM label, and will be playing two vastly different programs on successive nights.
The DSQ – praised by NPR for "warmth, wit, beautiful tone and technical prowess second to none" – first collaborates with the Danish National Girls' Choir, comprised of 50 talented girls aged 16-22, and considered one of the best girls' choirs in the world. Created specifically for UCSB Arts & Lectures, the program, slated for 7 pm Tuesday, November 12, at the Granada, features a selection of Danish songs, hymns, modern compositions, and pop songs interspersed with movements from quartets by Shostakovich and Schnittke. Wednesday finds the boys, who earlier in 2019 were named Musical America's Ensemble of the Year, back on their own and back at Campbell Hall, where they will perform J.S. Bach's Fugue No. 16 in G minor, BWV 861 (arr. Förster); Mendelssohn's String Quartet No. 2 in A minor, op. 13; and Beethoven's String Quartet No. 15 in A minor, op. 132, the latter a nod to the composer's 250th birthday. Earlier on Wednesday, you can get more up close and personal with the Danish String Quartet when its members conduct a master class with UCSB Students at Geiringer Hall from 10 am to 12 noon, which is open to public observation for free. More info at (805) 899-2222 / www.granadasb.org or (805) 893-3535 / www.ArtsAndLectures.UCSB.edu.
Go-Go's Musical Opens at SBHS
Veteran Santa Barbara High School theater producer Otto Layman has been increasingly embracing new voices via a string of contemporary Broadway musicals. The trend continues with Head Over Heels, aka The Go-Go's musical, as the 1980s California new wave/pop band's hits – "We Got the Beat," "Our Lips Are Sealed," "Vacation" and "Cool Jerk," as well as Belinda Carlisle's solo hits "Heaven is a Place on Earth" and "Mad About You" – are the soundtrack to the jukebox musical. You can't get much more modern than Heels as the show just closed on Broadway at the beginning of the year after playing for nearly six months. The plot, loosely based on Philip Sidney's 16th century English prose poem "The Arcadia," follows the escapades of a royal family who set out on a journey to save their beloved kingdom from extinction. The musical evinces a giddy fairy-tale exploration of love, sexuality and gender fluidity, delivering a message of unconditional love and acceptance of yourself and everyone you know, no matter their gender or sexual identity – which, we imagine, must resonate with today's teens. Head Over Heels plays November 8-17. Visit www.sbhstheatre.com.
Focus on Film: SBIFF Honors Scorsese
Legendary Academy Award-winning director Martin Scorsese receives SBIFF's 14th annual Kirk Douglas Award for Excellence in Film at a black-tie gala dinner at The Ritz Carlton Bacara on Thursday, November 14. The director will be lauded for his half-century body of work that includes Taxi Driver, Raging Bull, Goodfellas, The Aviator, The Departed, The Wolf of Wall Street, and many others as well as his next film, The Irishman, a 3½-hour, $159-million epic saga of organized crime in post-war America that reunites him with actors Robert De Niro, Al Pacino, and Joe Pesci. If the past is any indication, it's likely at least one of the stars will be on hand on the red carpet and tribute at the gala. The Netflix film opened last Friday in Los Angeles and comes to SBIFF's Riviera Theatre on November 14, the day after the gala, before streaming on Netflix begins November 27. Visit www.sbiff.org.
Caochangdi Agents
Chinese filmmaker Wu Wenguang founded the Memory Project, housed in the Caochangdi Workstation in an art district on the outskirts of Beijing, to teach documentary production skills to aspiring amateur filmmakers, who then travel to their familial villages to collect oral histories about some of the most tumultuous periods in recent Chinese history. To date, the project has collected more than 1,000 interviews and produced 56 feature-length documentaries. On Saturday, November 9, Wenguang and one of the filmmakers, Zhang Menqi, will be at the Pollock to screen each of their latest docs and participate in a discussion. Wenguang's Autobiography II: Struggles, which focuses on Wu's mother's past, raises questions about belonging, identity, and social history, and serving as a companion to his 2016 film Investigating My Father, which previously screened at the Pollock Theatre. Menqi's Sphinx in 47KM explores the relationship between painful memory and hopeful imaginations via cutting between a mother recounting the harrowing story of her adult son's death and a young girl who expresses her view of the future by painting a mural on a village wall. Free admission for the 2 pm event.
You might also be interested in...