Downtown Talk Explores Essays on Love, Wonder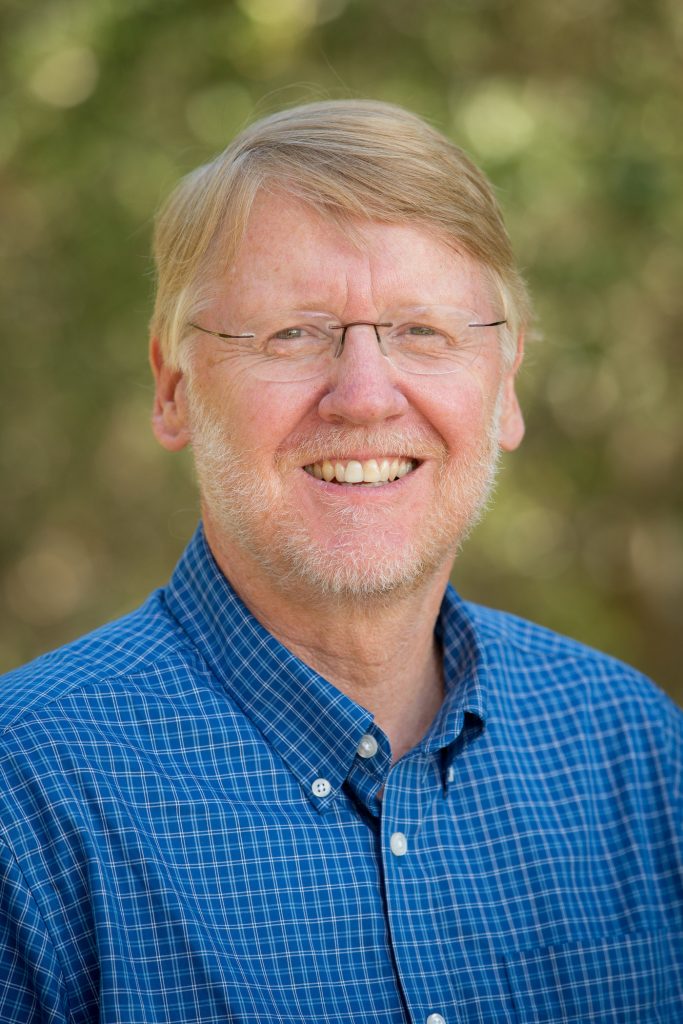 Paul Willis, Westmont professor of English, will read selections from his award-winning collection, To Build a Trail: Essays on Curiosity, Love and Wonder, Tuesday, October 15, at 5:30 pm in the University Club, 1332 Santa Barbara Street. 
The Westmont Downtown Lecture, "Not about the Numbers: What Really Matters in How We Learn," is free and open to the public; limited seating is available on a first-come, first-served basis. For more information, please call (805) 565-6051.
When Willis set out to build several miles of trail through the wilder parts of the Westmont campus, he didn't realize it would become a significant metaphor for teaching and learning. "Curiosity, love, and wonder always take circuitous paths toward understanding," Willis says. "This is what I have come to believe and what has put me in the present-day conflict of efficiency in education."
To Build a Trail won the 2018 Indies Bronze, and Forward Review recognized Willis as an Indies Finalist for Autobiography and Memoir. This publication honors the best books by independent publishers each year.
Willis, a Santa Barbara poet laureate from 2011-2013, has published several collections of poetry, including Little Rhymes for Lowly Plants (White Violets Press, 2019), Deer at Twilight: Poems from the North Cascades (Stephen F. Austin State University Press, 2018), Getting to Gardisky Lake (Stephen F. Austin University Press, 2016), Say This Prayer into the Past (Cascade Books, 2013), Rosing from the Dead (Wordfarm, 2009), and Visiting Home (Pecan Grove Press, 2008). He co-edited In a Fine Frenzy: Poets Respond to Shakespeare with David Starkey (University of Iowa Press, 2005). Willis has also published a variety of poems in journals such as Poems, Wilderness, Ascent, and Christian Century.
Paul Willis graduated from Wheaton College, earned his doctorate in English at Washington State University, and has been teaching at Westmont since 1988.
Orchestra to Perform a Fairytale Season
The Westmont Fall Orchestra Concert explores themes of dreams and fairytales on Saturday, October 12, at 7 pm and Sunday, October 13, at 3 pm, all at First Presbyterian Church. Tickets, which cost $10 for general admission (students are free), may be purchased at westmont.edu/music or at the door. For more information, please contact the music department at (805) 565-6040 or email music@westmont.edu.
The concert repertoire includes Tchaikovsky's "Sleeping Beauty," Beethoven's "Coriolanus Overture," Sousa's "Fairest of the Fare," Sarasate's "Zigeunerweisen (Gypsy Airs)," and more.
"All the music is beautiful and replete with happy endings, just like the dreams for a Westmont Orchestra that were fulfilled 14 years ago," says conductor Michael Shasberger, Adams professor of music and worship at Westmont.
This summer the Westmont Orchestra will perform in Vienna at the Musikverein, the famous concert hall of the Vienna Philharmonic Orchestra, as part of the 250th celebration of Beethoven's birth June 28.
Students Explain Summer Research Projects
More than 30 Westmont students who worked on 17 research projects last summer will explain their findings on Friday, October 11, from 3:30-5 pm in the Winter Hall Atrium. The Celebration of Summer Research, sponsored by the Office of the Provost, is free and open to the public.
This year's symposium includes a wide array of research projects including "Steps Towards Photocatalytic Destruction of a Difficult Pollutant," "Improved synthesis of functional Pt square precursors," "It's About Time You Got Some Sleep!" " How does ligand environment influence the 8-effect of transition metals," "Digging a Well: An Exploration into Human Limits and Tools that Expand Them," and "Does Your Baby Have Moves Like Jagger? The Computer Can Tell You."
Student researchers include Tabitha Roffelsen, Taylor Cheung-Damonte, Nathanael Ruble, Marissa Condie, Zachary Moreau, Court Shepard, Brandon Norris, Brianna Gilman, Chisondi Warjoba, Winston Gee, Alexa Spandrio, Amelia McGowan, Jackie George, Jennifer Ikeda, Zion Shih, Jonathan Lee, Madison Foster, Nathan Young, Michael Oldach, Mohan Singh, Grace Schonfeld, Amber Gray, Alyssa Avila, Edwin Wertz, Festo Muhire, Madison Foster, Thanh Do, Yi-Fan Lu, Kaylee Yoon, Ryan Klienberg, Isaiah Chu, Gavin Holosen, and Kelsey Feustel in fields of kinesiology, computer science, biology, chemistry, and psychology.
You might also be interested in...