Coming Full Circle with 'Generosity of Eye'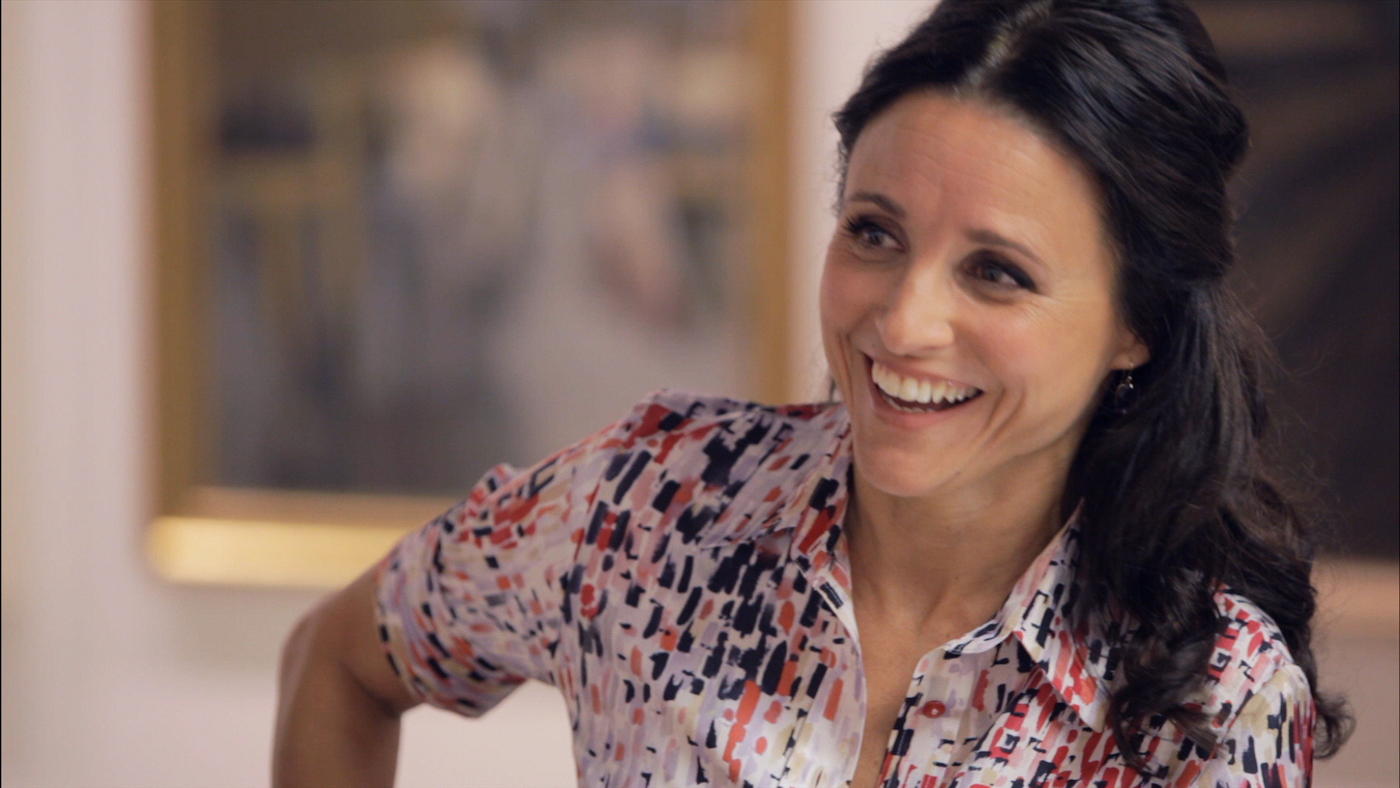 Julia Louis-Dreyfus is no stranger to the camera as the actress has starred as Elaine in the iconic sitcom Seinfeld and the title character in the just-concluded HBO hit VEEP, as well as several feature films. She's collected 11 Emmy Awards, a SAG prize and a Golden Globe. But perhaps her most personal work appears in Generosity of Eye, the 2015 documentary directed by her husband, Brad Hall, that premiered at the Santa Barbara International Film Festival that winter. The film delves into the decision of her father, the fabulously wealthy William Louis-Dreyfus, to sell his extensive and idiosyncratic art collection to create an endowment for arts education for disadvantaged children, and visits the world of the artists and the foundation, as well as addresses the father-daughter connection, via a series of intimate conversations that include several surprises and touching moments.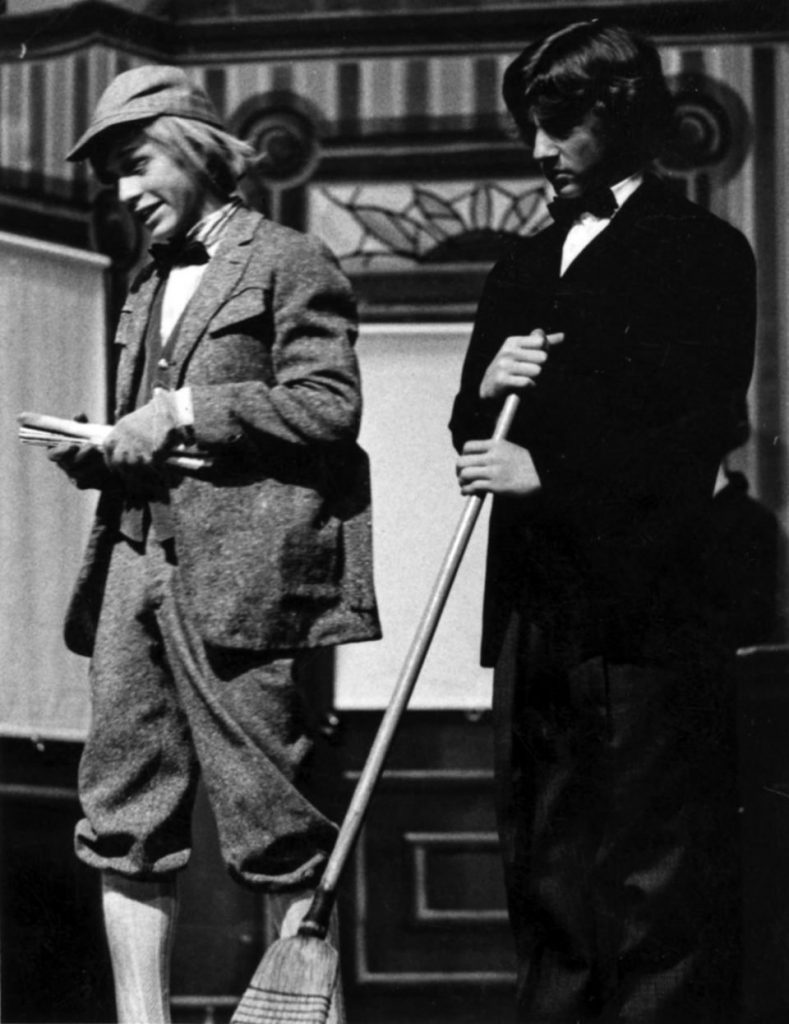 Generosity of Eye, which has only screened at festivals and for special events, will be shown 7:30 pm Wednesday, October 16, at the Marjorie Luke Theatre, which is the alma mater of the Santa Barbara-raised Hall, a TV show veteran whose credits include Saturday Night Live, Brooklyn Bridge, Curb Your Enthusiasm,and Frasier, among many others. Louis-Dreyfus and Hall will be on hand for the event – which features a post-screening moderated discussion with fellow Luke alum Rod Lathim, who spearheaded the theater's renovation in 2000, served as its first board president and is now the executive director. Proceeds will benefit the Luke's Sustainability Fund. Call (800) 838-3006 or visit www.luketheatre.org for details.
Louis-Dreyfus and Hall – who live part-time in Montecito when not working in Hollywood – talked about the film and the theater over the phone last week.
Q. The two of you don't make a lot of official public appearances here in town. What do Santa Barbara Junior High and Marjorie Luke mean to you?
Brad Hall: Marge Luke was the woman who was the energy center of the start of the dreams of everybody my age who went on to be in showbusiness. She was gigantically important in that way. But even more importantly she was a genuinely positive force who brought people together. I have friends I met then who are still my closest friends to this day. So we thank Marge silently in our prayers every day for that. She loomed large in our lives and we're always happy to do anything we can to help remember her. That theater is also a great resource for Santa Barbara.
Do memories come flooding back when you're there?
BH: Oh yeah. Every inch of that campus, and particularly in the theater. Every time we go there, we crawl all over the place, get nostalgic, and go up into the flies and look at that place where [one of the guys] nearly fell through the ceiling. It brings back lots of memories. But beyond that, it's great that it's lived on and the theater is much more beautiful now than it was when we went there.
Turning to Generosity of Eye, I understand the project started as a home movie that grew into a bigger story that explored art, social justice, and family.
Julia Louis-Dreyfus: My father was an art collector who had amassed a pretty significant selection throughout his lifetime. He had made the decision to bequeath the majority of it to a foundation to benefit the Harlem Children's Zone in New York and education for African-American students in general. When he told me this, I was somewhat stunned because I thought it was an extraordinary gift. I was floored by the fact of it, that he was finding his way toward marrying his concerns for social justice in this country and his passion for art.
I realized, my God, we should get my dad on camera! He was quite a talker, very eloquent and opinionated. I decided to interview him so I could get him talking about his passion for art and social justice and inequality. We didn't think right away that it would be for public consumption. But I'm happy we turned that way, because he passed away in September, 2016, and we were able to capture so much of who he was in his best sense in the film.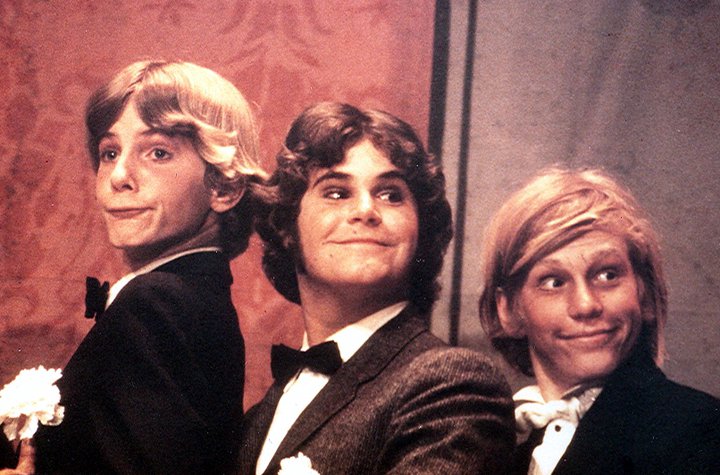 Did it feel like a way to connect differently than you had already? How did it transform your relationship, if at all?
JLD: I got a deeper understanding of his connection to the world of art. I was very familiar with his political leanings – I'd been indoctrinated by them growing up, and happily so. But while I knew about the art he had in his house when I was growing up, I was not aware of the very personal relationship he'd cultivated with the artists themselves and with people in the art world. My dad had some aspects to his life that he kept private and this was one of them. In making the film, I was able to uncover this, and it was really a very triumphant endeavor.
Did your relationship change after making the movie, something more than you could resonate with?
JLD: I feel like I live and breathe the resonance of who he was, but the film just enhanced what was already there. I serve on the board of the foundation with great pride and seriousness. And we were able to just recently sell some of the art at Christie's and bequeath a million dollar gift, which we did with enormous joy.
Your father has since passed away. Does the movie feel like a eulogy?
JLD: I think he was very pleased with it. There's an aspect of him holding court in the film, which was very much a part of his personality.
BH: It's changed the way we watch the movie. The resonance has increased for sure.
Did you feel any resistance to making such a personal film?
JLD: I'm glad we did if we can call attention to this kind of philanthropic thinking. Maybe it motivates others to do what they can. So I'm happy to spotlight this [from my own family], my father. I was proud of my dad and I was happy to highlight that he did this amazing thing.
What's happened with the movie itself since it screened at SBIFF?
BH: It's only been shown by the foundation. We like to be there [for screenings] to talk about it. So, we've not even tried to get it distributed, maybe partly because it's a personal kind of thing and it's nice to use it in very specific ways, and keep it for things that are special like this benefit for the Luke. This will be only the second time we've shown it in Santa Barbara.
JLD: It's lovely that this is raising funds for the theater. It brings it full circle.
Is it exciting to screen it again in your hometown?
JLD: I am looking forward to it. I haven't seen the film in its entirety since my dad passed. So, I think it will be a tad emotional, but I'm not afraid of that. I'm happy to have the conversation, and talk about art, and its meaning and impact. I think it will be cool.
Focus on Film
Documentaries also dominate the day downtown as The Sandbox coworking site presents a screening of Ice on Fire, which not only explores the potential extinction due to arctic methane release, but also newly developed technologies and other never-before-seen solutions designed to slow down our escalating environmental crisis. The film – co-produced by Oscar-winner Leonardo DiCaprio and directed by Leila Conners as a sort of sequel to their first cinematic climate change collaboration in 2007's The 11th Hour – premiered to a standing ovation at Cannes Film Festival last May. The 6:30 pm event on Friday, October 11, will also feature Tesla test rides, a raffle and food and drinks for purchase from M.Special, Tap Tap Kombucha, and Nimita's Cuisine. The evening benefits Surfrider Foundation Santa Barbara.
UCSB Pollock Theatre screens This is Not a Film, from Iranian New Wave director Jafar Panahi (The White Balloon and The Circle), in which the auteur turns the conditions of his house arrest into one of his most personal and expressive works. Northwestern University Communication Hamid Naficy conducts a Q&A after the Tuesday, October 15, screening…. Screenwriters Christopher Markus and Stephen McFeely dish on weaving together the stories of dozens of superheroes across a series of films following a screening of their 2019 hit Avengers: Endgame on Saturday afternoon, October 12.
Dance Dimensions
State Street Ballet launches its landmark 25th season by teaming with its Granada cohorts in the Santa Barbara Choral Society and orchestra for American Masters, a triple bill showcasing choreography by recently appointed co-artistic director William Soleau on Saturday, October 12. The companies will share the stage for Leonard Bernstein's choral masterwork "Chichester Psalms" and Morten Lauridsen's influential late 20th century choral piece "Lux Aeterna," the latter finding Soleau's choreography and the chorus' sounds enhanced by multimedia special effects. The performance closes with Aaron Copland's "Appalachian Spring" with a story set in rural Pennsylvania in the late 19th century featuring two very different families brought together by the wedding of a country boy and city girl. Soleau's choreography for Copland's vast score encompasses the varying emotions as the wedding day unfolds onstage and the ensuing bonds that develop between the two families.
American Dance & Music also has a special event this weekend, a fundraiser at its East Victoria Street storefront around the corner from the Granada on Friday, October 11. The event celebrates the life work of Albert Reid and his extensive career as a choreographer, teacher and dancer, including his contributions to the Santa Barbara dance community. Reid's tenure with the world renowned Merce Cunningham Dance Company – he was featured in the company's landmark initial six-month world tour in 1964 – will be honored through excerpts of archival film footage, including the first performance of Cunningham's signature piece "RainForest" (he'll speak about those experiences) and a variety of tributes by members of the Santa Barbara dance community whose lives he inspired and influenced.
Festival Fever
Completionists might want to consider self-cloning or renting a Jet-Pack this Saturday, October 12, as no fewer than four festivals fight for attention all afternoon. Moving geographically generally from east to west, SBCC West Campus hosts C.A.R.E. 4Paws' 10th annual free Wags 'n' Whiskers animal-adoption festival from 11 am to 4 pm, in what has become the largest animal festival on the Central Coast, boasting adoptable dogs, cats, bunnies, birds, and reptiles from 20 shelters and rescue groups, plus activities for the whole family and a special spotlight on search-and-rescue teams and first responders that help people and pets during emergencies.
The 18th Santa Barbara Harbor and Seafood Festival pays homage to the abundance of sustainably harvested, high-quality seafood coming from the Santa Barbara Channel, where hungry visitors can select fresh-caught lobster and sea urchin "uni" and have them prepared on the spot, or partake of fare from specialty food booths for fish tacos, oysters, mussels, barbequed albacore, fresh crab, clam chowder, seafood paella and more. The research vessel Shearwater, Tall Ship Spirit of Dana Point and US Coast Guard Cutter Blackfin will all offer dockside tours, and there are free boat rides on Azure Seas and Santa Barbara Sailing Center's Double Dolphin. Live music with local luminaries, info booths from ocean-oriented organizations, and a variety of vendors round out the activities for the 11 am to 5 pm event.
The Santa Barbara Beer Festival, aka Pints for the Park, marks its 12th year as the area's first craft beer festival at Elings Park from 11:30 am-4:30 pm with samples from more than 45 craft breweries, wineries and kombucha on site, four food trucks and live entertainment by After the Smoke, DJ Hecktik, and Wall of Tom.
The first annual Indian Festival is the first new cultural/heritage day to debut at Oak Park in what seems like decades. Experience music, singing, dance, and food from different parts of India including Bollywood style dance-forms, art booths of all kinds, bouncy houses for the kids, chicken and vegetarian entrees coupled with Indian condiments, and even Indian pizzas and ice creams. The 11 am to 7 pm festival is free.
Fiddling About
The 48th annual Santa Barbara Old-Time Fiddlers' Convention & Festival, which takes place at the Stow House in Goleta, pretty much has Sunday to itself, as well it should be as the 10 am to 5 pm event packs quite a wallop of acoustic instruments and singing. Among the artists performing and/or leading workshops are Pennsylvania fiddle legend Rafe Stefanini; the Georgia-based fiddle and mountain dulcimer duo Hog-Eyed Man; Jim & Jamie Fox, Native American fiddle and guitar from the Fort Belknap Reservation in Montana; the vintage jug band blues and ragtime group Todalo Shakers; the Grammy award-winning banjo player and music documentarian of Georgia; Oregon duo The Horsenecks; SLO County Stumblers, a hillbilly stringband whose members hail from both coasts; ragtime string band Skillet Licorice; and the old-time fiddle duo of David Bragger & Susan Platz, the former doing double duty as the festival's artistic director. Beyond the official offers are myriad open jam sessions all around the grounds of Rancho La Patera, plus an Instrument Petting Zoo where kids of all ages can try out a stringed thing, and, of course, the epic contest for traditional instrumentalists, singers and bands that once served as the event's raison d'être.
EDC TGIF! ends
Elsewhere in eco events, the Environmental Defense Center's tgif! series for 2019 comes to a close on Friday, October 11, with one final 5:30-7:30 pm happy hour gathering boasting live music, tasty hors d'oeuvres, beverages, brief comments from regional nonprofit and environmental organizations and, not at all in the least, significant schmoozing. The curtain closer features talks from core EDC partners Los Padres ForestWatch, Santa Barbara Botanic Garden, Surfrider Foundation Santa Barbara Chapter, and UCSB Environmental Studies; food from California Pizza Kitchen, Lazy Acres and SOhO Restaurant & Music Club; drinks donated by Babcock, Pence and Zotovich Wineries, Captain Fatty's Brewery and SolWave Water; music by Salty Strings, and raffle items from Patagonia, Rori's Artisinal Creamery, Salon Patine and Toad & Co.
Oral Offerings Own October
Santa Barbara's Speaking of Stories series has called it quits after almost a quarter-century, but its Personal Stories iteration, a local angle on self-scripted first person true stories a la The Moth, is still in its growth spurt. The season debut takes place with two 10-story programs in repertory at Center Stage Theater October 14-17, with performers ranging from accomplished professional actors to people appearing in front of an audience for the first time, and boasting both published, well-established writers and others who are just doing their first creative writing since college. Tales include such intriguing titles as Chella Courington's "In the Inky Whorl of Night," Buffy Jo Grenier's "My Life: Cliff Notes Version," Carolyn Jabs's "Crazy Hair Magic," Lark Batteau's "Underpants," Lisa Renee Contreras' "Him, Too," and Brian Silsbury's "The Railway Sleepers."
While there are no threads other than the truth tying together the Personal Stories lineup, Jenna Tico's Backbone Storytelling, which has its second showcase this Saturday, October 12, at Yoga Soup, is organized around meaningful, moving and mortal stories inspired by the human body. With Tico a dedicated dancer, writer, and educator who frequently leads Wednesday Movement Lab at the studio, the storytellers are encouraged to weave their tales through both spoken and nonverbal language. Blood is Thicker is the theme this time, and the tellers – who range in age from 18-90 – include Anima founder Lisa Citore, Movement Lab creator Melissa Lowenstein, chiropractor and Reiki healer Dr. Jacob Martin, Don't Tell Comedy pop-up producer Melissa Lima, and poetry slam veteran Emily Chow-Kambitsch, whose commissioned writing was featured in last year's "Weaving Women's Stories" in London.
You might also be interested in...