Having a White Whale of a Time in Tuscany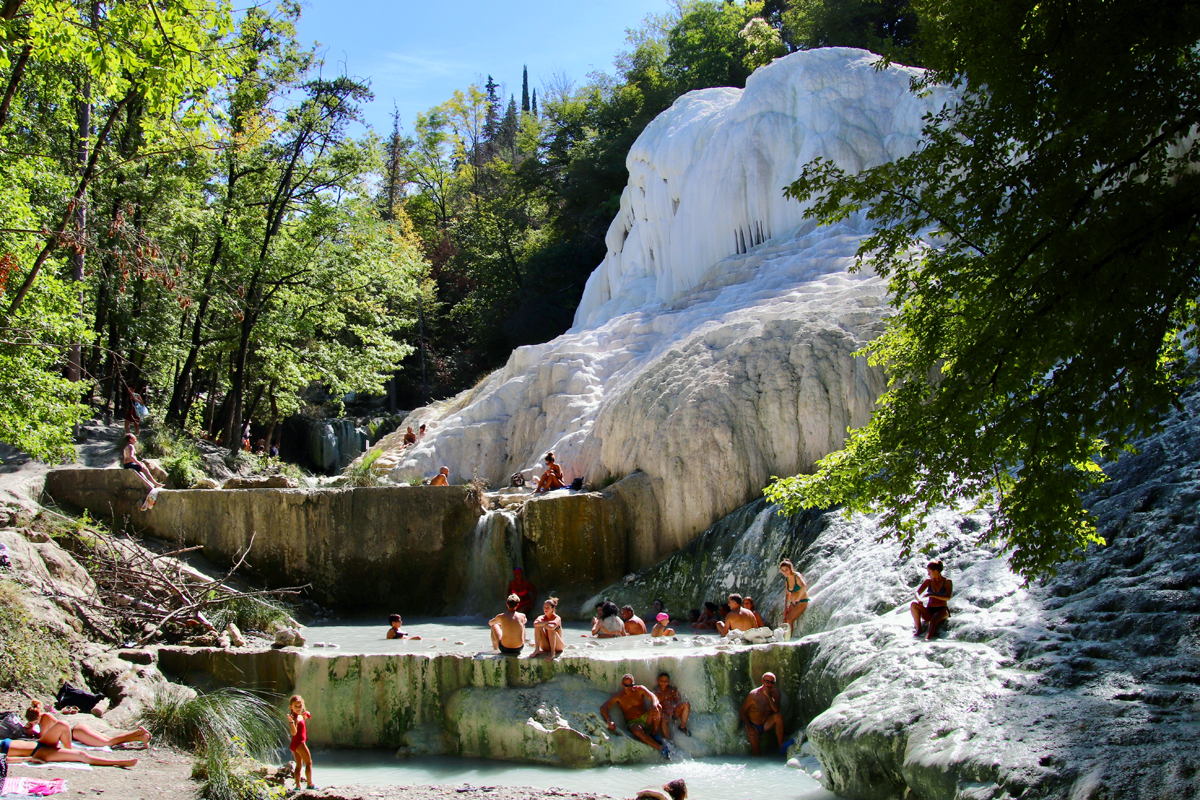 I've learned a few things over the years traveling with my wife. For one thing, she never packs enough socks.
"Are those my Wednesday socks? I packed a pair for each day and now I'll be a pair short!"
"We got married in California. It's a community state. Your socks are my socks."
"Oh yeah, how about I wear your underwear, huh?"
"Again?"
She also does a ton of research before each trip. "Another travel book? We must be partners with Chaucer's by now."
"Don't you want to know what to expect when we get there?"
"Nope." I like to be surprised by what we see. "Wow! Who knew they had all these olive trees in Italy? And all this Roman stuff? And old churches?"
And I am still learning about Pat. For instance, I now know to never let her order lunch by herself when she is really hungry.
"I put more money in the machine. We now have until two forty… Whoa! You ordered two whole pizzas and the large bowl of pasta two beers and a bottle of wine?"
"I didn't know how large they were and I didn't want your spicy peperoni. Plus, I was really thirsty after our walk from the baths."
We were in Bagni San Fillipo. Southern Tuscany has a lot of natural hot springs due to volcanoes ("wow did you know they had volcanoes in Italy?"). Many of the baths are at hotels and you have to pay to use them. One we (Pat) found in the guidebook cost 127 euros per day! San Fillipo has rental baths, but they also have a natural hot stream and waterfall that you can simply walk down a dirt road through the woods to get to.
"Wow! How does anyone ever find these places?"
"No idea," Pat said, looking up from the pullout map.
The first pool we came to was full. These were the people who knew to get here early. We had to drive to get from Castiglione d'Orcia to San Fillipo and once there found parking to be a bit of a problem. Drivers were squeezing into spots exactly the length of their car. We found one of those spots that someone was pulling out of and Pat backed really close to the foliage.
"Help! I'm stuck."
"Should I pull back out?"
"No. It's not that kind of stuck. I'm snagged."
Pat pulled the thorn bush out of my shirt and we squeezed through the three inches between bumpers. The good news was we took so long that the car in front of us left and a young lady came over and gave us her remaining time. "A thorn in time saves… euros."
We walked across a small bridge and followed the stream to pool after pool. Many were small and it would have been weird to wiggle in with a family of locals.
"Buongiorno, dude. Did your sposa find this place for you, too?"
We finally came to the larger pools where waterfalls containing calcium carbonate deposits tumble down the rocks forming white concretions that looked like a giant glacier or whale. Fosso Bianco, the sign at the beginning of the dirt road read.
Getting into the pools is a bit tricky and involves walking on sharp, slippery rocks. Again, the locals knew to bring beach shoes. But we made it in and it was great. I scooted backwards on my butt to get closer to the waterfall. "Scuzzi. Scuzzi. American. Scuzzi."
We stayed in until we were totally relaxed and hungry. Then we walked back to the tiny village and found a great little restaurant. I went to add a few euros to our parking time while Pat ordered the family special.
And try as we might, we could only eat half of the food. Europeans do not offer Styrofoam boxes for leftovers. They expect you to finish. Fortunately, Pat is also an ingenious traveler. "Use the beach bag," she whispered.
We waited until no one was looking, then put half of each pizza into the bag to take home for later. The waitress was impressed that we cleaned our plates. We beamed with pride. Then we drove home to shower and for Pat to read our travel library to plan our next adventure.
You might also be interested in...