Mr. Prime Minister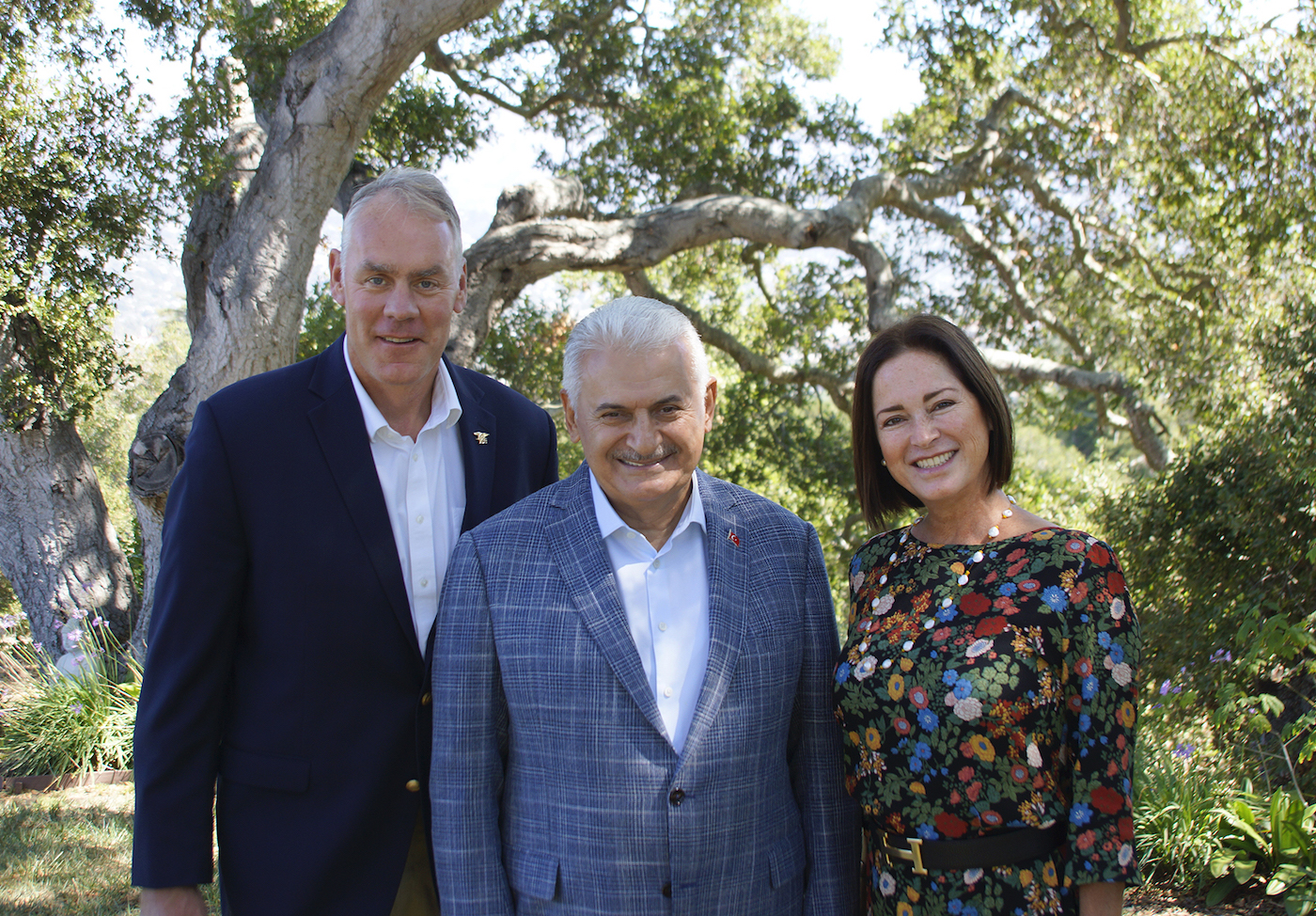 When Priscilla, our photographer, asked Dr. Gulhan Guitenkin, the cardiologist traveling with former Prime Minister of Turkey (from 2016 to 2018) Binali Yildirim, how we should address Mr. Yildirim, we were advised that the proper way would be "Your Excellency, Mr. Prime Minister." So we did, though it seemed especially formal in such an informal setting as the Santa Barbara hilltop home of Ryan Zinke, recently retired Secretary of the Interior under President Trump, and his wife, Lolita ("Lola").
Turkey's political structure was modified in 2018 and the country is now headed up by a president and not a prime minister; the current president is Mr. Recep Tayyip Erdogan.
Prime Minister Binali Yildirim was in Santa Barbara and his visit included an early brunch with the Zinkes, followed by a tour of the city (though I don't believe they stopped anywhere in Montecito). He and his group were on their way next to New York City to attend the annual United Nations General Assembly, where the Prime Minister hopes to assemble a coalition to assist Turkey in dealing with what has become a large and expensive Syrian refugee situation.
After the small entourage that included Mr. Yildirim's personal cardiologist, a security detail, translator, and others, enjoyed a private conversation with the Zinkes on the patio overlooking La Cumbre Peak, the Prime Minister – whose genuine smile and firm handshake surprised me – graciously allowed for the following short interview, edited for space.
Q. You are headed to New York to speak at the UN and are seeking assistance from other nations in dealing with a growing refugee population. Could you tell us more about that?
A. You know, after eight years of conflict, fighting, inside Syria, millions of Syrians have been killed and injured, and other millions of people have had to leave the country, as refugees. Some four million of those refugees crossed the border into Turkey, and we have hosted them for seven years. We share our shelter; we share our schools; we share our hospitals, and we share our food.
Do Syrian refugees study with Turkish students in your schools?
In the big cities like Istanbul, they are accepted in the schools where Turkish students study, and in some cases, there are separate schools for them.
How do you pay for that?
Well, we do. So far, we have put out over thirty billion dollars. It is difficult.
What is the situation along the border right now?
We've eliminated terrorist groups such as YPG (Kurdish "People's Protection Units" that even have separate female brigades), PKK (Kurdistan Workers Party), ISIS (Islamic State of Iraq and Syria), ISIL (Islamic State of Iraq and the Levant), also referred to as Daesh (a desultory term), and Al Qaeda. These groups are a headache for not only Turkey, Iraq, Iran, but also for Syria.
The problem is with terrorists, not with Kurds. We have to distinguish between them. Turkish people love the Kurds, but terrorist groups such as PKK just kill people; they don't care. It's awful.
A group of neighboring countries have formed a coalition – Russia, Iraq, and Iran – along with the United States, which has to act more to settle things.
Do you expect to meet with President Trump in New York?
I'm not sure, but I heard that our President (Erdogan) and your President Trump will get together to discuss the Syrian issue and [the building of] a security zone along the Syrian border. If they do come together to strengthen the cooperation in the region, this would be a very fruitful meeting.
Where is this "security zone"?
The area west of the Euphrates River is taken care of by the Russians, and east of the Euphrates, by the United States and its coalition.
So, the U.S. is already involved?
There is a "secure zone" in the eastern section where nearly 400,000 Syrians have already returned to Syria. The zone is about twenty miles deep and perhaps 200 kilometers wide, but the border with Syria is nine hundred kilometers long. We still have problems in the rest of the area, because the PKK and other groups have relationships with Iraqis and that allows them to travel back and forth across the border.
Is there a leader among those four million Syrian refugees in Turkey; someone likely to challenge Syrian President Bashar al-Assad?
No, some are already Turkish citizens; the others have temporary protection. They are our guests and they follow our regulations. We don't give any authority to them.
What is the makeup of those refugees?
They are Kurds, Assyrian, Christians, Muslims… we don't discriminate; if somebody is under threat, we let them in. And, they are having children. Over two-hundred-fifty-thousand refugee children are born every year. The population is young, and young populations are going to have children.
Prime Minister Yildirim ended our interview expressing the hope that the UN would come around to help Turkey "and share the financial burden."
•••
Lola Zenke, who lived in Turkey for a year in the late 1980s, says the Turks consider it their solemn duty to treat the refugees well, and call what they do as "hosting our guests." But now that those "guests" number four million and counting, the situation "has become very expensive and difficult to continue."
"On scale," says Ryan Zenke, "taking in four million refugees in a country of eighty million, would be like the U.S. taking in fifteen million refugees. And," he adds, "to do it with no international help? That's an enormous burden for Turkey to take on by itself. We're all grateful for Turkey's humanitarian assistance. That has made a difference, but they need help.
"When Turkey rises," Zenke concludes, "the region becomes more stable. But, Turkey lives in a bad neighborhood and when Turkey stumbles, the region falls. It is in the interest of the U.S. and the world that Turkey remains stable and prosperous."
Just a side note here: When I commented how much I liked the handsome Turkey national flag pin on his lapel, he smiled, thanked me, and asked if I wanted it. I did say "Yes," and before I knew it, he had taken it off his lapel and put one first on Priscilla, and then pinned one on me…
…Three days later, during President Trump's speech at the UN the cameras focused on the representatives of Turkey and zoomed in on Mr. Yildirim sitting next to President Erdogan. They were both wearing a Turkey national flag – just like the ones given to Priscilla and me – on their lapels. It made me feel like I'd been a little part of history.
You might also be interested in...